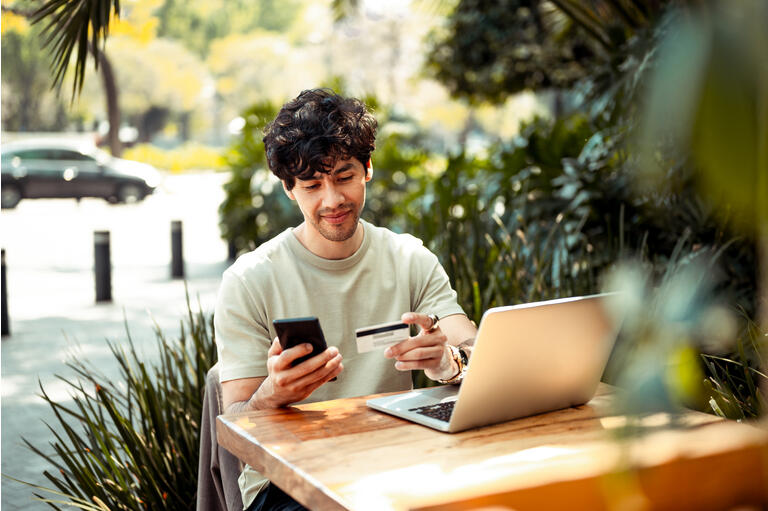 Article Thesis
Visa Inc. (NYSE:V) and PayPal Holdings, Inc. (NASDAQ:PYPL) are two of the largest and most dominant payment players in the world. Their business models differ, but both are poised to benefit from industry tailwinds and rising consumer spending around the world. In this article, we'll pit the two against each other to see which pick might be the better choice for different types of investors.
How Are PayPal And Visa Similar?
The two companies are not identical, but they share many similarities. First, both companies belong to the largest players in their industry — PayPal is valued at $220 billion. Visa is even more valuable, trading with a market capitalization of $450 billion today.
Visa is a payment technology company that is primarily earning money through its card payment processing network that enables payments between consumers, merchants, and businesses. PayPal is more "techy", offering app-based/digital payment solutions and consumer-to-consumer transactions to its users.
Both companies benefit from global megatrends such as growing e-commerce sales, digitalization, and declining cash usage. E-commerce transactions naturally can't be done in cash, which is why consumers have to utilize credit cards, BNPL, or app-based services such as those from PayPal to make payments. With e-commerce sales trending upwards before the pandemic, during the pandemic, and likely also following the pandemic, both companies should benefit from this macro tailwind.
Similarly, both Visa and PayPal are positioned to benefit from declining cash usage around the world. In some countries, such as in Sweden or South Korea, the vast majority of transactions are done in a non-cash way: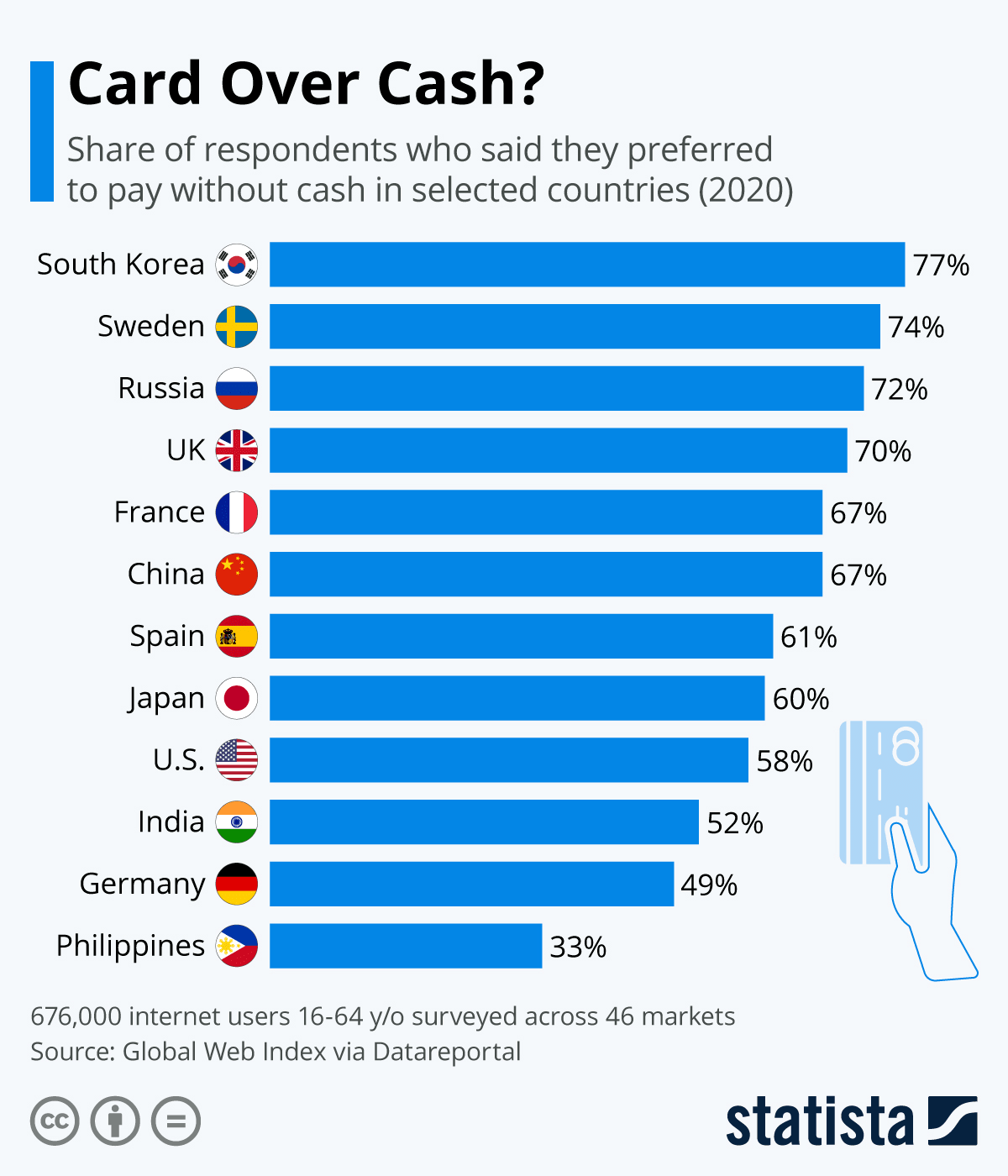 In other countries, that portion is way lower, such as in the Philippines, Germany, or India. Over time, the countries with a higher cash usage percentage, such as India, will likely increase their non-cash usage. This should be a tailwind for all non-cash payment players, including Visa and PayPal.
Other similarities between Visa and PayPal include that both companies are enjoying strong business growth rates and that both trade at a somewhat premium valuation. Higher valuations for faster-growing companies can be justified, however, thus this shouldn't be seen as a dealbreaker.
Due to the market being not very bullish on payment companies and fintech players today, both PayPal and Visa have seen their shares decline over the last year: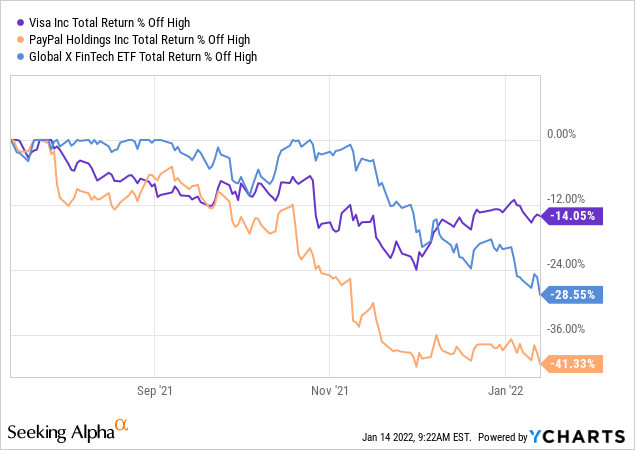 Over the last six months, Visa Inc. has seen its shares drop by around 15% from the high. PayPal, meanwhile, experienced a steeper downturn, dropping more than 40% from its high. The fintech/payment industry as a whole has experienced steep declines as well, showcased by the 30% drop in the Global X Fintech ETF (NASDAQ:FINX). To some degree, these declines were driven by pretty high valuations before the sell-off, which particularly holds true for PayPal. The fact that the industry is not overly exposed to reopening efforts likely also plays a role in the recent underperformance. Investors seeking more reopening exposure likely shifted funds to industries such as energy or industrials, and away from industries such as payment/fintech.
PayPal And Visa Key Metrics
One important factor for evaluating these companies is their growth rate: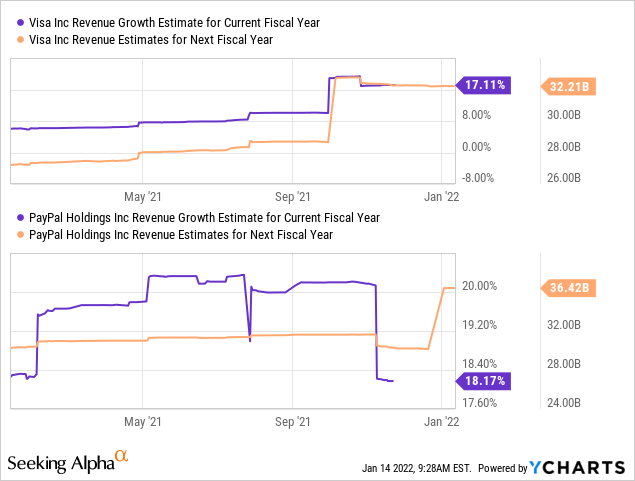 Based on current estimates, Visa is forecasted to see its revenue grow 17% this year, while revenues are forecasted to come in at $32 billion. Meanwhile, PayPal is seen growing its revenue by a very comparable 18%, while the forward revenue estimate stands at $36 billion. PayPal is thus, in terms of revenue generation, the bigger company, while growth is pretty even across both companies.
It is also important to see what these companies do with their revenues, and how much of that ends up in cash on their balance sheets. In that regard, Visa looks like the way stronger pick: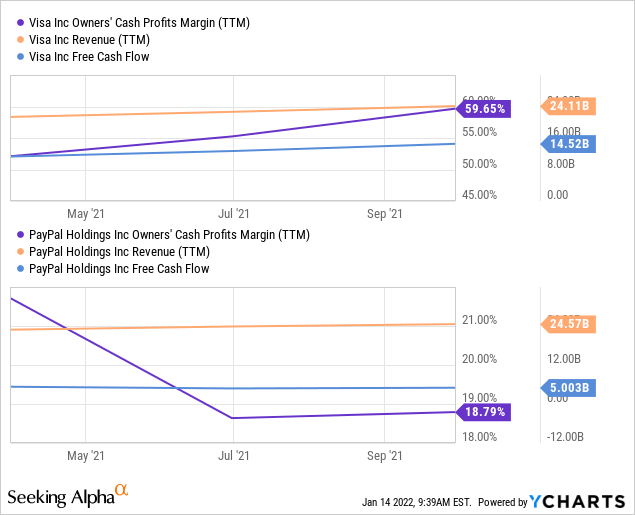 Visa's cash profit margin, at 60%, is outstanding. Almost no company in the world manages to generate $0.60 in free cash flow for every dollar it generates in revenue. The explanation for this very high cash margin is that Visa's business scales very well thanks to low proportional costs. As a dominant player in its industry with huge scale advantages, Visa is able to capitalize on its existing technology and generate extremely attractive free cash flows. PayPal does generate a way lower cash flow margin, at around 20%. That is, in absolute terms, still very decent, but the vast discrepancy compared to Visa is striking. Not surprisingly, Visa has generated a way higher free cash flow over the last year, at $15 billion, compared to $5 billion at PayPal — despite pretty similar revenues.
Visa's very strong cash generation allows the company to return large amounts of money to its owners, while that is not the case at PayPal so far: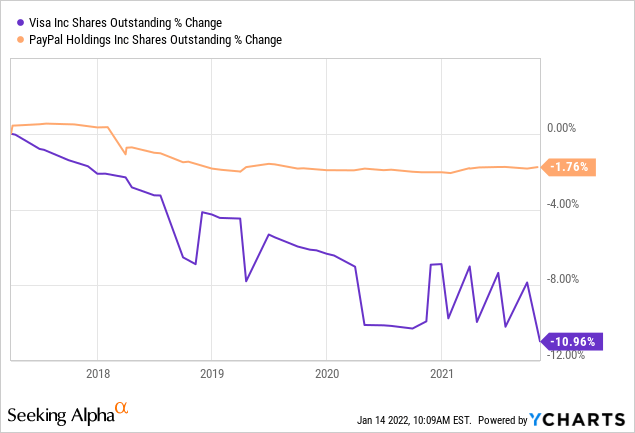 Visa's shareholders get a dividend, although with a meager yield, at only 0.7%. At the same time, Visa has bought back 11% of its shares over the last five years alone, while PayPal, which is not paying any dividends, has bought back 2% of its shares over the last five years. Visa Inc. announced a new $12 billion buyback program one month ago, which is enough to cover 3% of Visa's shares. PayPal Holdings had announced a $10 billion program in 2018 but has not been very active in reducing its share count, as can be seen in the above chart.
Are PYPL and V Stock Good Long-Term Investments?
Both PayPal Holdings and Visa Inc. combine a wide range of positives. They have strong brands, benefit from industry tailwinds, and thanks to a large size they have scale advantages over smaller peers. Both companies also have compelling growth track records, and it can be expected that both companies will continue to grow at an attractive pace. This, in general, makes them compelling long-term holdings, although investors shouldn't neglect valuations. Even high-quality companies such as PayPal and Visa can be too expensive if they trade at extraordinarily high valuations.
Today, Visa Inc. trades at 31x this year's earnings, and at 25.5x next year's earnings, based on EPS being forecasted at $8.42. A 31x earnings multiple for the current year is far from low, but once we account for the strong forecasted growth over the following year, the valuation seems more reasonable. On the back of macro tailwinds such as growing consumer spending and growing e-commerce sales, Visa will see encouraging long-term growth. In the near term, the company will also get a boost from global travel recovering. More spending by international travelers will lead to increasing cross-border transaction fees for Visa, which is why growth over the coming years is forecasted to come in strong. Paying around 25x net earnings (based on next year's forecast) for a quality company with growth tailwinds does not seem unreasonable at all to me, although Visa is not an ultra-bargain. At $190, where Visa traded in December, the stock was even more attractive.
PayPal is more expensive than Visa, currently being valued at 39x this year's profits. Taking a look at the next year, as we did with Visa, we get an earnings multiple of 34. That pencils out to a 30%-40% premium over Visa, which I don't believe is really justified. PayPal is somewhat smaller still and has thus more growth potential on a relative basis. The company is also forecasted to grow slightly faster this year and could have more margin expansion upside. But on the other hand, its cash flows and cash returns are weaker than those of Visa, and it also doesn't have a brand as established as that of Visa.
Is PYPL Or V Stock The Better Buy?
Both stocks look compelling on a fundamental basis and due to their business models and outlooks. Visa is the somewhat slower-growth pick that offers higher and more reliable shareholder payouts, which can be attractive for certain types of investors. PayPal is the somewhat higher-growth pick, but it is not generating cash flows that are comparable to what Visa is doing.
Visa gives investors more exposure to the credit card space. I do believe that there is considerable growth potential in this area going forward, especially in international markets where cash transactions are still very common. PayPal's business is "younger" and more trendy, and its app-based solutions could indeed see higher growth in the coming years. I do not believe that this warrants the current differential between the two companies' valuations, however. After all, the forecasted growth in the coming year, at 17% for Visa and 18% for PayPal, is pretty similar.
I do thus believe that Visa, at 25x next year's earnings, is the better pick than PayPal, trading at 34x next year's profits. Overall, the payment space is attractive, and it does not hurt to hold investments in more than one company in this industry. I do thus believe that owning a stake in both companies is not a bad idea. I do own shares of Visa already and think it is the better pick for someone that wants to have exposure to just one company in this space. But PayPal as an addition to that could be a worthy idea. PYPL is not cheap, but way cheaper than it used to be, and in the long run the current valuation could be justified. I am thus thinking about adding PayPal Holdings to my portfolio, although Visa is the "core" position in the payment space for me. I welcome all readers to share their opinion on these two stocks and the industry as a whole in the comment section!