April 27, 2022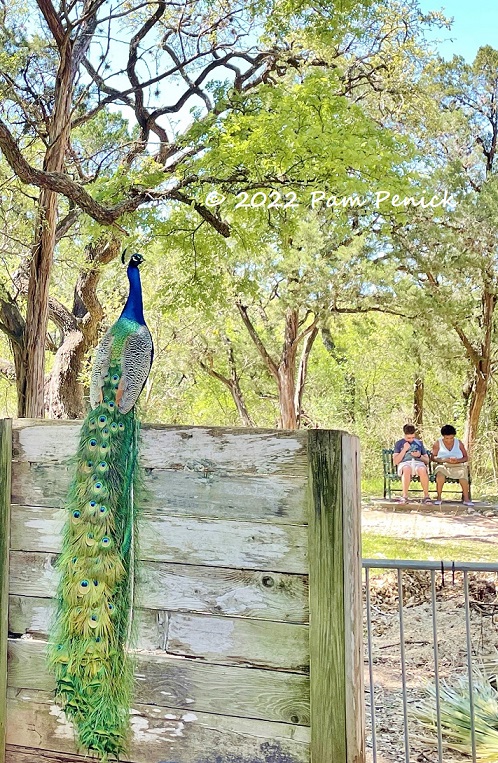 In early April I visited Mayfield Park for the Trowel & Error gardening talks. Of course if you visit Mayfield Park you're going to see peacocks.
Mayfield Park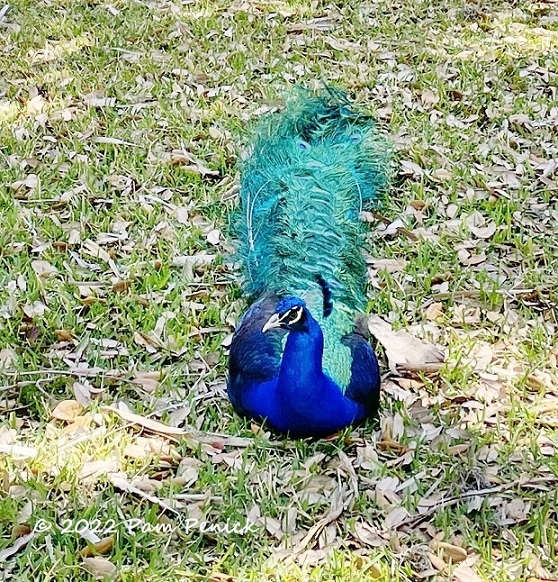 Two dozen of these beautiful birds — peacocks and peahens — roam the grounds. Unafraid if a little wary, they hang out on fences, trees, and roofs, and lounge on the lawn like sunbathers.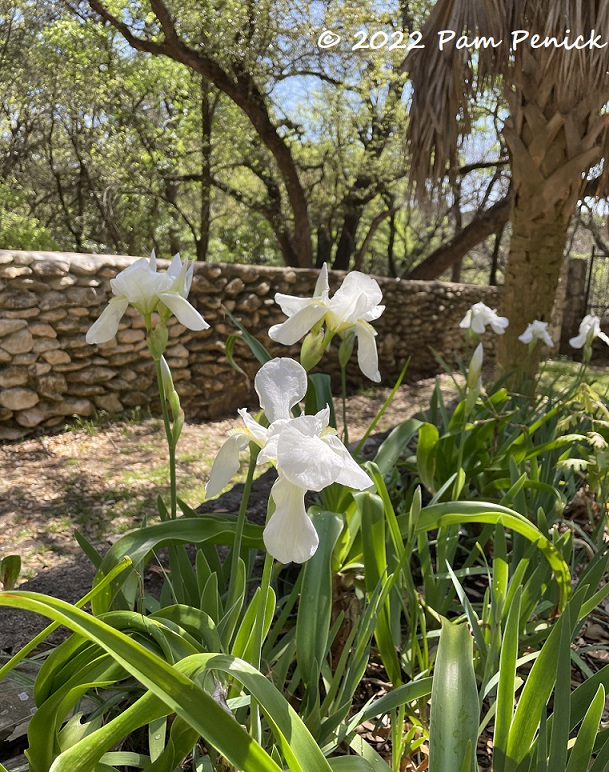 The gardens, maintained by volunteers who adopt various plots, were just coming into bloom with cottage favorites like bearded iris…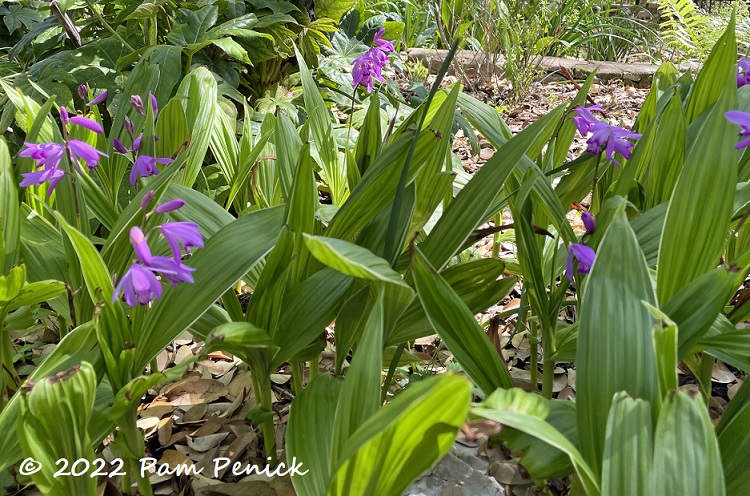 …and Chinese ground orchid.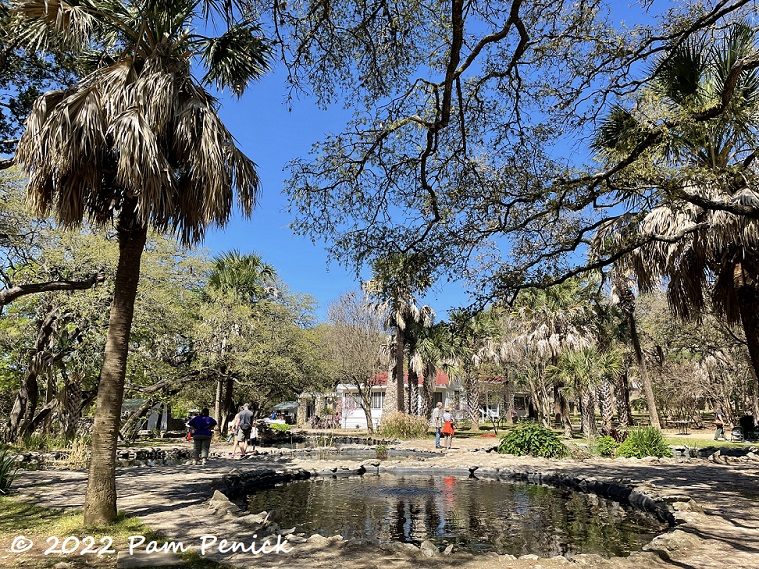 Mayfield Park is a slice of Old Austin, tucked away on a winding road in a posh West Austin neighborhood. It's free to visit, and while there's not a lot there, it's pleasant. Children especially love the many ponds and peacocks.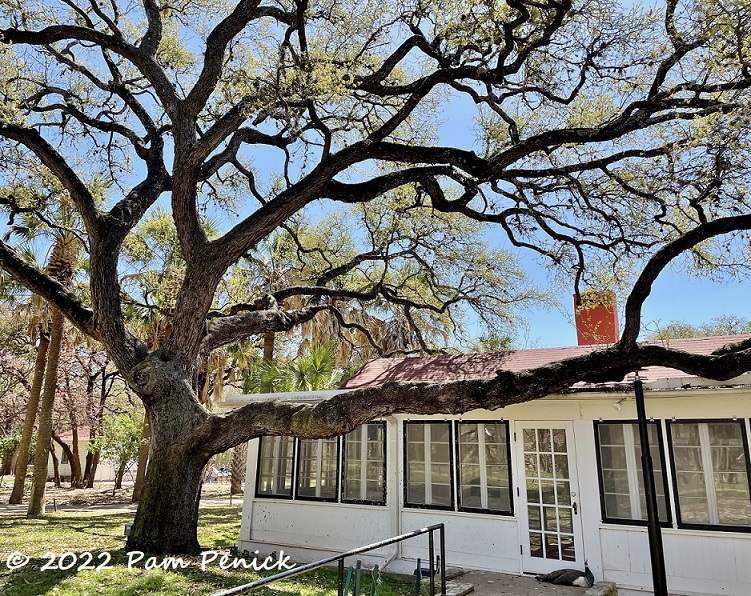 There's no grand estate home here, just a modest white cottage with a wonderfully roomy 3-sided porch. Here's the backstory:
"Allison Mayfield purchased the board and batten, twin-gabled cottage and 23 acres for his family as a summer and weekend retreat in 1909. A prominent Austin political figure, Mr. Mayfield was Chairman of the Railroad Commission and former Texas Secretary of State. He and his wife had one child, Mary Frances, who married Milton Gutsch in 1918. Dr. Gutsch was Chairman of the History Department at the University of Texas for many years. As a young couple, Mary and Milton moved into the cottage in 1922 and added porches to three sides of the house, reflecting the Bungalow style of the early 20th century.

Mary Mayfield Gutsch designed the gardens while Milton directed the building of the stone walls, ponds, and garden features with the help of Steve Arredondo, resident gardener for many years. The peacocks were gifts from friends in 1935 and their descendants are here today. The Mayfield-Gutsch family developed this site over a 62 year period. Dr. Gutsch died in 1967. Mary Mayfield Gutsch died in 1971 and left the home and acreage to the City of Austin to be used as a park."

https://mayfieldpark.org/mayfield-park-and-preserve-history/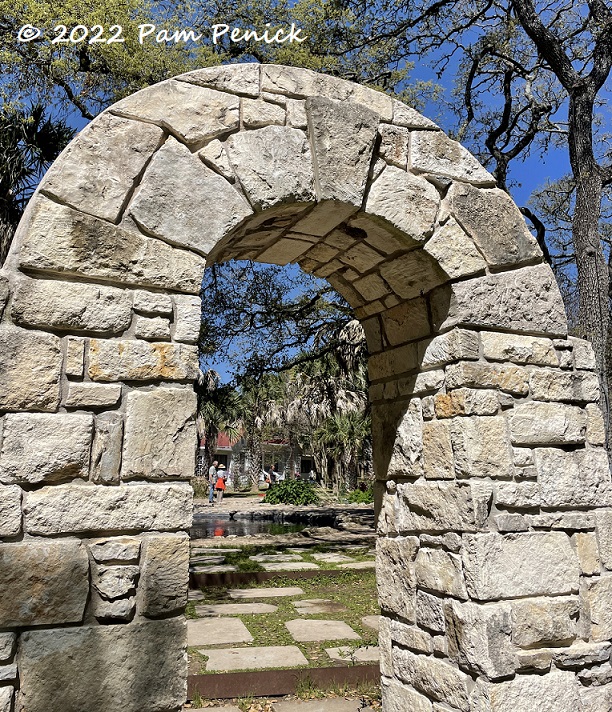 A stone arch — one of the details that makes Mayfield a popular destination for portrait photographers.
Laguna Gloria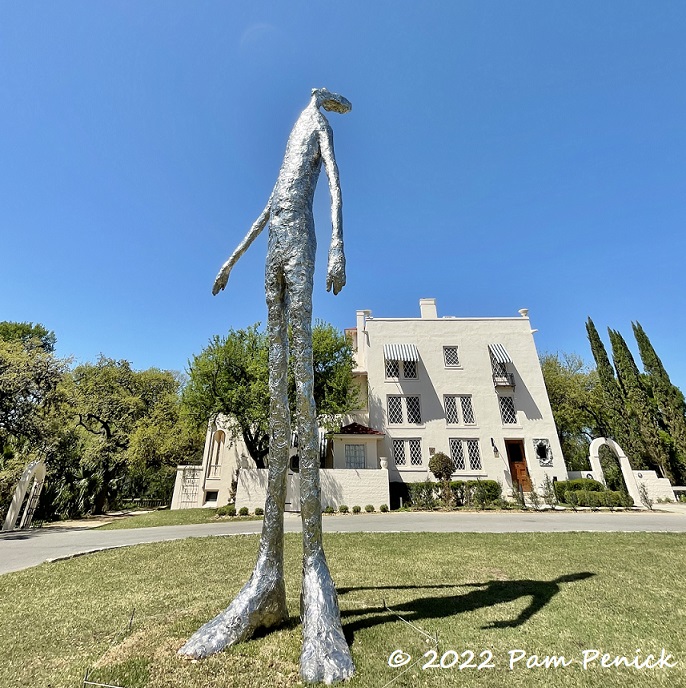 Right next door you will find a grand estate house, Driscoll Villa, plus a sculpture garden, art school, outdoor café, and gift shop. This is Laguna Gloria, which is part of The Contemporary Austin museum and home to interesting works of modern art. Our family has been coming here for two decades to attend art classes, including several years of week-long art camps when the kids were young.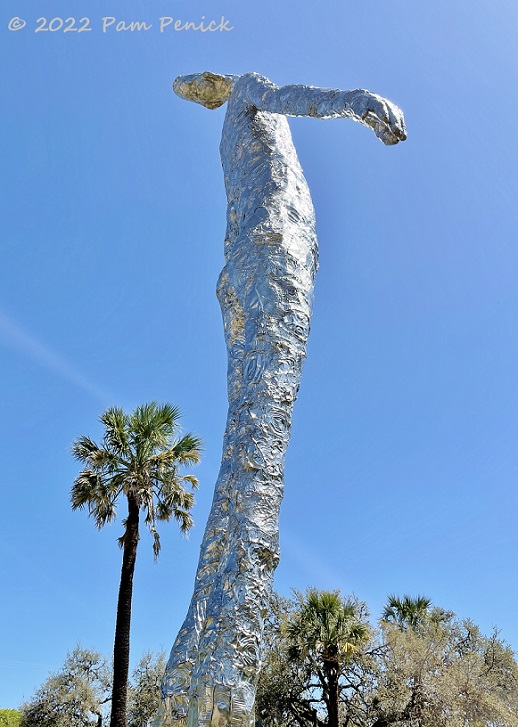 The aluminum-foil giant (it's actually stainless steel) is called Looking Up by Tom Friedman. It dominates the entry lawn and makes you look up too.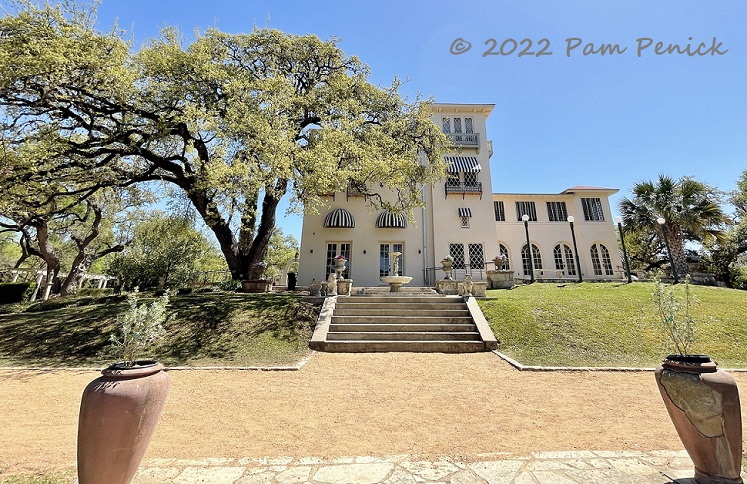 Paths lead around the Italianate villa, which overlooks Lake Austin on two sides. Read more about the villa and its adventurous and wealthy owner Clara Driscoll at Texas Highways.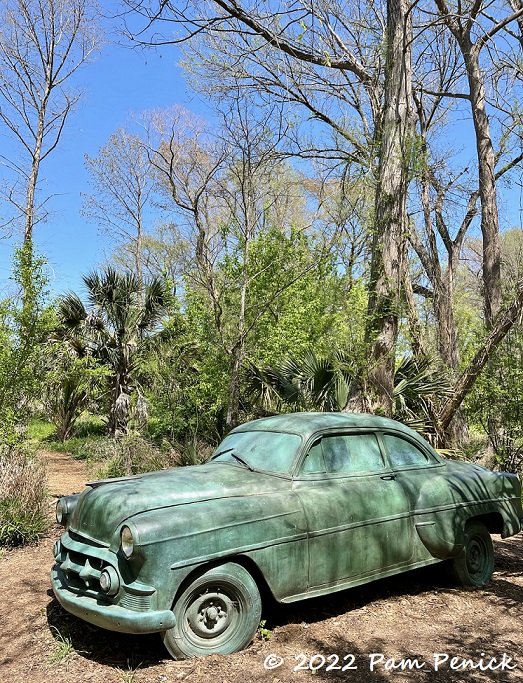 Sculptures — some of them interactive — greet you at every turn along the scenic wooded paths. I was intrigued by this green 1953 Chevrolet coupe seemingly abandoned along the trail. This is Road Angel by Terry Allen. The headlights and taillights glow, and music emanates from the interior, which is hidden behind fogged windows. It's a little eerie, half alive, reminiscent of Stephen King's Christine or J.K. Rowling's magical Ford Anglia.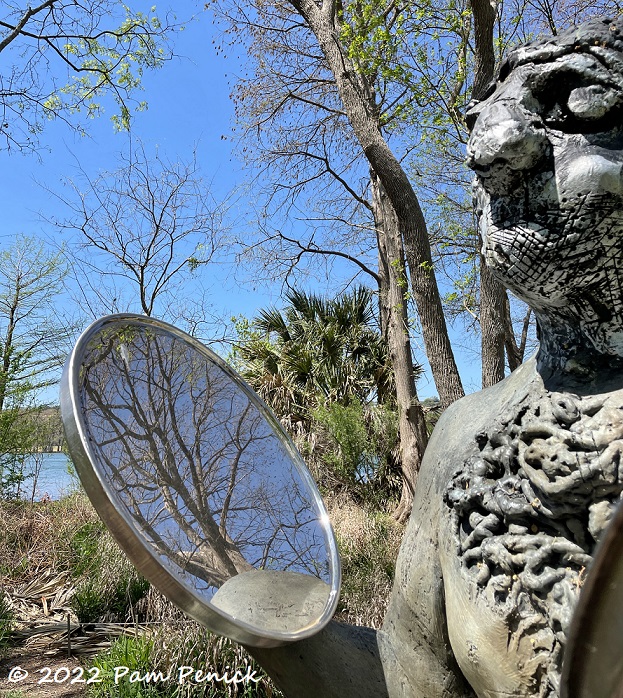 I was also drawn to, and creeped out by, Nicole Eisenman's Man at the Center of Men. A grotesque figure, his chest opened and ropy, perches side-saddle on another man kneeling on all fours. The riding man holds two garbage pail lids with mirrors on the inside, and seems about to clap them together, or perhaps he's tanning himself in reflected sunlight.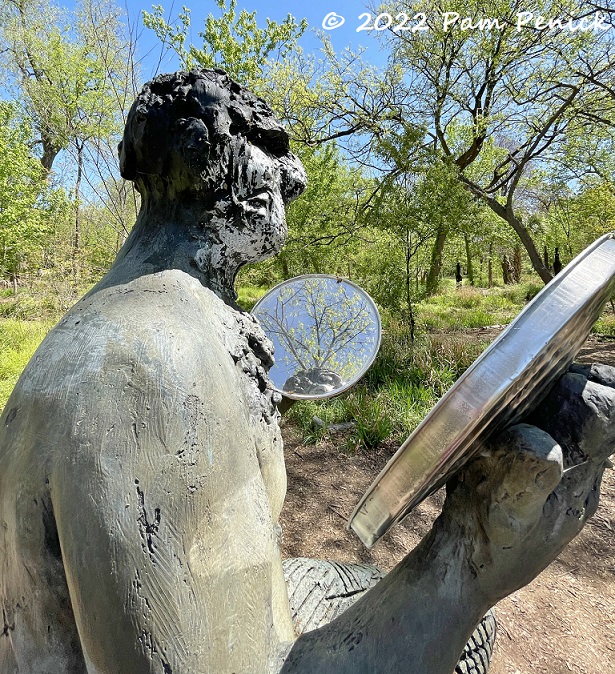 Fresh green trees were reflected in the mirrors too — a vision of renewal amid the corruption seemingly implied.
If you enjoy sculpture gardens, go visit Laguna Gloria. It's open Wednesday through Sunday and is free on Thursdays.
I welcome your comments. Please scroll to the end of this post to leave one. If you're reading in an email, click here to visit Digging and find the comment box at the end of each post. And hey, did someone forward this email to you, and you want to subscribe? Click here to get Digging delivered directly to your inbox!
__________________________
Digging Deeper
May 5th at 8 pm: Attend the final Garden Spark talk of the season! Jennifer Jewell, award-winning author and Cultivating Place podcast host, shows that gardens are powerful agents for change, addressing challenges like climate change, resource use, habitat loss, and more. Using beautiful images from her book Under Western Skies, she'll share innovative gardens that celebrate western landscapes. Get your ticket at this link. Tickets must be purchased in advance; no walk-ins. Come learn something new and hang out with fellow garden lovers!
Explore the Surreal Garden at Zilker Botanical Garden. For two consecutive weekends, the public is invited to attend evening soirées at Zilker Botanical Garden, including botanical-themed neon surrealism, interactive art sculptures, local-favorite foods, craft cocktails, live music, costumes, dancing, and more! A portion of the proceeds benefits the ZBG Conservancy. Tickets are $40 in advance, $50 at the door (plus fees & tax). Dates are April 22-23 and 28-30 from 6 pm to 10 pm. Get tickets here.
Join the mailing list for Garden Spark! Hungry to learn about garden design from the experts? I'm hosting a series of talks by inspiring garden designers, landscape architects, and authors a few times a year in Austin. Check out the 2021-22 schedule. These are limited-attendance events that sell out quickly, so join the Garden Spark email list to be notified in advance. Simply click this link and ask to be added.
All material © 2022 by Pam Penick for Digging. Unauthorized reproduction prohibited.