September 08, 2021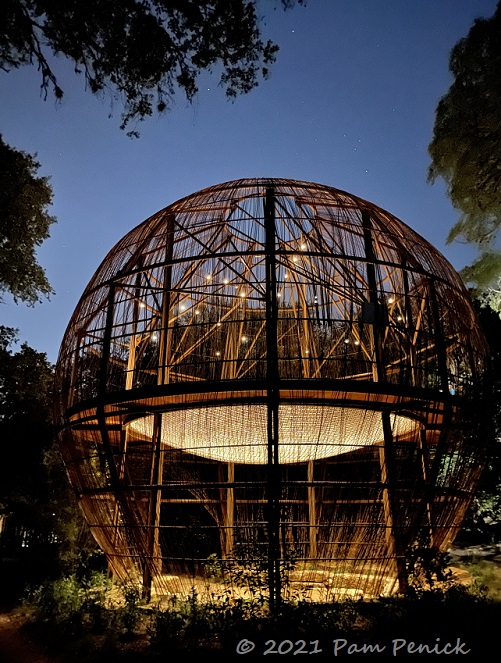 I recently returned to Kingsbury Commons at Pease Park to see the Treehouse and other new features after dark. It turns out, nighttime Pease Park may be even better than daytime Pease Park! (Click for my first visit to Pease). I mean, look at the Treehouse, glowing like a sort of organic space pod.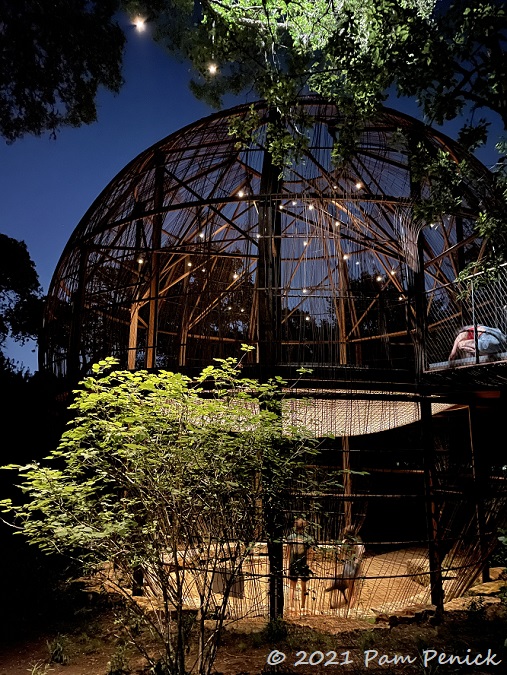 Other visitors were taking pictures too, trying to capture the firefly glow of hanging lights above the net. The net was closed off that evening, but you could still explore the upper ramp or hang out below.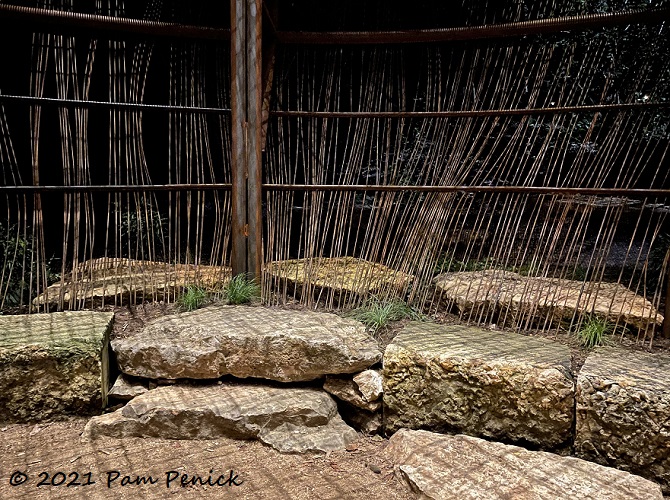 Under the net, a few people were sitting on the rocks and enjoying the atmosphere. Shadows crosshatched from the net above patterned us and the rocks.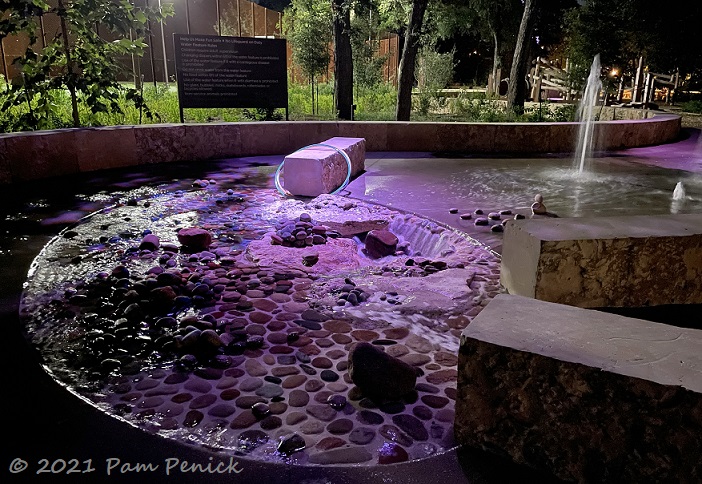 The splash pad was glowing magenta thanks to creative lighting. I noticed that the rocks in the naturalistic "beach" in the center have been cemented to the ground, most of them anyway. When it first opened, the rocks were piled loosely, and, well, I can guess how that worked out. I like that a few small piles are still available to play around with though. Here's a place where it's OK to stack rocks into cairns. (Read how rock stacks in wild places are detrimental to wildlife.)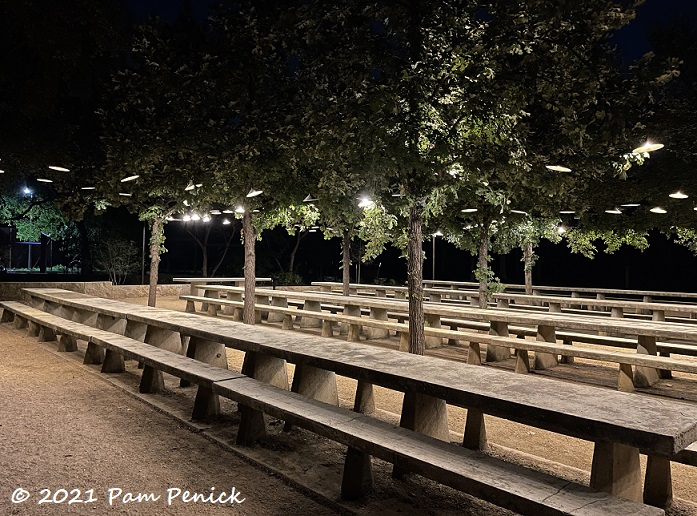 The park's New Deal-era picnic tables have a festive biergarten look now, with rows of newly planted trees supporting string lights.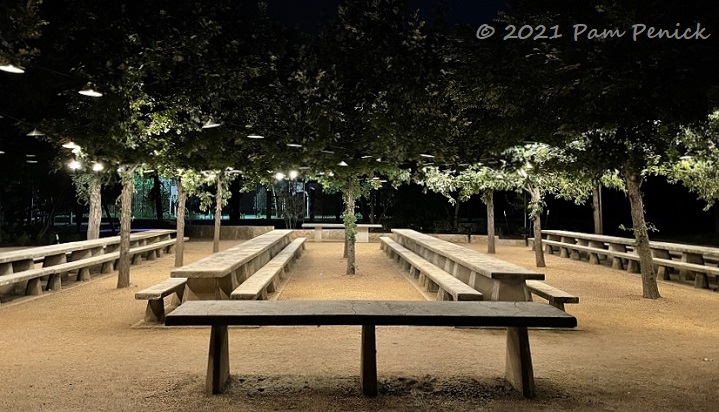 It's a beautiful spot for an outdoor party. Bring on Oktoberfest! As soon as covid-safety allows, of course.
To see more of Pease Park's newly redesigned Kingsbury Commons, in the daytime, click here for my July visit.
I welcome your comments; please scroll to the end of this post to leave one. If you're reading this in a subscription email, click here to visit Digging and find the comment box at the end of each post.
_______________________
Digging Deeper: News and Upcoming Events
Need design help with your yard? Hire me as your personal garden coach! Maybe you need replacement plant ideas after the big freeze. Or maybe your landscaping has grown tired, and you want fresh curb appeal. Or perhaps you're ready to get rid of some lawn and create a pollinator garden, bird habitat, or hangout space for you and your friends. I'm here to help! Contact me to let me know what's going on, and let's figure it out together. My range is Austin and suburbs within a 25-min. drive of NW Austin, but I'm flexible and can travel farther with a surcharge, so let me know where you are. Weekday morning appts. only.
Join the mailing list for Garden Spark! Hungry to learn about garden design from the experts? I'm hosting a series of talks by inspiring garden designers, landscape architects, and authors a few times a year in Austin. Check out the 2021-22 schedule. These are limited-attendance events that sell out quickly, so join the Garden Spark email list to be notified in advance. Simply click this link and ask to be added.
All material © 2021 by Pam Penick for Digging. Unauthorized reproduction prohibited.