March 15, 2022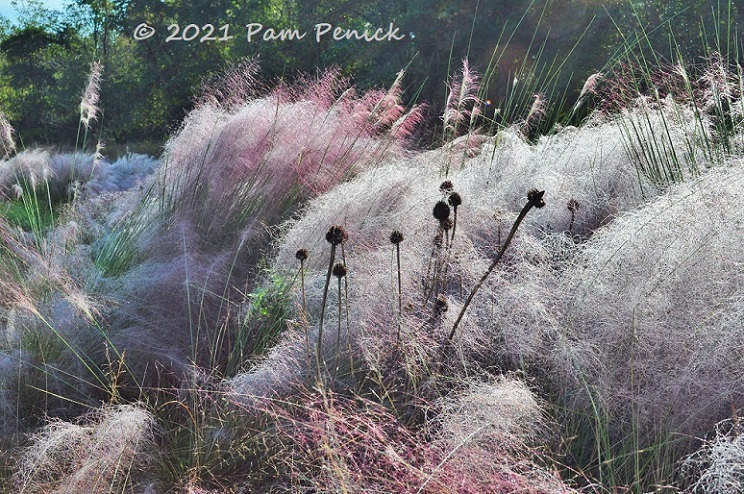 The last public garden I visited on my road trip down the East Coast last October was newly opened Delaware Botanic Gardens in Dagsboro, Delaware. The big draw? A 2-acre meadow designed by revered Dutch plantsman Piet Oudolf, who also designed the plantings of the High Line in New York City. Driving south from the Wilmington area, I arrived mid-morning on October 15th, when pink- and white-flowering muhly grasses were as frothy and gossamer in the morning light as freshly spun cotton candy.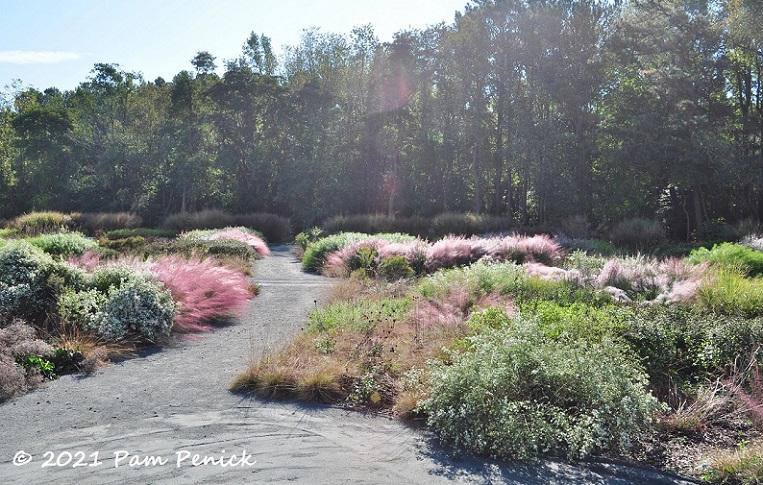 Located on the coastal plain, Delaware Botanic Gardens was founded through the fundraising and organizing efforts of garden-loving locals, not via wealthy benefactors. Oudolf was sufficiently impressed by their goal to create from scratch a public garden focused on native plants — a garden that anyone could visit rather than a private residential garden hidden away — that he signed on to design the signature meadow garden.
Piet Oudolf Meadow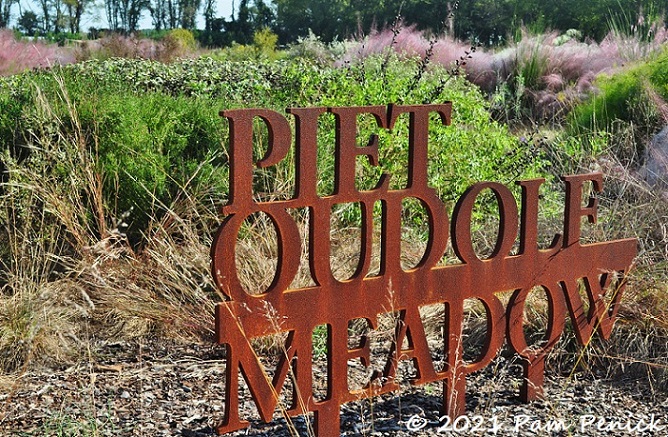 My visit in mid-October was near the end of the garden's open season. It turned out to be a spectacular time to see the meadow thanks to the muhlies and other grasses.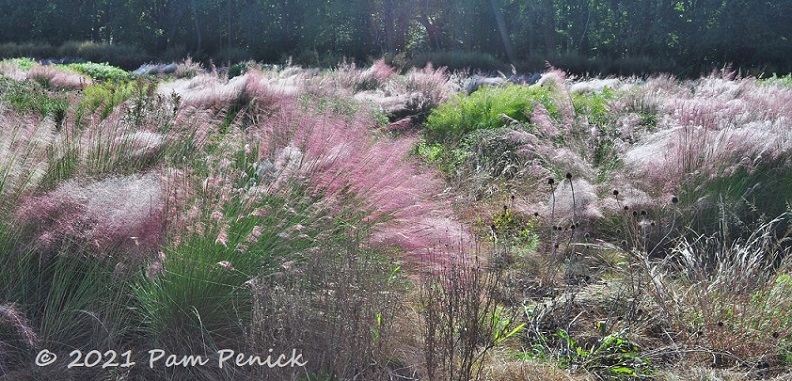 I'll let the photos mostly speak for themselves. If you'd like to pore over Oudolf's plant list (much abbreviated, no doubt), here are links to the Upper Meadow, Middle Meadow, and Lower Meadow.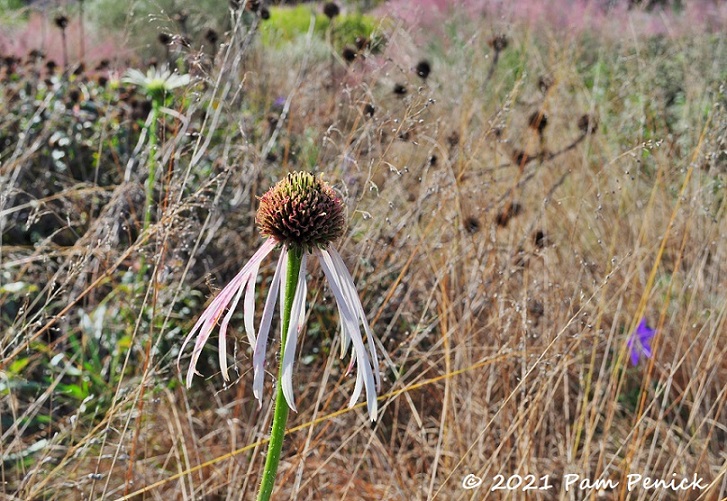 'Hula Dancer' echinacea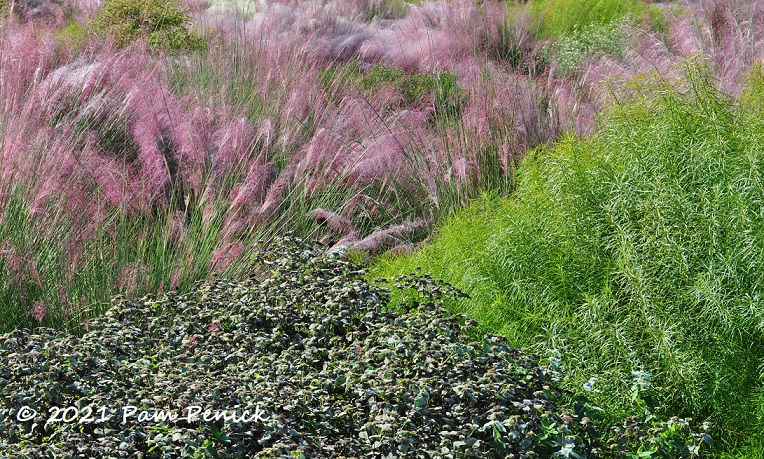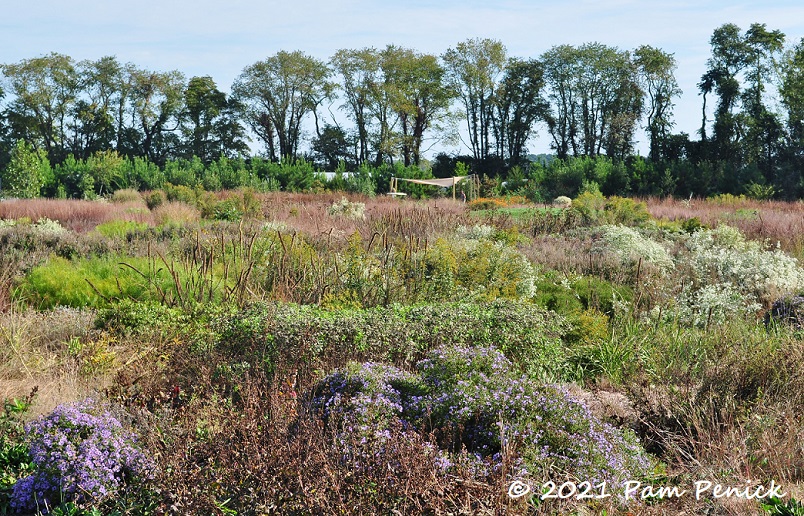 Meadow view looking toward an outdoor classroom sheltered by a shade sail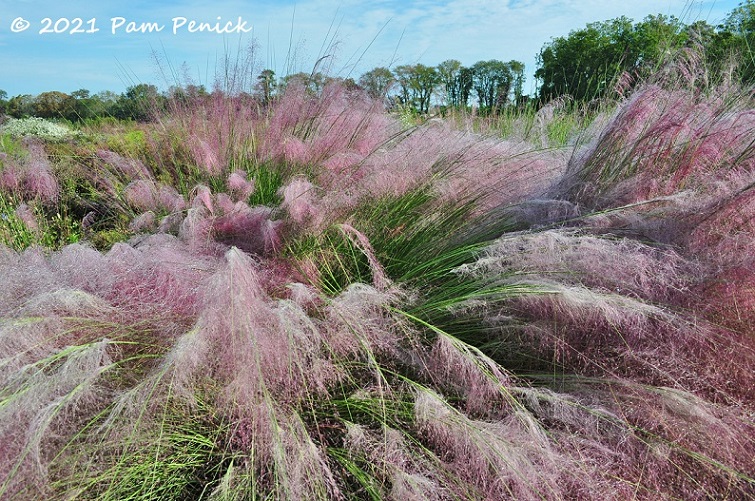 Pink muhly foaming like a breaker wave coming at you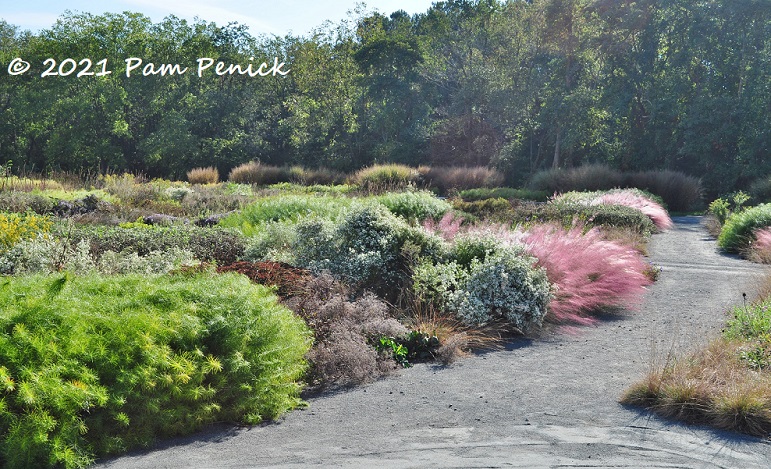 The meadow is laid out like a figure 8, generously bisected by broad, crushed-gravel paths that allow you to explore among the plants, not just view the meadow from the perimeter or a central path.
Viewing mound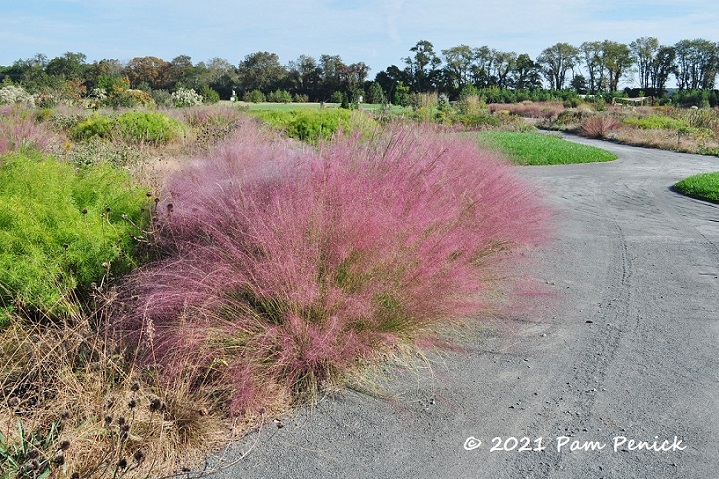 In the center of the upper meadow, a turf berm resembles a green island, encircled by paths leading off in four directions. A crossroads…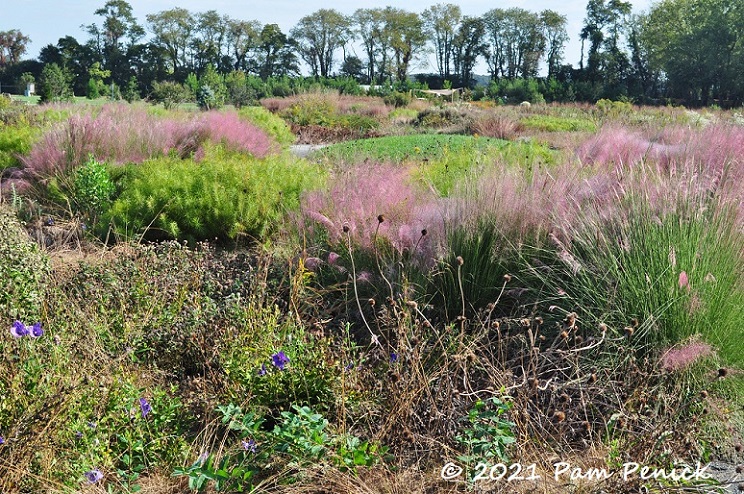 …and an elevated view spot.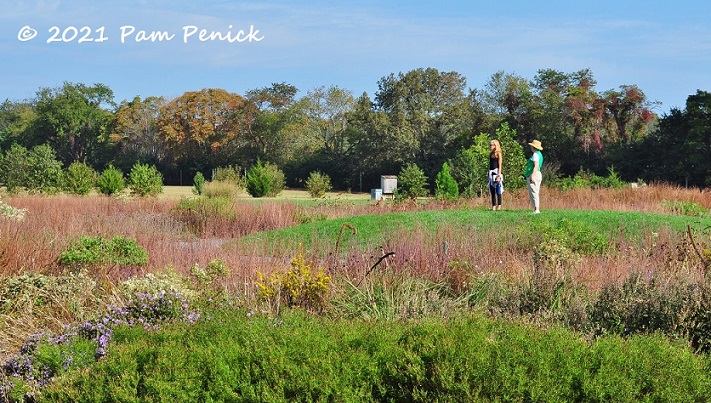 It draws visitors to climb up and survey their surroundings.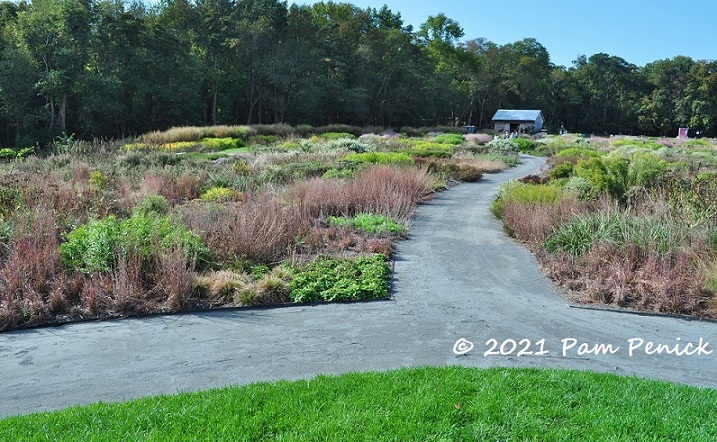 I went up and did my own meerkat-like look-about.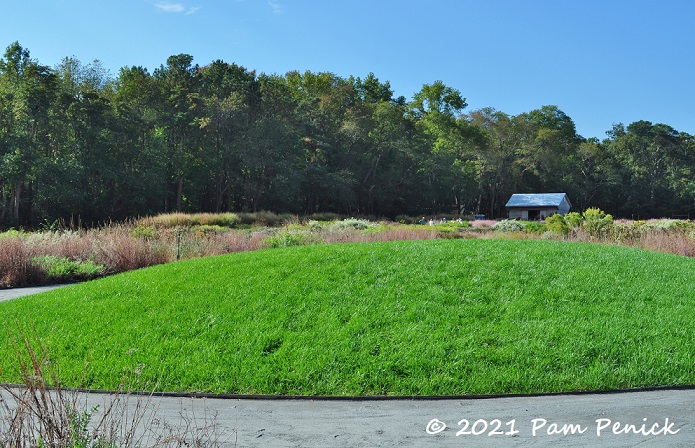 It's a clever feature to include in a flat garden, much like the seating berms at equally flat Houston Botanic Garden.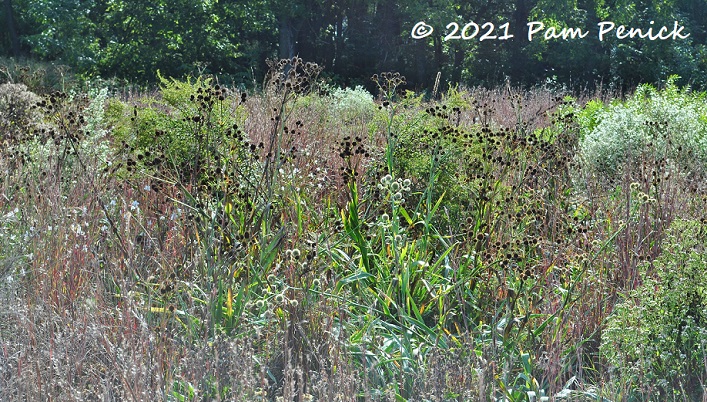 I'm sure the birding is excellent in the meadow, especially when perennials and grasses go to seed.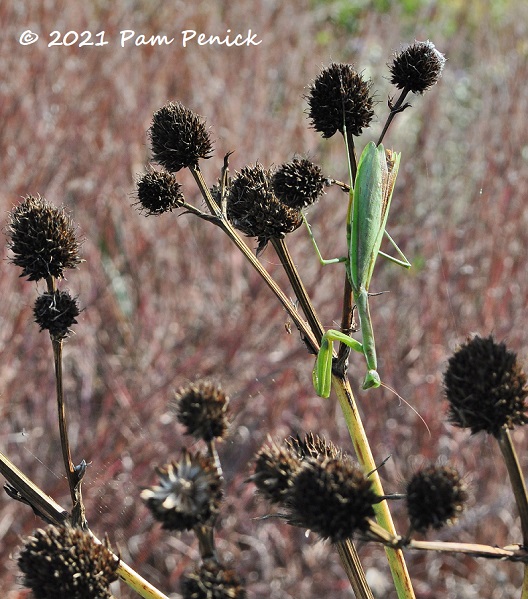 Other wildlife can be spotted here too, like this big praying mantis.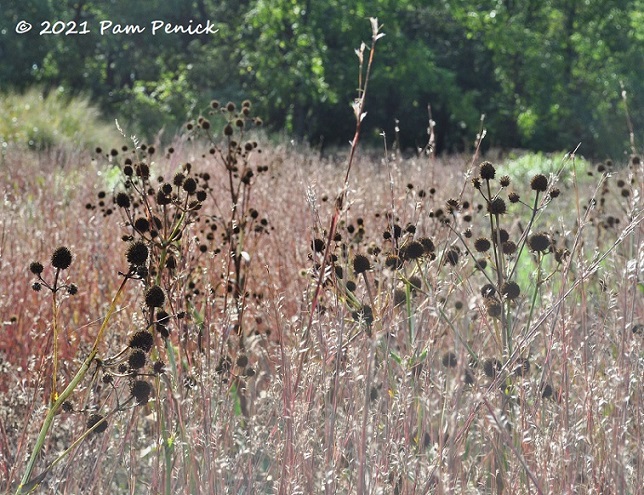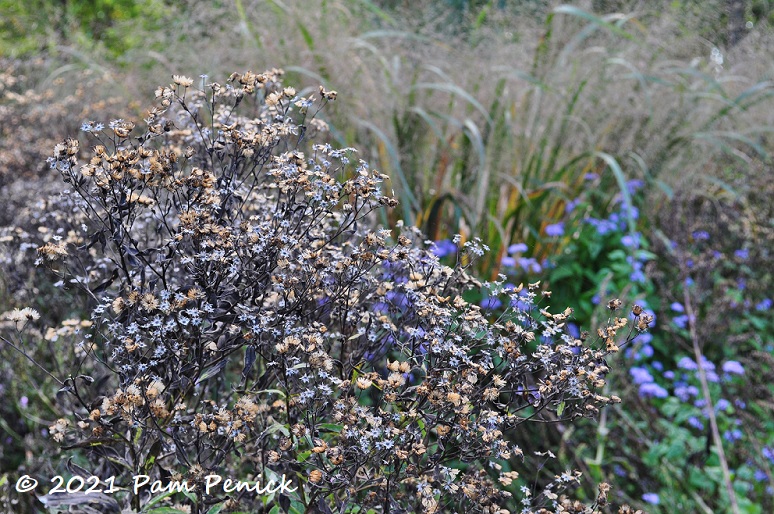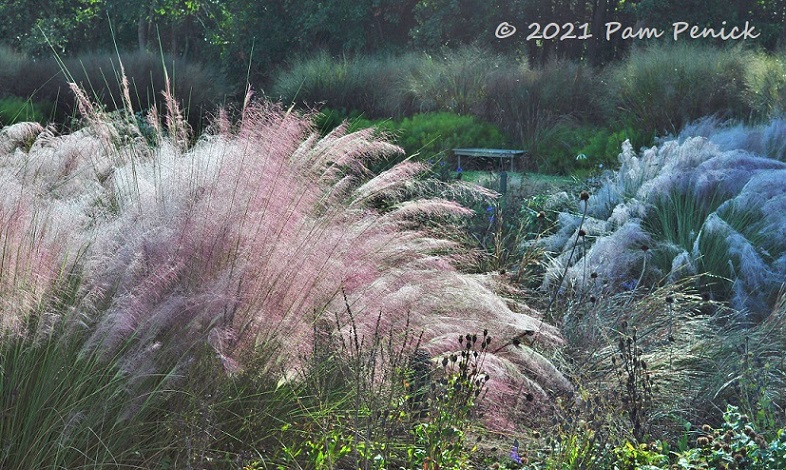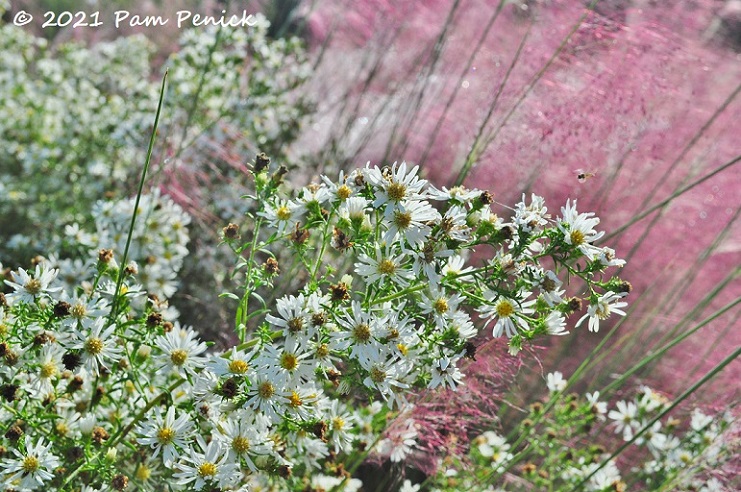 A pollinator en route to white asters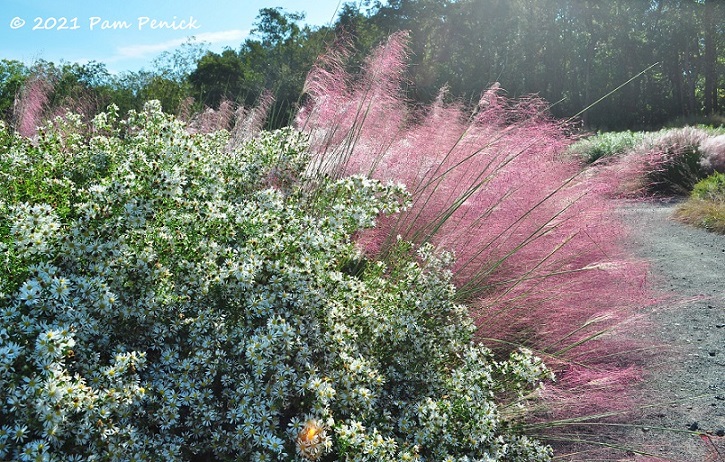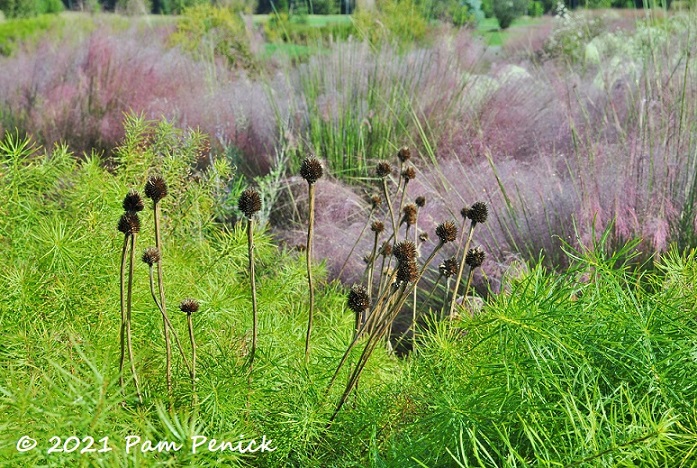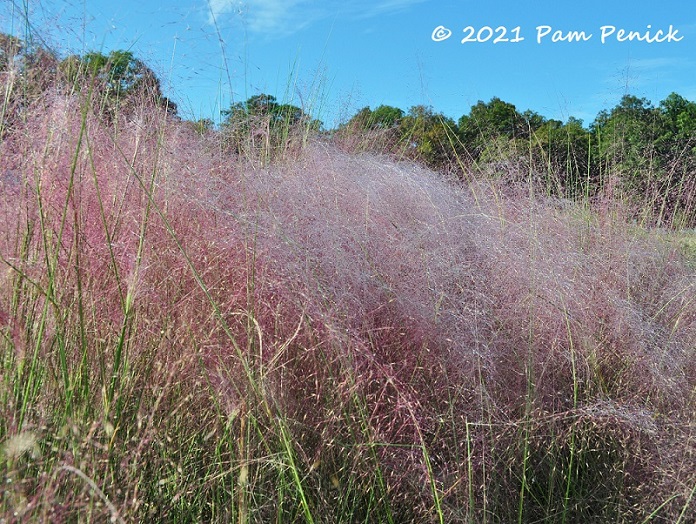 Immersed in inflorescence!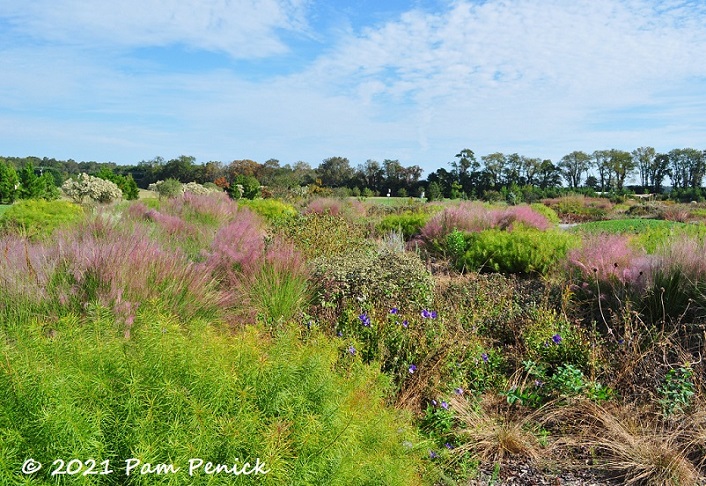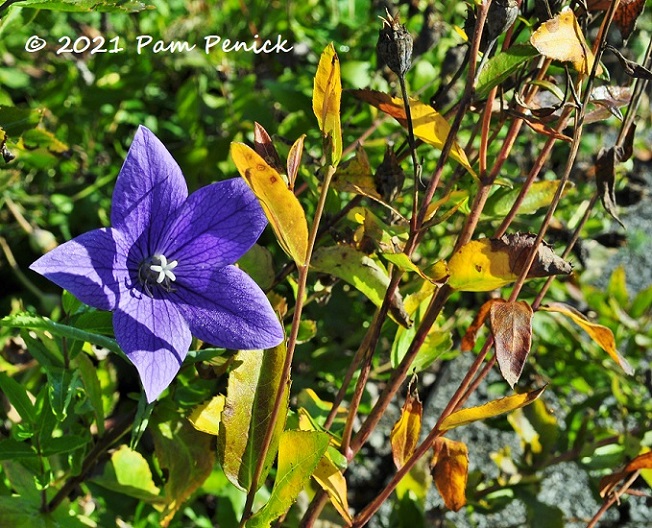 'Mariesii' balloon flower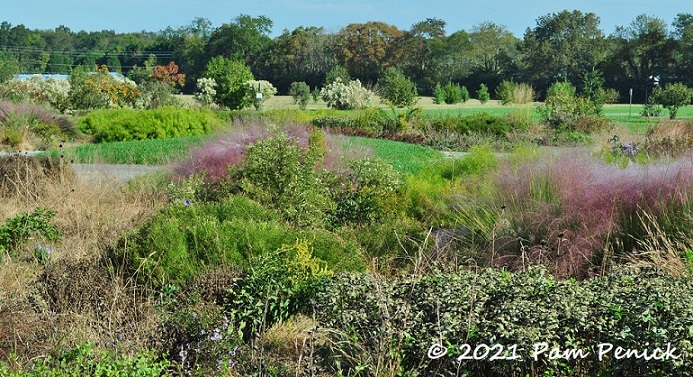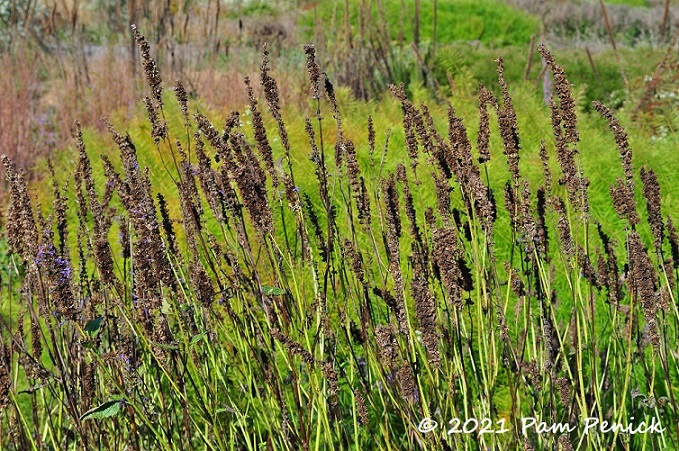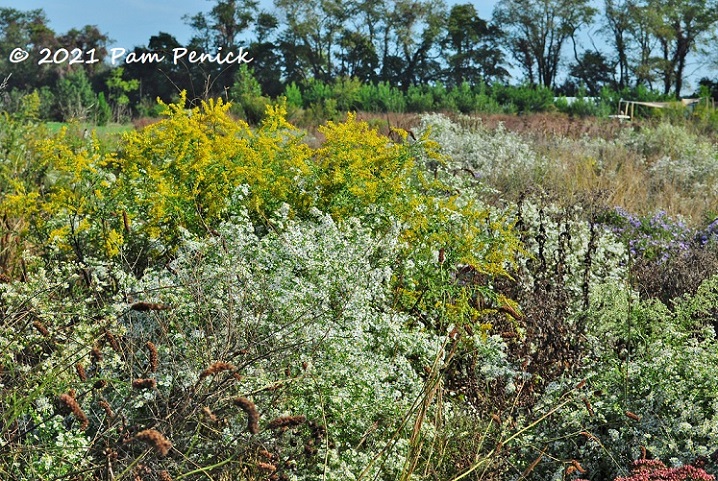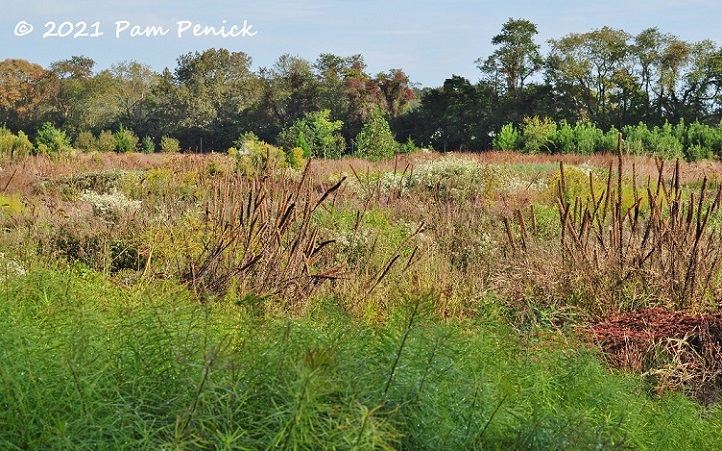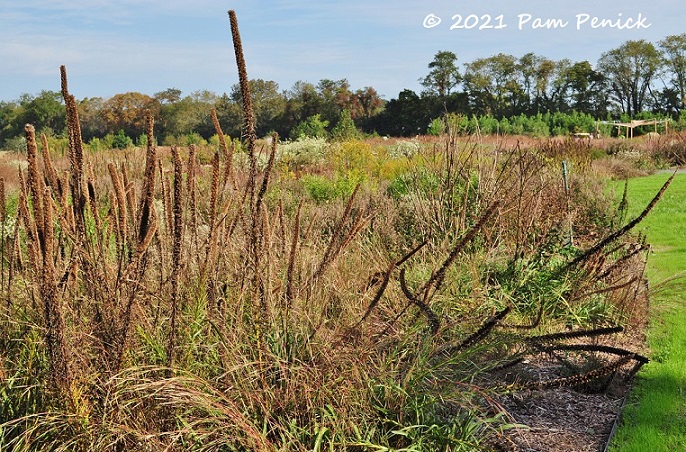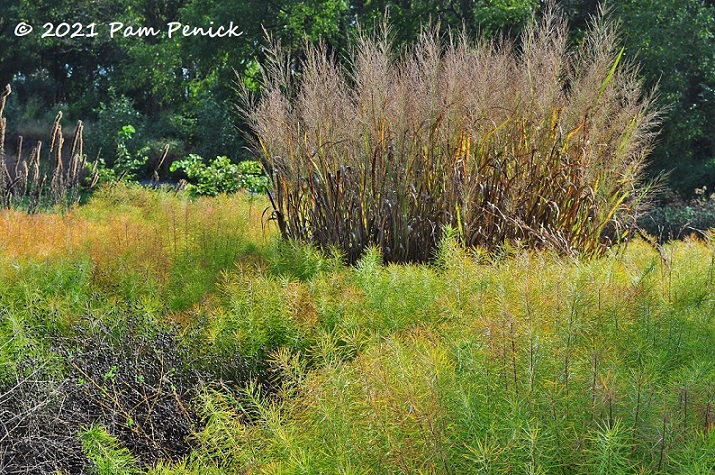 I was a bit early for the amsonia to turn gloriously golden, but it was close.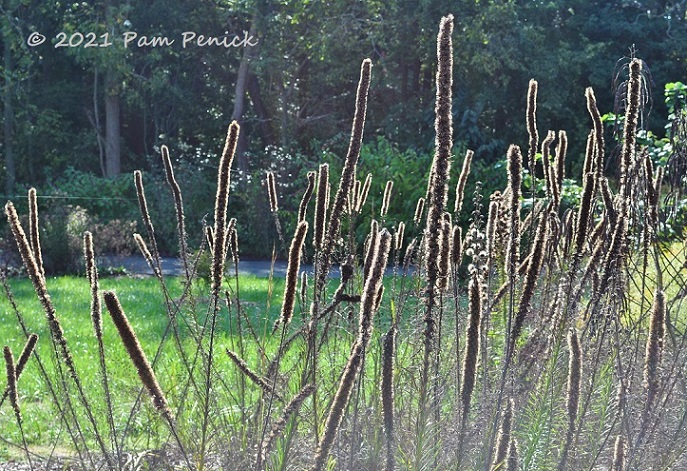 Learning Garden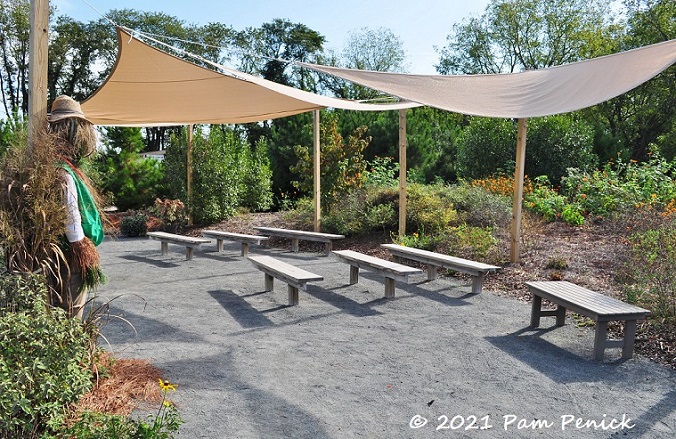 At the end of the upper meadow, an outdoor classroom shaded by sun sails looks group-ready.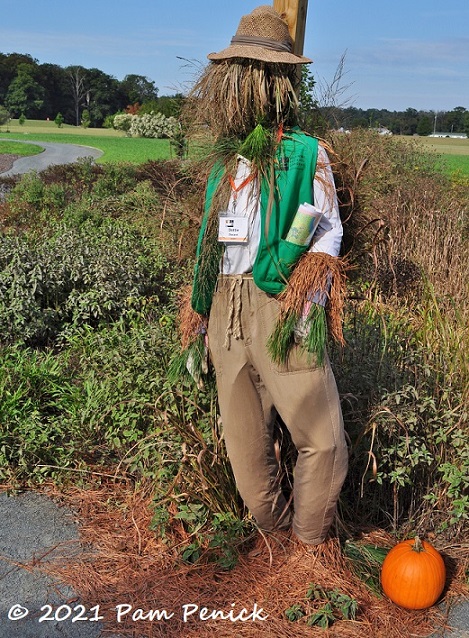 Here's the instructor. Just kidding! This is one of several creative scarecrows placed throughout the gardens last October.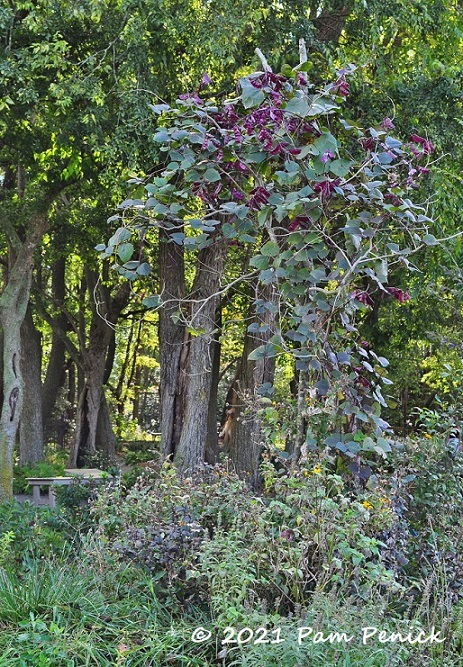 Hyacinth bean vine climbing a small tree at the woodland edge
Folly Garden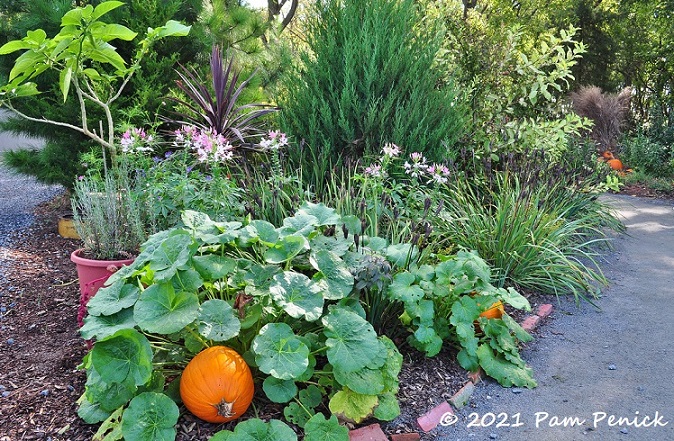 The entrance to the Folly Garden…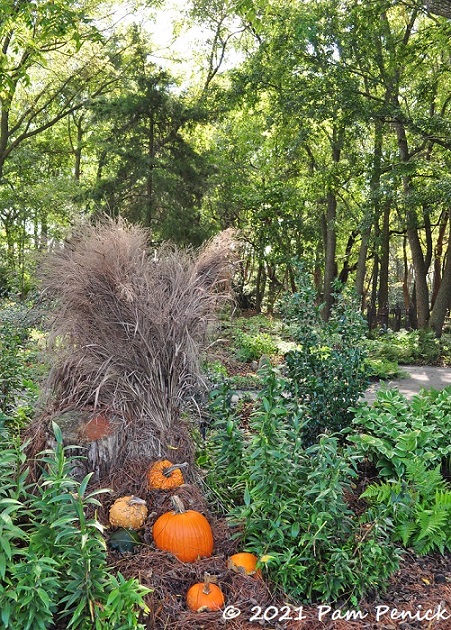 …a bright-shade garden in a grove of trees. In October it was adorned with pumpkins and squash, but in spring it comes to colorful life with daffodils, tulips, and other bulbs.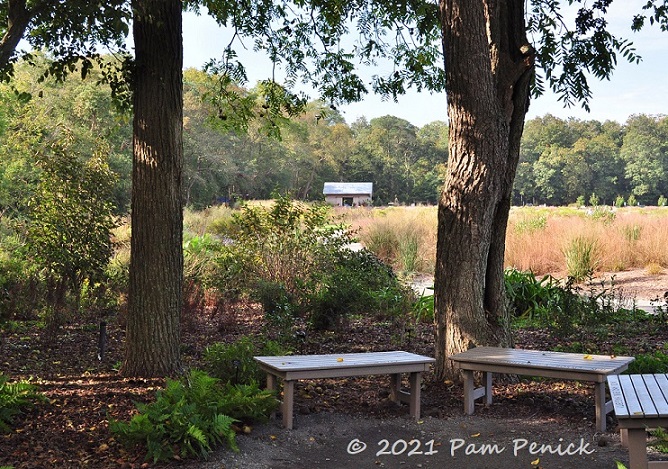 A shady spot to sit, with a view across the Oudolf meadow to the visitor center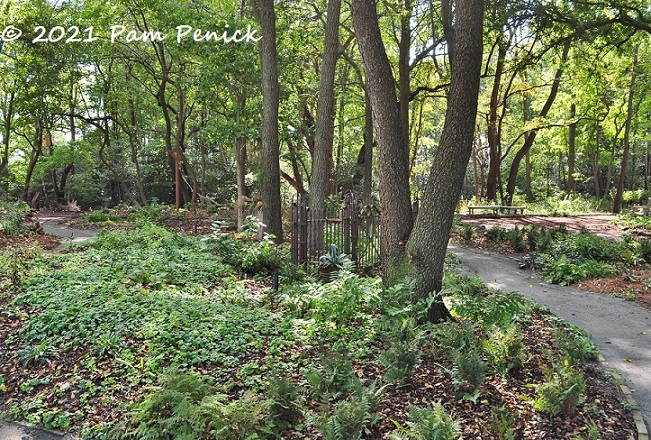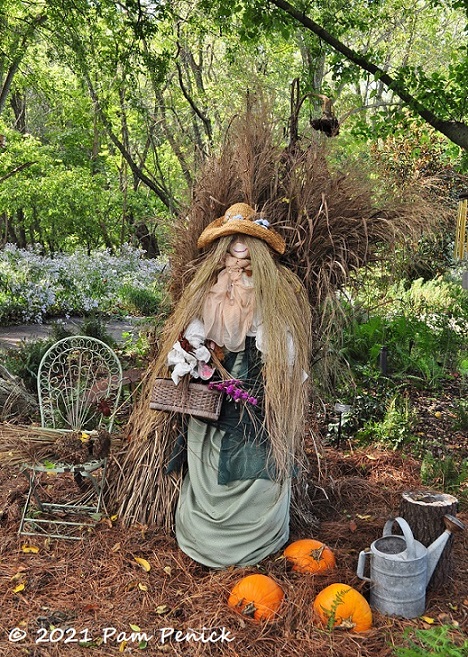 A gardener scarecrow with her trug basket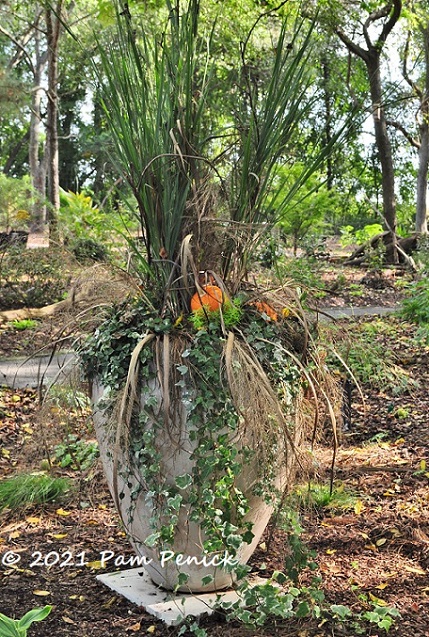 A simple grass-and-ivy planter with pumpkins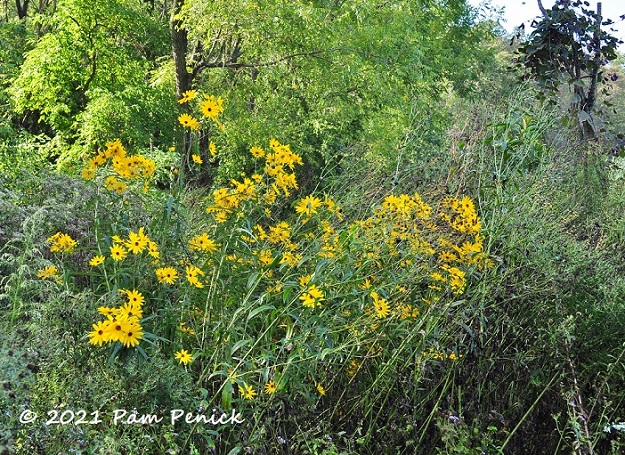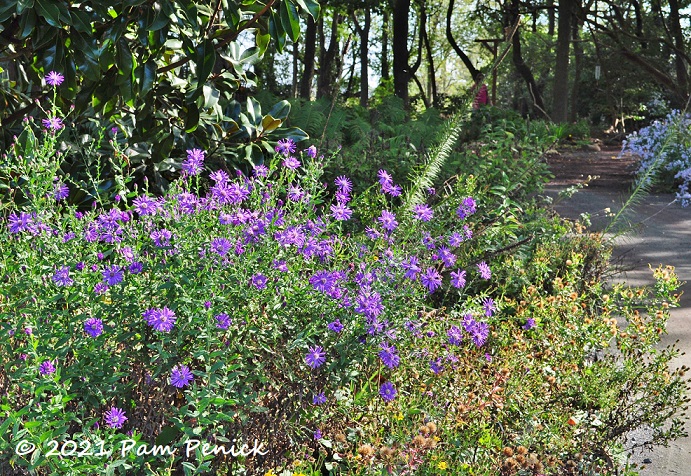 Asters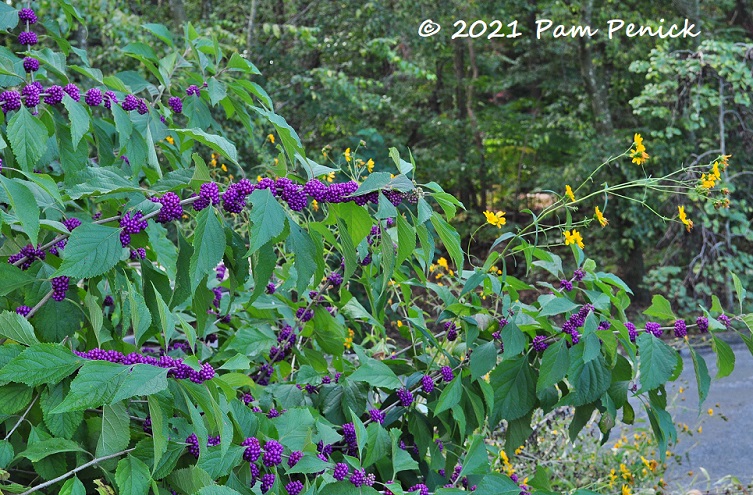 Beautyberry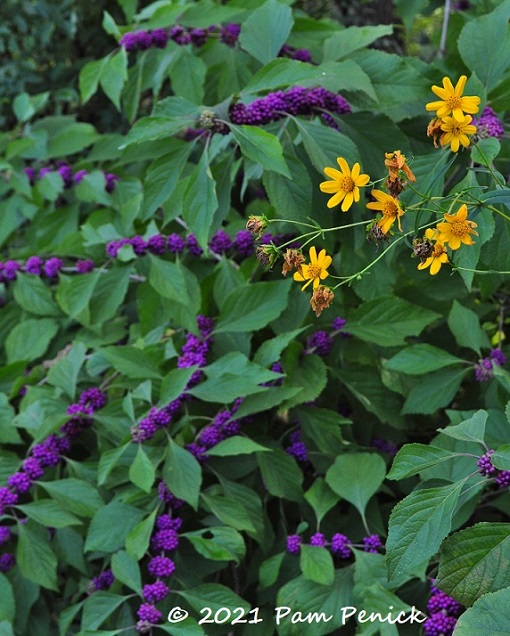 Woodland Garden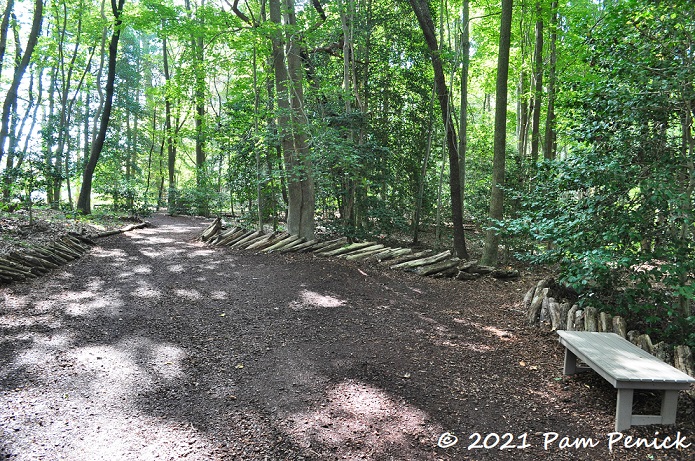 Woodland gardens make up 12 acres of DBG, with circuitous walking trails offering meditative, shady strolls.
Gigantic nests appear here and there among the trees.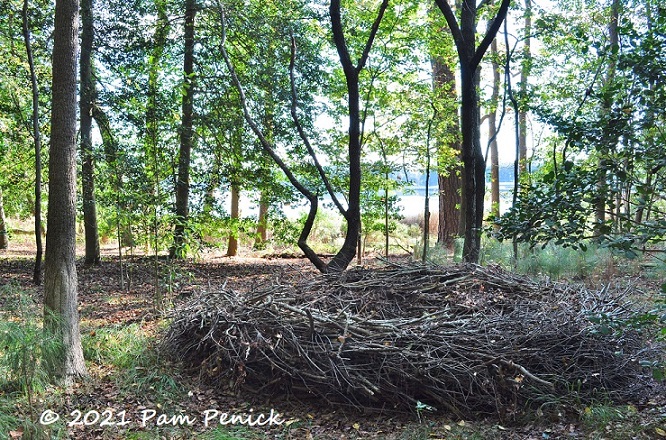 They seemed made just to look at, not to play in. Perhaps this is what the gardening staff does with fallen branches?
The Point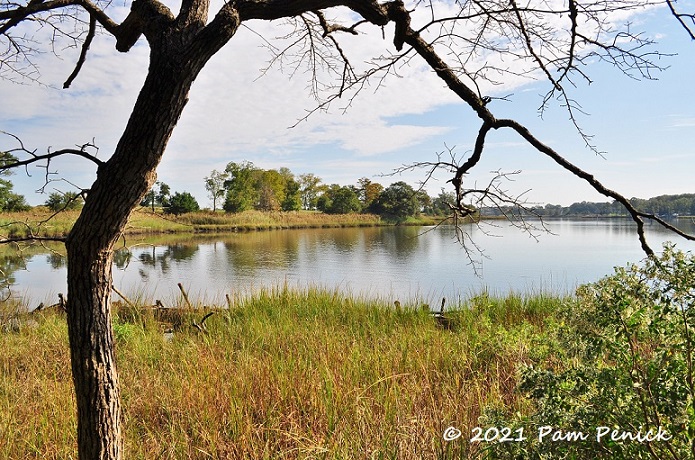 Pepper Creek flows along the edge of the woodland garden. Several trails lead to the Point, which offers a pleasant spot to view the water.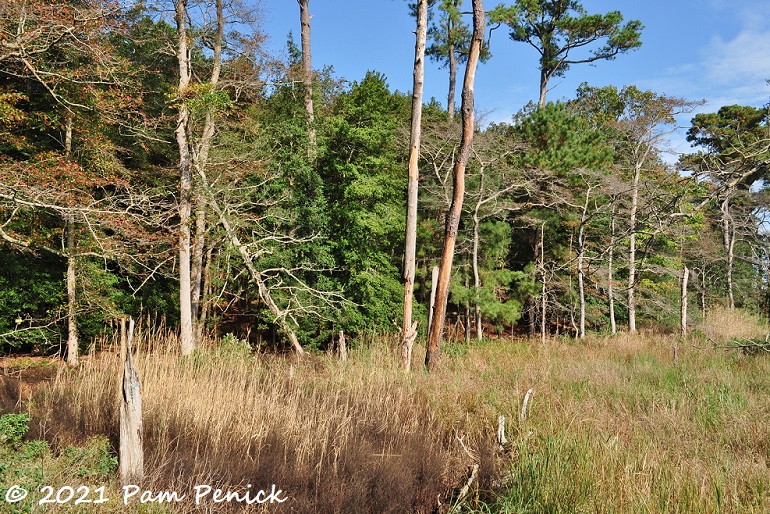 The marshy woodland edge
Visitor Center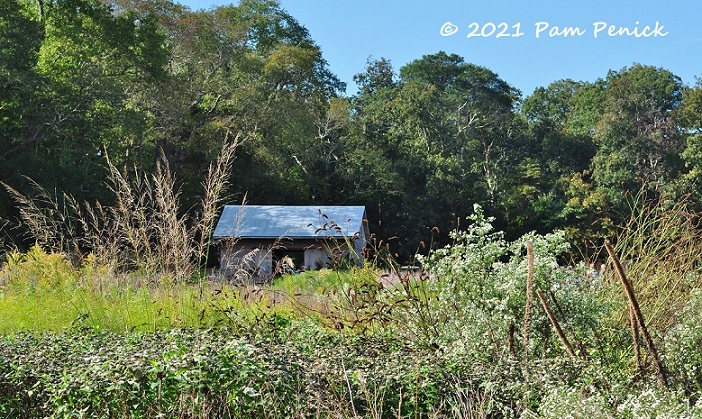 Currently a small, open-air building serves as the welcome center, but plans are in the works for a larger visitor center designed by Lake|Flato, a San Antonio-based firm. During my visit, contractors were busy constructing permanent restrooms next to the visitor center. In some ways, the garden still feels brand-new, although the meadow garden is already lush and full just a couple of years in.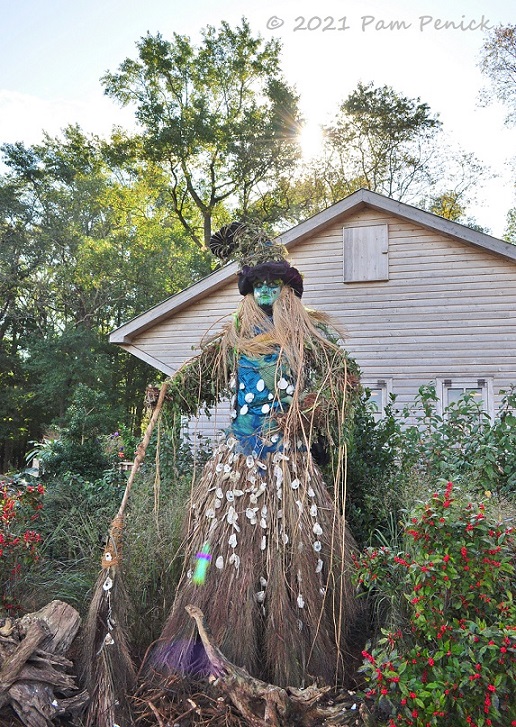 Greeting visitors, a 9-foot-tall, green-faced sea witch stood proudly adorned with oyster shells and a curved, pointy hat.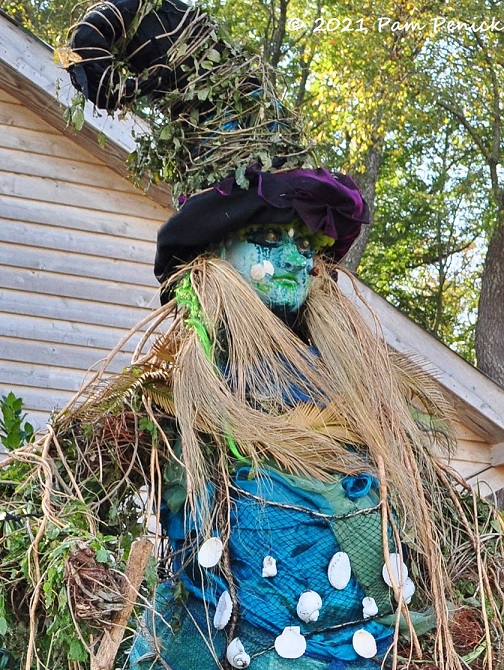 She was marvelous, and surprisingly realistic looking!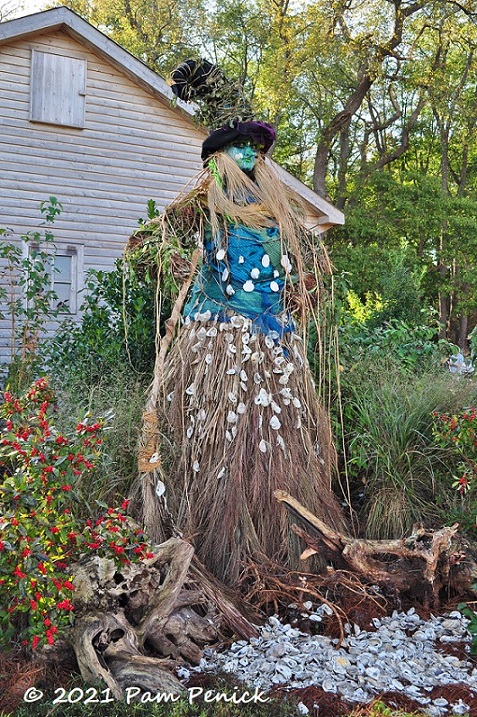 She was the garden's contribution to the Rehoboth Beach Chamber of Commerce Sea Witch Festival. That's something I need to see one day. Comparable perhaps to the fun Zombie Crawl in Eureka Springs, Arkansas?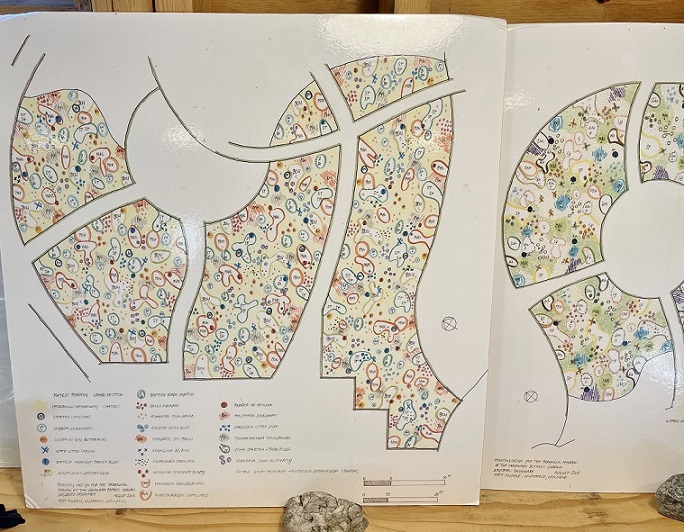 Inside the no-frills visitor center, laminated copies of Piet Oudolf's meadow plans are displayed.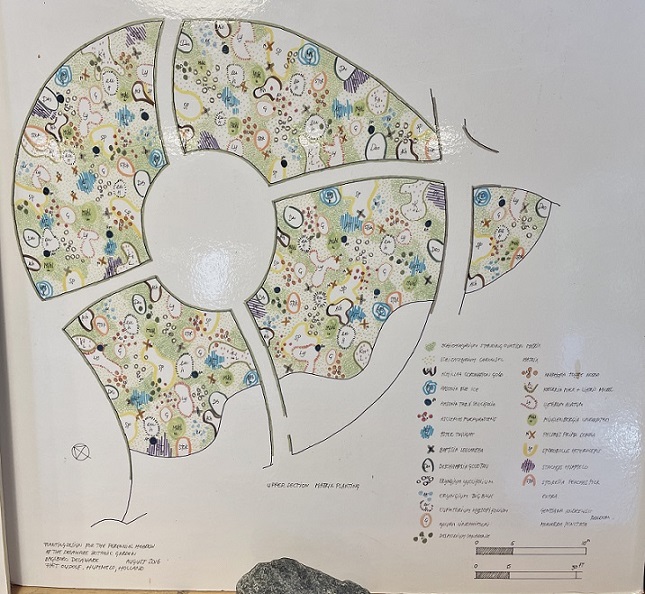 It's fascinating to see how he lays out matrixes of thousands of meadow plants.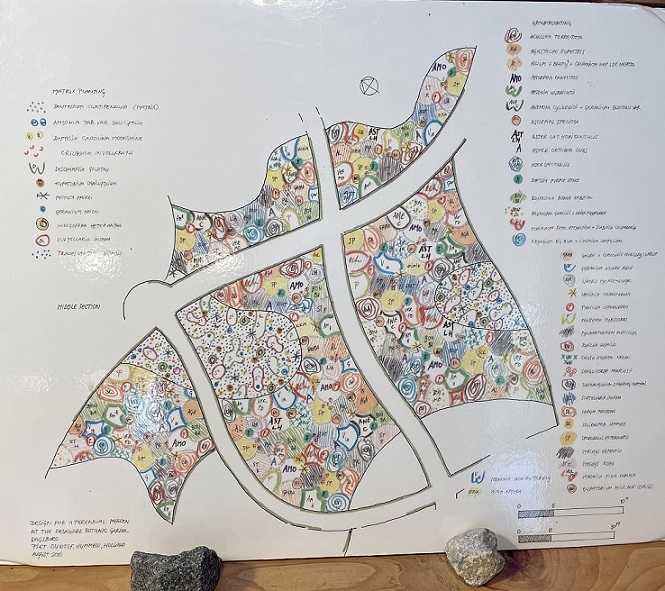 It must have taken an army of volunteers to plant everything.
Rhyne Garden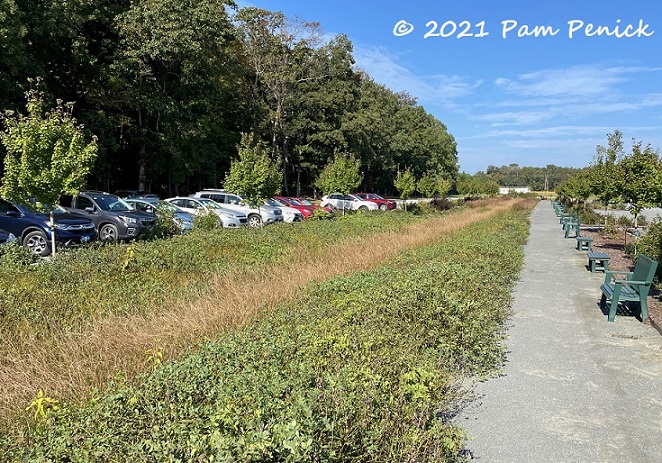 Along the parking lot, a stormwater-management garden includes 12,000 native perennials, shrubs, and trees planted in a wide swale to slow and capture runoff and give it time to soak into the soil.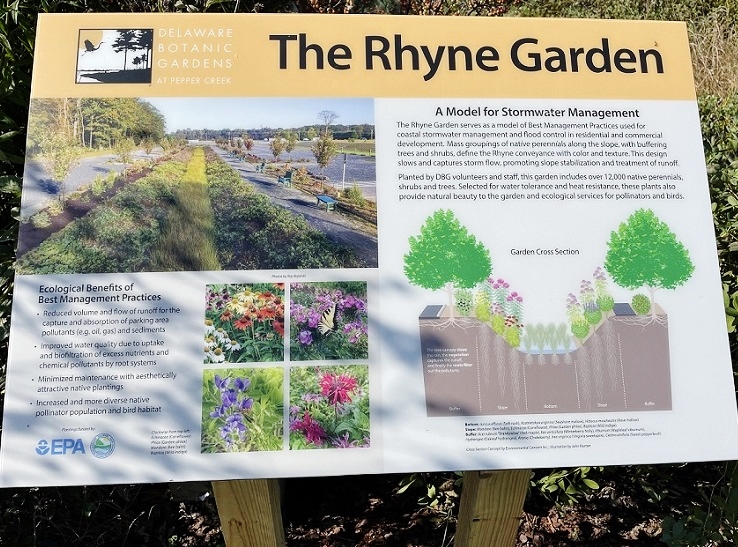 As the sign explains, the (eventual) tree canopy slows the rain, vegetation captures the runoff, and plant roots filter out pollutants.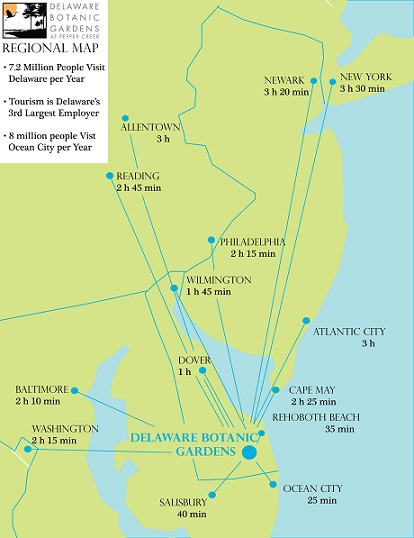 Delaware Botanic Gardens is off the beaten path in rural Sussex County but within driving distance of Washington, D.C., Philadelphia, and even New York. It's definitely worth an hour or two of exploration, even before the rest of the planned gardens have been completed. As of this writing, visiting hours are Thursday through Sunday only, so plan accordingly.
For a look back at Part 6 of my tour of marvelous Chanticleer Garden, click here. You'll find links to my other Chanticleer posts at the end of each article in the series. Up next: The final post from my big road trip, a visit to Chincoteague and Assateague Islands — with pony sightings! — on Virginia's Eastern Shore.
I welcome your comments. Please scroll to the end of this post to leave one. If you're reading in an email, click here to visit Digging and find the comment box at the end of each post. And hey, did someone forward this email to you, and you want to subscribe? Click here to get Digging delivered directly to your inbox!
_______________________
Digging Deeper
Need design help with your yard? Hire me as your personal garden coach! Maybe you need replacement plant ideas after the big freeze. Or maybe your landscaping has grown tired, and you want fresh curb appeal. Or perhaps you're ready to get rid of some lawn and create a pollinator garden, bird habitat, or hangout space for you and your friends. I'm here to help! Contact me to let me know what's going on, and let's figure it out together. My range is Austin and suburbs within a 25-min. drive of NW Austin, but I'm flexible and can travel farther with a surcharge, so let me know where you are. Weekday morning appts. only.
Attend the John Fairey Garden's annual Budding Out Plant Sale & Festival on Saturday, March 19 in Hempstead. Rare and distinctive plants from the garden's nursery and other vendors will be available, plus art, ceramics, jewelry, food, music, and entertainment for the whole family. Open 10 am to 4 pm. Members get first dibsat the plant sale with 9 am entry (memberships available at the gate). Check the webpage for a continually updated vendor list.
Learn from gardening experts at Trowel & Error, the annual symposium at Mayfield Park in West Austin. After a 2-year COVID hiatus, the symposium returns on Saturday, April 2, from 9:30 am to 1 pm. I can't find a link to share, but designer Colleen Jamison will be speaking at 11 am, along with entomologist Wizzie Brown at 10 am and rose expert Theresa Anderson at noon. Located at Mayfield Park, 3505 W. 35th St. Cost unknown at this time.
Join the mailing list for Garden Spark! Hungry to learn about garden design from the experts? I'm hosting a series of talks by inspiring garden designers, landscape architects, and authors a few times a year in Austin. Check out the 2021-22 schedule. These are limited-attendance events that sell out quickly, so join the Garden Spark email list to be notified in advance. Simply click this link and ask to be added.
All material © 2022 by Pam Penick for Digging. Unauthorized reproduction prohibited.