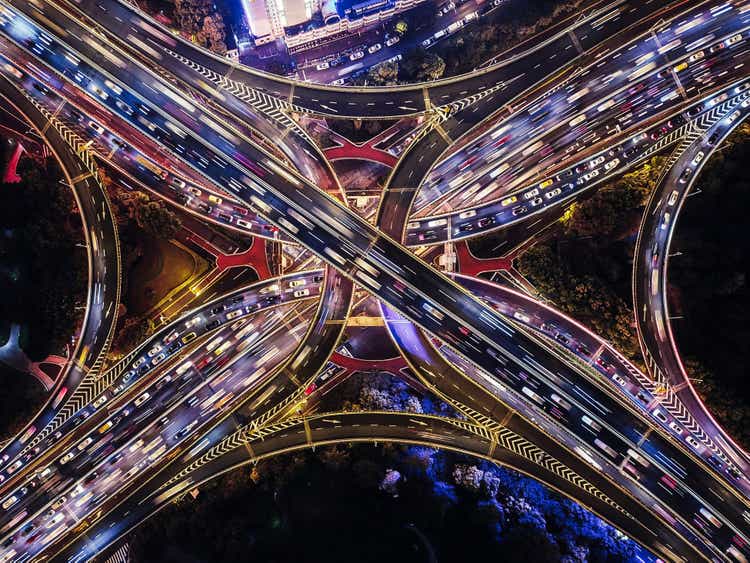 Introduction
Polygon (MATIC-USD) has already positioned itself as a viable scaling solution for Ethereum (ETH-USD). Its primary value lies in its ability to reduce transaction fees on the Ethereum network while simultaneously increasing transaction speed. To truly understand Polygon, you need to have a fundamental understanding of the Ethereum Blockchain and its challenges. Let's take a brief look at the Polygon Ecosystem and the reason behind its success with Ethereum's current challenges.
The Polygon Network was first created by experienced Ethereum developers in 2017 as a Proof of Stake model to serve as a 1-D solution to address Ethereum's scalability and congestion. Since then, the Polygon ecosystem has grown considerably to feed the parabolic growth of Ethereum, Decentralized Finance, and NFT's to provide a framework for blockchain networks. Polygon's architecture can now be best described as a four-layer system consisting of the Ethereum layer, security layer, Polygon's network layer, and the execution layer. The best way to describe this project currently would be from the company itself. "Polygon is a decentralized Ethereum scaling platform that enables developers to build scalable user-friendly dApps with low transaction fees without ever sacrificing security" (Polygon). Their ecosystem has been able to grow considerably from inception by addressing Ethereum's problems and using their security while expanding their own platform's reach to provide simplistic developer and user-friendly options.
Polygon's Scaling Solutions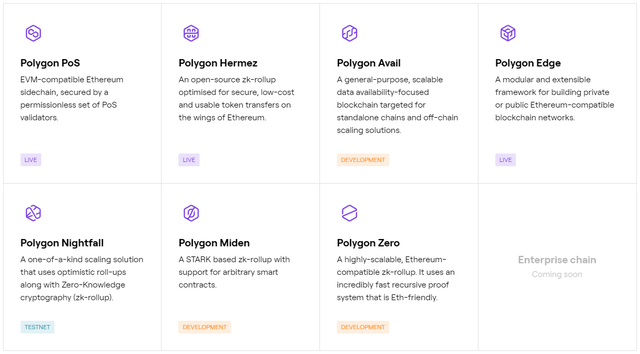 Polygon was built on the belief that there is no single best solution to accommodate all applications. Multiple options allow for developers to pick and choose certain protocols based upon their own needs. Check out this article on Polygon's growth from Polygon's website mentioning its growing popularity. As of December, more than 7,000 dApps are running on their network compared to 3,000 in October and just 30 a year earlier. It also mentions that 55% of projects have integrated exclusively on Polygon compared to 45% that chose both Polygon and Ethereum. As Polygon becomes more accessible and integrated with various exchanges and applications, the use case should grow considerably.
Polygon now says they can handle up to 65,000 transactions per second with an average block confirmation of fewer than 2 seconds. Whether it's 65,000 now or the 10,000 number that's been previously reported, it can handle a whole lot more than Ethereum.
Polygon Vs. MATIC
To be clear, Polygon is different than MATIC. Polygon is a technology platform that offers a Layer-2 scaling solution that enables blockchain networks to connect and scale while MATIC is its native token. Think about a Layer-2 solution as a 2nd option, sideroads to take when a narrow highway is packed bumper to bumper with cars. If you're driving in the middle of the night on a Tuesday in the winter, it's probably open. If it's a major holiday, you're probably going to have problems. That is where Polygon comes in; to alleviate some of the overload and offer cheaper transactions.
The fundamental basis of MATIC is similar to how Ethereum started for me. When I first started investing, I realized I needed to hold Ethereum to transact and pay for the investments I made and the same has been true for MATIC. The main difference thus far has been the cost. Polygon provides a much cheaper solution than Ethereum at the moment. For example, if I try and send $100 worth of MATIC the gas fee I would pay is 0.00064 MATIC which is $0.00097, a fraction of a penny. However, if I try and send $100 worth of Ethereum, the gas fee I pay is $4.06. It's also important to note that gas fees for ETH are at a very low level at the moment, but we can probably expect this to rise soon unless the price of Ethereum keeps continuing lower.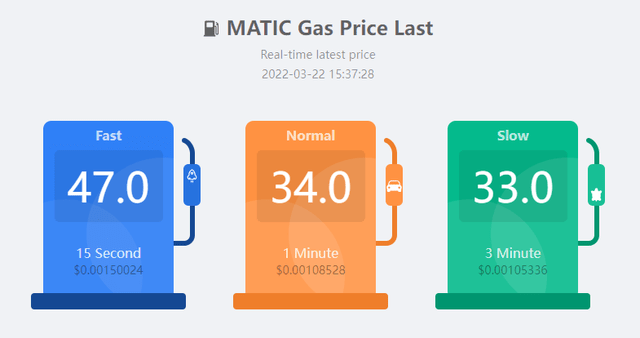 Ethereum's Challenges
Ethereum is more valuable than Polygon, there is no debate there. But nothing is perfect, especially in a still relatively new emerging market. I'll cover Ethereum more in-depth soon, but let's take a look at just some of the basic challenges facing ETH today.
Ethereum's current problem is that when an increased number of users are bidding on a limited number of block spaces, the result is drastically higher gas fees. Ethereum can currently process 15 TPS (transaction per second), resulting in slow transaction speeds and fees as high as $200 per transaction. Ethereum uses an auction-based system based upon priority, meaning users willing to pay higher gas prices will have their transaction settled first and thus, a battle for limited transactions. The best way to think about this is Uber surge prices; as demand for rides increases and the supply of drivers don't, the result is higher prices. It's a little more complex than that, but this gives you an idea of where Ethereum is at right now.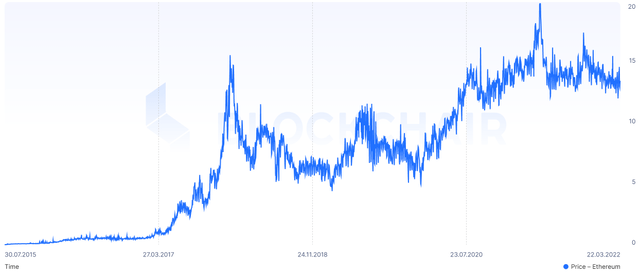 As ETH 2.0 starts completing the phases of its planned upgrades, certain items are projected to change. However, people need to remember that the ETH 2.0 upgrade is a long-term process. We can project what the capacity might be in 3-5 years, but we should expect a significant increase in demand as well.
The MATIC Token
The MATIC token is currently trading at $1.52, roughly an $11.7 billion market cap with 77% of the coin in circulating supply. Since the start of its upward trajectory in early 2021, it has gained an impressive 7,500%. The MATIC token is currently down about 48% from its all-time high as most of the Cryptoverse has been in a downtrend, but it has lots of potential in both the short and long term.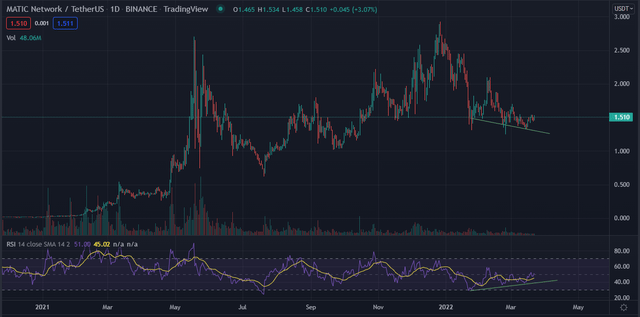 ETH 2.0 has been widely considered to be a potential threat to Polygon and the MATIC Token. In my opinion, I don't see the next upgrade changing much at all. MATIC and Ethereum work well together, what's good for one is good for both. That doesn't mean the co-existing relationship will last forever, but for the foreseeable future, the relationship should continue to thrive. If Ethereum can scale to the point where it doesn't need a Layer-2 solution, it's going to take considerable time and Polygon has already shown its potential to adapt.
Here is also a link to see MATIC staking rewards and for the Polygon bridge where you can swap between Polygon and the Ethereum network: Polygon Staking & Bridge
Risk
The biggest risk involves crypto itself, regulation, Ethereum sharding, and overall competition. Cryptocurrency has experienced massive volatility during bull and bear market cycles. It could all go to zero or at some point, it will find its equilibrium, but we should still experience high volatility in the near term. Regulation is a threat, but should also provide more stability in the long-term while providing a trust factor for bigger financial institutions. In 3-5 years when Ethereum sharding is introduced and realized, it could potentially handle 1,280 TPS. That still isn't going to be enough to handle the demand. The next level for sharding is projected to be roughly 100,000 TPS for Ethereum, which would represent a significant threat to Polygon.
It's very difficult to predict what cryptocurrency will be like in 10 years. Current and future threats are something that will need to be monitored as time goes on to see how Polygon either grows, adapts, or is rendered obsolete.
Final Thoughts
This is just a general overview, but if you're not invested in this project now, it's worth at least following. We've already seen Polygon grow from a 1-D Solution to Ethereum's scalability issue into a much more ambitious project in a very short period. Unless Ethereum can increase its scalability exponentially in the next few years, or another Layer-1 Solution makes significant progress to truly rival Ethereum, we will need projects like Polygon. I think the MATIC token is currently undervalued and I expect to see $5-$10 by 2025 and potentially higher if they can grow into something more. If Ethereum does make new all-time highs this year, there's a chance we could see $5 MATIC in 2022. At the same time, if Ethereum continues lower and enters a bear market for 2 years or so as it has in past cycles, you'll be able to pick this up very cheaply. Depending on what happens, I'll either be adding more when it's cheap for my long-term positions or taking profits and waiting for a better value position. Remember, no one has ever gone broke taking profits. Either way, expect higher volatility for MATIC than others over the next two years.