May 10, 2022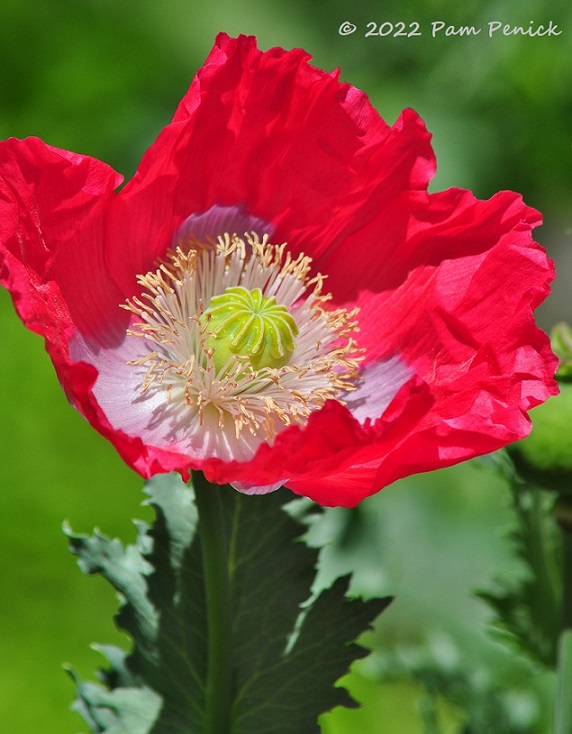 A month ago it wasn't blazing summer in Austin but gentle spring. Early April found me on a wildflower safari with Patterson Webster, visiting from Canada, and my friend Diana Kirby.
The Antique Rose Emporium in Brenham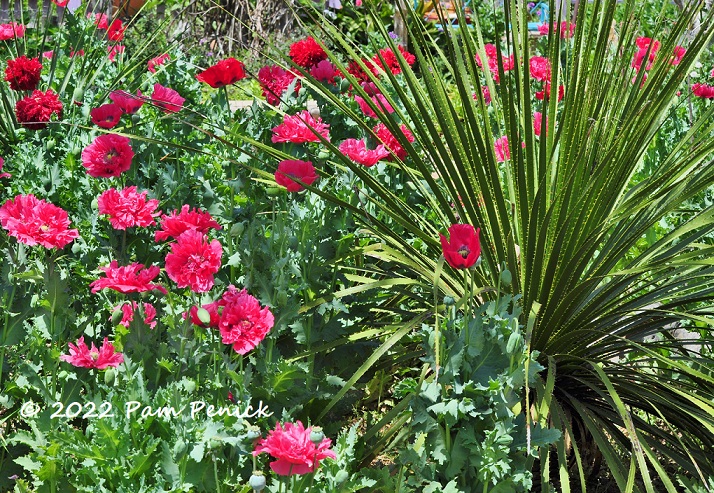 We drove out to Brenham for lunch at Truth BBQ — yum! — bluebonnet fields, and plant shopping at the Antique Rose Emporium, where the display gardens were blushing with poppies. I love the way they seed poppies into their xeric beds for spiky-soft spring combos like this.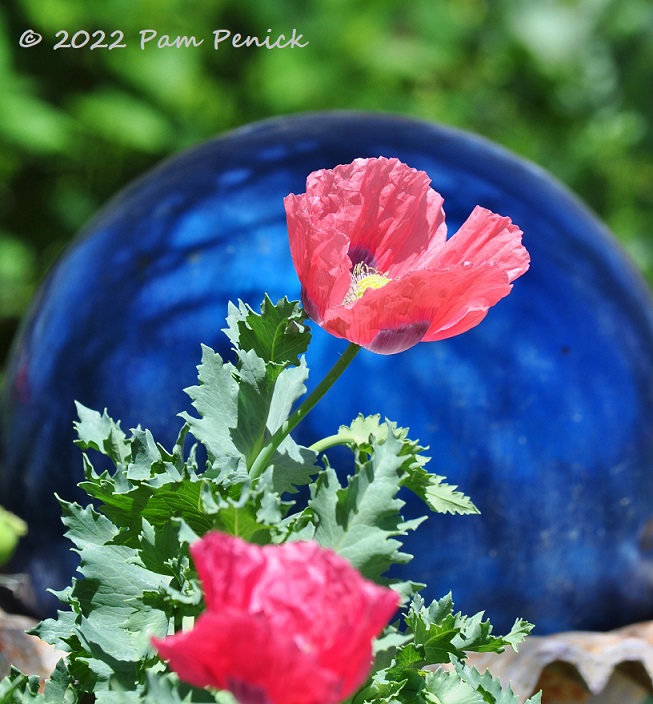 A pink-and-lavender poppy stands out against a blue glass gazing ball.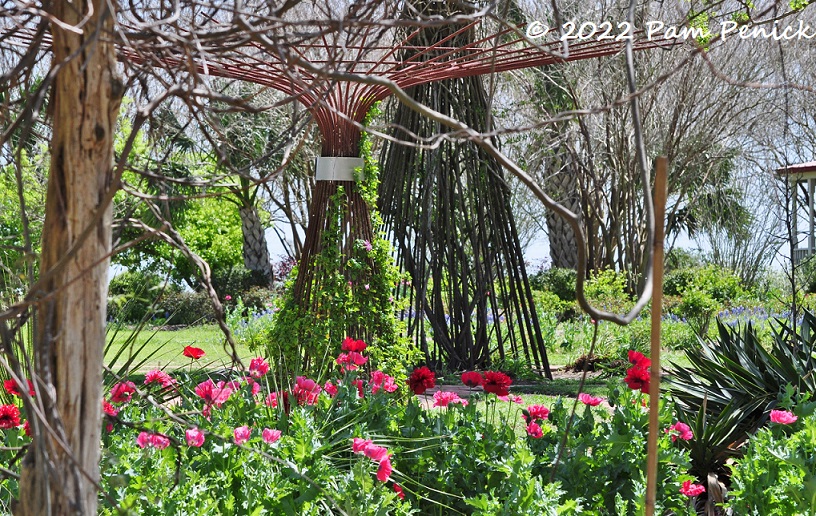 Poppies and more poppies with a towering trellis in the background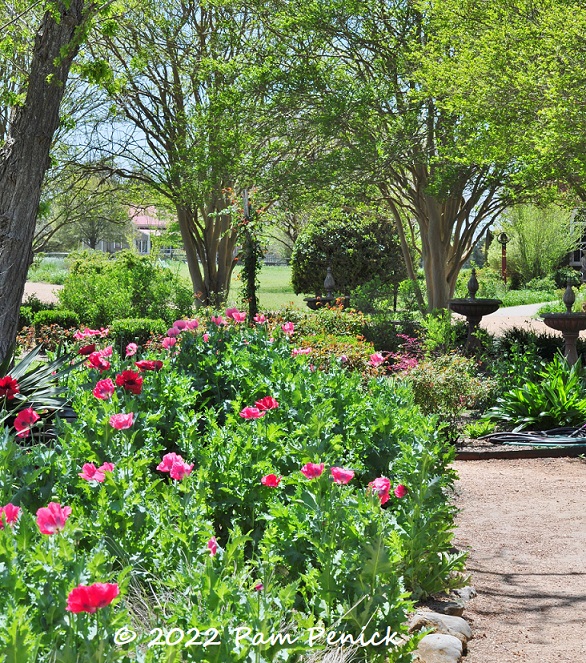 Those poppies were a-poppin'!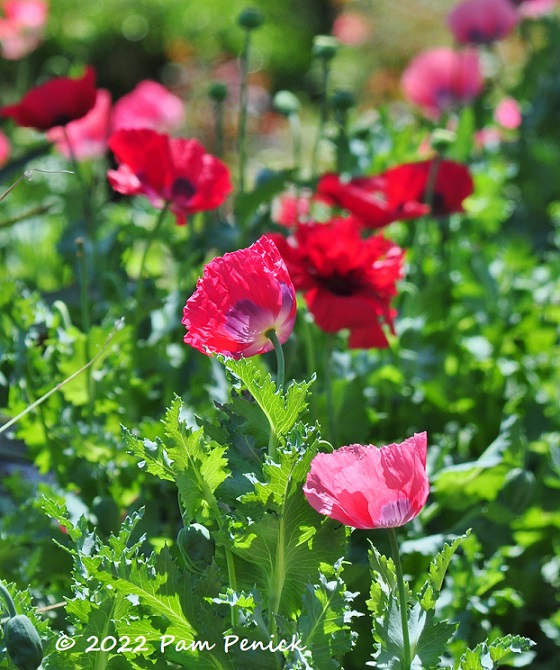 A closeup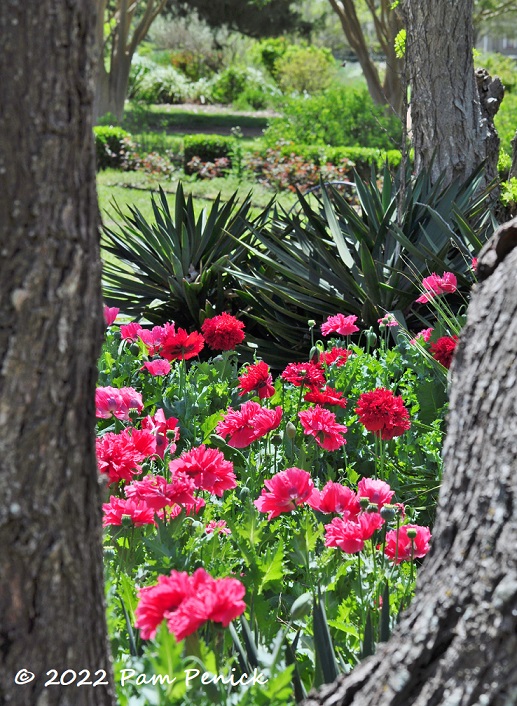 Frilly poppies framed by tree trunks and yuccas — yup, also good.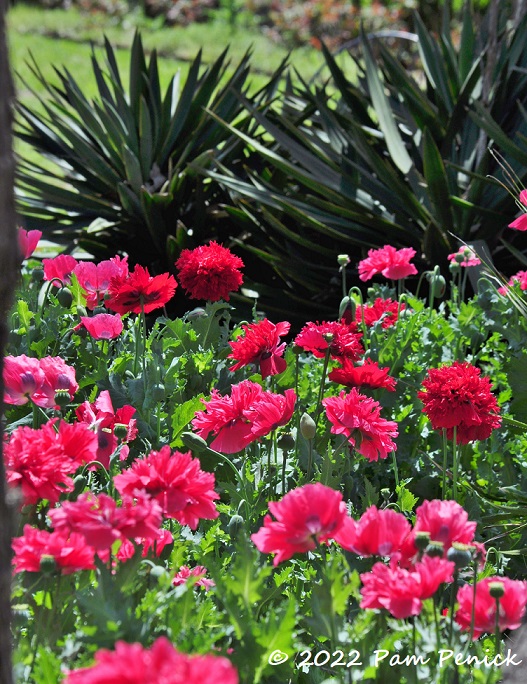 More of that spiky-soft contrast I admire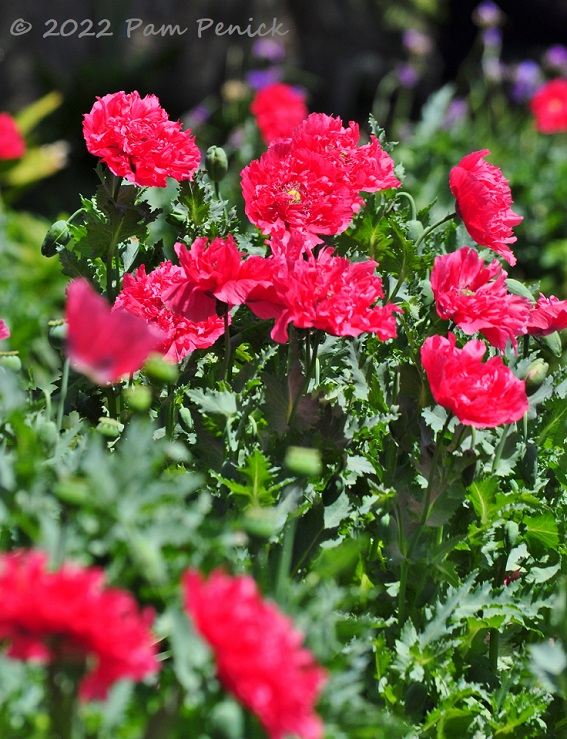 Frilly poppies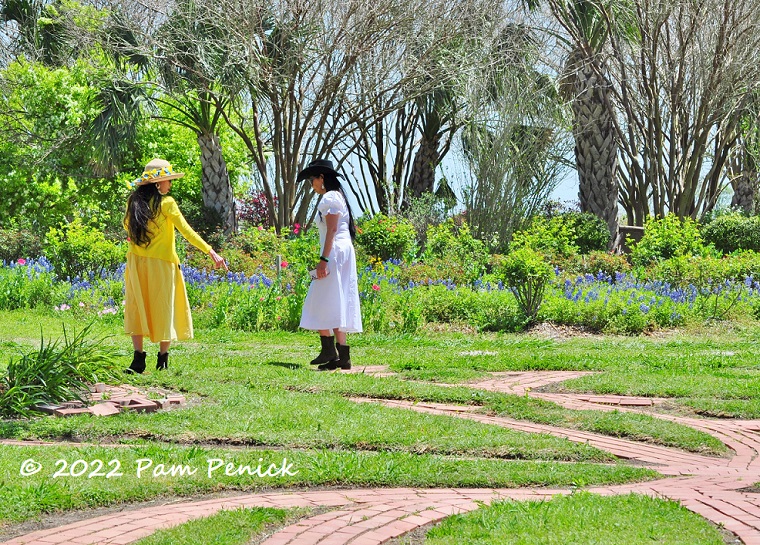 Two women in dresses, boots, and hats caught my eye as they scouted the best selfie spots.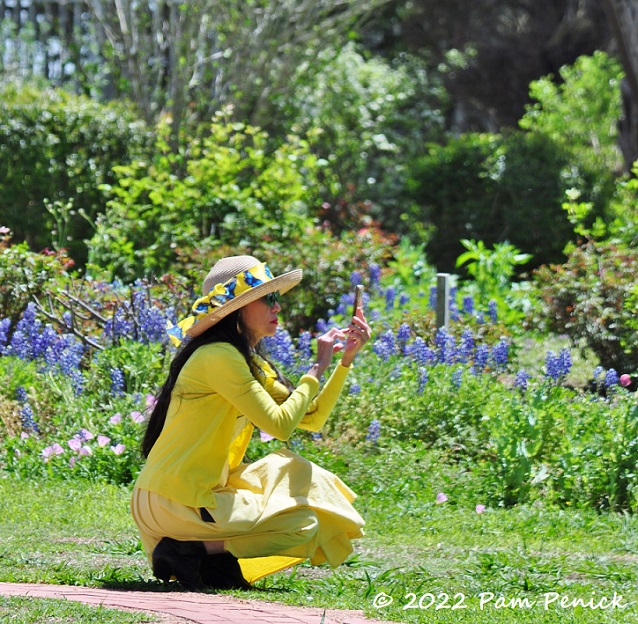 She's dressed for spring.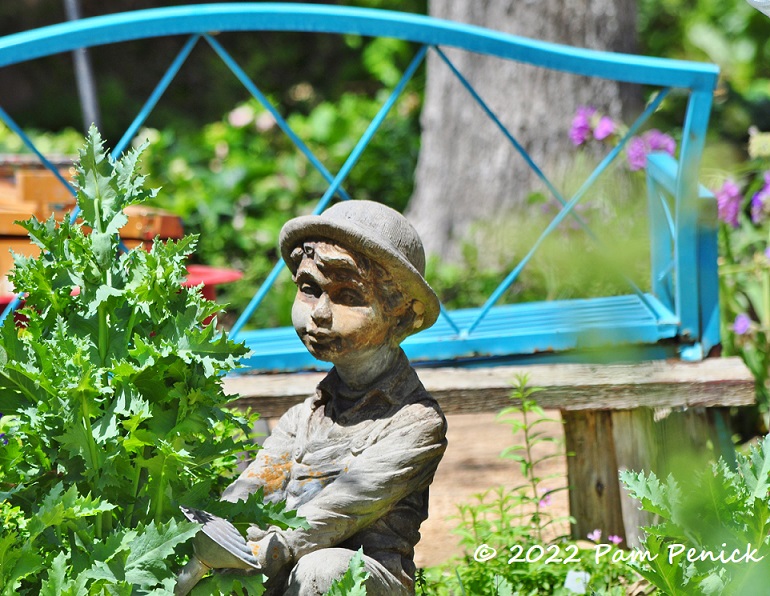 ARE displays garden art in abundance throughout the gardens.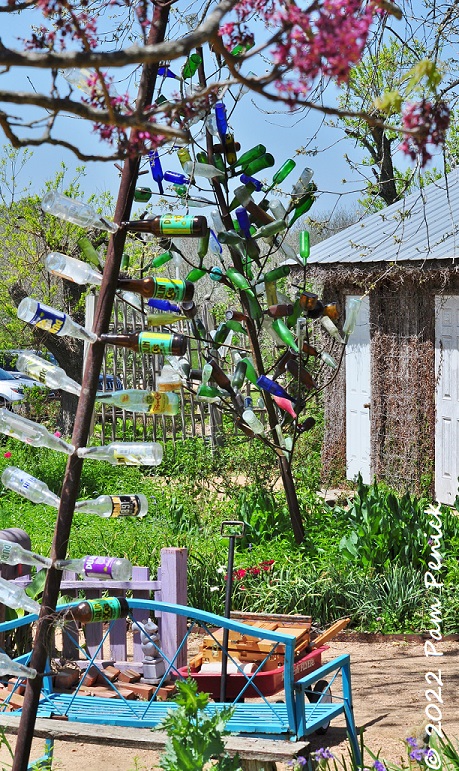 I enjoy their leaning bottle trees.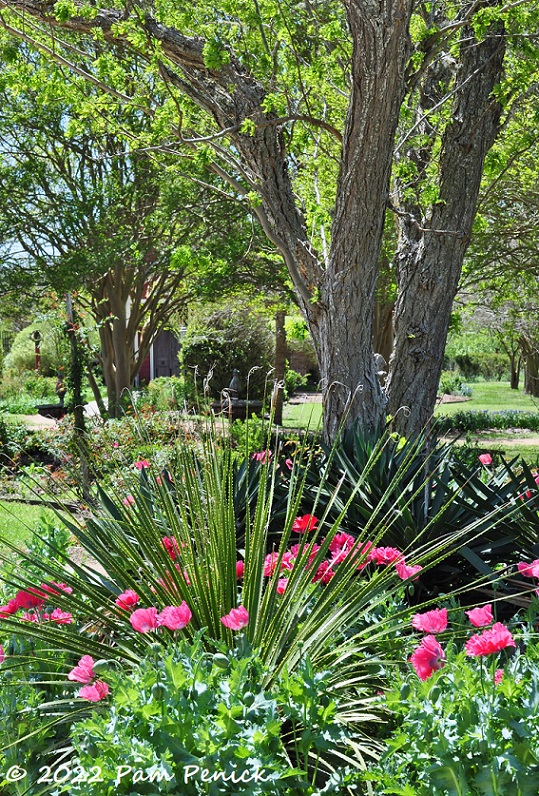 More Texas sotol with poppies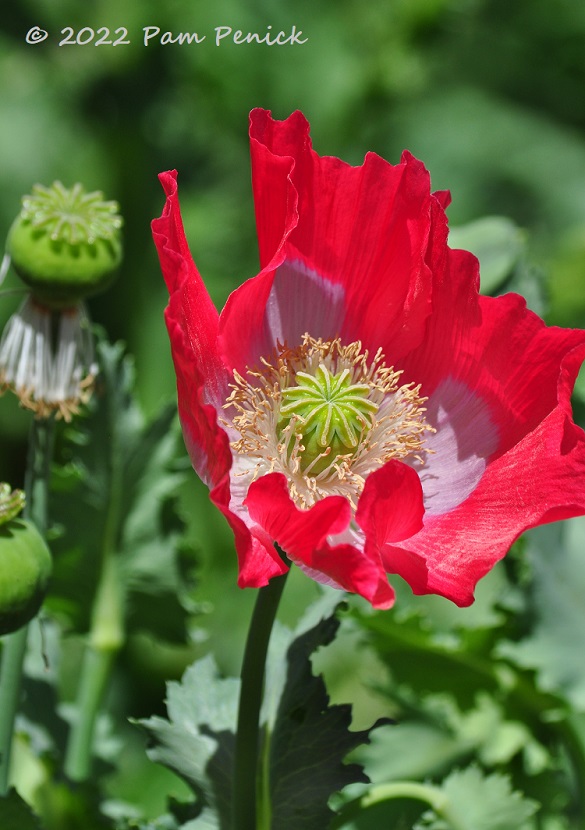 Poppy gorgeousness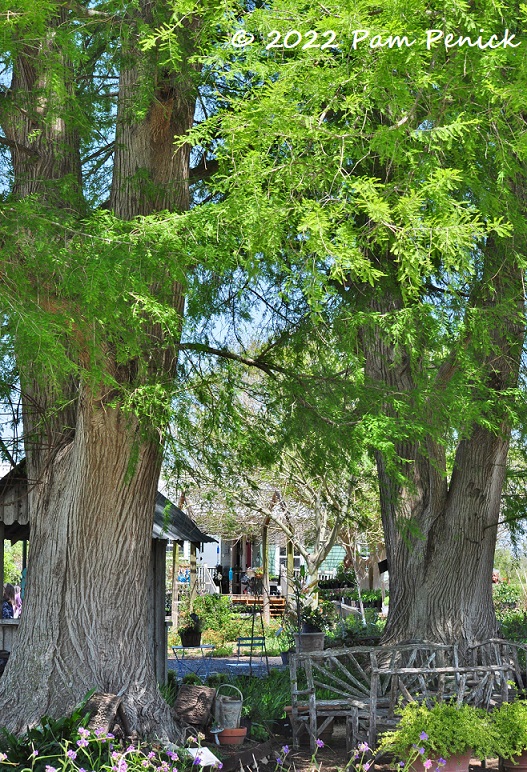 Along a trickling stream, two grand old bald cypresses keep their toes in the water and their crowns in the sky.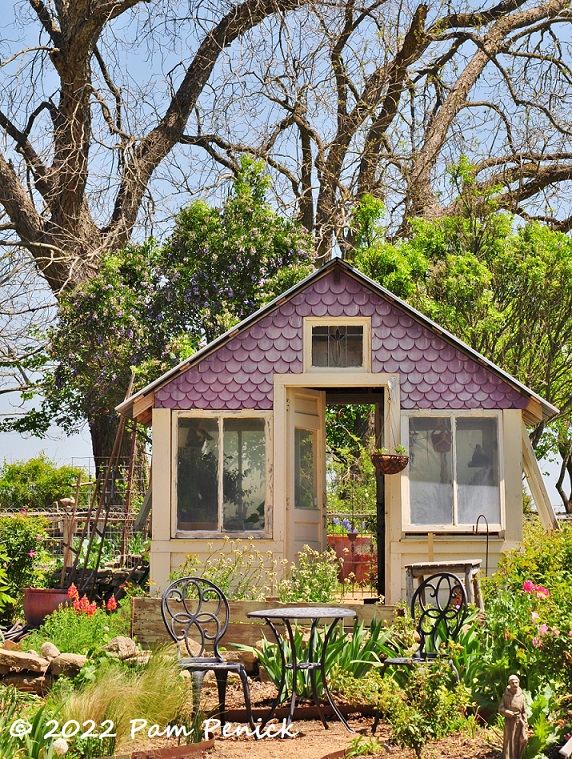 A fishscale-shingled, purple greenhouse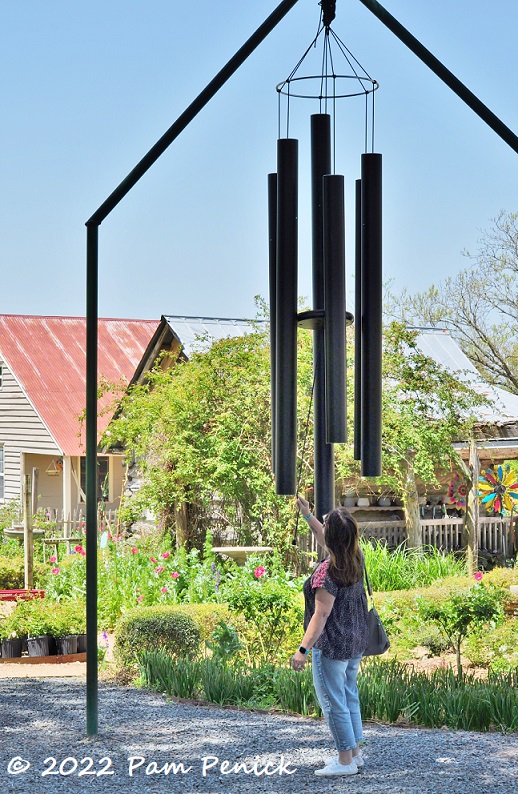 Diana dwarfed by enormous wind chimes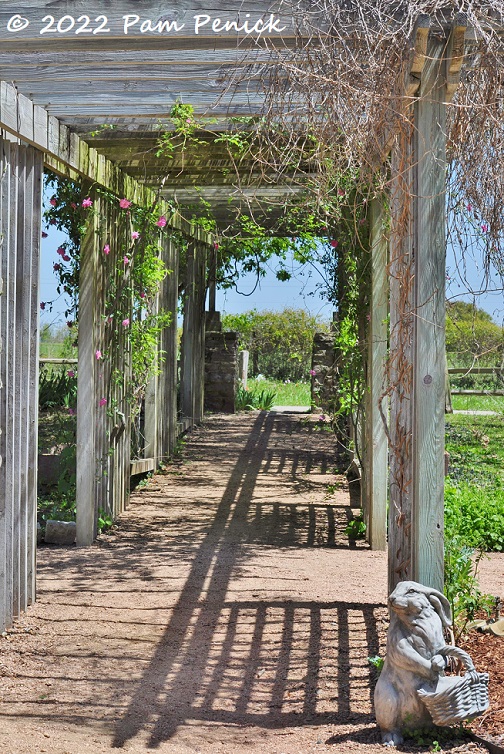 A long pergola supports pink roses and vines.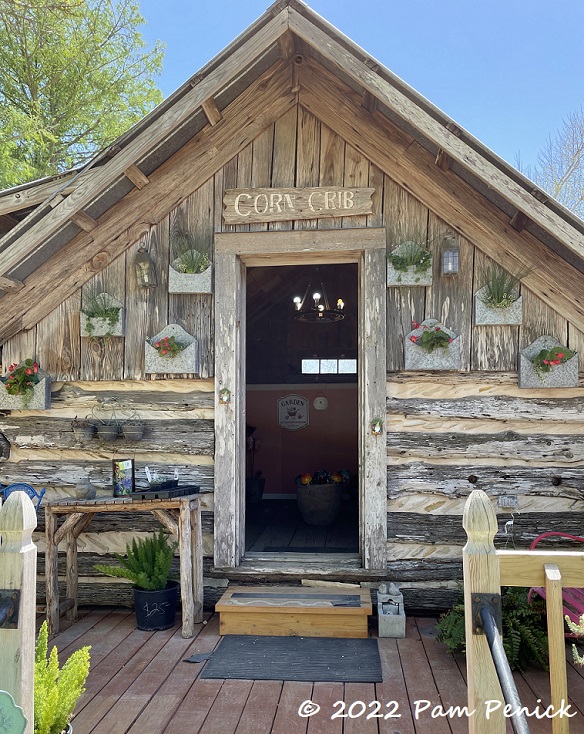 Galvanized envelope planters enliven the rustic Corn Crib, one of ARE's gift-shop outbuildings.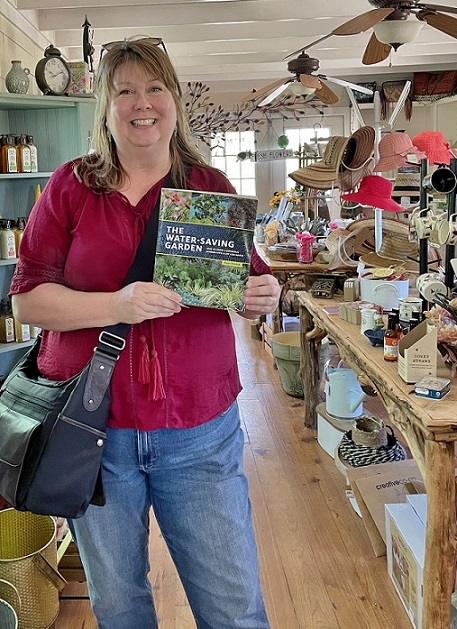 In the main gift shop, I found one of my books for sale. Yay! Thanks for carrying The Water-Saving Garden, ARE!
Junk Gypsy in Round Top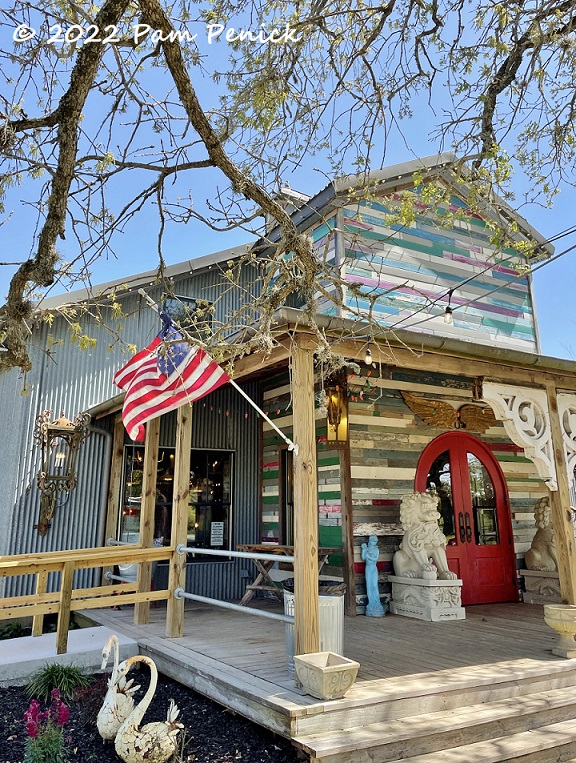 With plant purchases stowed in the trunk, we headed on to Round Top, where we stopped at Junk Gypsy, a boho-cowgirl home goods and clothing shop.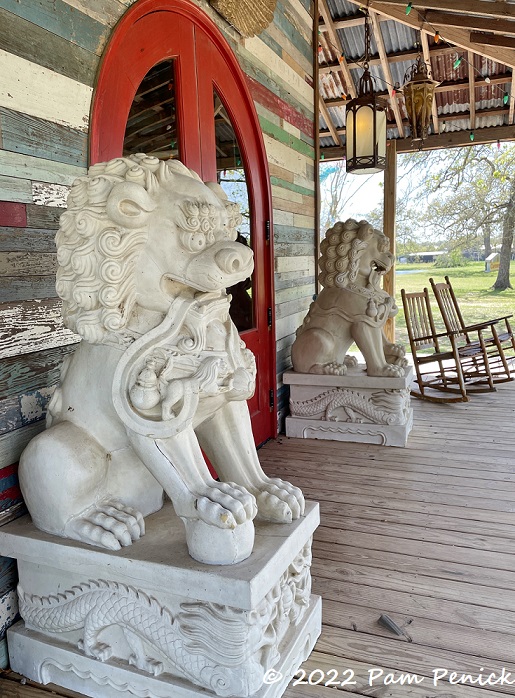 On the front porch, giant foo dogs guard the doors. Exotic hanging lanterns and colorful barn wood siding add global-country style.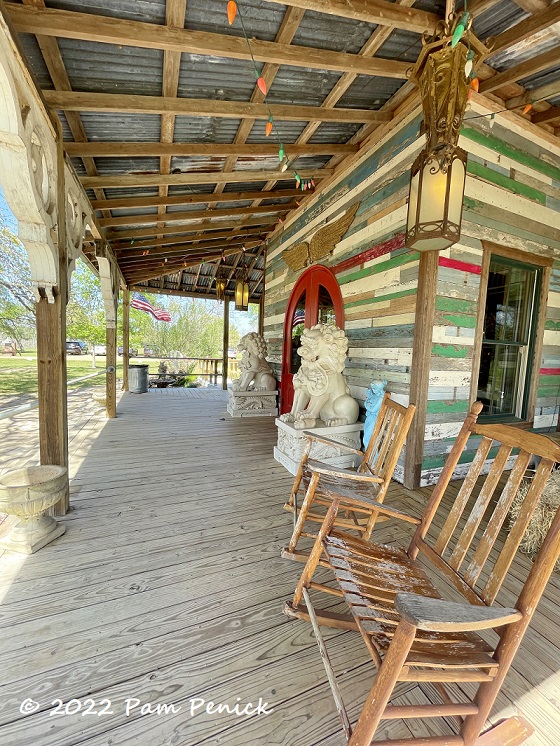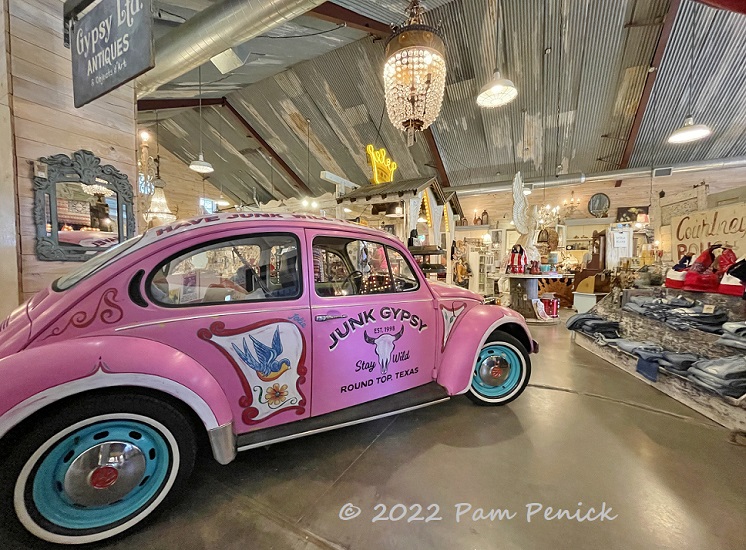 Inside the airy, barn-like store, it was all bohemian hippie-meets-redneck, ruffles and fringe and sparkly belt buckles in a wink-wink, over-the-top Texas style. How did I not know about this place?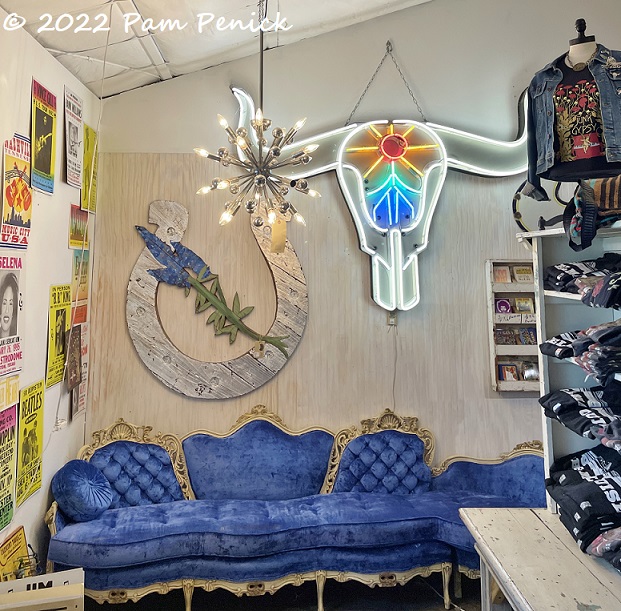 It was fun to poke around, and I bought a couple pairs of earrings.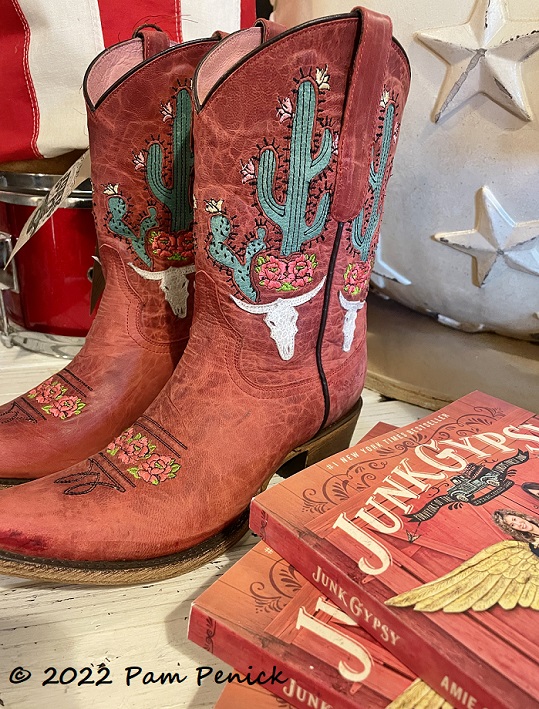 Loved these boots!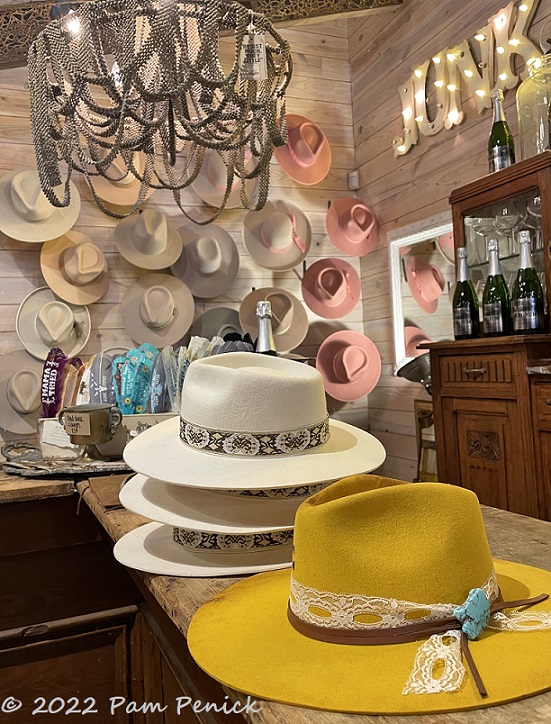 And hats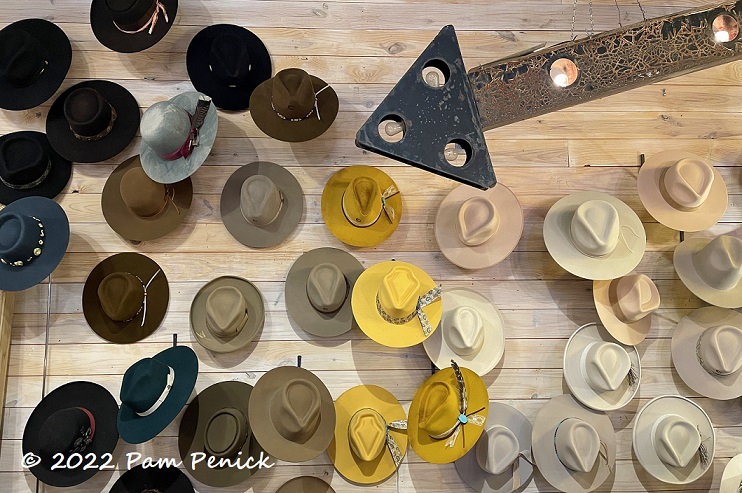 And more hats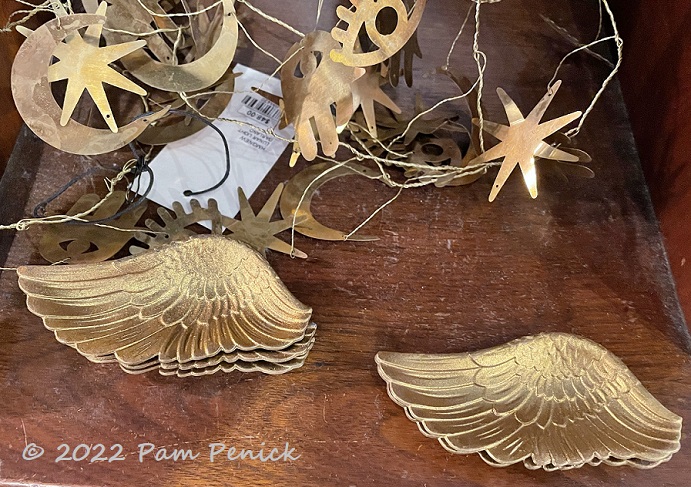 Lots of angel wings…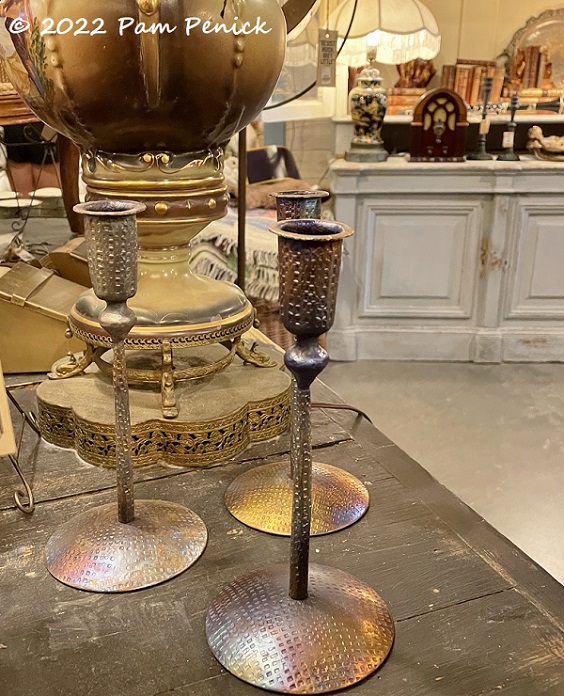 …and "junking finds" for creating that flea-market-treasure vibe.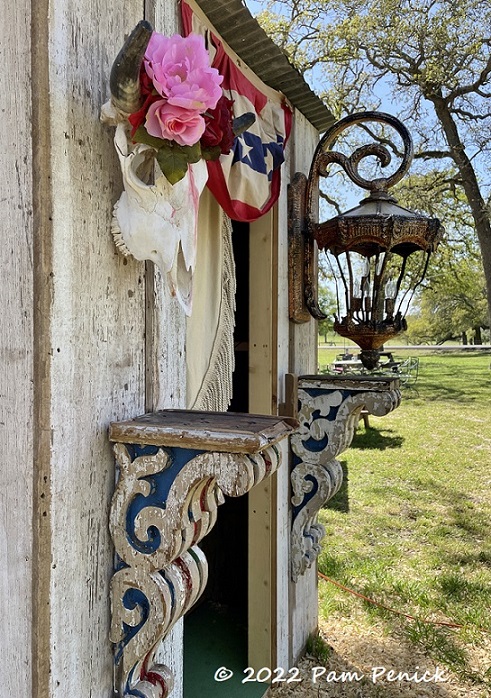 Eclectic exterior decor
Humble Donkey Studio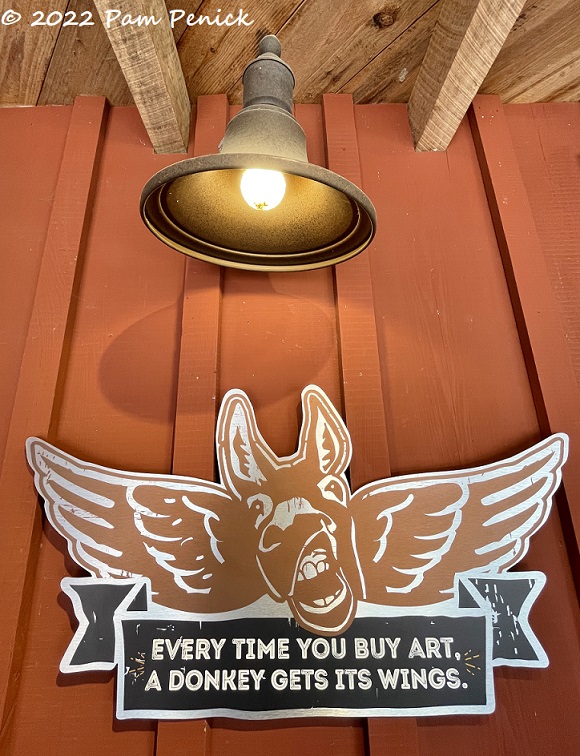 We also stopped in at Round Top's Humble Donkey Studio, where this funny sign made me hee-haw.
I welcome your comments. Please scroll to the end of this post to leave one. If you're reading in an email, click here to visit Digging and find the comment box at the end of each post. And hey, did someone forward this email to you, and you want to subscribe? Click here to get Digging delivered directly to your inbox!
__________________________
Digging Deeper
Join the mailing list for Garden Spark! Hungry to learn about garden design from the experts? I'm hosting a series of talks by inspiring designers, landscape architects, and authors a few times a year in Austin. These are limited-attendance events that sell out quickly, so join the Garden Spark email list to be notified in advance. Simply click this link and ask to be added. The 6th season kicks off in fall 2022.
All material © 2022 by Pam Penick for Digging. Unauthorized reproduction prohibited.