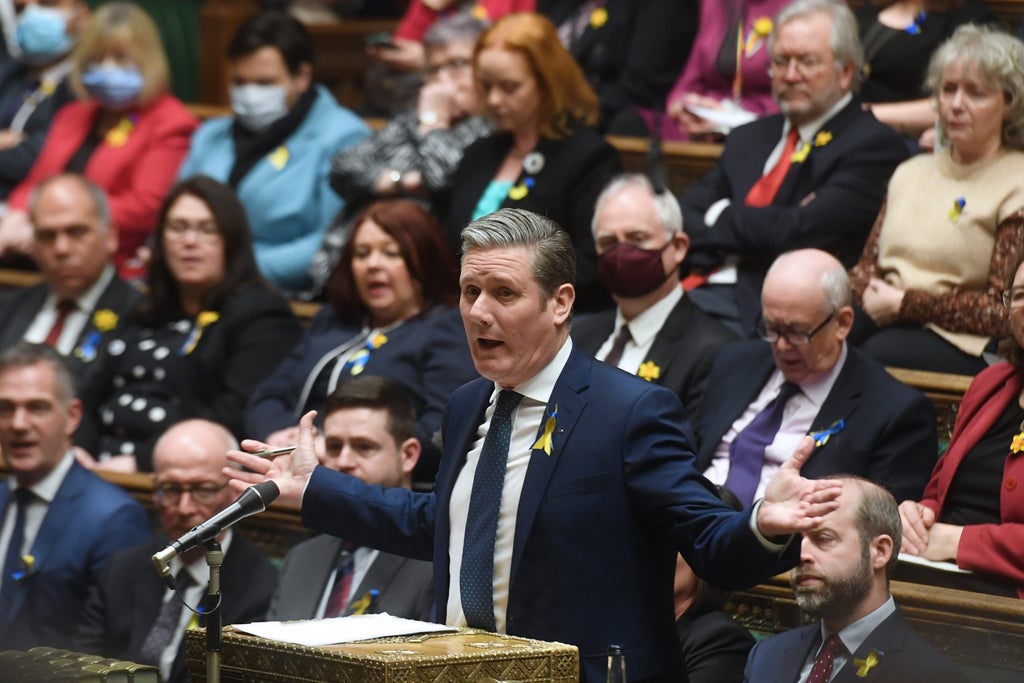 Boris Johnson is coming under pressure to tighten the net on illicit Russian finance in "weeks, not years", as officials confirmed that they are aware of wealthy oligarchs moving cash out of the UK in advance of expected sanctions.
Labour has tabled amendments to the government's Economic Crimes Bill to require the true ownership of properties to be registered within 28 days rather than 18 months.
Sir Keir Starmer – who has offered Labour's help to rush the long-awaited legislation through the Commons in a single day on Monday – told the prime minister that the proposed delay would give cronies of Vladimir Putin plenty of time to "quietly launder their money … into another safe haven".
The bill was first promised in 2016 and included in the Queen's Speech for passage during this parliamentary year, but as recently as last month Mr Johnson insisted that it would have to wait another year to be introduced.
In a letter to the business secretary, Kwasi Kwarteng, Labour's Jonathan Reynolds said that London's "deficient" system of corporate registration had made the city "the destination of choice for Russia's kleptocrats under this government".
Anti-corruption campaigners Transparency International estimate that UK property worth £1.5bn has been bought since 2016 by Russians accused of corruption or links to the Kremlin.
"In the spirit of ending malign influence in our economy we hope that the government will support our amendments which seek to strengthen our ability to hit Russian oligarchs as quickly and effectively as possible," said Mr Reynolds.
In the Commons on Wednesday, Mr Johnson promised to publish a list of "Putin's pals" with proven links to the Russian president, but gave no details of how the list would work or who would feature on it.
Aides later said that those named would not necessarily face official sanctions, but that British individuals and companies should "think very carefully" before doing business with them.
The move came as Roman Abramovich confirmed he is seeking buyers for Chelsea FC and reports he is also hoping to offload a number of UK properties. There was no official indication that he is under consideration for sanctions or inclusion on Mr Johnson's list.
Meanwhile, UK officials confirmed they are aware of wealthy Russians making efforts to move assets out of the reach of potential asset freezes and travel bans.
The UK government undertakes a rigorous programme of checks on each individual before issuing a sanction, in order to ensure that they are watertight if challenged in court. The sanctions team doing this work in Whitehall has trebled in size to about 100 over the last few weeks.
Names under consideration are not revealed until the government is ready to "flick the switch" on accounts, but officials acknowledged that this creates a real risk of asset flight.
"Rumours circulate and we are made aware of things happening," said one. "Ministers are interested in increasingly ratcheting up these measures.
"We are not giving specific information about targets, [but] people are getting a sense of this agenda and how it is moving incrementally and maybe coming towards them."
The Conservative MP Bob Seely warned that oligarchs' use of British lawyers and lobbyists to protect their dirty money amounted to "systemic, planned subversion".
Speaking moments after MPs – many of them wearing blue and yellow in a display of solidarity with Ukraine – gave a standing ovation to Vadym Prystaiko, the country's ambassador in London, Mr Seely told the Commons: "Key oligarchs enforce the Kremlin's hybrid conflict.
"In Britain, one of its aims is to ensure safe passage for money-flows offshore whilst law firms intimidate into silence those who would investigate, be it the media or even the National Crime Agency."
Mr Johnson assured him that law firms themselves would face sanctions if they broke the terms of the UK's regime of measures.
But the chair of the all-party parliamentary group on Russia, Labour's Chris Bryant, told the PM he felt "ashamed" at the UK's failure to go further and sanction individuals such as the defence minister, Sergey Shoygu, and Igor Osipov, the commander of the Black Sea fleet.
Mr Johnson resisted calls to return donations from wealthy backer Lubov Chernukhin, the wife of a former minister in Putin's government, after it emerged she gave £80,000 to the Tories in the last few months of 2021.
Ms Chernukhin, who holds both Russian and British nationality, has donated more than £2m to Conservative HQ, local Tory parties and Tory MPs over the past eight years, as well as paying to play tennis with Mr Johnson.
The Labour MP Bill Esterson urged the PM to give the money to Ukrainian humanitarian causes, telling the Commons that Ms Chernukhin's husband had received $8m (£6m) from an ally of Putin who was later sanctioned.
But Mr Johnson replied: "It is absolutely vital if we are to have a successful outcome in what we are trying to do collectively, united with Ukraine, that we demonstrate that this is not about the Russian people, it is about the Putin regime."
The former US general David Petraeus called for swift action to stop Russian plutocrats spiriting assets away.
"Let's go around and padlock every townhouse owned by an oligarch in Kensington and Mayfair and do it publicly with TV cameras rolling," Gen Petraeus told Channel 4 News. "Let's take away every soccer team."