Amid speculation that he might choose to leave the Democratic party and become a Republican, Joe Manchin told an interviewer earlier today: "I don't know where the hell I belong."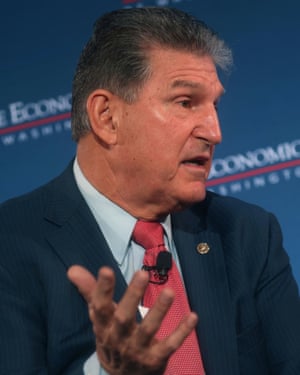 The Democratic senator from West Virginia currently belongs at the heart of most things in Washington, given his place with Kyrsten Sinema of Arizona as a key vote in a 50-50 chamber controlled by their own party via the vote of Vice-President Kamala Harris.
Manchin is either a moderate Democrat or a conservative one, depending on who you ask. Hint: progressives think he's a conservative and regularly damn him for it. The notion that he might switch parties, thereby joining every other major elected official from his state and either giving the Republicans the Senate or, as an independent, continuing to hold the balance of power, is a persistent one on Capitol Hill and elsewhere.
Today, amid tense negotiations over the fate of Joe Biden's spending and infrastructure plans, Manchin appeared at the Economic Club of Washington DC.
His interviewer, the billionaire David Rubenstein (see here and here and here), asked: "Have you ever thought my life would be easier for you if you shifted to being a Republican?"
"Every day," Manchin said, "every day."
Referring to a report from David Corn of the leftwing magazine Mother Jones which said Manchin was considering a switch and "has an exit plan", Rubenstein said: "And somebody had said recently that people have approached you about doing that? So that just might be easier for you to do that?"
Manchin rejected the Mother Jones report last week, telling reporters it was "bullshit, bullshit spelled with a B, U, L, L, capital 'B'". But he also said he had offered to change his party if he was causing problems for other Democrats.
"I said, me being a moderate centrist Democrat – if that causes you a problem, let me know and I'd switch to be independent," he said last Thursday.
On stage with Rubenstein, he said: "Oh, [it would] be much easier. My goodness. Is that the purpose of being involved in public service, you think? No, I've never, I've never thought from this … What I'm telling you now is who I am.
"Do you think by having a 'D' or an 'I' or an 'R' [next to my name] is going to make me change who I am? I don't think the Rs will be any more happier with me than the Ds are right now. OK, I mean, that's about as blunt as I can put it, so I don't know where in the hell I belong."