February 04, 2022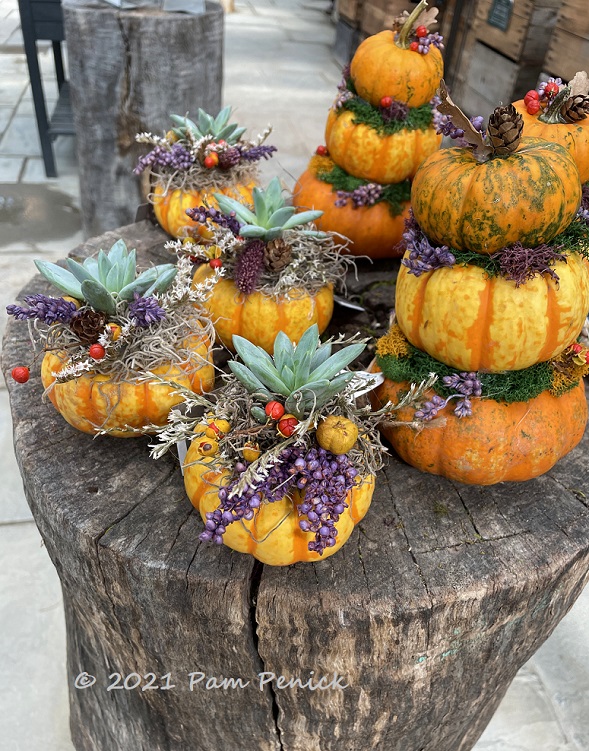 While in Pennsylvania last fall, I couldn't miss a shopping excursion at Terrain, an eye-candy garden shop/nursery that's a sister-store to Anthropologie.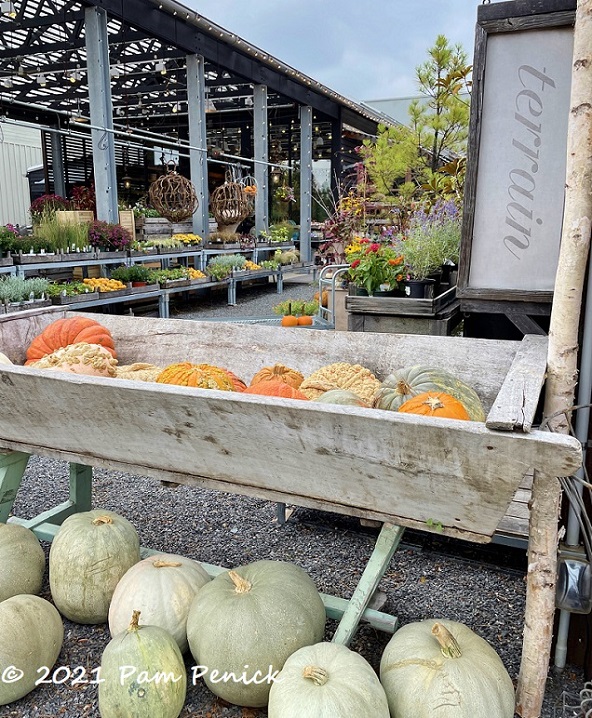 I visited the flagship Terrain in Glen Mills a few years ago (click for my tour). This time I checked out the Devon location, and while I was slightly disappointed to find it's much smaller, the floral and gift displays were still beautiful and enticing.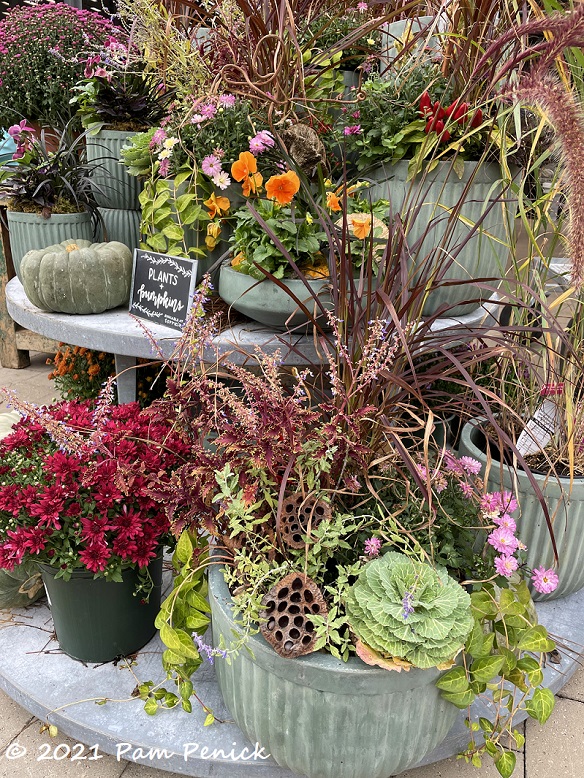 In mid-October, of course, it was all about pumpkins, seedheads, and grasses.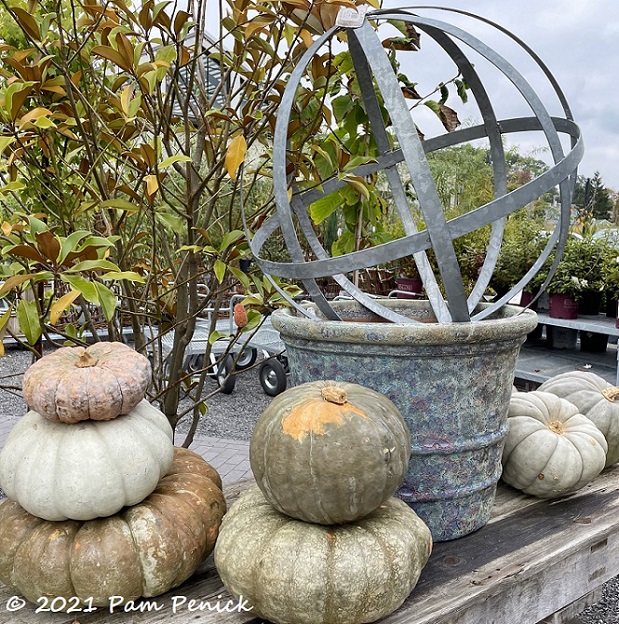 Pumpkins in the nursery yard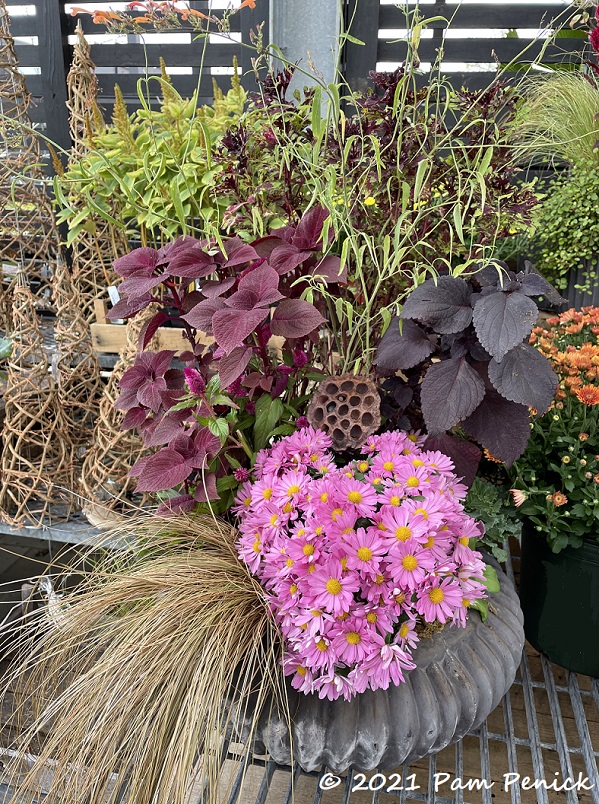 This pumpkinesque gray pot was stuffed with mums, a grass, coleus, and agastache, with a papyrus seedhead for decoration.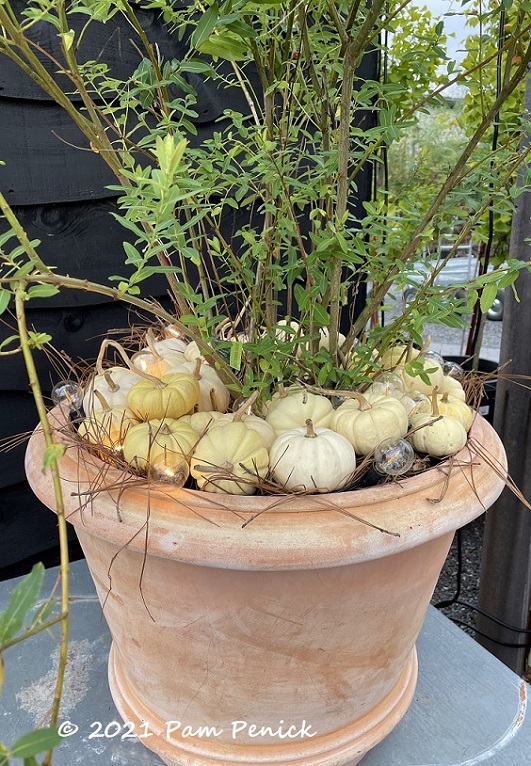 One terracotta planter was cleverly "mulched" with tiny white pumpkins and globe string lights.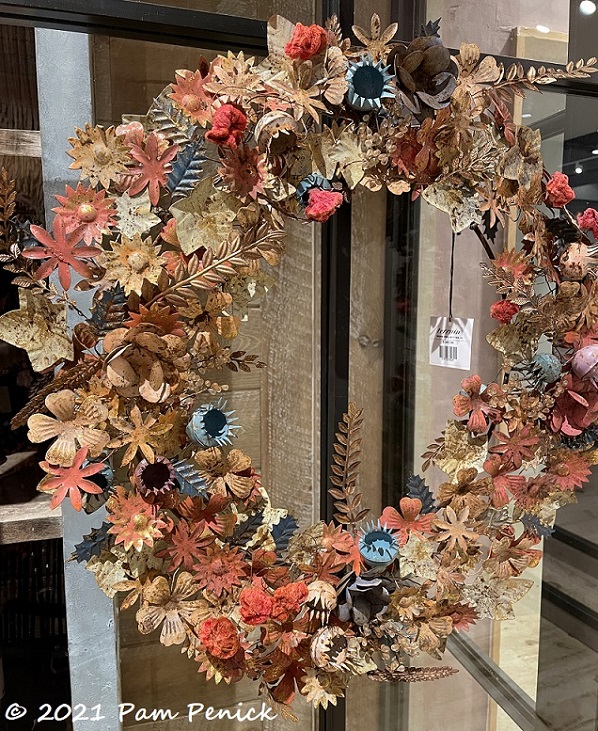 Inside I was seduced by metal-floral wreaths and strands of painted metal ginkgo leaves.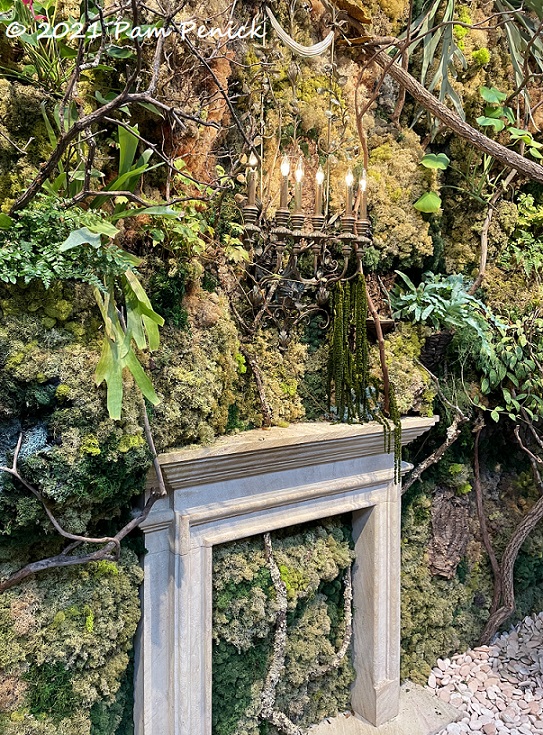 One wall was turned into living wallpaper with pillowy mosses, ferns, and woody vines, all surrounding a stone fireplace with candelabra light above.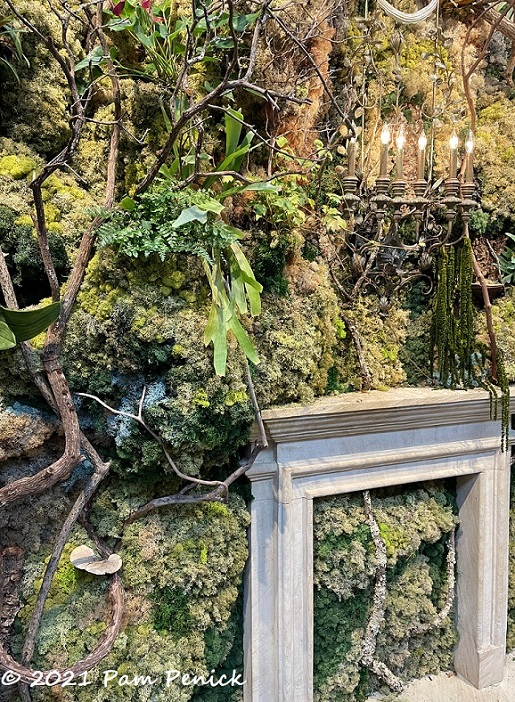 What a romantic display.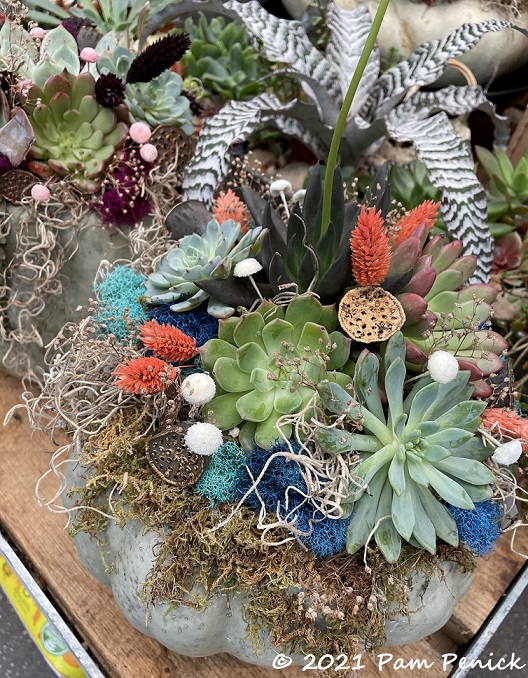 Succulent pumpkins — where succulents are hot-glued to a bit of dried moss atop a small, flattish pumpkin — have been popular for years, and many variations were on display. This one included colored moss and seedheads and a lotus seedpod spray-painted gold.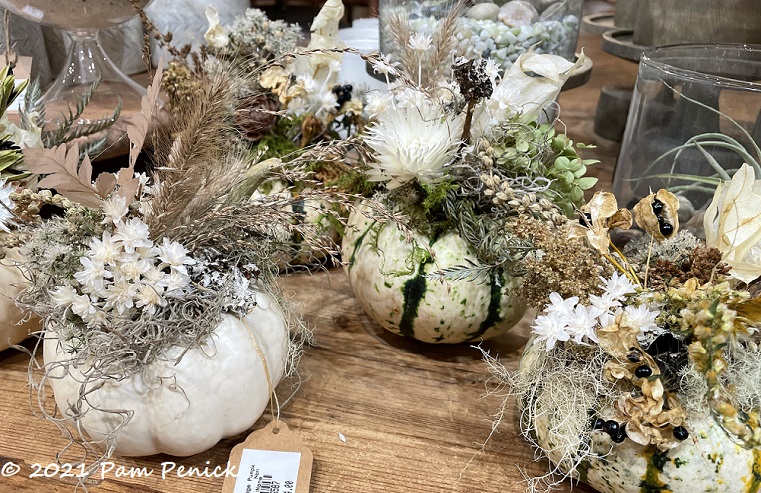 There were romantic white ones with dried and silk flowers, leaves, and grasses.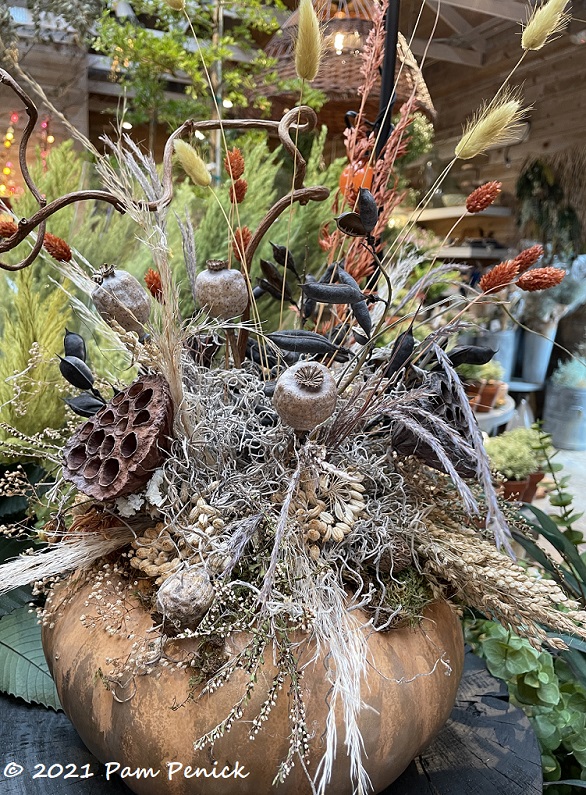 I dubbed this one Goth Pumpkin. Would it be too much to add a few small bats on wires?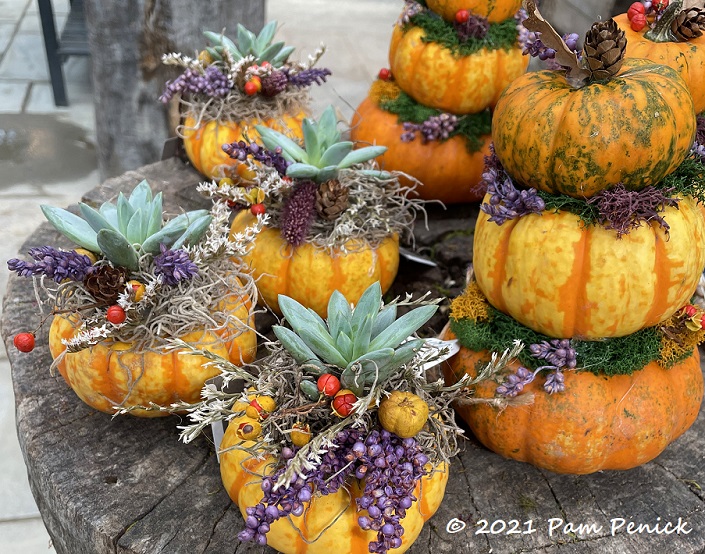 The classic orange pumpkin with succulents is my favorite. These are easy to make, actually. When I got home from my trip, feeling inspired, I bought a sack of mini-pumpkins at the grocery store and a few dried florals at a craft store (tiny pinecones, small sticks with berries, and stems with tiny purple flowers), snipped cuttings from ghost plant (Graptopetalum paraguayense) I grow at home, and collected dry ball moss from my yard.
Make your own succulent mini-pumpkins
I used hand pruners to cut off the pumpkin stem, without cutting into the flesh of the pumpkin, which could cause it to rot prematurely. Then I used a hot-glue gun to spread a circle of glue around the cut stem. I layered on moss, which I'd pulled apart and flattened. Then I hot-glued floral stems, topping those with the succulent cutting. To fill in gaps around the base of the succulent, I hot-glued tiny pinecones and extra berries. I even made a few stacked-pumpkin towers with a bit of moss, dried flowers, and pinecones around the edges, topped with a tiny pinecone and berries.
I gave these out as gifts and kept a trayful for my dining table. Easy and fun! When it was time for Christmas decor to go up, I pulled apart the pumpkins and put them in the compost bin. The succulents were still healthy and firm, even after a month glued to a pumpkin with no water or soil (gotta love succulents!), so I planted them up in a pot. I'll definitely make more next fall.
Up next: Paxson Hill Farm's stunning country garden, with enticing paths to get lost on. For a look back at Winterthur's Enchanted Woods children's garden and reflecting pool, click here.
I welcome your comments. Please scroll to the end of this post to leave one. If you're reading in an email, click here to visit Digging and find the comment box at the end of each post. And hey, did someone forward this email to you, and you want to subscribe? Click here to get Digging delivered directly to your inbox!
_______________________
Digging Deeper
Need design help with your yard? Hire me as your personal garden coach! Maybe you need replacement plant ideas after the big freeze. Or maybe your landscaping has grown tired, and you want fresh curb appeal. Or perhaps you're ready to get rid of some lawn and create a pollinator garden, bird habitat, or hangout space for you and your friends. I'm here to help! Contact me to let me know what's going on, and let's figure it out together. My range is Austin and suburbs within a 25-min. drive of NW Austin, but I'm flexible and can travel farther with a surcharge, so let me know where you are. Weekday morning appts. only.
Attend the John Fairey Garden's annual Budding Out Plant Sale & Festival on Saturday, March 19 in Hempstead. Rare and distinctive plants from the garden's nursery and other vendors will be available, plus art, ceramics, jewelry, food, music, and entertainment for the whole family. Open 10 am to 4 pm. Members get first dibs at the plant sale with 9 am entry (memberships available at the gate). Check the webpage for a continually updated vendor list.
Join the mailing list for Garden Spark! Hungry to learn about garden design from the experts? I'm hosting a series of talks by inspiring garden designers, landscape architects, and authors a few times a year in Austin. Check out the 2021-22 schedule. These are limited-attendance events that sell out quickly, so join the Garden Spark email list to be notified in advance. Simply click this link and ask to be added.
All material © 2022 by Pam Penick for Digging. Unauthorized reproduction prohibited.