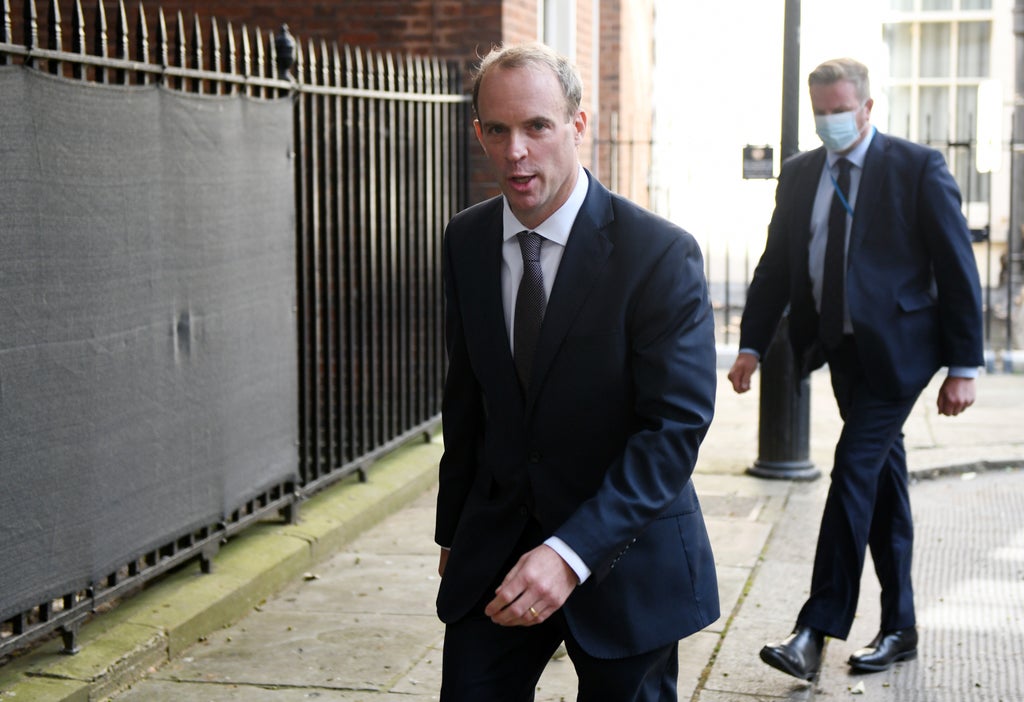 Dominic Raab was on Wednesday facing his toughest interrogation yet on his missteps in the Afghanistan crisis, as a former foreign secretary questioned his role in allowing the development of a "distant" relationship with Washington which allowed the UK to be blindsided over the abrupt pullout of US troops.
Ahead of the beleaguered Raab's appearance at an emergency meeting of the Commons Foreign Affairs Committee, Jack Straw told The Independent that the failure of Joe Biden's administration to warn the UK of its planned withdrawal of military forces would never have happened under the Blair and Brown governments in which he served.
And Labour's shadow foreign secretary Lisa Nandy said Mr Raab was responsible for "the biggest foreign policy failing in a generation" and must resign if he was unable to tell MPs in the 90-minute grilling how he intended to put it right.
Defence secretary Ben Wallace last night described as a "Dunkirk by WhatsApp" the effort to assist up to 300 Afghans who worked for the UK military but missed out on evacuation with around 700 dependents before the final Western troops left Kabul airport on Monday.
Speaking privately by conference call to MPs, Mr Wallace said Ministry of Defence officials have been instructed to use phone calls and electronic messages to get into one-to-one contact with as many of the Afghans as possible to help them flee to sanctuary in the UK. Cabinet Office minister Michael Gove has been appointed to chair a cross-government working group to over see the drive.
But Mr Wallace acknowledged that – as with Dunkirk – much of the assistance being offered to the desperate former UK employees is coming independently of government, often from members of the forces community with links to Afghanistan.
One backbencher on the conference call told The Independent that Mr Wallace faced "exasperation" from MPs who said that the government appeared to be "flying by the seat of its pants". One MP demanded rapid confirmation on whether individuals whose cases they raise are in fact be entitled to come to the UK, in order to avoid advising them to make the perilous journey to neighbouring countries like Pakistan only for them to be turned down.


World news in pictures
Show all 50
Downing Street confirmed that "surge staff" are being sent to Pakistan and other neighbours like Tajikistan or Uzbekistan to process claims for asylum in the UK, either in embassies or at border sites where refugees are flooding out of Taliban-ruled Afghanistan.
And No 10 confirmed comments from the head of the RAF, Air Chief Marshal Sir Mike Wigston, who said that the UK was ready to use air-strikes to target the Isis-K terror group – an Afghan offshoot of Islamic State – in the country.
"We always reserve the right to exercise lawful self-defence and we never rule that out in relation to terror groups," said Boris Johnson's official spokesperson.
The spokesperson said the prime minister continued to have "full confidence" in the foreign secretary, after reports suggested he was "toast" in the next cabinet reshuffle following his decision to remain on holiday until after Kabul fell to insurgents and claims that he failed to make a key phone call which could have helped more people escape.
Mr Raab on Tuesday flatly denied that the UK pressured US troops to keep open a gate open at Kabul airport where a suicide bombing claimed by Isis-K killed more than 170 Afghan civilians and 13 US troops.
Leaked notes obtained by the Politico website suggested that US commanders planned to close Abbey Gate by Thursday afternoon amid intelligence of an imminent terror attack, but kept it open for longer to allow Britain to continue its own evacuation effort.
But the Prime Minister's official spokesman said: "It's simply not true to suggest that we pushed to keep the gate open.
"In response to the change in travel advice ahead of the attack last week, the UK moved operations out of the Baron Hotel."
Asked about the state of transatlantic relations, he said: "The US continues to be our strongest ally."
Downing Street said on Tuesday that the Prime Minister had left on Sunday for a four-day trip to the West Country with his family and would not return to No 10 until Thursday.
His official spokesman insisted that Mr Johnson was "continuing to work", with Britons and Afghans remaining stranded after the withdrawal of forces from Kabul.
Ahead of today's hearing of the cross-party foreign affairs committee, Mr Straw told The Independent that the foreign secretary would have to explain how the UK had been caught off guard by the sudden US withdrawal.
"Something like the withdrawal from Afghanistan, where plainly we had huge equity involved, ought not to have been just presented to us as a fait accompli," said the former Labour minister, who was closely involved as foreign secretary in diplomatic preparations for the intervention in Afghanistan following the 9/11 attacks 20 years ago.
"It appears to me that the relationship with the US has become more distant and that is not good for the UK. I don't think it would have happened in that way when Tony Blair was PM." But another former foreign secretary, Sir Malcolm Rifkind, said that while Washington's failure to forewarn its Nato allies was "unfortunate", the rows over Afghanistan would not permanently damage relations.
"To suggest that Biden is like Trump in his treatment of Nato allies is absurd," the Conservative former foreign secretary said. "Trump made a virtue of trying to split the alliance, Biden doesn't take that view. He has made clear he is totally committed to Nato and I don't think anything he has done is in conflict with that."
Ms Nandy said: "This has been the biggest foreign policy failing in a generation.
"The foreign secretary had 18 months to prepare but was missing in action. As a result, on his watch Britain has become weaker in the world and faces greater risks from terrorism. We had to send our troops into real danger and, despite their heroic actions, thousands of Afghans who supported us over two decades are still at serious risk and British citizens abandoned.
"This is a government characterised by complacency and indifference, trying to shift the blame in a crisis instead of rolling up their sleeves. These are serious times that demand serious leadership. The buck stops with the Foreign Secretary. He must take responsibility today for what has been a catalogue of errors and poor judgment, come clean about those failings and set out a plan to set this right. If he can't do that, he is not fit to hold office and he must resign."