26 min There's a break in play while the Braga keeper Matheus receives treatment to his elbow. He landed awkwardly when claiming yet another cross from Barisic.
23 min The first dangerous attack from Braga. The dawdling Ramsey is robbed just short of the halfway line by Musrati, who feeds the ball down the left wing. Then it's moved infield to Ricardo Horta, who smashes over the ball from 25 yards.
22 min Another wicked cross leads to a scramble in the Braga area. Ramsey loses the flight of the ball and sort of humps it across the area to Aribo, whose shot from eight yards is desperately smothered.
20 min Aribo is actually playing as the No10, with Ramsey roaming from the right. I should have told you that earlier. Shoulda woulda didnae.
19 min Aribo controls the ball in the area, back to goal, and lays it back to the onrushing Ramsey. He spanks over the bar from 18 yards. For a player of his class, that wasn't a bad opportunity.
19 min Braga are trying to slow the game down and quieten the home crowd. After a very one-sided start, it's developing into a more even game.
17 min Braga enjoy their first extended spell of possession. Eventually Ricardo Horta's poor control allows Goldson to clear.
15 min Aribo's low cross finds its way through to Roofe, who clips it wide of the near post under pressure. It was only a half chance.
14 min Another brilliant cross, this time from Aribo, is taken away from Tavernier by Rodrigo Gomes. That was outstanding defending.
13 min "Was that the correct application of the handball law?" asks Sam Campbell. "I thought the handball had to be immediately prior to the goal being scored as with Chelsea the other night."
I think the rules in Uefa competitions are different to the Premier League, so that a handball in the build-up is enough for the goal to be disallowed. I've been frantically googling it while trying to watch the game, so if there are any lawmakers out there, please put me out of my misery.
11 min "Hi Rob," says Matt Burtz. "I had the pleasure of seeing a match at Ibrox when Rangers hosted Dundee in February 2019. The capacity crowd was pretty damn loud for a fairly run-of-the-mill 4-0 win for the hosts, so I can only imagine the decibel levels on a night like this one. I haven't been to many grounds in the UK, but I know Ibrox is a special one."
8 min I'm still trying to process that Barisic handball. I'm so used to the English Premier League handball rules, under which the goal would have stood, that it's taking a while to compute. It hasn't deflated Rangers, though, who are completely dominant.
15.07
GOAL DISALLOWED AFTER VAR CHECK!
The ball hit Barisic's hand in the build up and, though it was accidental, the goal has been disallowed.
This is unbelievable! Again it came down the left, with Bassey flipping a clever ball over the top to find Barisic. He muscled Fabiano off the ball and flipped a gorgeous cross into the middle, where Roofe got away from Tormena and headed gleefully past Matheus from six yards.
15.05
GOAL! Rangers 2-0 Braga (Roofe 5)
It's two!
Ibrox has gone ballistic! Barisic's cross from the left was helped on by Aribo, facing away from goal, and Tavernier reacted quicker than anyone to slide the ball past Matheus from a tight angle. Matheus probably shouldn't have been beaten from there. The hell Rangers will care!
15.02
GOAL! Rangers 1-0 Braga (agg: 1-1; Tavernier 2)
What a start for Rangers!!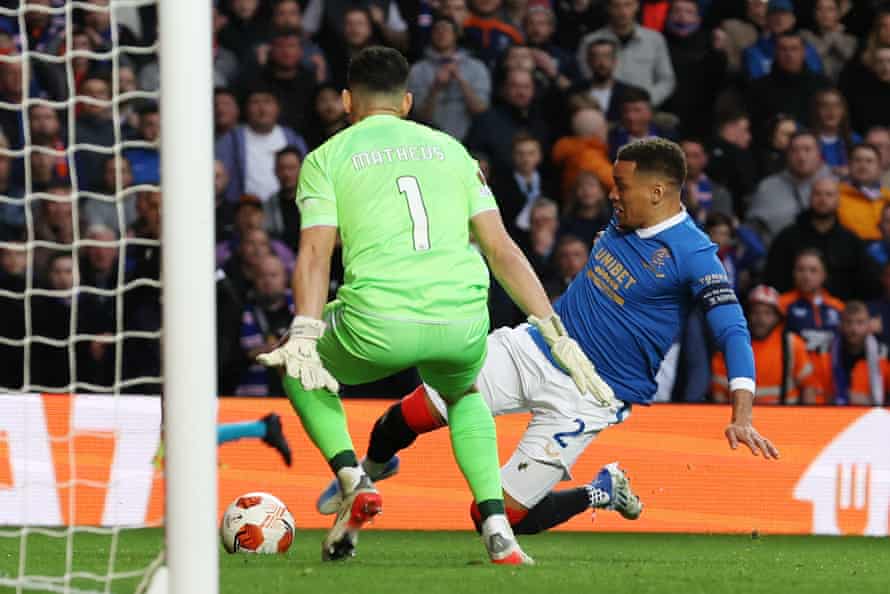 1 min Peep peep! Kemar Roofe gets the game under way.
"Where's Ianis Hagi?" asks Tony Hughes. "Is he injured or just not making it into the squad?"
He's out for the rest of the season with a knee injury. But he'll be there in spirit.
The noise at Ibrox is frankly ridiculous. If this atmosphere doesn't inspire the Rangers players, then nothing will.
A reminder of the teams
Rangers (possible 4-2-3-1) McGregor; Tavernier, Goldson, Bassey, Barisic; Lundstram, Jack; Aribo, Ramsey, Kent; Roofe.
Substitutes: Robby McCrorie, McLaughlin, Diallo, S Davis, Kamara, Sands, Wright, Balogun, Sakala, Arfield, King, Lowry.
Braga (possible 3-5-2) Matheus; P Oliveira, Carmo, Tormena; Fabiano, Andre Castro, Musrati, A Horta, Gomes; Ruiz, R Horta.
Substitutes: Sa, Y Couto, Leite, Mineiro, Medeiros, Buta, Gorby, Moura, B Couto, Rodrigues, Fale, V Oliveira.
Giovanni van Bronckhorst's pre-match thoughts
"

We just need someone to roof one from 40 yards like this FFS
We have to score, so we have to get our speed of play right and create as many chances as possible while also keeping an eye on their transitions. We want to start on the front foot and put the pressure on them.
"[On Kemar Roofe's hat-trick at the weekend] It's always a boost to score a hat-trick and I hope it'll lift his confidence, because we need goals today as well. To be at this stage in Europe is a very good achievement for us, but now we have a chance to reach the semi-final – we have to give everything.
"They're a good team – fast and dynamic. I don't expect them to be as offensive as they were last week but they always have a threat going forward."
Aaron Ramsey makes his full European debut for Rangers tonight
Full time: Atalanta 0-2 RB Leipzig (agg: 1-3) Two goals from the brilliant Christopher Nkunku have put RB Leipzig into their second European semi-final in three seasons.
RB Leipzig are heading for the last four. Christopher Nkunku has scored from the penalty spot, his second goal of the night, to put them 2-0 up away to Atalanta. That's a 3-1 aggregate lead with only three minutes remaining.
There's one early game in the Europa League. With just over 20 minutes remaining in Bergamo, RB Leipzig lead Atalanta 1-0 on the night, 2-1 on aggregate. You won't be surprised to hear that the brilliant Christopher Nkunku scored the goal. The winners of that tie will play Rangers or Braga in the semi-finals.
Appetite-whetter
Giovanni van Bronckhorst makes four changes to the team that was beaten in Portugal last week. Borna Barisic, Joe Aribo, Aaron Ramsey and Kemar Roofe come in; Leon Balogun, Scott Arfield, Glenn Kamara and Fashion Sakala drop to the bench.
Two changes for Braga from the first leg. Paulo Oliveira and Andre Castro replace Yan Couto and Iuri Medeiros, which might mean a switch from 3-4-3 to 3-5-2.
What comes next in this list: 1960, 1961, 1967, 1969, 1972, 1993, 2008? All connected with Rangers will hope it's 2022, as those are the years in which they have reached European semi-finals. (Yes, yes, I know that technically 1993 wasn't a semi-final, but try telling that to Ian Durrant.)
If Rangers are to reach their eighth European semi-final (yes, yes, etc), they will have to overturn a 1-0 deficit against a good but beatable Braga at Ibrox. It's a stiff task, especially without Alfredo Morelos, but it's less scary than it would have been if the away goals rule was still in place.
Whoever goes through will face

either
RB Leipzig

or Atalanta
in the last four of the Europa League. Rangers can see the semi-finals; in the next few hours, we'll find out whether they're allowed to touch them.
Kick off 8pm.