Britons are drinking cocktails in record numbers at home and in bars according to drinks group AG Barr, as consumers opt for a pornstar martini or mojito in a trend accelerated during the pandemic.
The Scottish company, which makes Irn-Bru, Rubicon and cocktail brand Funkin, said 7.4 million people drink cocktails when they go to a bar, club or restaurant, a 13% increase compared with pre-pandemic levels. About 43% of those cocktail drinkers indulge at least once a week.
AG Barr, which reported that its overall business had bounced back above pre-pandemic levels in the year to 30 January, first noticed the cocktail boom last spring as Covid restrictions that kept the hospitality industry shut were lifted. Sales of its mixers jumped more than 60% in the 10 weeks after restrictions were lifted, compared with pre-pandemic.
"The cocktail category has performed extremely well, benefiting from increased numbers of consumers returning to venues and increasing levels of participation in the category," the company said. "Cocktails outperformed other categories."
The company said that the popularity of cocktails had endured, accounting for 9.9% of total venue drink sales between April and 23 October last year, compared with 6% in the same period pre-pandemic.
"While the emergence of the Omicron variant towards the end of 2021 led to both the reintroduction of some social restrictions and increased consumer caution over the festive period, the cocktail category remains a significant growth opportunity for the hospitality sector in general," the company said.
The surge in the popularity of drinking cocktails while locked down at home has continued despite the reopening of pubs, bars and clubs. The company said the sale of cocktails for home consumption had risen 44% year-on-year to be worth £92m, of a total ready-to-drink market of £509m. Bestsellers include pornstar martini, mojito, sex on the beach, Long Island iced tea and daiquiri.
In February, AG Barr said it was increasing its prices after packaging, ingredients and energy-linked commodity costs jumped, as it raised its sales and profit estimates.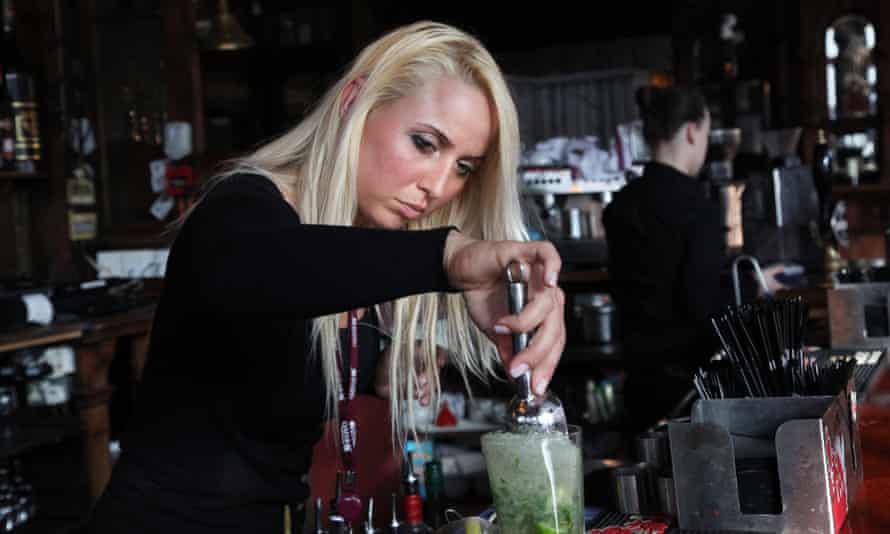 On Tuesday, the company reported a 62% increase in pretax profits to £42.2m for the year to 30 January. Revenues rose 18% to £268.8m with the financial performance leading the company to reintroduce its dividend during the year.
"Our business and brands have once again proven their resilience in uncertain and often challenging circumstances," said the AG Barr chief executive, Roger White. "Trading in the early weeks of the new financial year has been well ahead of the prior year and in line with our expectations."
However, with inflation at a 40-year high and home energy bills soaring, the cost-of-living crisis is likely to force consumers to cut spending.
Russ Mould, the investment director at AJ Bell, said: "There are considerable uncertainties about the strength of consumer spending once we move into April and energy prices shoot up. Inflationary pressures in general are intensifying and consumers will have to make some serious decisions about where they spend money, and where they cut back. AG Barr will no doubt be banking on the consumer continuing to find some cash for small treats like its range of fizzy drinks, including Irn-Bru, as well as people refusing to give up small luxuries such as a night out with friends – which is relevant to its Funkin cocktail brand."
White acknowledged that he expected to see a change in consumer demand compared with the past several years, but said the company's relatively low-cost products meant it was not at the top of the budget-cutting list.
"We have been through a couple of recessionary periods and we haven't suffered as a category and business as much as many have," he said. "This is largely because what we offer is an affordable treat. A lot of our products are under £1 per serving, and remain under £1 even with this inflationary impact. We are not immune but we are at the right end of things."
He said AG Barr had looked at everything to control costs, from packaging and recipes to reducing transportation miles. In the past two years the company had cut its portfolio of about 600 variations of its products – from bottle sizes to multi-packs – to 400 and in September 2020 cut headcount by about 10%.
"It has been about value optimisation, trying to make more with less," he said. "We are confident in our growth momentum."
The drinks company made global headlines last November when the US congresswoman Alexandria Ocasio-Cortez posted an Instagram video praising Irn-Bru, after being handed a can by the Scottish first minister, Nicola Sturgeon, on her arrival in Glasgow for the Cop26 conference.
The UK's most popular cocktails
1. Pornstar martini
Vanilla-flavoured vodka, Passoã, passion fruit, lime juice (original: chilled shot of prosecco on side)
2. Mojito
White rum, sugar, lime juice, soda water, mint
3. Sex on the beach
Vodka, peach schnapps, orange juice, cranberry juice
4. Long Island iced tea
Vodka, tequila, white rum, triple sec, gin, lemon juice, splash of cola
5. Daiquiri
White rum, lime juice, sugar syrup
Source: AG Barr, AKA
View from the bar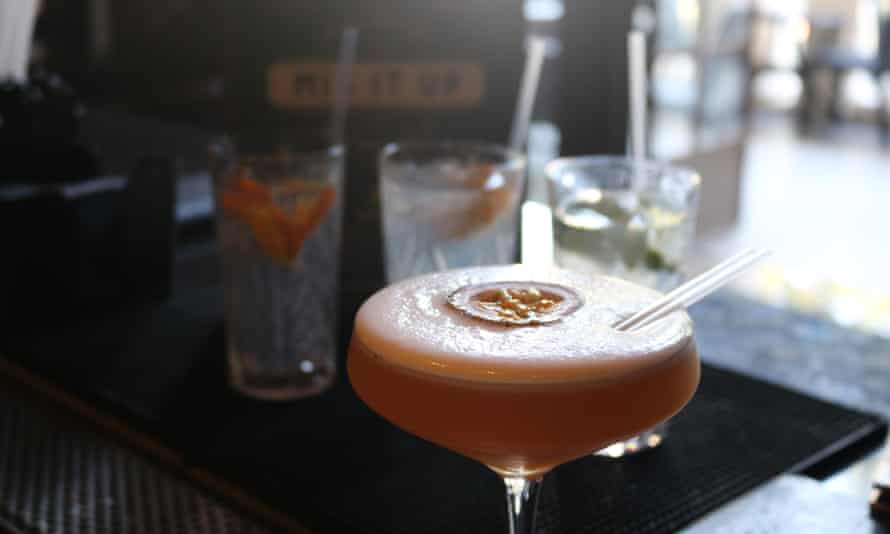 "After lockdown people just wanted to go out and enjoy themselves and that has fuelled the boom in cocktails," said Shaun Churchyard, bar manager at AKA, a fusion restaurant and bar in Witham, Essex. "We've found there are new groups of people who are now up for testing new drinks, taking a punt, and are now trading that post-dinner wine, or even traditional beer, for a cocktail."
Churchyard said the rise of the pornstar martini as the nation's favourite cocktail was partly because of its popularisation on reality TV shows such as The Only Way is Essex. However, he also says that, name notwithstanding, it is a "nice tasting cocktail, well-rounded, sweet, has a bite to it and is fairly alcoholic".
Alongside the traditional top five, people are now up for trying a wider range of cocktails with negroni, Manhattan and old fashioned staples on many cocktail menus. Expect a boost for longer drinks over summer, such as a gin fizz, but look no further than a mojito for the cocktail that holds its appeal no matter the weather, he said.
"Drinkers are much more open to trying different drinks than they were," said Churchyard, who does not think the cost of living crisis will kill the rise of the cocktail.
"I think cocktails have now become people's little luxury, that little vice."