May 12, 2021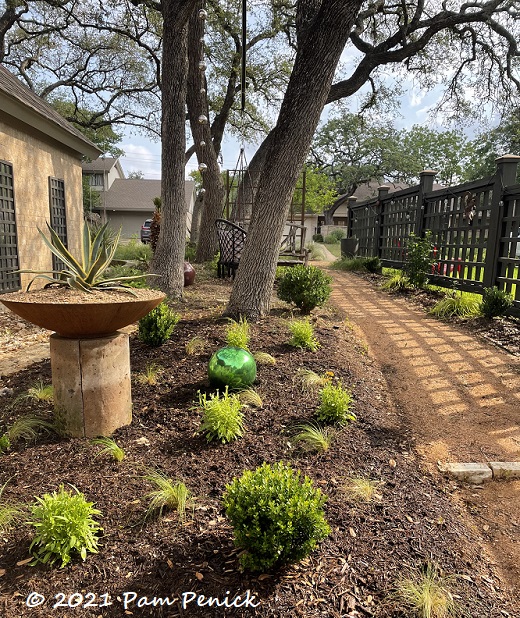 I got rid of all the lawn years ago — a big design move — but a garden isn't static. Years later a space often needs a redesign if it's become overgrown or certain plants haven't performed as expected. And sometimes things just don't work out like you thought they would.
Side garden reimagined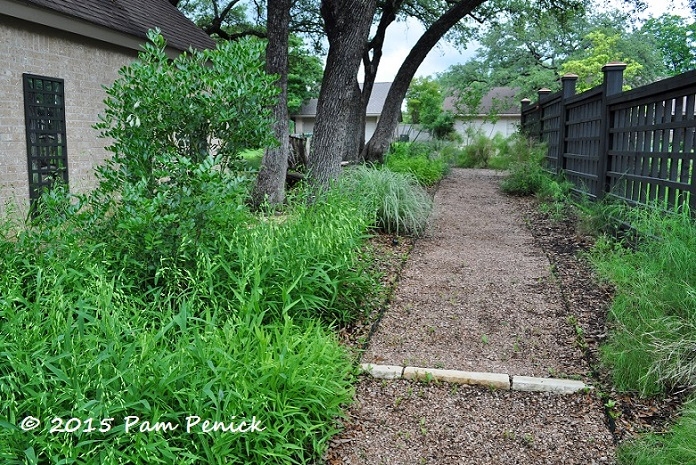 That's what had happened with the side garden on the east side of the house. Originally it was just St. Augustine grass and a big pampas grass under a handful of live oaks. I dug out the grasses, ran a decomposed-granite path through the space to the gated backyard, and planted…more grasses — specifically inland sea oats, variegated miscanthus grass, and bamboo muhly. Why? Because they are good choices for dry, dappled shade and the deer never touch them. Also, it was a big space, and my budget was tight, and I knew inland sea oats would quickly fill in. (Does it ever!) I added a Texas mountain laurel for height and, later, a lattice fence to enclose the space while admitting light and air.
I'm a big fan of grasses, but it was too much similar texture and height. And as the mountain laurel grew and stretched toward the path, it felt close and jungly in summer and fall, when the grasses were at full height. Worst of all, it was boring. Visitors always strode right through this space to reach the gate, rarely remarking on anything growing here. There was little to encourage anyone to stop and look, and the long, straight path directed the eye relentlessly forward.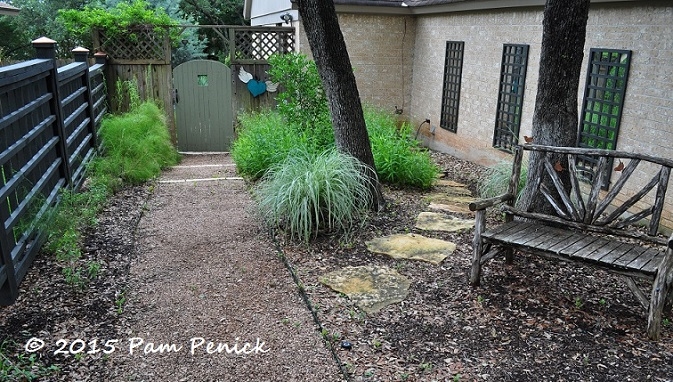 At the high end, a rustic cedar bench under the live oaks gave me a spot to sit, largely out of sight of the street, but it didn't provide adequate seating for two people to sit and talk. Later I planted pale pavonia along the fence for its pretty white and burgundy flowers, but even that didn't add enough interest. It was just a pass-through space.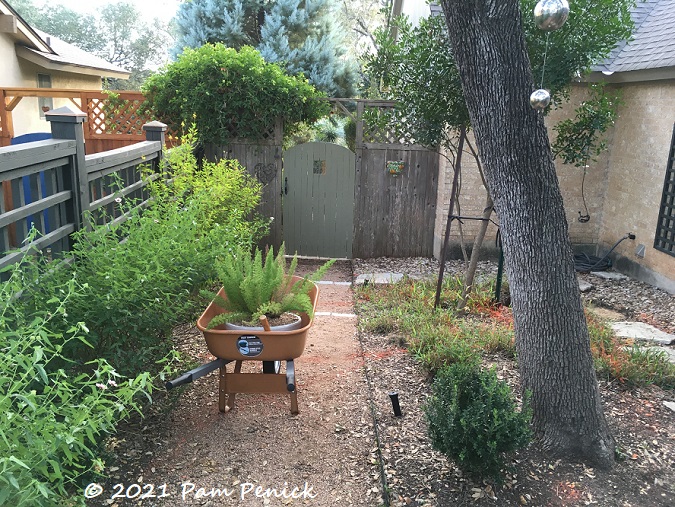 Last fall I decided to do something about it. With orange marking paint I drew out a few possible options for curving the decomposed-granite path, eliminating the straight shot to the gate, and leading visitors through the live oaks. But those options seemed forced and fussy. A serviceable path was already in place, and I didn't want to risk disturbing the live oak roots. What I needed was a way to move the eye, not the feet, into and through the space.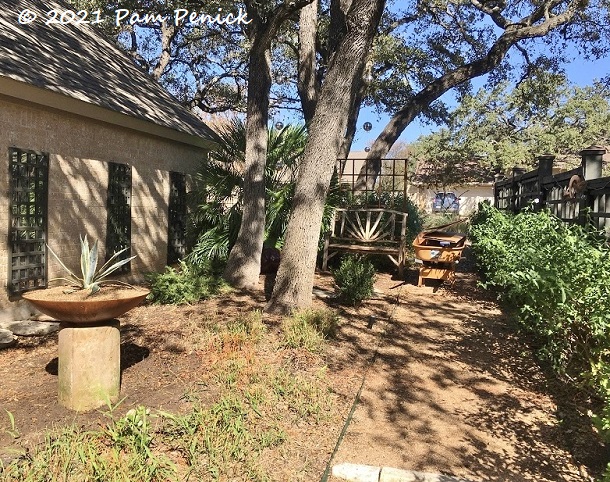 The hardest decision I made was to remove the Texas mountain laurel. However, it didn't bloom much because of the shady conditions. I cut it down myself, sawing off the trunk at ground level. I drilled several holes in the trunk and poured a little Roundup in them to kill the root system so it wouldn't try to grow back. I cut the sea oats to the ground and dug them out by hand, trying to get all the roots in the process.
The mountain laurel hadn't worked out as a focal point because it was too large for the space. Instead I considered a tall piece of garden art but settled on an elevated planter. I dug in a column of cantera stone I already had (a gift from a gardening friend years ago) and purchased a corten planter bowl from Veradek to set on top. Planted up with an 'Opal' variegated American agave, it draws the eye into the space, pulling it away from the long, straight path.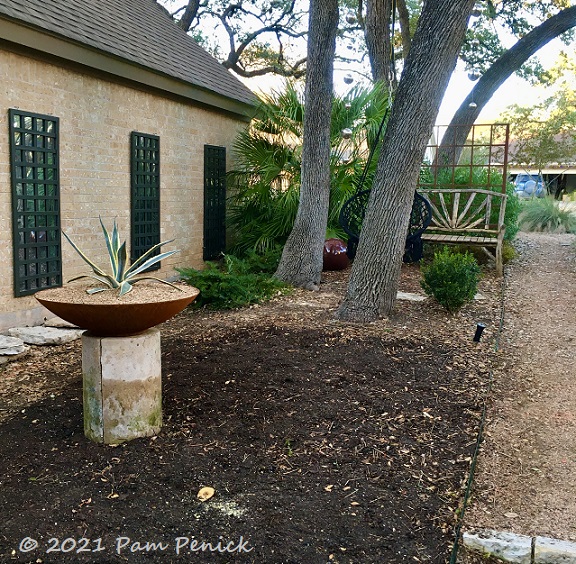 While I was at it, I powerwashed the brick siding, moved a flagstone path along the back of the bed, and re-stained the lattice fence.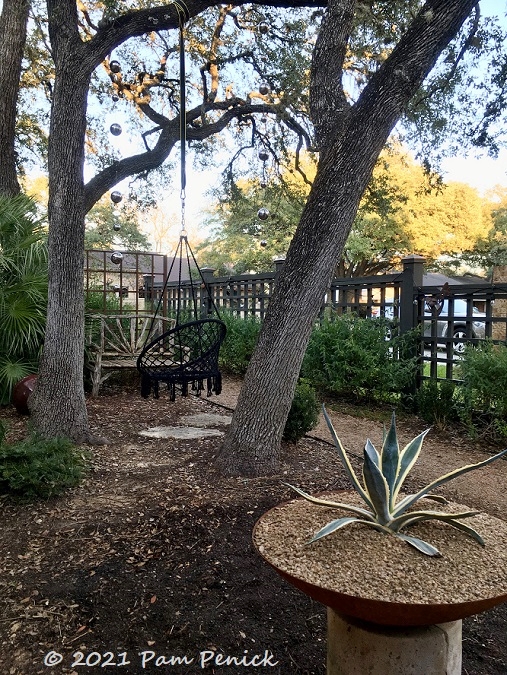 I found a steel lattice trellis at Hill Country Water Gardens & Nursery and installed it on rebar stakes between the path and a large Mediterranean fan palm. Then I set the cedar bench against it, facing a new swinging chair I bought online. Voila — a conversation area was created! The trellis and bench separate this space from the rest of the garden, and now it feels like you're entering a garden room when you walk down the path. (Everyone asks where I got the hanging strands of stainless steel balls: Wind & Weather, but I don't think they're available anymore.)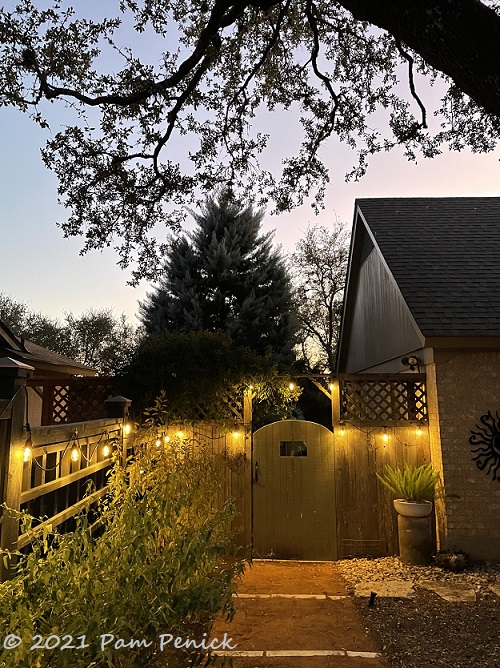 I also hung cafe-style string lights on the fence and over the gate, connected to a timer I bought at Home Depot during Christmas light season. I set the lights to come on at dusk and go off 4 or 6 hours later, depending on the season. I love the soft glow that illuminates the path and seating area at night.
A new gate was on my wish list, but to hold down costs I opted to keep the one we have. It's just a standard wooden gate that I customized with a peekaboo window, a curved top I cut with a handsaw, and gray-green paint. I did enlarge the peekaboo window to give more of a glimpse of the back garden. Another cantera stone column by the gate displays a potted foxtail fern.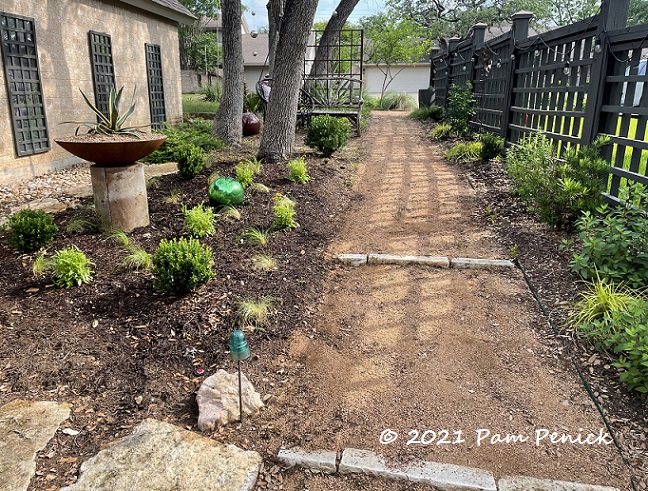 I'd started to plant the new garden bed when the February deep freeze happened. The Mediterranean fan palm that shielded the space from the street died back to the trunks, but it's slowly starting to come back. It will eventually provide privacy again. I also lost the 'Opal' agave, the potted foxtail fern, and all my pale pavonias, but I've replanted. Otherwise the plants survived, and I finished planting this month.
After some debate, I removed the steel edging along the left side of the path. I didn't want a tripping hazard for people stepping into the seating area, and it was a distracting visual line anyway. For now I've left the right-side edging, though I may pull it later.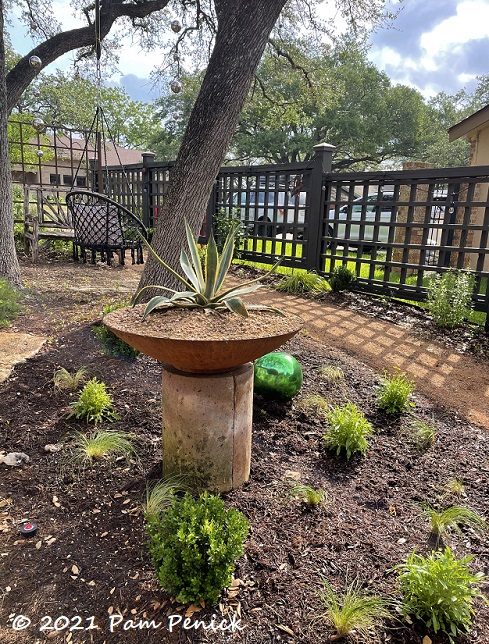 Inspired by Kurt Wilkinson's Yalamurra, in which topiaried green shrubs add geometric form in a meadow garden, I created a stylized mini-meadow of my own. Three 'Baby Gem' boxwoods planted in a loose triangle will eventually be pruned into low mounds (I hope!). Mexican feathergrass and 'UpTick' coreopsis are filling in around them, although the deer have munched the coreopsis flowers several times. I've been spraying them with deer repellant, but that may not be sustainable.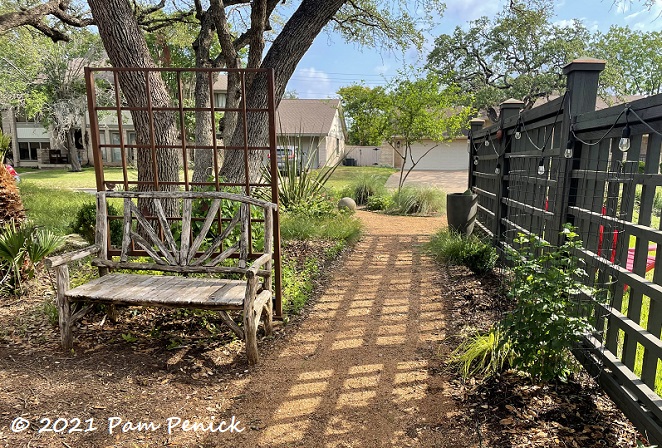 In the morning light, the lattice fence shadows the path in a matching grid pattern. The cedar bench (newly powerwashed too) makes an inviting spot to stop a while and watch little lizards and birds.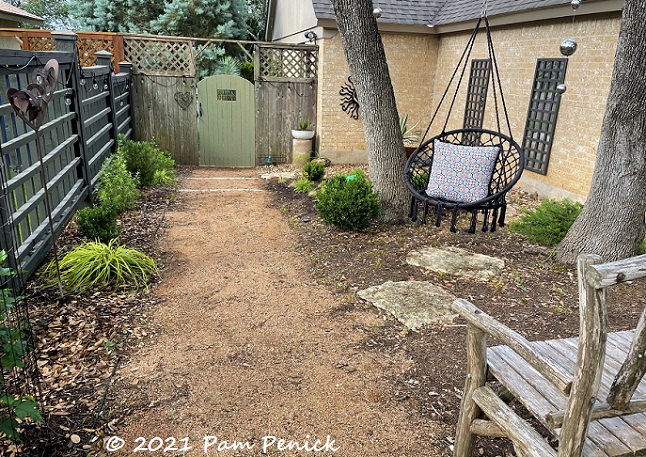 Or sit in the swing chair, and you can see activity out on the street.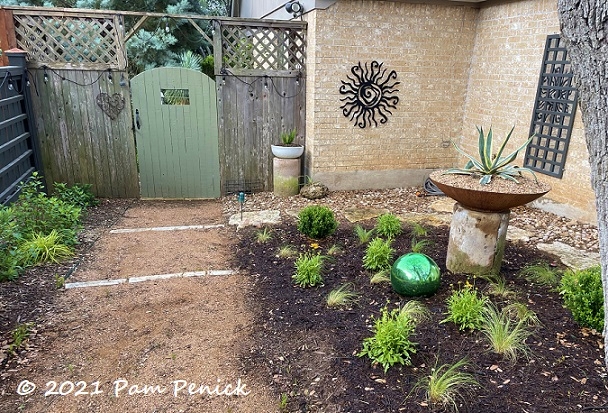 It's been fun reimagining this space and replanting. I look forward to seeing whether it slows future visitors down to enjoy it with me.
Patio roof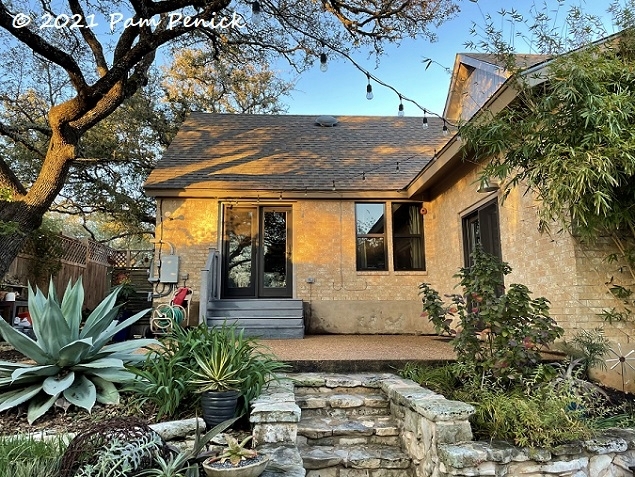 Another recently redesigned area is a small patio off our living room and bedroom — what I call the upper patio. Our house came with several small backyard seating areas, all of them unsheltered. That wasn't a big deal until covid, when we could only meet up with family and friends outside. Suddenly, having a roofed space with protection from sun and rain (not to mention nonstop litter from live oaks) mattered.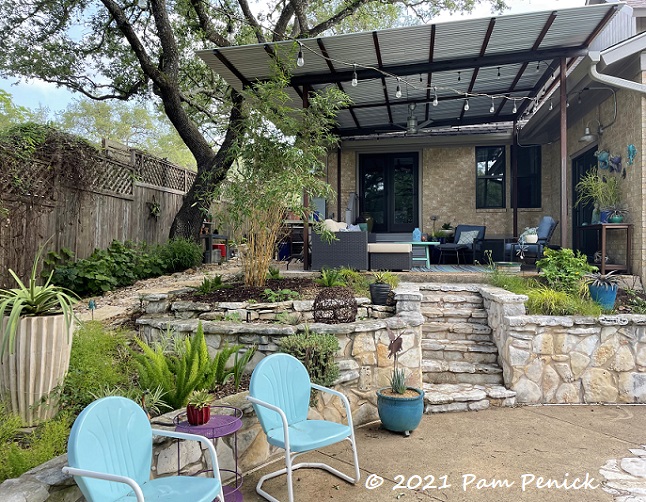 Inspired by slanted steel patio roofs designed by Lorie and Michael Kinler of Redenta's Landscape Design in Fort Worth, we hired Austin Custom Metals to build one for us. I absolutely love it. The shelter of a roof makes the space feel bigger, and while it's not completely weatherproof during heavy rains, it keeps out most of the water and tree debris. And the shade is great, especially with a Big Ass Fan spinning to keep the patio cool.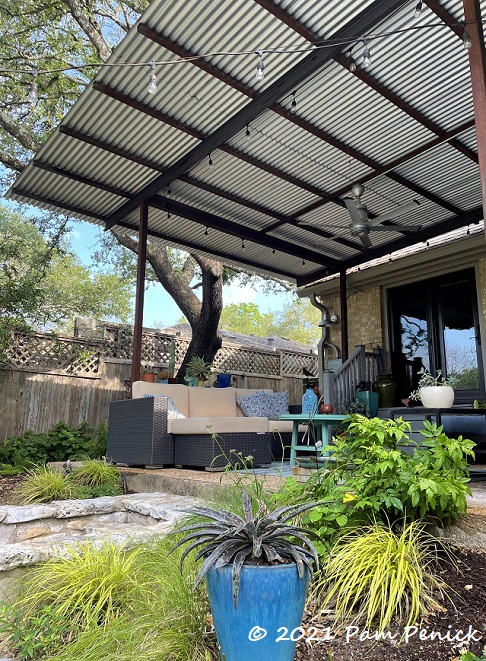 String lights run around the steel framing…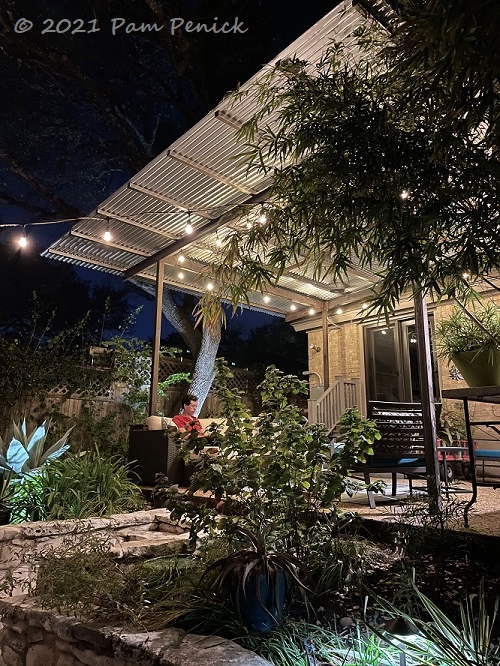 …for nighttime enjoyment of the space. This photo was taken just before the Big Freeze, which damaged the whale's tongue agave (at left) so badly that I ended up removing it. I replaced it with an 'Alphonse Karr' bamboo, which will eventually provide a little extra late-afternoon shade.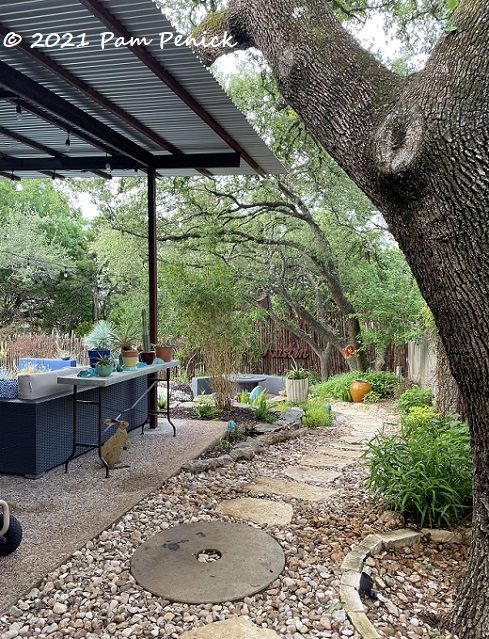 A new flagstone path set in river rock leads from the patio to the lower garden. The faux millstone has always been there, but it used to be set in a mulched path.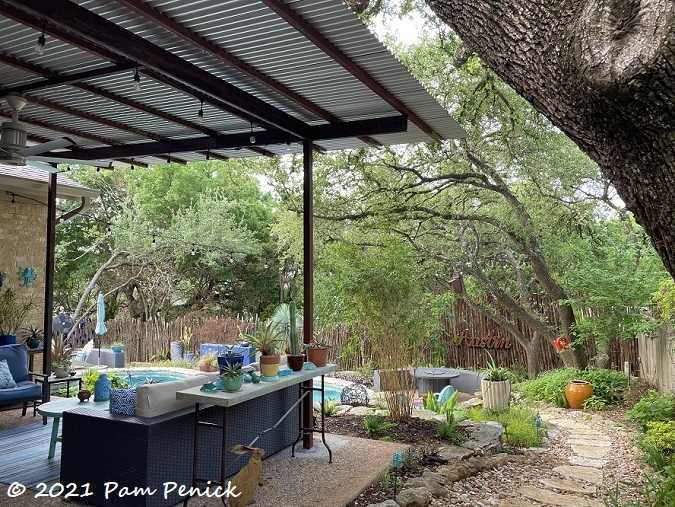 With these two newly redesigned spaces, plus the dramatic cutting back necessitated by the February freeze, it's feeling like a fairly new garden this spring. But the garden is always about change, isn't it?
I welcome your comments; please scroll to the end of this post to leave one. If you're reading this in a subscription email, click here to visit Digging and find the comment box at the end of each post.
_______________________
Digging Deeper: News and Upcoming Events
Need garden coaching? If you want a garden-coaching session to help you bounce back from Austin's February snowpocalypse, I'm offering coaching services again for a limited time. We've all lost plants, and it can be hard to know what to prune back, what to give more time for recovery, and what the best replacement plants for your yard might be. I'm here to help! Contact me to let me know what's going on and what you need help with. Austin to Cedar Park locations preferred, but I'm flexible so let me know where you are. Weekday mornings only.
It's pond tour time! Grab your sun hat and attend Austin's 26th annual Pond and Garden Tour on June 5 and 6. Sponsored by the Austin Pond Society, the tour includes 13 ponds over two days, with admission of $20 in advance (until 5/31) and $25 on the day of (online payments only; no cash).
Join the mailing list for Garden Spark! Hungry to learn about garden design from the experts? I'm hosting a series of talks by inspiring garden designers, landscape architects, and authors a few times a year in Austin. (While in-person talks are currently on hiatus due to the pandemic, I hope to resume again this fall.) Talks are limited-attendance events that sell out quickly, so join the Garden Spark email list to be notified in advance. Simply click this link and ask to be added.