Charles Oliveira defended his belt in stunning fashion, Amanda Nunes was dethroned in one of the greatest upsets in MMA history, and there was KO chaos aplenty at UFC 269 on Sunday.
Widely regarded as the women's GOAT, Nunes suffered her first defeat since 2014 as Julianna Pena left the UFC world stunned.
That was before Oliveira came back from a first-round striking masterclass by Dustin Poirier to dominate the second, and find a submission in the third, to win his 10th straight fight and defend his lightweight title for the first time.
UFC 269 was so wild that Dana White handed out eight performance bonuses (typically worth $50k a pop), as Aussie Tai Tuivasa and Kiwi Kai Kara-France cashed in too.
Watch Live UFC with ESPN on Kayo. Full Fight Night Events, PPV Prelims, Ultimate Fighter Series & More. New to Kayo? Start Your Free Trial >
Charles ends Poirier STUNNING submission | 01:35
"I'm the world champion. I'm the man. They talk, I do it," Oliveira said after choking out Poirier.
"They can hit me a lot, but I'm gonna walk forward," he added.
It was a main event that somehow didn't disappoint after what happened minutes earlier as Poirier and Oliveira came out swinging.
Poirier looked to be in control in the stand-up exchanges, but couldn't stay on his feet in the second, before Oliveira jumped on his back in the third and secured the standing rear-naked choke.
"Charles Oliveira has won the belt by knockout and submitted his first title defence — it doesn't get much better than that," Daniel Cormier said in commentary. "He's now won 10 fights in a row; the dude's a beast."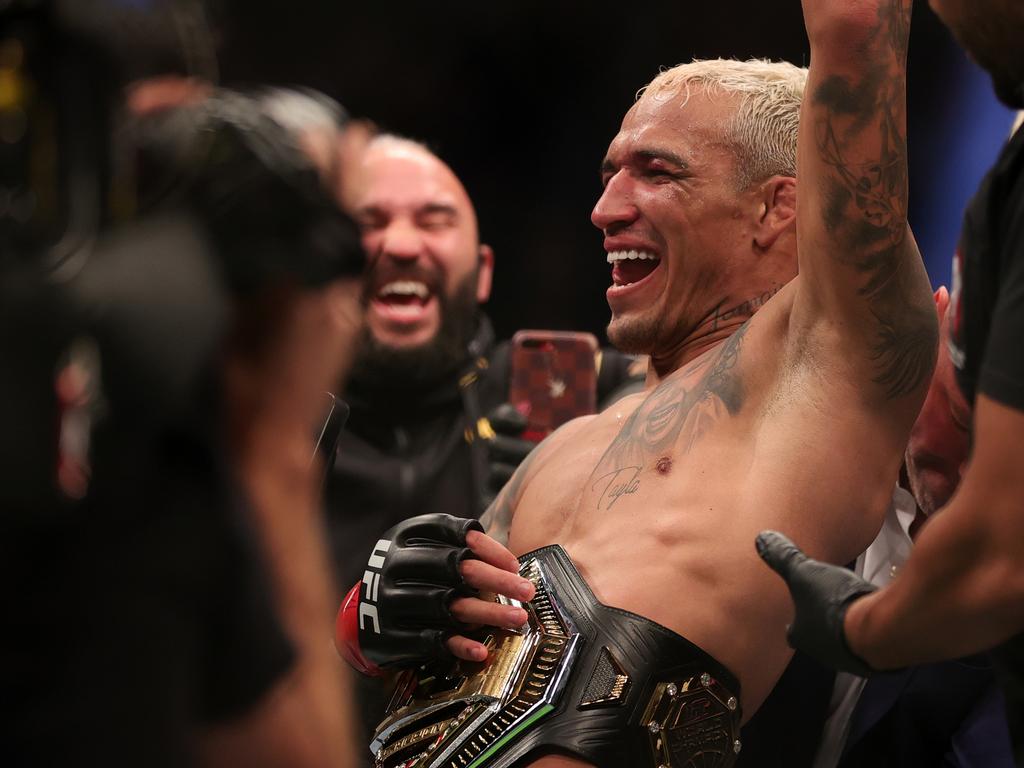 Still, it didn't come close to what we witnessed in the co-main event as Nunes was dethroned; the UFC's most dominant champion tasting defeat as Pena pulled off one of the biggest upsets in the organisation's history to claim the bantamweight belt.
Nunes, who still holds the featherweight belt, was at her usual monstrous self in the first round, but Pena came out in the second ready to stand and bang — and somehow came out on top in a result that left the Las Vegas crowd totally stunned.
Pena had Nunes rocked throughout a wild second, before taking the double-champion to the ground, and getting the tap in an instant.
"That's the biggest upset in the history of the sport," Joe Rogan said, while all Cormier could muster was an "OH MY GOODNESS!"
Pena put it simply: "I'm not surprised motherf***ers."
READ MORE >
KIWI'S INSANE KO STATEMENT
Cody Garbrandt's decision to come down to flyweight seemed like a good idea until he ran into Kai Kara-France on Sunday.
The former bantamweight champion was folded in the first round as Kara-France, the No.6 ranked contender, secured the biggest win of his career.
The Kiwi landed a monstrous overhand right that started the violence and dropped Garbrandt, and crucially stayed patient as he hunted the finish.
Garbrandt was left a mess on the canvas as the City Kickboxing product celebrated.
Garbrandt smashed in flyweight debut | 00:46
AN O'MALLEY MAULING
Sean O'Malley (15-1-0) will be ranked next week.
One of the UFC's most unique stars secured yet another stoppage victory in the bantamweight division; leaving No. 15 ranked Raulian Paiva in all sorts with a barrage of punches in the first round.
It was a big right hand that was the beginning of the end for Paiva, with O'Malley forcing referee Jason Herzog to stop the fight with less than 20 seconds left in the first.
SUGAR Sean secures first round stoppage! | 00:35
"I think he's one of toughest guys I've fought, but when I land those big shots, I'm going to take you out — and that's what happened."
O'Malley revealed post-fight he hadn't grappled or sparred in three weeks after sustaining a rib injury that had him "99 percent" sure he was going to pull out of the fight.
Those watching on were glad he didn't.
TAI TIME
Tai Tuivasa secured his fourth consecutive win in the UFC after leaving ranked heavyweight Augusto Sakai a crumpled mess on the canvas.
After a patient first, Tuivasa came out firing in the second; securing another KO win just 26 seconds into the round.
Tuivasa caught Sakai with a beautiful left hook that hurt his rival, before he went hunting the finish; a barrage culminating with a right hand that shut the lights out.
The 28-year-old Australian immediately jumped atop the cage to fulfil his shoey tradition.
"Like I said … I feel I'm getting better and better at this sport," Tuivasa, who not too long ago had lost three straight, said.
Tai SMASHES Sakai & celebrates in style | 00:58
READ MORE >
'THAT IS SO DIRTY'
It didn't take long for drama to strike the UFC 269 card, with the first fight of the night delivering a bit of chaos.
Gillian Robertson secured a buzzer-beating submission of Priscila Cachoeira, and had to overcame a "dirty" move to do it.
Robertson won via rear naked choke with a second left in the first round; keeping the position despite Cachoeira attempting to poke her in the eye to escape the squeeze.
"That is so dirty," Joe Rogan said in commentary.
"Cheating missing weight, cheating scratching the eye — that is so nasty."
A smiling Robertson added: "I'm definitely just hoping the ref stops the fight at that point … I don't even think he [the referee] gave her a warning because there were two … that I felt thumb straight in my eye."
Cachoeira came in at 129 pounds; four pounds over the flyweight limit.
'So dirty!': Eye poke triggers Rogan | 00:49
WOBBLE CITY
Jordan Wright started strong before visiting Wobble City, and eventually being saved from Bruno Silva by referee Herb Dean.
In a preliminary card fight that went from zero to 100 as soon as the bell went, it was a left hook from Silva that left Wright in all sorts, before the Brazilian hunted the finish.
Wright crashed to the ground — his head thudding against canvas — and looked in real trouble as Silva landed blow after accurate blow to secure the first round stoppage.
For Silva, it was a statement win, and one that cemented him as a rising contender in the middleweight division.
HUGE hook leads to 'chicken dance' | 00:43
FULL CARD
Main card
Charles Oliveira (c) def. Dustin Poirier (1) — via third round submission
Julianna Pena (3) def. Amanda Nunes (c) — via second round submission
Geoff Neal (12) def. Santiago Ponzinibbio (14) — (30-27, 29-28, 28-29)
Kai Kara-France (6) def. Cody Garbrandt (7) — via first round KO
Sean O'Malley def. Raulian Paiva (15) — via first round TKO
Preliminary card
Josh Emmett (7) def. Dan Ige (9) — via unanimous decision (29-28 x 2, 30-27)
Dominick Cruz (9) def. Pedro Munhoz (8) — via unanimous decision (29-28 x 3)
This is Tuivasa def. Augusto Sakai (11) – via second KO
Bruno Silva def. Jordan Wright — via first round TKO
Early prelims
Andre Muniz (15) def. Eryk Anders — via first round submission
Erin Blanchfield def. Miranda Maverick — via unanimous decision (30-27 x 3)
Ryan Hall def. Darrick Minner — via unanimous decision (30-27 x 2, 29-27)
Tony Kelley def. Randy Costa — via second round TKO
Gillian Robertson def. Priscila Cachoeira — via first round submission