It was billed as the most heated, bitter rivalry in the UFC. It more than delivered.
Colby Covington controlled proceedings in UFC 272's main event from start to finish as he dominated Jorge Masvidal to claim their five-round welterweight battle via a comprehensive unanimous decision.
The former best friends, teammates, and roommates have become enemies in recent years, with their ugly relationship marked by vicious insults and wild allegations of indiscretions.
And that animosity was evident from the opening moment of the fight. There was no touch of gloves, just the delivery of more verbal barbs – something that would become a running theme between every round, to the end of the fight and even as they exited the octagon.
Things remained equally ugly once the fight began. Masvidal copped an eye poke in the first round, an illegal knee to the groin in the second, and five rounds of pain and punishment overall.
Covington's superior grappling and elite fitness delivered an emphatic victory as he claimed all five rounds on two of the three judges' scorecards.
Watch UFC 272: Covington vs Masvidal LIVE on Main Event available on Kayo & Foxtel, Sunday 6th March from 2pm AEDT. ORDER NOW >
Masvidal & Covington go at it after bell | 00:33
MORE COVERAGE
'Woke, spineless coward': UFC star calls out LeBron in bizarre rant
'D**k sniffer': Bitter UFC enemies EXPLODE in wild, unhinged press conference
Covington repeatedly took Masvidal down to the mat – six times in all – and looked in complete control of the fight for lengthy portions. Though Masvidal did have his moments, they were few and far between – the best being a fourth-round counter right hook that dropped Covington to a knee.
But Masvidal could not capitalise on those rare instances and while his defence was solid throughout the five rounds, he was outmatched on the floor as Covington solidified his position as the top welterweight contender.
Masvidal's inability to maintain his distance and keep the fight standing up ruined any chance of victory against his bitter enemy. His third-straight defeat sees his record fall to 35-16, while Covington moves to 17-3.
Masvidal wasn't the only big loser on the day. Hip-hop sensation Drake lost himself a whopping $373k on the main event for UFC 272, having put the mammoth wager on Masvidal to win.
"Louisiana swamp trash!" DP called out | 01:02
Covington 'can't respect' Masvidal | 03:13
'THROW IN THE F*****G TOWEL!' STAR REFUSES TO QUIT AMID BLOODY WAR
Renato Moicano may have earned plenty of fans for stepping up to face Rafael Dos Anjos on late notice, but his face will almost certainly never look the same.
Moicano had been beaten pillar to post throughout the five rounds, and the fight was on the verge of being called off by the doctor at the end of the third and fourth rounds.
However, he refused to quit and bravely continued to fight against the former UFC lightweight champ.
Many Twitter fans were left puzzled as to why he was allowed to keep going.
STAR'S CHEEKY MID-CHOKE MOVE BEFORE UNLEASHING HELL
In the midst of being choked out, UFC star Kevin Holland threw a cheeky thumbs-up to the crowd before he unleashed on Alex 'Cowboy' Oliveira.
Both fighters came ready to throw down, and from the word go they swung for the fences.
However Oliveira managed to get Holland into a vulnerable position before sinking in a rear-naked choke.
Or so he thought.
The choke clearly wasn't in deep enough, and Holland offered a thumbs-up in an all-time move to let everyone know he wouldn't be tapping out anytime soon.
He came flying out of the gates in the second round and had the Brazilian pinned up against the fence, before the referee had seen enough as 'Cowboy' curled up to protect himself.
Aussie Mullarkey gets brutally TKO'd | 00:50
AUSSIE'S WIN STREAK ENDED AFTER TKO
Australian Jamie Mullarkey has failed to overcome the latest test in his UFC career, as Jalin Turner dominated the proceedings before the referee waved the fight off early in the second round.
Turner won via TKO after dropping Mullarkey with a thunderous right hand, before the Aussie curled up in protection mode as the American rained down the shots.
Mullarkey managed to take down Turner towards the end of the first, but it did little to dissuade Turner from heaping on further punishment.
Despite Mullarkey's take-down, the first round was a tidal wave of punches from Turner that landed flush on the Aussie.
Mullarkey entered the bout on the back of a two-fight win streak which were both KO/TKO finishes, including a 46-second knockout win over Khama Worthy in March last year.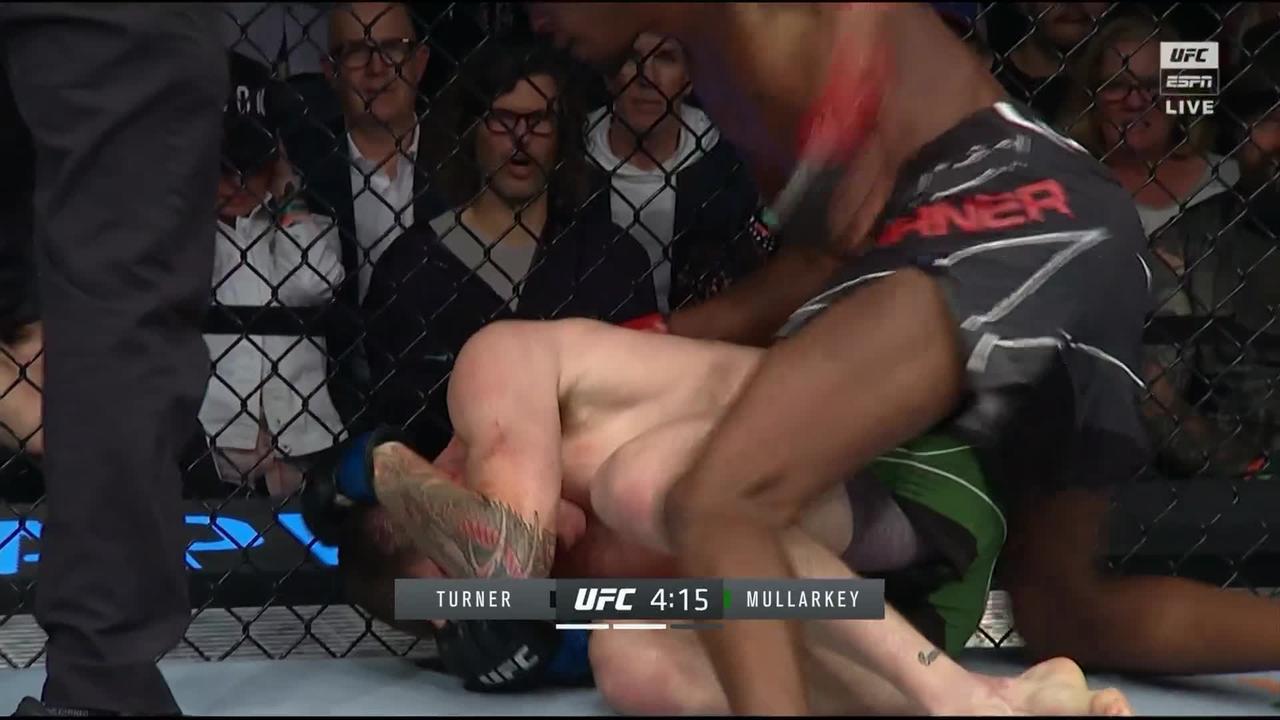 'I DON'T WANT RUSSIAN PEOPLE TO COME AND KILL MY FAMILY'
Ukrainian UFC star Maryna Moroz — the only Ukrainian female on the roster — claimed a major second-round submission win over Mariya Agapova.
Moroz won via an arm-triangle choke in the second round, but it was her post-fight interview that attracted the attention of the sporting world.
After thanking her opponent, her sponsors and her team, Moroz began to break down while talking about her country.
"My family is in Ukraine, I have had tough week, I worry, I cry, because my family are now in a bad situation," she said.
"Thank you for everyone for message me and support me because week was hard for me. I want to cry because of this war in my country. Thank you everyone.""
She also added: "Heroiam slava!" which means "Glory to Ukraine."
Speaking later, Moroz added: "I think my mother right now is nervous. And I'm nervous about my mother. I don't want Russian people to come and kill my family because many of my friends are dying right now. They call me 'he died, Russian army killed him'. And I feel terrible.
"I see every day and somebody come and kill my family? I don't want. I want people to listen, stop this, because I want to save my family."
'More dangerous than ever' | 04:21
KHABIB'S COUSIN MAKES A STATEMENT
Earlier, Umar Nurmagomedov, Khabib's cousin, returned to the UFC in dominant fashion and maintained his perfect record, submitting Brian Kelleher in the first round.
It was Nurmagomedov's first fight in over a year and his second in over two years, but he showed no signs of ring rust when he forced Kelleher to tap out via rear-naked choke.
He now moves to 14-0 in his MMA career.
The finish drew scary comparisons to that of Khabib's submission of Conor McGregor in their famous lightweight championship bout, as the Russian forced him to tap out with the same choke hold.
But most fans were focused on Umar's performance and just how dominant it was.
MALIGNED STAR FINISHED IN BRUTAL FASHION
Greg Hardy didn't last long against Sergei Spivac, as he dominated the former NFL star in their heavyweight bout.
Hardy failed to offer much offensive output, with Spivac controlling proceedings from the opening bell and won via TKO.
HEATED final words promises epic brawl! | 02:39
FULL FIGHT CARD
Main Event:
Colby Covington def Jorge Masvidal via UD
Main Card:
Rafael dos Anjos def Renato Moicano via UD
Edson Barboza def by Bryce Mitchell via UD
Kevin Holland def Alex Oliveira via TKO, R2
Greg Hardy def by Serghei Spivac via TKO, R1
Late 'Prelims' Undercard:
Jalin Turner def Jamie Mullarkey via TKO, R2
Marina Rodriguez def Yan Xiaonan via SD
Kennedy Nzechukwu def by Nick Negumereanu via SD
Mariya Agapova def by Maryna Moroz via submission (arm-triangle choke), R2
Early 'Prelims' Undercard:
Brian Kelleher def by Umar Nurmagomedov via submission (rear-naked choke), R1
Tim Elliott def Tagir Ulanbekov via UD
Devonte Smith def by Ludovit Klein via SD
Dustin Jacoby def Michal Oleksiejczuk via UD