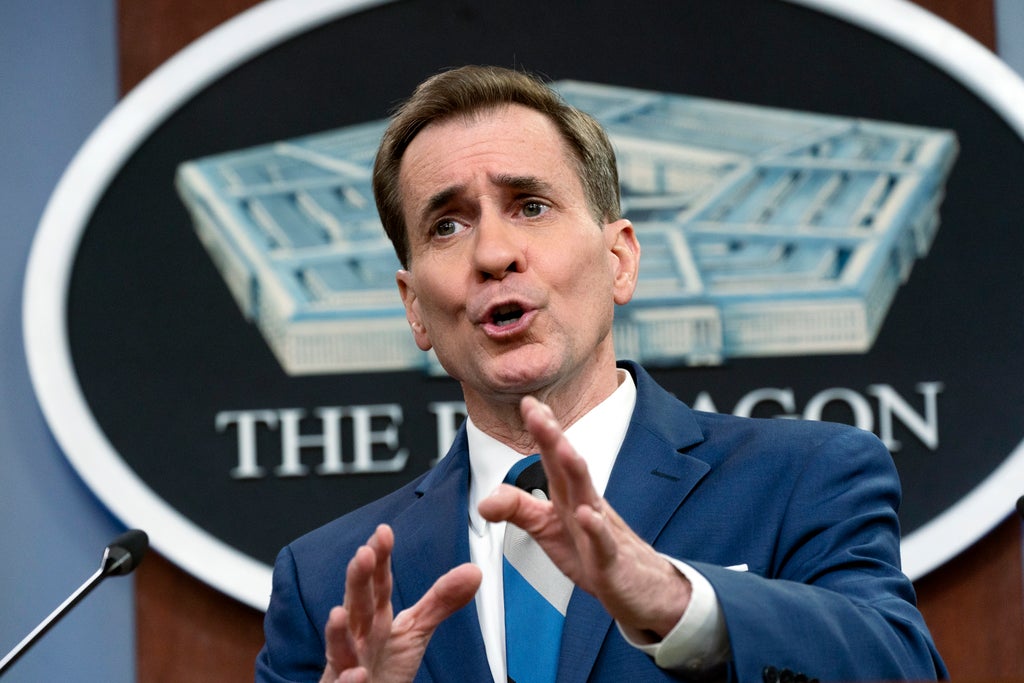 Russian forces have failed in their mission to encircle and capture Kyiv, leading to Moscow's announcement that military action around the Ukrainian capital would be scaled back, the US Department of Defense said on Tuesday.
Pentagon spokesman John Kirby made clear during his remarks at a daily press briefing that Russian forces, and concurred with a reporter's assertion that the Russian military had suffered a "defeat" on the outskirts of Kyiv.
"I said as much in my opening statement. They failed to take Kyiv," Mr Kirby told reporters.
While adding that he was hesitant to "slap a bumper sticker" on the Russian military campaign as a whole, he went on to assert that the capture of Kyiv was a "key objective" of the Russian effort and that, with few minor exceptions, Russian forces had failed to secure any major objectives around Ukraine in their entirety.
"I don't think we're ready to call it one way or the other here. What I would tell you is, and as I said in my opening statement, is, they failed to take Kyiv. Which we believe was a key objective. And again, you just have to look at what they were doing in those early days. they wanted Kyiv. And they didn't get it," said Mr Kirby.
"They also failed to take and hold any major population centers," he continued.
The press secretary's comments, as usual, directly contradicted the line out of Moscow which has remained adamant that its military operation is on track while it continues to refuse to release accurate casualty numbers for its own forces.
"[W}ehavenodoubtthatalltheobjectivesofourspecialmilitaryoperationinUkrainewillbecompletedWehavenodoubtaboutthat"KremlinspokesmanDmitryPeskovtold[W}ehavenodoubtthatalltheobjectivesofourspecialmilitaryoperationinUkrainewillbecompletedWehavenodoubtaboutthat"KremlinspokesmanDmitryPeskovtoldPBS Newshour in an interview published on Monday.
Russian officials also have remained insistent that their forces are not deliberately targeting civilian structures and areas, a claim contested by both evidence on the ground and responses from the US and western countries.
Mr Peskov further claimed in the interview with PBS over the weekend that far-right "Nazi" groups like the Azov Battalion were responsible to damage to civilian areas and infrastructure.