4 min read
Sajid Javid has ruled out bringing forward step 4 of the roadmap out of lockdown by a fortnight to July 5.
Amid still-rising case numbers the new health secretary used his first appearance in front of MPs to say that 19 July remains the target date for removing the remaining coronavirus restrictions.
But speaking in the Commons this afternoon Javid was far more bullish than his predecessor Matt Hancock had been on moving beyond the pandemic.
Signalling he intends to line up with the Cabinet 'hawks' on further decisions by ministers, the former Chancellor told MPs the government owes it to people "to restore their freedoms as quickly as we possibly can".
Appearing at the despatch box two days after his appointment he said: "I spent my first day as health secretary, just yesterday, looking at the data and testing it to the limit.
"Whilst we decided not to bring forward step 4, we see no reason to go beyond the 19th of July, because in truth, no date we choose comes with zero risk for Covid.
"We know we cannot simply eliminate it. We have to learn to live with it."
He added: "We also know that people and businesses need certainty, so we want every step to be irreversible. And make no mistake, the restrictions on our freedoms, they must come to an end.
"We owe it to the British people who have sacrificed so much to restore their freedoms as quickly as we possibly can, and not to wait a moment longer than we need to.
"So with the numbers heading in the right direction, all while we protect more and more people each day, July the 19th remains our target date."
Javid finished by saying: "The Prime Minister has called it our 'terminus state'. For me, 19th July is not only the end of the line, but the start of an exciting new journey for our country.
"So at this crucial moment in our fight back against this pandemic we must keep our resolve, and keep on our roadmap to freedom, so that together we can beat this pandemic, and we can build back better.
"It is a task I'm deeply honoured to lead, and one. I know will succeed."
It comes as 22,868 new cases of Covid-19 were reported today, the highest daily figure since 30 January.
The total for the past week is now up to 116,287, a 70% increase on the previous seven days, while deaths are up 65% week on week, albeit still far lower than the second peak earlier this year.
Meanwhile almost 44.5million people have had their first dose, 84.4% of the adult population, while 32.5million have been fully vaccinated, 62% of adults.
Javid said of the jabs rollout: "Our aim is that around two-thirds of all adults in this country will have had both doses by 19 July.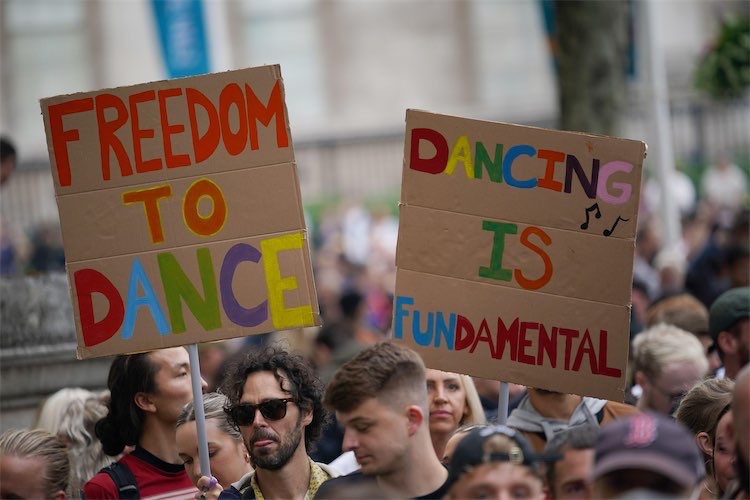 "We're bringing forward second doses and bringing forward our target for first doses too so we can meet that 19 July goal.
"Vaccine uptake remains sky-high. We've seen that age is no barrier for enthusiasm for getting the jab.
"As of this weekend, more than half of adults under 30 have taken up the chance to be vaccinated including in the last couple of weeks all three of my own adult children."
He also praised the man he replaced at the department for health, after Hancock resigned on Saturday, telling MPs: "He worked hard throughout all these testing times.
"He has achieved a great amount in the work that he did and I know he will have more to offer in public life – and I wish him the very best."
Labour's shadow health secretary Jonathan Ashworth also said he wished Hancock well in "resolving his personal difficulties".
"Can I just say at the outset that, despite our fierce political differences, that my dealings with the previous secretary of state were always courteous, respectful and professional," he said.
Responding to Javid's commitment to scrap all measures on 19 July, Ashworth said: "A word to the wise – I've responded to a lot of these statements these past 15 months.
"I remember ministers telling us there was nothing in the data to suggest June 21 wouldn't go ahead, I remember children returning to school for one day before the January lockdown, I remember 'It will all be over by Christmas', I remember 'We will send it packing in 12 weeks'.
"Well, we've seen around 84,000 cases in the last week, an increase of around 61%. Today we've seen the highest case rate since January.
"If these trends continue, we could hit 35,000 to 40,000 cases a day by July 19."
He said that will mean more people suffering "long Covid", more disruption to schooling, and "for some it will mean hospitalisation as we know that even after two doses, you can catch and transmit the virus".
The Labour frontbencher added: "So what is he going to do to push infections down? Vaccinations will do it eventually but not in the next four weeks."
PoliticsHome Newsletters
PoliticsHome provides the most comprehensive coverage of UK politics anywhere on the web, offering high quality original reporting and analysis: Subscribe