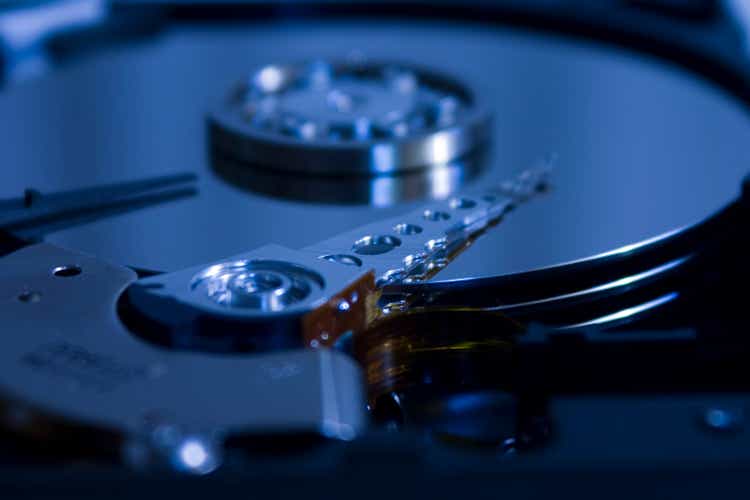 My last piece on Seagate (STX) was out back in early January, prior to the massive crashes that saw mostly everything going to hell and back, then to hell again. STX is now looking pretty interesting in terms of share price action.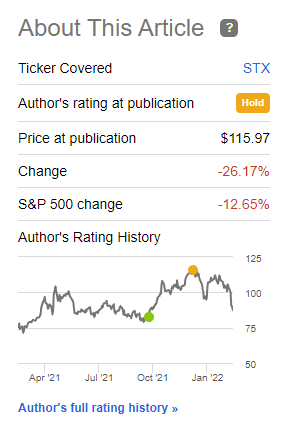 I rotated parts of my investments following part of that development, and only retained a relatively small position in the company. However, now I believe the time has come to change back in that stance.
Let's review some results and some trends.
Seagate – Recent Trends & Results
We have 2Q22 results presented as of late January. The company saw further revenue records, with the highest level of company revenues in 6 years, and operating margins at the high end of its overall guidance range.
The same positive upside was seen in earnings/EPS, where EPS was up 87%, and saw the highest level in almost a decade.
As I've written in my article on Western Digital (WDC), the company's fundamental thesis remains very much intact despite ongoing pandemic challenges. The demand for storage solutions as well as cloud solutions and services remains extremely high, with a strong pull for new large 20TB hard drives.
The company remains positioned with a superb portfolio, a working supply chain, and a strong partnership focus. Highlights during this time are nothing short of superb.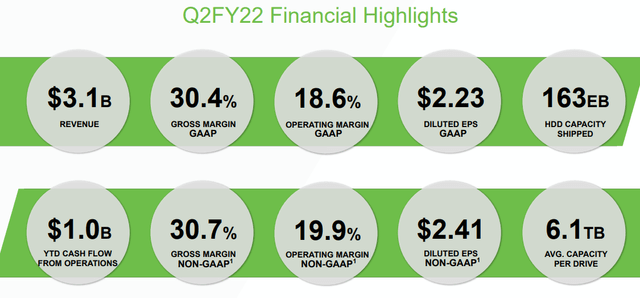 However, Seagate sees some of the same trends seen by its peers, including Western Digital. The decline in legacy markets is real – with mass capacity storage driving sales. PC and mission-critical sales are weighing down overall revenues for the company – but overall hard drive deliveries were at record-high levels.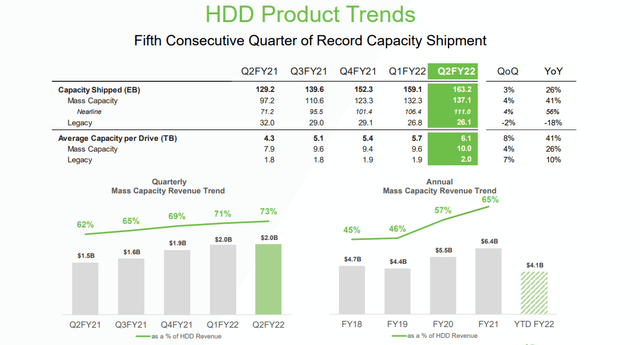 The company fundamentals remain at excellent levels, with over $1.5B in Cash and $1.75B available in a revolver, coming to almost $3.3B in liquidity, with a debt maturity profile with no significant maturities until 2023, and well-laddered half-billion note payments until 2032, well payable through the LTM $2.6B in EBITDA.
The company has less than $6B in debt at an average interest rate of 4.1% – and they also expect further improvements in EBITDA on the back of increased demand.
The company has proven, to my mind, its ability to execute consistently despite increasing supply chain shortages. The company refers to these issues as transitory, and the fact that the underlying trends are driving for explosive growth and data growth over the coming few years. The company's portfolio, as I've written about in previous Seagate articles, has what I believe is needed to succeed here. Things are becoming more and more mass-capacity oriented, with less and less demand for its legacy segments.
This means, from a technical viewpoint, that hard drives have more moving parts and heads, and some of these trends are driving some negative margin numbers, expressed through a 0.3% quarterly decline in overall gross margin. These were of course also from the logistical cost and raw material inflation trends, all of which are currently impacting Seagate, like other companies.
Overall, and on a high level, the picture for the coming quarters and for 2022 as a year seems relatively clear. There's some seasonality to the company's business, but the overall trends expected are definitely positive.
For now, the company is forecasted to bring about even a strong 2022 fiscal than 2021. EPS is expected to be at almost $9/share, and that estimate has been increased twice in the past 6 months. 2023 and 2024 are expected to bring even further growth on the backdrop of increased mass capacity demand, and somewhat of a recovery in legacy.
Because of this, I view the overall future trends as favorable, and the current drop in valuation as a massive sort of an overreaction.
Let me clarify this a bit.
Seagate's Valuation
Despite the strength in the company's earnings and operations, we've seen it essentially drop back down to late 2021 levels. This is good for us – because Seagate trading at an average weighted valuation of around 11x means that based on forecasts until 2024, even very conservative numbers give us annual RoR numbers of well over 30% to a 15x P/E average. Now, there are many who don't believe Seagate should trade this high, given the company's historical P/E ratio, around 10-11X on a 5-10 year average, which would put the company at around fair value here.
However, this fails to take into account the massive upside based on the company's likely-coming earnings growth. Now, Seagate isn't all that easy to forecast, and it does have some tendencies of a cyclical sort of business – that much is true.

However, I do believe the direction of the earnings, given the massive demand spike from mass storage customers will be able to deliver double-digit EPS growth over the next 3-4 years, of at least 10-13%, even conservatively and even with some of the margin pressures from cost increases the company is facing.
Even on no more than a 12x forward P/E, the company has an overall upside of 21% annually until 2024.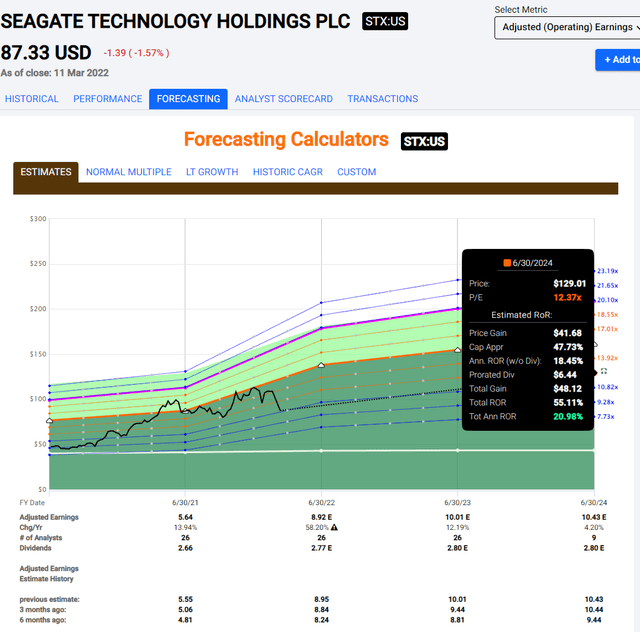 Even the most conservative 10-10.5x forward P/E valuations give us a potential, annualized upside of almost 15% here. There's a lot of potential market-beating in Seagate here – which is why I'm positive on, and intend to buy more of the stock at this price. We don't just need to look at FactSet either.
S&P global gives the company an average share price target of $111, compared to a $75/share when I started writing on the company. Out of 21 analysts, 13 currently have a "BUY" or equivalent, with a share price range of $80/share at the lowest, and $130 at the highest. While there are analysts that consider STX to be overvalued here given that $80 low range target, I would say these analysts fail to consider the company's market position, strength, and overall potential upside.
But you also don't have to go for the common shares to make money on STX. You could try some of the options that are, technically, available here.
Unwilling to chance the common and its 3%+ yield, you could go for some put options here – and there's one I'm quite happy with.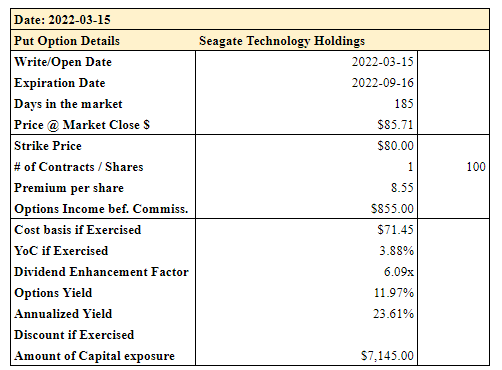 As of today, I was able to find an $8.55 PUT bid for the September -22 PUT, which comes to a yield that's almost 24%, putting you at a "BUY" price of $71, if you're willing to write at $80 strike. I might be going for this one – or for the common share – I haven't yet decided.
My point is that there is a clear pathway to a 10-25% annualized upside here if you're willing to go for either one of these options. Either the company climbs up – or it falls down to below $80, giving you that upside.
There are no fundamental risks to the company worth mentioning, aside perhaps from its lack of an S&P Global or similar credit rating. However, with its overall market cap, debt structure, its portfolio, and market position, I don't consider this to be much of a risk here, in context.
Because of this, I return to a "BUY" here for Seagate and give the company a PT of $100/share.
This leads me to my thesis on the company.
Thesis
My thesis on Seagate calls for an overall positive stance at the current valuation, based on an overreaction to slight headwinds. The company works under a backdrop of incredible, potential tailwinds thanks to massive demand increase in both new sectors and a reversal in legacy eventually. I believe the company's fundamentals, including its market position and well-laddered debt, make for an appealing investment at this juncture.
I also believe that there are incredibly appealing options, not just for investing in the common share, but in the PUT options, I've outlined as well. We're able to deliver 20-30% annualized RoR with what I see as very low rates of overall risk.
That makes Seagate an interesting stock for me, and that's why I'm at a "BUY" with a PT of $100.
Remember, I'm all about :
1. Buying undervalued – even if that undervaluation is slight, and not mind-numbingly massive – companies at a discount, allowing them to normalize over time and harvesting capital gains and dividends in the meantime.
2. If the company goes well beyond normalization and goes into overvaluation, I harvest gains and rotate my position into other undervalued stocks, repeating #1.
3. If the company doesn't go into overvaluation, but hovers within a fair value, or goes back down to undervaluation, I buy more as time allows.
4. I reinvest proceeds from dividends, savings from work, or other cash inflows as specified in #1.
If you're interested in significantly higher returns, then I'm probably not for you. If you're interested in 10% yields, I'm not for you either.
If you however want to grow your money conservatively, safely, and harvest well-covered dividends while doing so, and your timeframe is 5-30 years, then I might be for you.
Thank you for reading.