SpaceX is preparing for a pivotal flight test of its Mars-bound Starship rocket. The next-generation spacecraft is set to launch from SpaceX's Starbase facility in Boca Chica, Texas, at some point on Wednesday.
Starship SN15's high-altitude flight test follows four previous attempts that all ended in massive explosions. SpaceX boss Elon Musk said previous issues with the rocket's Raptor engines have been fixed "six ways to Sunday", though if it fails to land cleanly there are more Starship prototypes currently under development.
The latest attempt is expected to take place between 12pm and 8pm local time (6pm – 2am BST) on Wednesday, with airspace clearance approved by the Federal Aviation Administration (FAA), road closures in place with Cameron County, and marine hazard notices issued.
An official live stream of the launch will be posted here as soon as SpaceX makes it available. Until then we'll have a stream from NasaSpaceFlight, who have long-distance cameras stationed all around the launch site.
1620241646
Boca Chica Village evacuated for Starship SN15 launch
Two hours into the launch window opening and the nearby Boca Chica village has been evacuated.
SpaceX issues evacuation notices for local residents in case any bits of exploding rocket cause damage, or even in case a dramatic change in pressure causes windows to break.
There is still activity at the launch pad, so we've still got a bit longer to wait, but things are progressing well towards a launch taking place today.
This is what one of those evacuation notices look like, courtesy of @BocaChicaGal: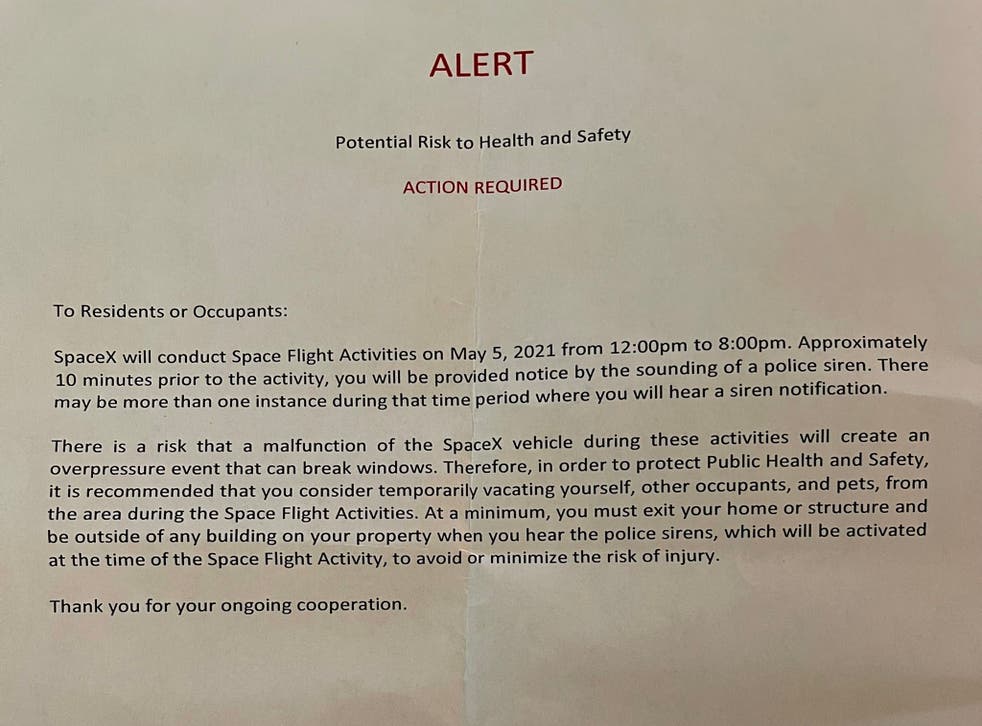 Anthony Cuthbertson5 May 2021 20:07
1620239506
Starship SN15 upgrades for launch
This would theoretically provide SN15 with high-speed internet access from SpaceX's vast 1,500-strong satellite constellation.
SpaceX has not publicly stated what the purpose is, though presumably future Starship craft will all come fitted with Starlink dishes to provide broadband internet to the crew onboard.
For Starship SN15, all we know is that SpaceX simply requested requested temporary permission to operate a "single user terminal… on an experimental basis at altitudes not to exceed 12.5km".
Anthony Cuthbertson5 May 2021 19:31
1620236267
Starship SN15 live stream
SpaceX will be live streaming the Starship SN15 launch on its official YouTube channel and Twitter account, however it will only be posted with a few minutes before lift-off.
We'll have that stream right here as soon as it's available, but until then we've added the unrivalled live stream from the team at NasaSpaceFlight to the top of this page.
With numerous cameras situated around the launch site in Boca Chica, NasaSpaceFlight's footage has sometimes offered more insight than even SpaceX's. This was especially true for the last Starship SN11 launch, which was shrouded in fog. When SpaceX's stream suddenly cut out, NasaSpaceFlight's cameras cameras captured bits of falling debris falling from the sky.
Anthony Cuthbertson5 May 2021 18:37
1620234081
SpaceX's Starship SN15 launch window is open!
The launch window is officially open, and will remain open for the next eight hours.
There are currently still cranes on the launch pad, with workers busy removing the chains from Starship SN15's flaps, so it's going to be a while yet before we see any action.
Pad clearance also usually comes after Boca Chica Village has been cleared, which still hasn't taken place yet. Judging by the timelines of previous Starship launch attempts, SpaceX will take at least two more hours from this point before everything is in place for the flight to go ahead.
Anthony Cuthbertson5 May 2021 18:01
1620233267
How Starship can stick the landing
SpaceX will be hoping for fifth time lucky today, after flight tests of Starship SN8, SN9, SN10 and SN11 all ending in explosions.
Fixes to the Raptor engines have been put in place, as well as improvements to Starship's Header Tank system, Thrust Puck and avionics. However, future versions of Starship and its rocket boosters could utilise an innovative catching system that involves arms on the launch tower shepherding the falling rocket into a landing position.
It sounds bizarre but Elon Musk has repeatedly stated this as a viable option. It has led to other, more hair-brained ideas, from Starship fans. Some have even gone to the trouble of rendering them as 3D animations:
Anthony Cuthbertson5 May 2021 17:47
1620229824
Starship SN15 ready to launch
There's just over an hour to go until today's launch window opens for the Starship SN15 test flight, and the craft is ready and waiting on the launchpad.
The skies over Boca Chica are looking fairly overcast at the moment, but we know from the SN11 test that SpaceX will push on even with zero visibility.
Weather conditions that could pose a problem, however, include heavy wind or rain, or thunder storms.
Forecasts for the next nine hours (the launch window closes at 8pm local time, 2am BST) suggest the clouds will remain but there shouldn't be any heavy wind or rain. Fingers crossed.
Anthony Cuthbertson5 May 2021 16:50
1620155153
Starship SN15 launch set for Wednesday
It looks like it's all systems go for launch tomorrow. Evacuation noticese have been sent to local residents.
Anthony Cuthbertson4 May 2021 20:05
1620143385
BREAKING – SpaceX scrubs Starship SN15 launch
SpaceX has cancelled today's launch attempt. Boca Chica Village resident Mary @BocaChicaGirl confirms that no evacuation will be taking place, therefore no flight test.
Anthony Cuthbertson4 May 2021 16:49
1620141036
Sun rises over Starship SN15 as latest weather looks good
The sun has risen over Boca Chica, Texas. We're now less than two hours away from the launch window opening and the weather is looking good.
If Starship SN15 does lift-off today, it at least won't be hidden by fog like its predecessor Starship SN11.
Looking ahead at the hourly weather forecast, it looks like much of the same for the rest of the day. There are a few scattered thunderstorms that could disrupt the tail end of the launch window, but hopefully Starship will have already launched and landed by then.
Anthony Cuthbertson4 May 2021 16:10
1620134876
Launch comes after Musk says 'we need larger and more advanced rockets' for asteroid threat
Today's launch comes just days after a week-long exercise, undertaken by Nasa, the conclusion of which was that humanity lacks the technology to be able to stop a massive asteroid causing untold damage on the planet.
In a tweet, Mr Musk said that the findings showed "One of many reasons why we need larger & more advanced rockets!"
He didn't mention SpaceX generally or Starship in particular, but he has repeatedly talked of the importance of the rockets for humanity.
Anthony Cuthbertson4 May 2021 14:27