April 14, 2022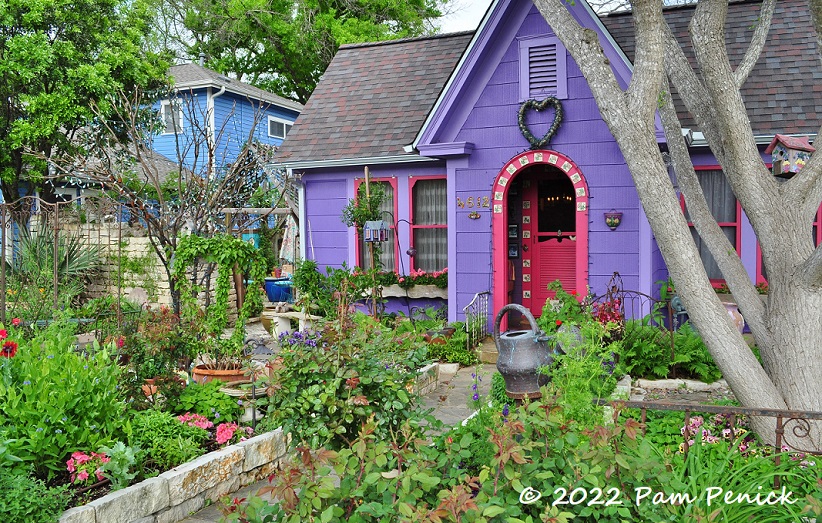 If I'm lucky, springtime means an invitation to Lucinda Hutson's festive garden. And last weekend I felt lucky indeed to be invited to her purple casita on a perfect spring day. Out front, pansies were still somehow hanging on, despite recent warm temperatures. Ready to take over, poppies and begonias added dashes of red and pink among all the fresh greenery.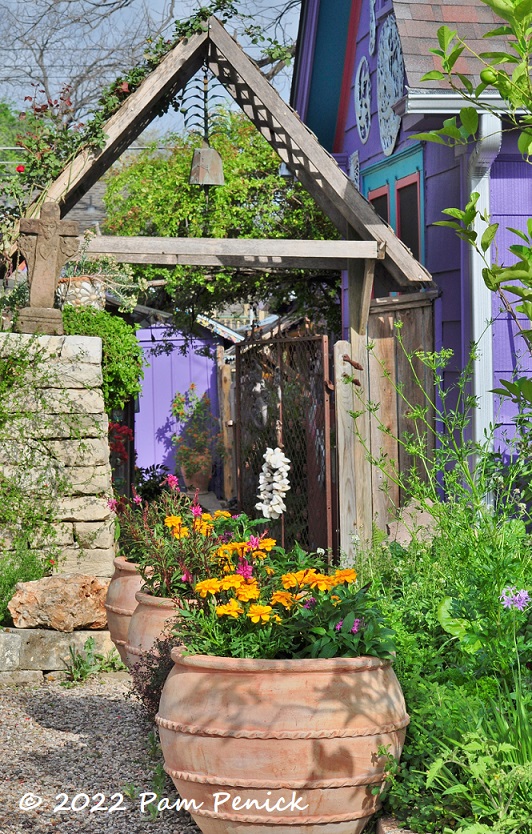 Along the gravel driveway, round-bellied terracotta pots glow with orange marigolds and hot-pink guara.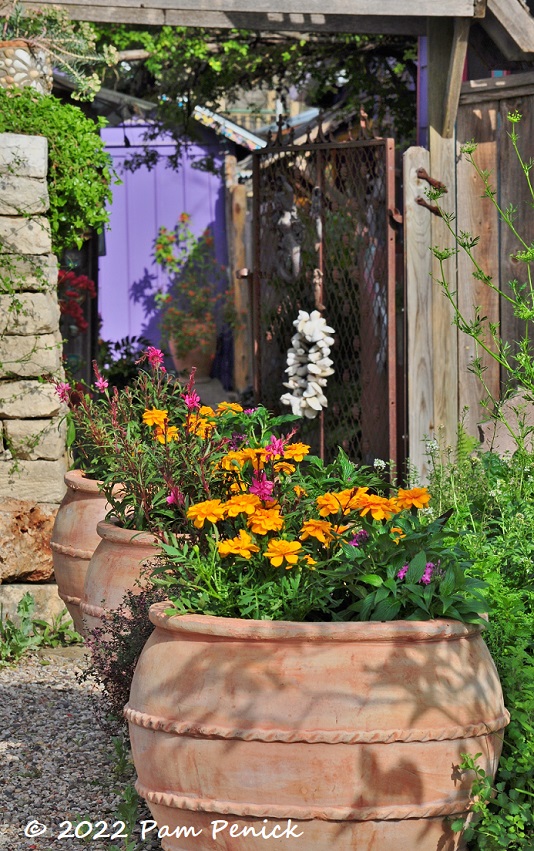 A closer look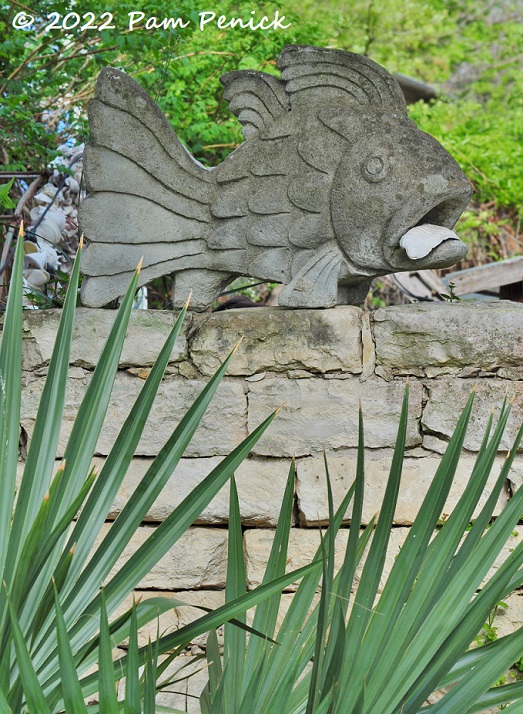 A stone fish greets you from atop a stone wall that hides the rear garden — the first hint of the mermaid grotto on the other side.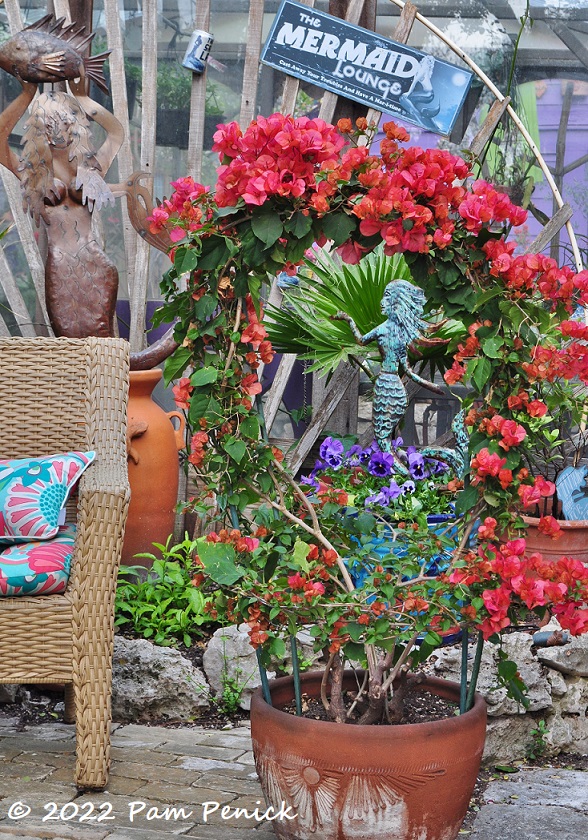 Or should I say, the mermaid lounge? Lucinda's garden helper, Ernesto, created this trellis-trained bougainvillea, which perfectly frames a copper mermaid as you enter the garden.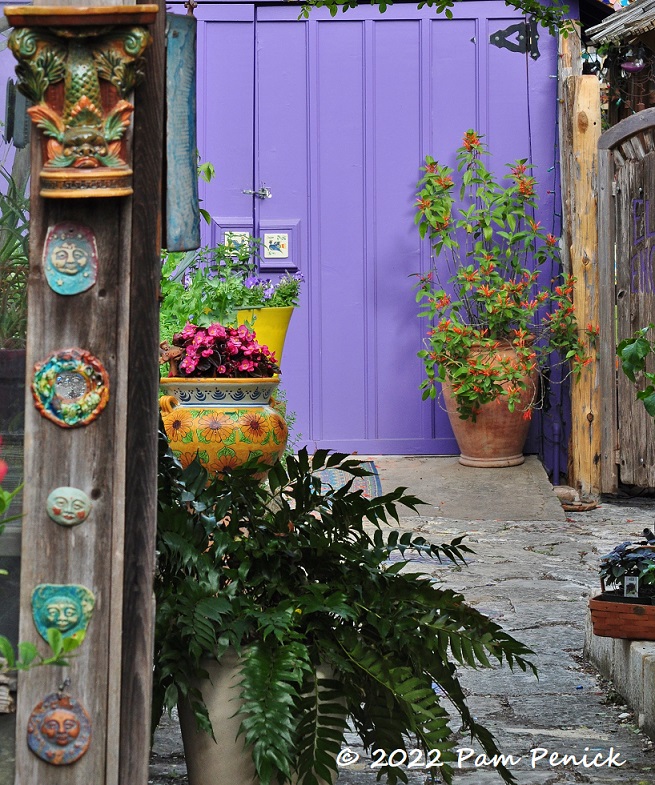 I'll come back to the mermaid grotto, but first let's head down the stone walk toward the purple garage. Colorful decor and pots draw you in.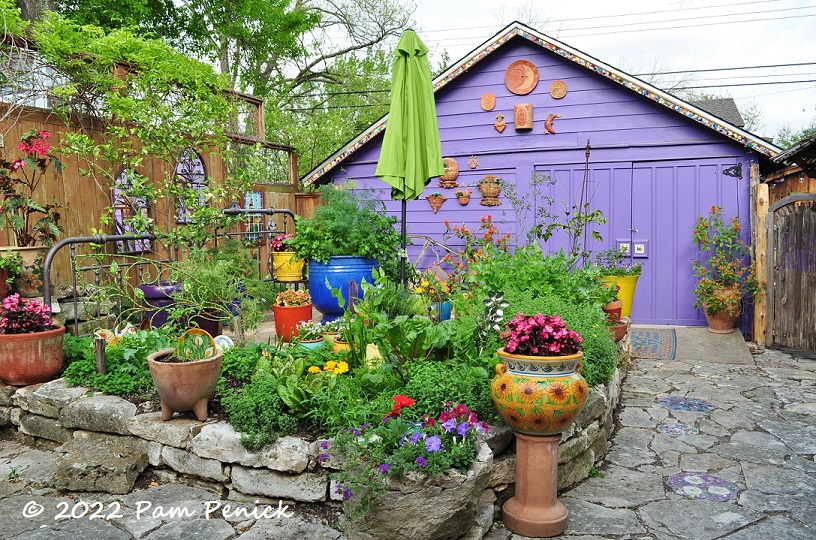 As you emerge from a shady arbor along the narrow path, the space suddenly opens up — in width and to full sun. Here Lucinda tends vegetable beds that she's cleverly dressed up to resemble actual beds. Yes, those are iron headboards at the end of each raised plot. All of this is built atop her old driveway. Raised beds and containers provide plenty of canvas for her gardening exuberance.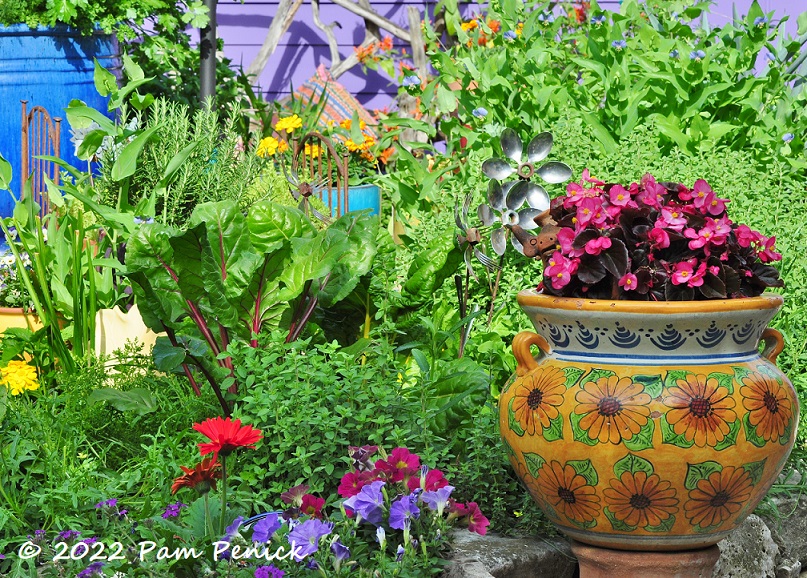 I spy red-stemmed chard among herbs and other edible plants.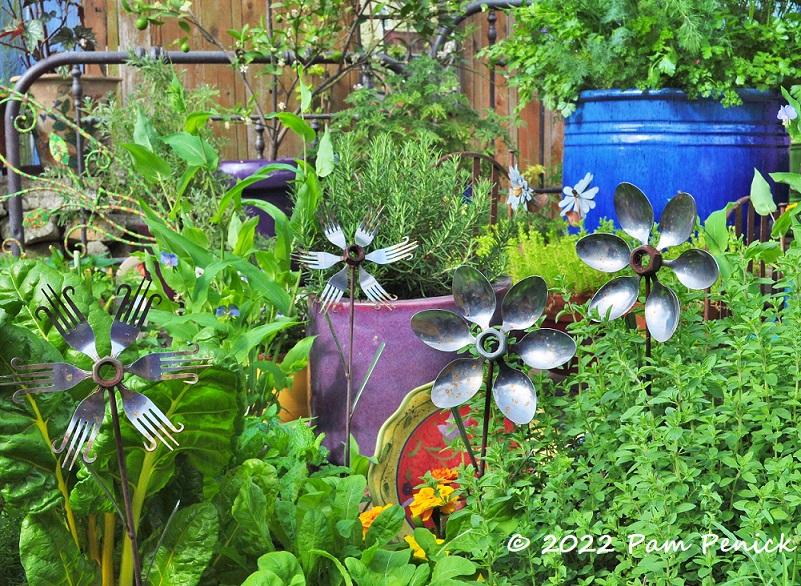 Silverware flowers too — perfect for a garden of eatin'!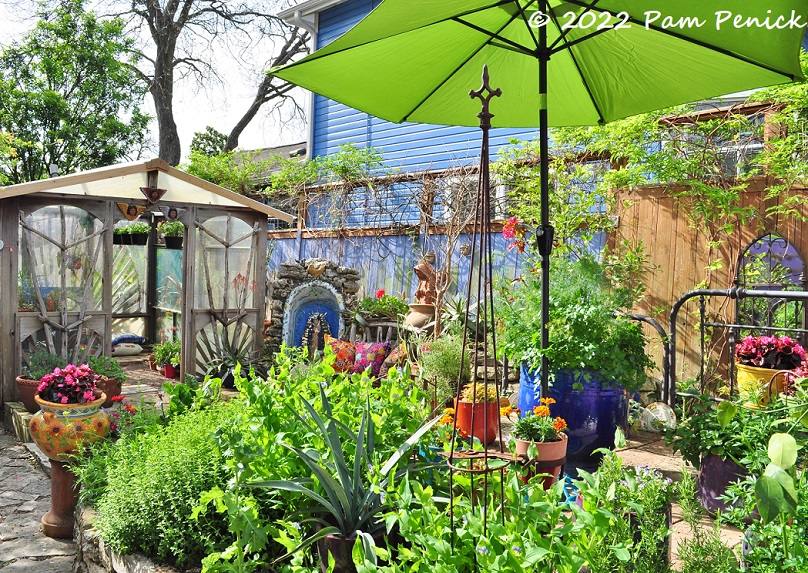 Looking back toward Lucinda's greenhouse, now largely empty after protecting tender plants last winter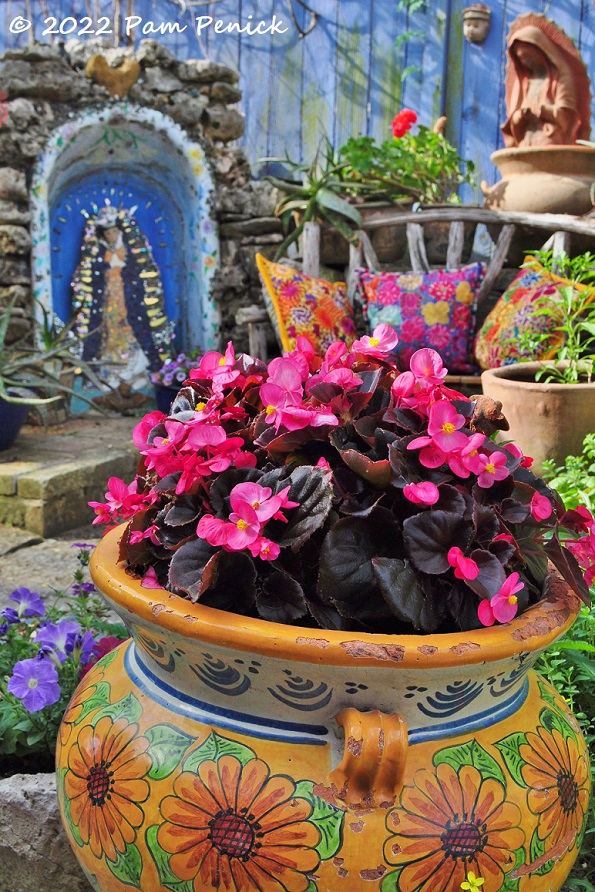 A chocolatey leaved begonia with hot-pink flowers in a golden sunflower pot shows that Lucinda has no fear of color. And somehow she found the perfect pillows to match.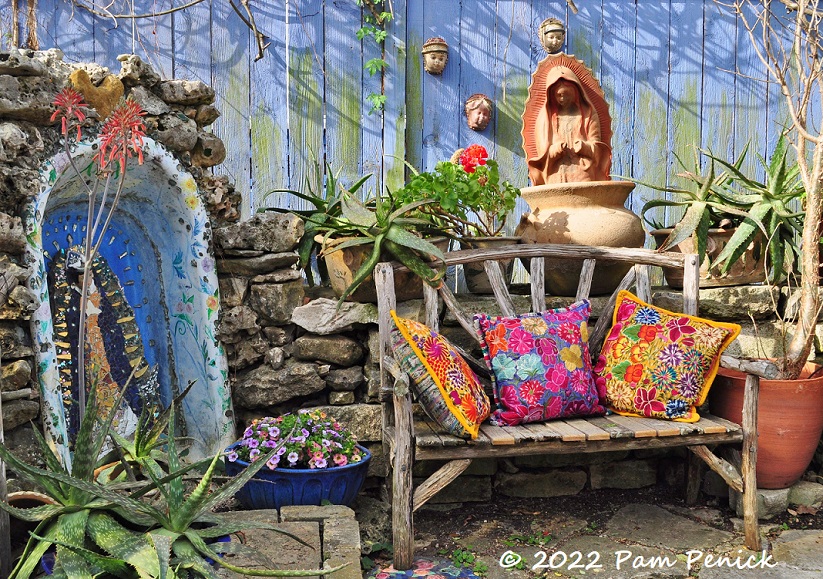 The Virgin Mary shows up in statuettes and homemade shrines in this tucked-away seating area, a reference to the Mexican-influenced gardens of Lucinda's El Paso childhood and her travels throughout Mexico.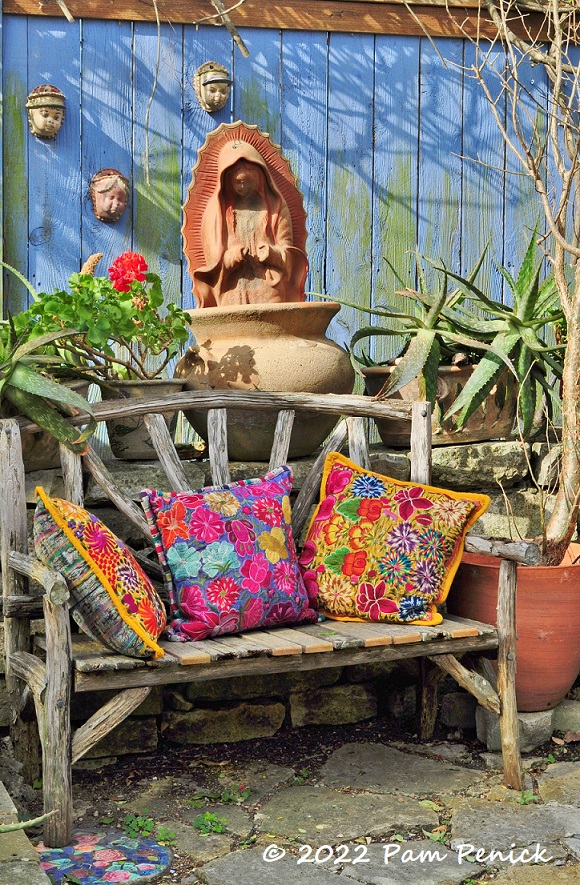 Beautiful textiles and a terracotta Virgin against a blue-painted fence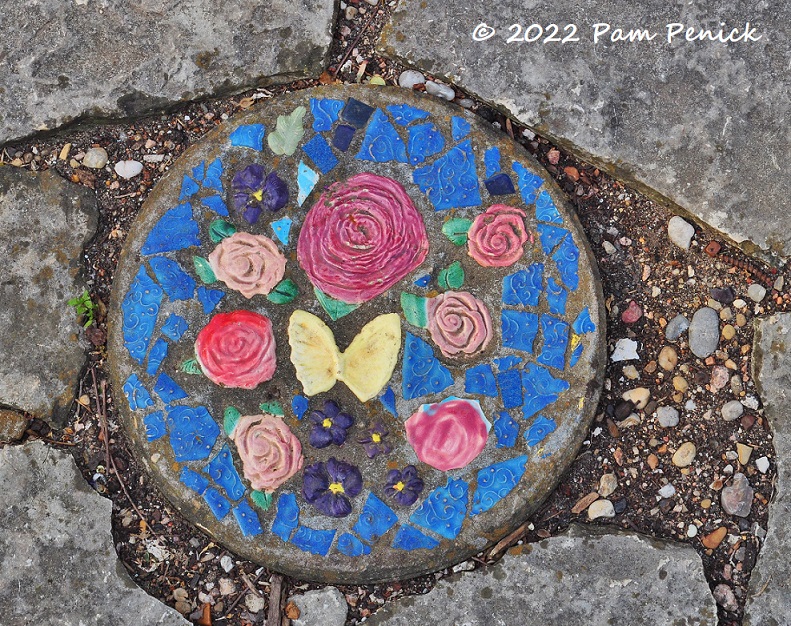 Floral stepping stones bring color even to the paving underfoot.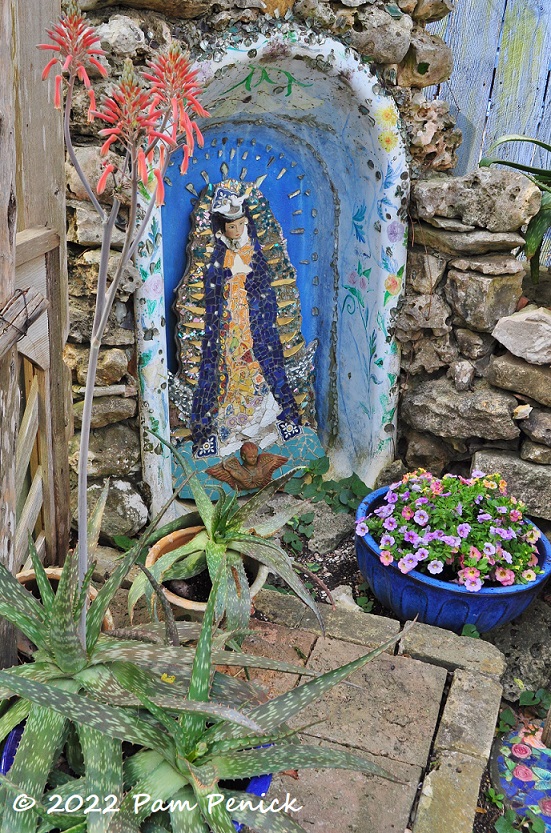 Lucinda enjoys a bit of Tex-Mex word play, as evidenced by Our Lady of La Tina. La tina means the bathtub in Spanish, and of course there's Latina too. Next to the Madonna tub, a soap aloe is flowering — soap, get it?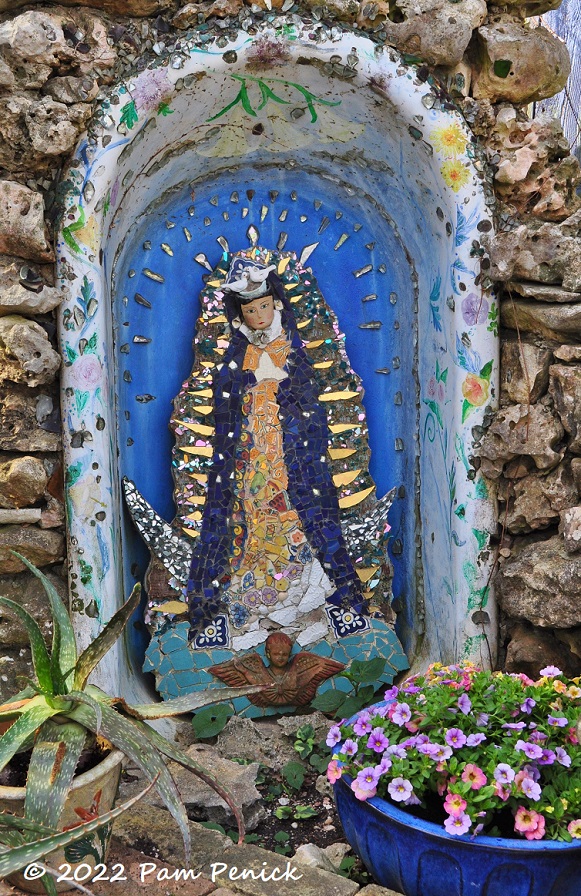 It's a charming piece of folk art, built into a mortared wall of holey (holy?) limestone.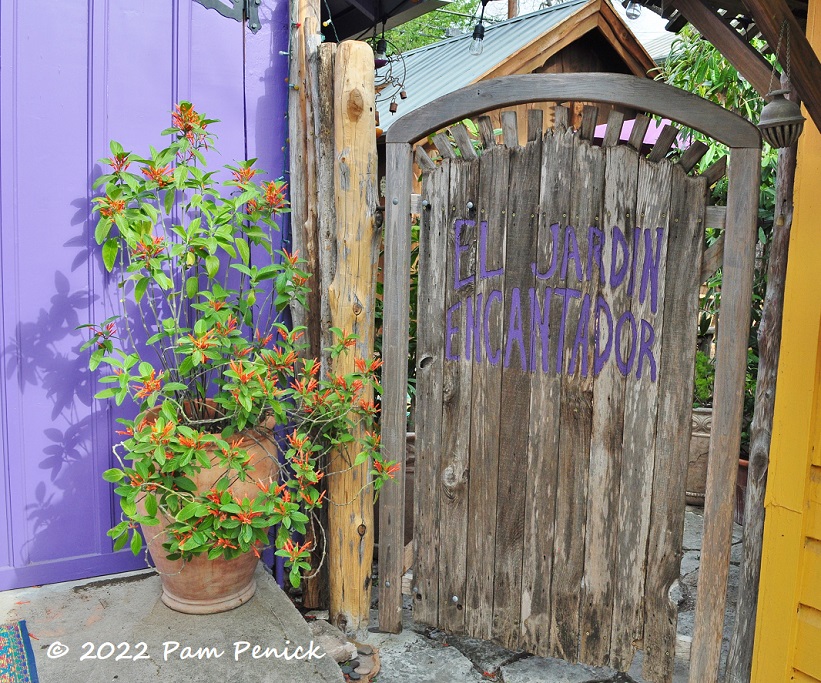 A Mexican honeysuckle in full bloom made me wistful for the ones in my own garden that should be blooming now. But February's hard freezes killed them to the roots. They're coming back, but blooms are a ways off. It's nice to see Lucinda's (she protected this container over the winter) as a preview of hummingbird-attracting blossoms to come.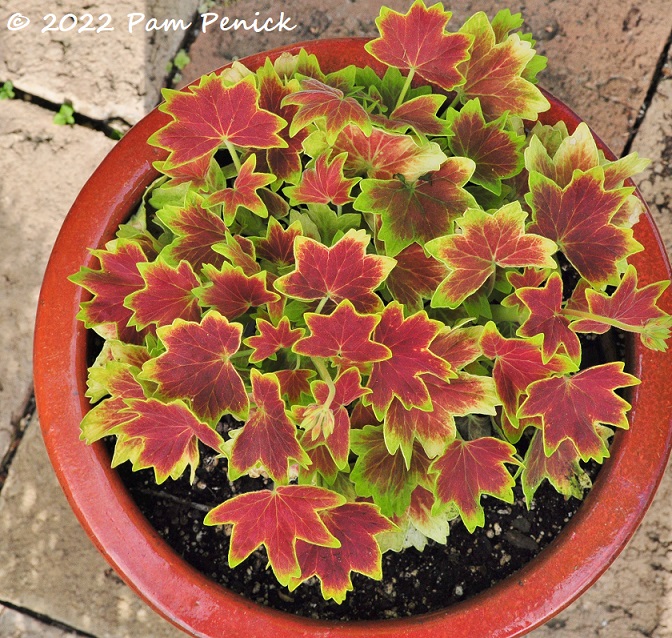 Wow, check out this stellar geranium (Pelargonium 'Vancouver Centennial'), perfectly matched to its pot.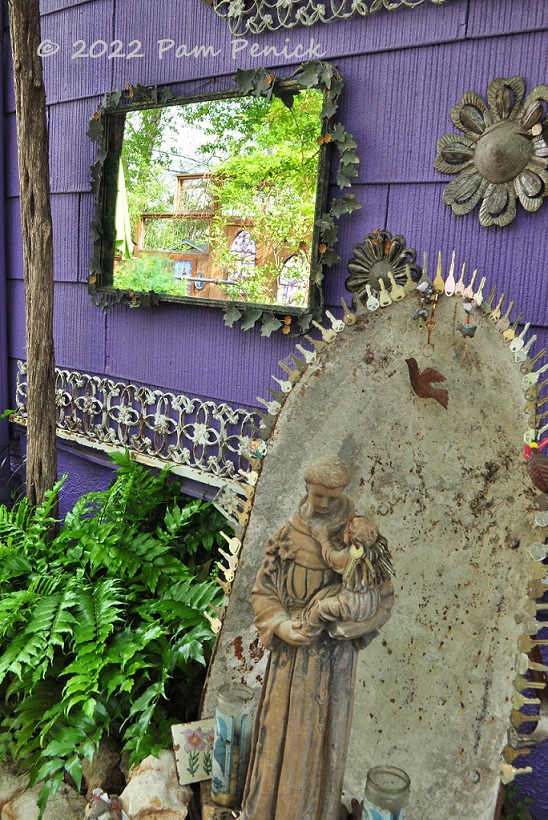 Back through the rose arbor, where another folk-art shrine gives you a reason to stop and look, and maybe offer up a little prayer. This is St. Anthony, patron saint of lost things — which for Lucinda means keys.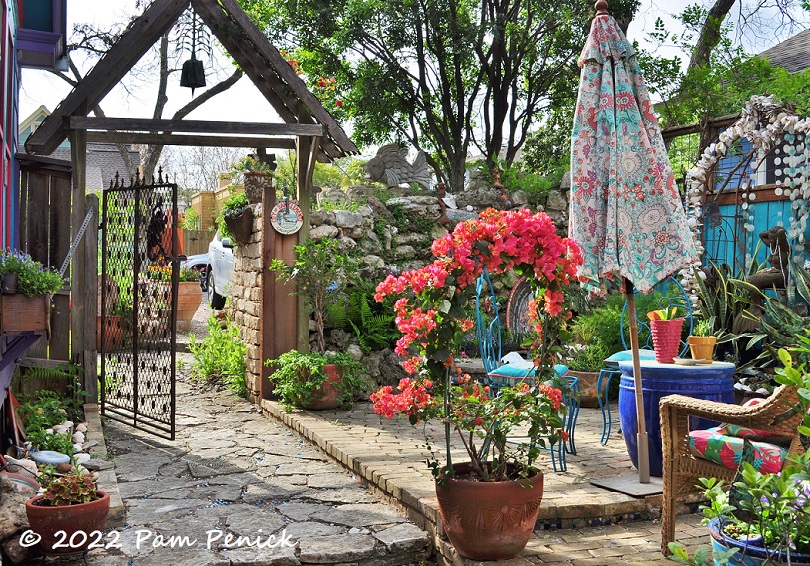 The mermaid grotto lies ahead, just inside the filigreed gate that leads to the front garden. See how the stone wall with the fish divides this private space from the more public front garden?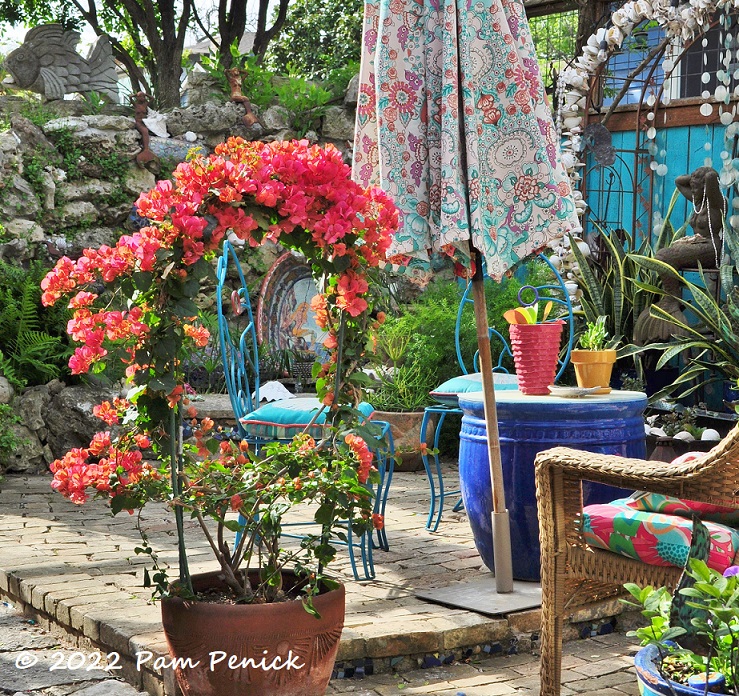 The smoky red bougainvillea frames another mermaid from this direction.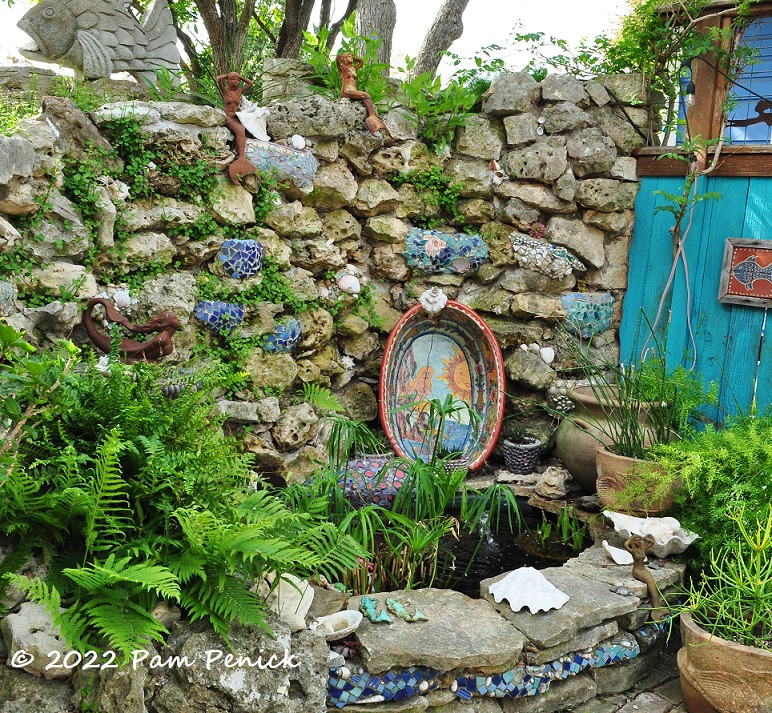 There she is — in the ceramic basin leaning against the wall. Other mermaids perch on rocks alongside seashells, tile mosaics, and ferns. Below, a small pool trickles with water, completing the mermaid grotto.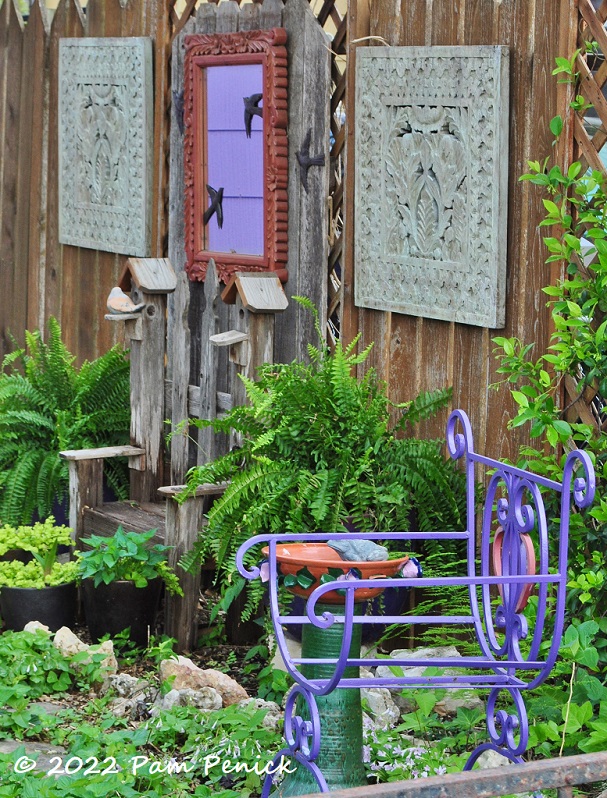 In the front garden, eclectic chairs, a mirror, and carved panels add interest to a fence that hides a neighbor's driveway.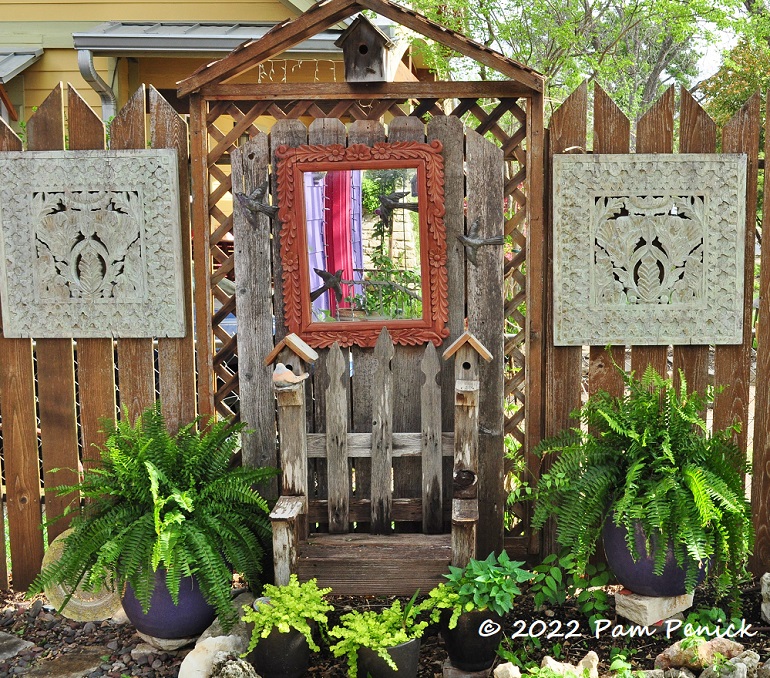 Birdhouses and metal birds glued to the mirror and fence show that feathered friends are welcome.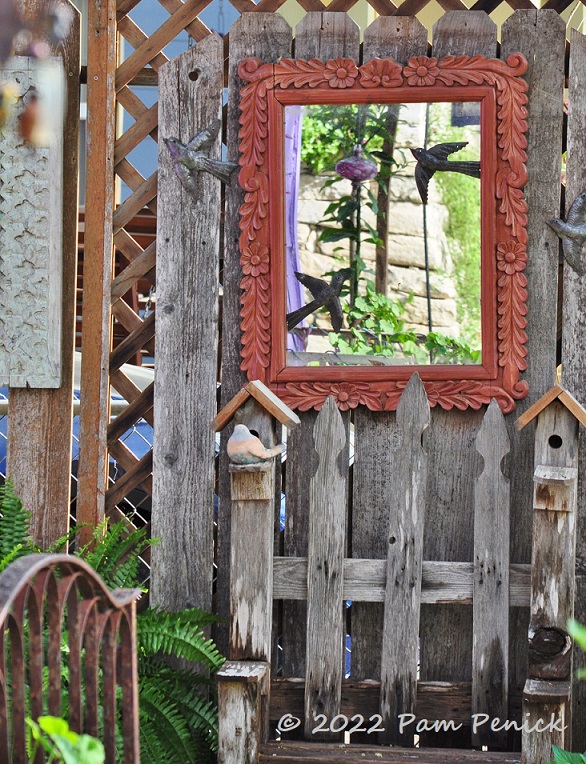 Perhaps the metal birds also prevent real birds from trying to fly through the mirror? If so, that's a clever solution.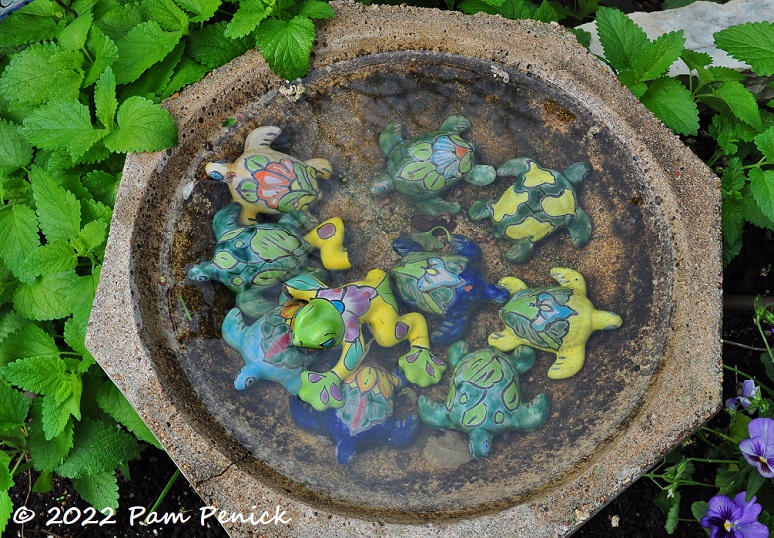 Other animals — ceramic turtles and a frog — "swim" in a birdbath.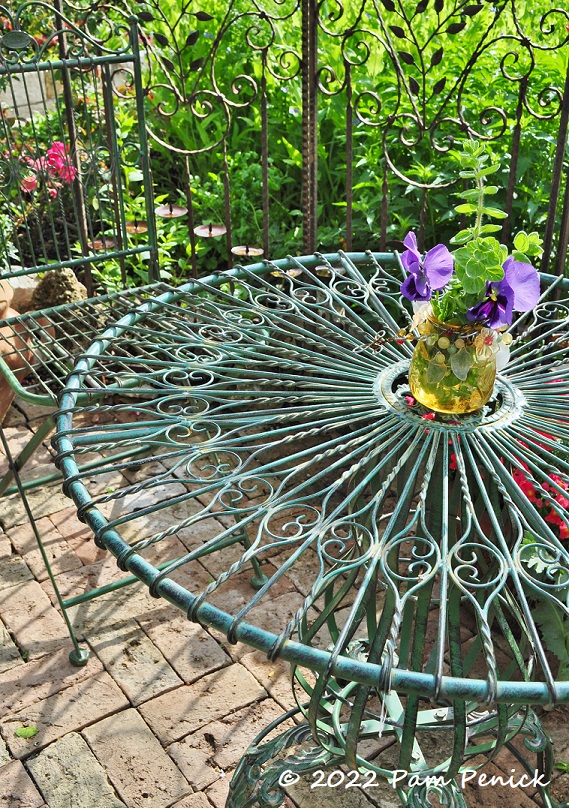 A scrollwork table with a pretty posy from the garden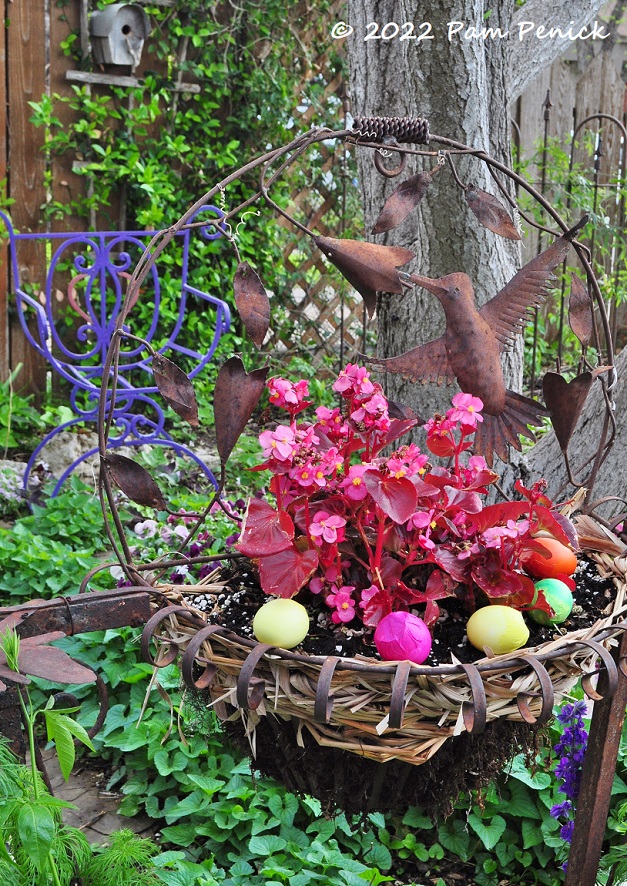 A hummingbird basket displays a vivid begonia and Easter eggs, a nod to the season.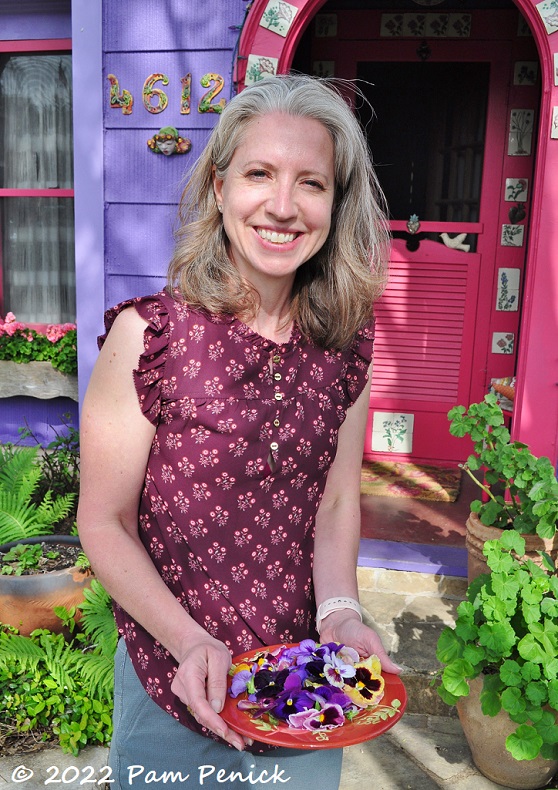 While I was exploring the garden I found Laura, a fellow guest, had been sent out to gather pansies…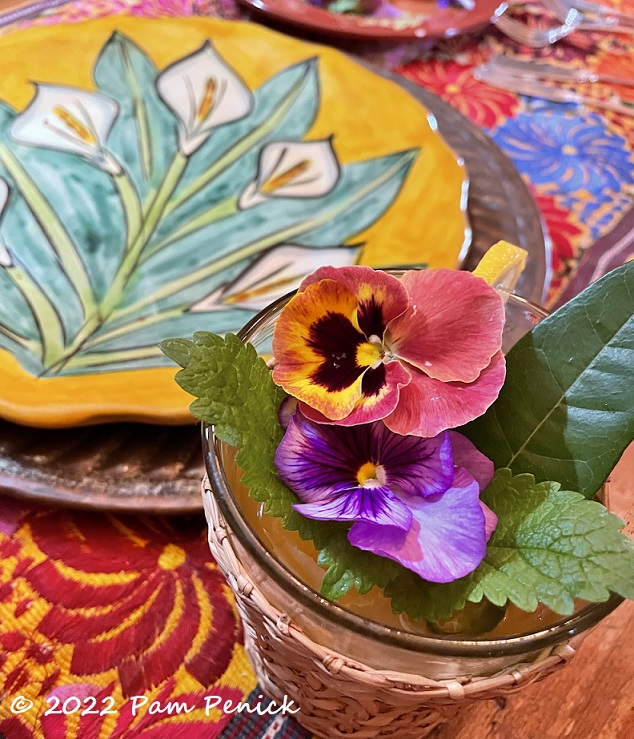 …which were promptly used to garnish our cocktails. Beautiful and tasty!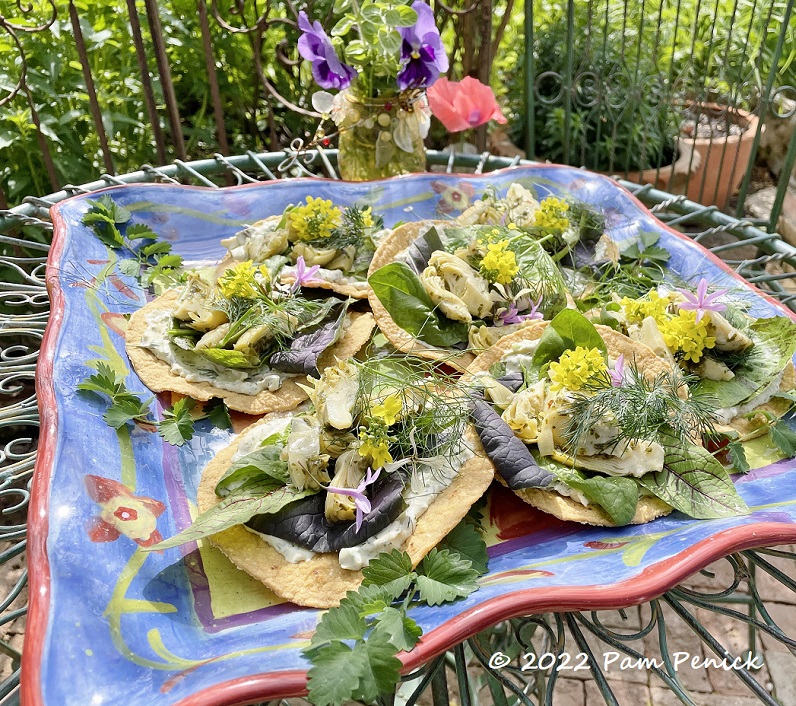 Soon Lucinda was bringing out platters of tostadas, each garnished with herbs from the garden. The artichoke tostadas were swiftly devoured.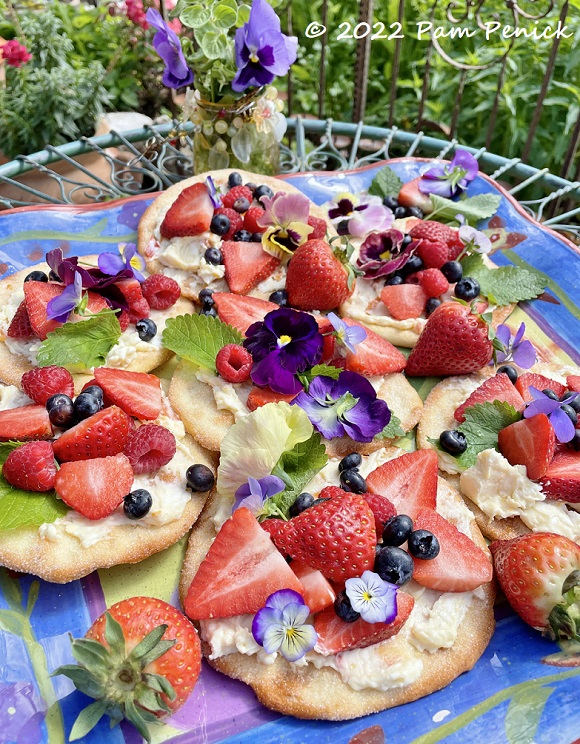 As were the fruit tostadas. What a delicious treat.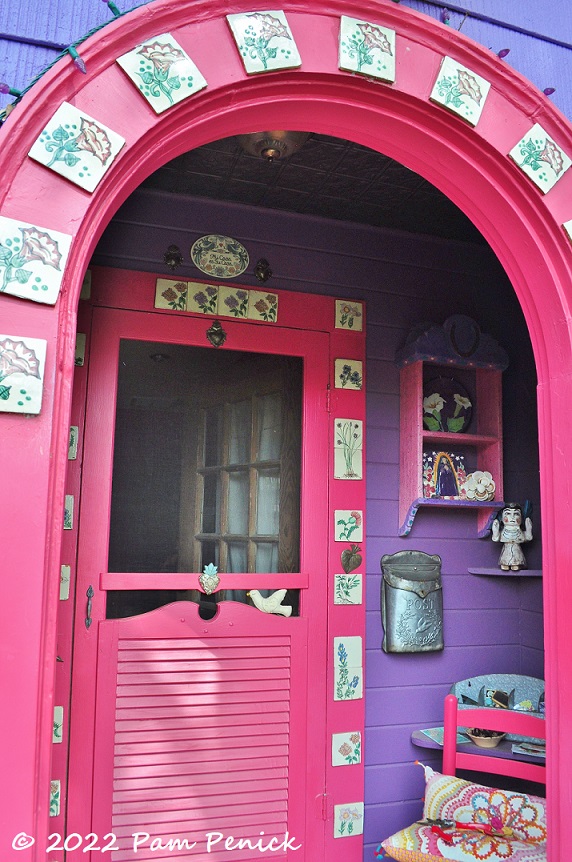 Colorful food and drinks to go with Lucinda's colorful house and garden!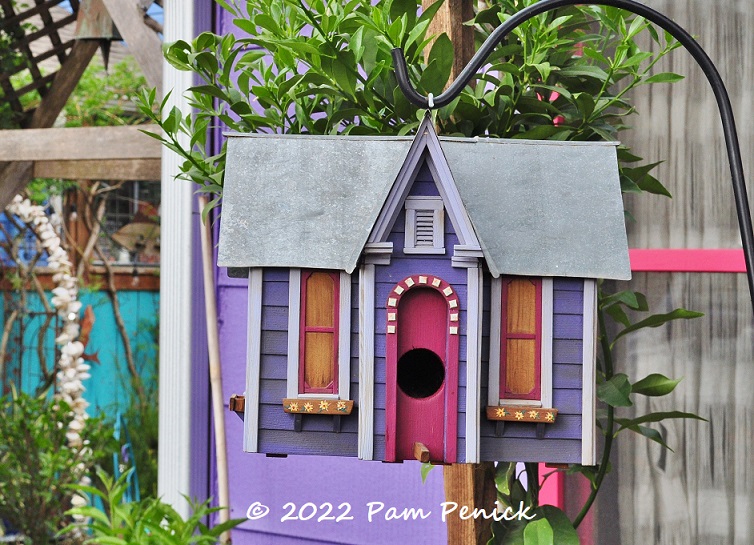 A miniature of Lucinda's house — a birdhouse replica complete with tiled arch and window boxes — hangs near the front door. It's the perfect adornment for her purple casita.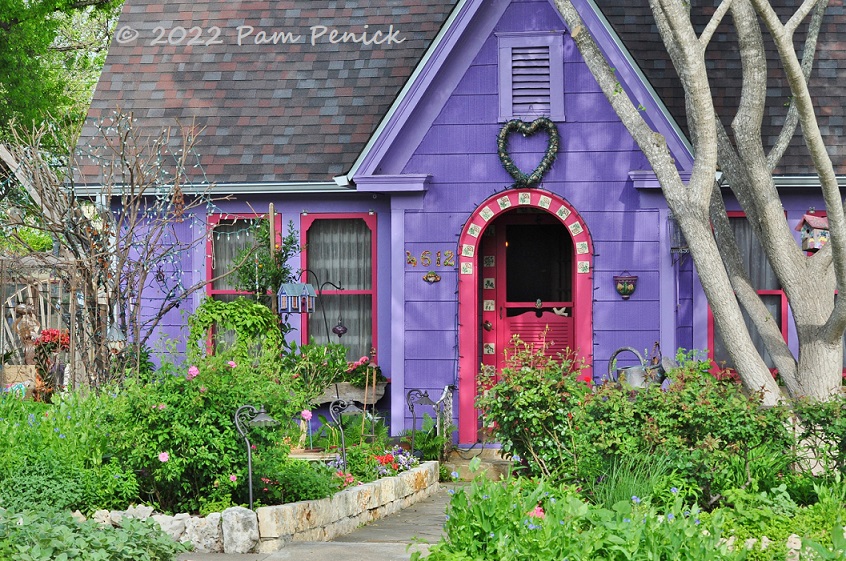 Thank you, Lucinda, for a beautiful morning in your garden filled with laughter, friends, and festive food!
I welcome your comments. Please scroll to the end of this post to leave one. If you're reading in an email, click here to visit Digging and find the comment box at the end of each post. And hey, did someone forward this email to you, and you want to subscribe? Click here to get Digging delivered directly to your inbox!
__________________________
Digging Deeper
Explore the Surreal Garden at Zilker Botanical Garden. For two consecutive weekends, the public is invited to attend evening soirées at Zilker Botanical Garden, including botanical-themed neon surrealism, interactive art sculptures, local-favorite foods, craft cocktails, live music, costumes, dancing, and more! A portion of the proceeds benefits the ZBG Conservancy. Tickets are $40 in advance, $50 at the door (plus fees & tax). Dates are April 22-23 and 28-30 from 6 pm to 10 pm. Get tickets here.
Join the mailing list for Garden Spark! Hungry to learn about garden design from the experts? I'm hosting a series of talks by inspiring garden designers, landscape architects, and authors a few times a year in Austin. Check out the 2021-22 schedule. These are limited-attendance events that sell out quickly, so join the Garden Spark email list to be notified in advance. Simply click this link and ask to be added.
All material © 2022 by Pam Penick for Digging. Unauthorized reproduction prohibited.