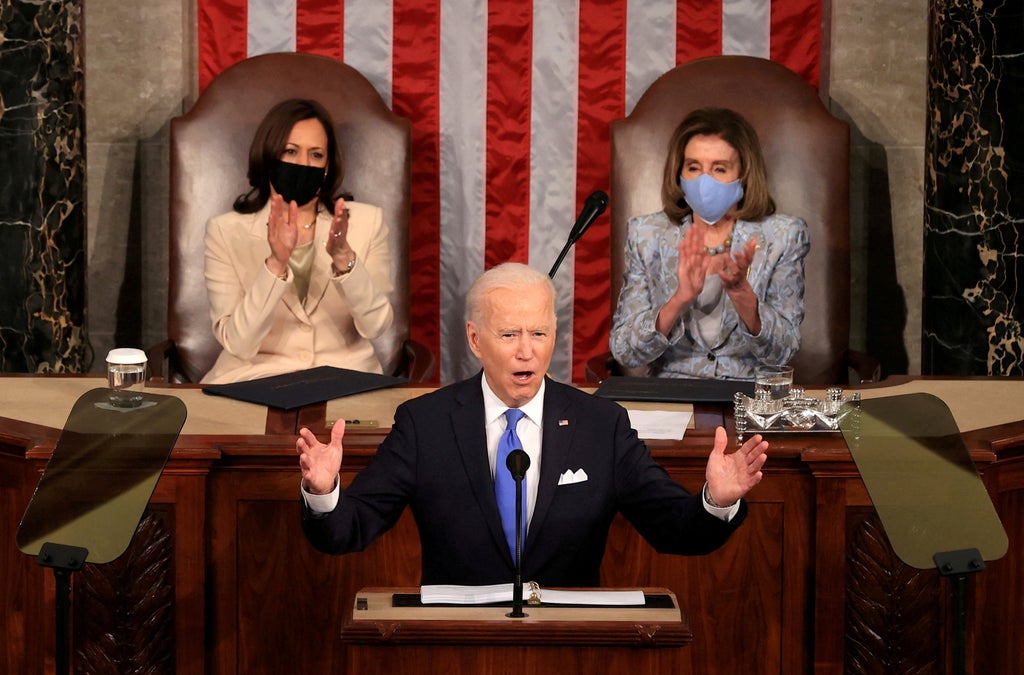 New CDC COVID-19 Guidelines Discard Mask Mandate in Time for State of the Union Attendees
President Joe Biden will use his State of the Union address on Tuesday to promote the united response by the US and its allies against Russia following the invasion of Ukraine.
Mr Biden will also promote the condition of the economy and jobs numbers, while noting efforts to combat surging inflation.
NBC News reports that the White House has been reworking the president's remarks to more heavily emphasise the response to Russia's invasion of Ukraine as the assault on Kyiv grows, but domestic policies will also feature including a plea to Congress to pass elements of the Build Back Better plan.
Press secretary Jen Psaki told MSNBC: "Every State of the Union address is an opportunity for the president delivering it to speak directly to the American people about what is happening in that moment, the progress being made and also the challenges we're facing."
She added: "Certainly, what we're seeing on the ground in Ukraine, the fact that the president has built a coalition of countries around the world to stand up against Russia and Putin and put in crippling sanctions, that is part of what people will hear."
Meanwhile, several trucks involved in the "People's Convoy" – the American answer to Canada's "Freedom Convoy" – were involved in a crash on their way to protest in Washington, DC. The separate "US Freedom Convoy" disbanded after only five rigs arrived in Las Vegas. Organisers had been hoping for 2,000 trucks to join when they departed Los Angeles on Friday.
Stay tuned for the latest updates.
1646088351
'A rally against autocrats worldwide'
US president Joe Biden has rewritten the State of the Union address he is scheduled to deliver on Tuesday in response to Russian president Vladimir Putin's assault on Ukraine last week.
Mr Biden was reportedly planning to refocus on his domestic agenda, after senator Joe Manchin effectively killed his signature Build Back Better legislation. White House chief of staff Ron Klain is said to have told Democrats that the president would focus on inflation, which is at a 40-year high after two years of the pandemic.
But Russia's invasion of Ukraine has scrambled these plans.
Eric Garcia reports for The Independent from Washington, DC.
Oliver O'Connell28 February 2022 22:45
1646087286
Why wasn't there a State of the Union last year?
President Joe Biden is slated to deliver his first State of the Union speech on Tuesday after more than a year in office.
Mr Biden offered a similar speech last April on the eve of his 100th day in the White House, where he touched on a range of issues including the coronavirus pandemic.
However that speech, before both houses of Congress, was labeled a "joint address" instead of a State of the Union (SOTU), in accordance with tradition for previous US presidents.
Oliver O'Connell28 February 2022 22:28