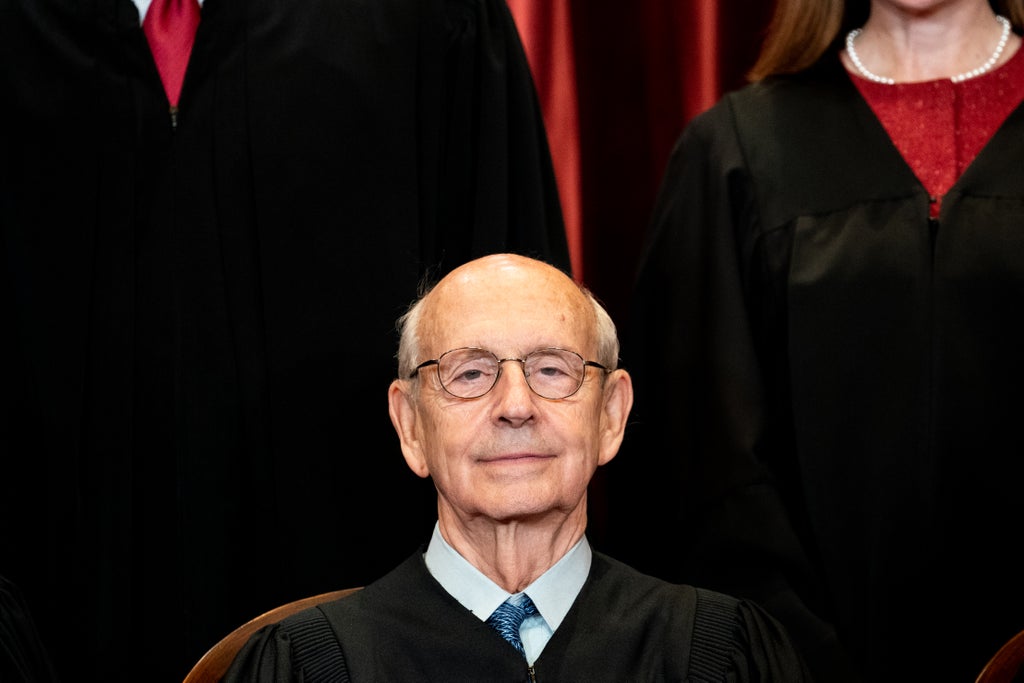 Supreme Court Justice Stephen Breyer is expected to announce his retirement, NBC News reported, which gives President Joe Biden an opportunity to replace one of the court's three liberals and maintain the balance of the highest federal court in the US.
Democrats had hoped Mr Breyer, 83, would retire while they hold the majority in the Senate before the 2022 midterm elections, since Republicans are expected to win the majority.
The fears were compounded by the fact former Justice Ruth Bader Ginsburg died weeks before the 2020 presidential election and then-president Donald Trump nominated arch-conservative Amy Coney Barrett to replace her. Ms Barrett's confirmation shifted the balance of the court to six conservatives and three liberals.
Speaking at a meeting of chief executives on Wednesday, Mr Biden refrained from making any remarks.
"There has been no announcement from Justice Breyer," he told reporters. "Let him make whatever statement he's gonna make. And I'll be happy to talk about it later."
Biden promises to appoint first Black woman to Supreme Court
President Bill Clinton nominated Mr Breyer in 1994. President Jimmy Carter appointed him to the US Court of Appeals in 1980 before then. He also worked for the Senate Judiciary Committee.
Last year, Mr Breyer, the oldest member of the court, said he was undecided on whether he would retire, saying his two factors for deciding were "Primarily, of course, health," and "Second, the court."
The Democratic majority in the Senate has confirmed judges at a rapid clip, confirming 40 of Mr Biden's judicial nominations in 2021, the most for a new president since Ronald Reagan.
Mr Biden pledged on the campaign trail to nominate a Black woman to the highest court. Ketanji Brown-Jackson, whom the Senate confirmed to serve on the US Court of Appeals for the District of Columbia is widely seen as a potential replacement for Mr Breyer. House Majority Whip James Clyburn admitted the pledge served as a catalyst for his endorsement of Mr Biden before the South Carolina primary, which was largely credited with Mr Biden's victory in the Palmetto State that was bolstered by Black voters.
The Senate voted to confirm her in July with a narrow vote of 53 in the affirmative and 44 opposing. Three Republican Senators – Sen Lindsey Graham of South Carolina, Lisa Murkowski of Alaska and Susan Collins of Maine– voted to confirm Ms Brown-Jackson along with all 50 Democrats.
But Mr Graham, a former Judiciary Committee Chairman, indicated he might not vote to confirm a Biden nominee.
"As to his replacement: If all Democrats hang together – which I expect they will – they have the power to replace Justice Breyer in 2022 without one Republican vote in support," Mr Graham tweeted. "Elections have consequences, and that is most evident when it comes to fulfilling vacancies on the Supreme Court."
Conservative Democratic Sens Kyrsten Sinema of Arizona and Joe Manchin of West Virginia both voted to confirm Ms Brown-Jackson.
Senate Judiciary Committee Chairman Dick Durbin said Mr Breyer's expected retirement presented a new opportunity.
"With this Supreme Court vacancy, President Biden has the opportunity to nominate someone who will bring diversity, experience, and an evenhanded approach to the administration of justice. I look forward to moving the President's nominee expeditiously through the Committee," he tweeted.
Mr Biden, who served in the Senate for 36 years, served as chairman of the Senate Judiciary Committee during Mr Breyer's confirmation, as well as the confirmation for Ms Ginsburg and the caustic confirmation process for current Justice Clarence Thomas, when Anita Hill accused Mr Thomas of sexual misconduct.
Mr Biden also presided over the failed confirmation of Judge Robert Bork to the Supreme Court.
Senate judicial confirmations have proven to be an aggressive battleground for Democrats and Republicans. In 2013, Senate Majority Leader Harry Reid eliminated the filibuster for cabinet nominees and judicial nominations except for the Supreme Court.
In 2017, as Democrats attempted to block Mr Trump's nominee Neil Gorsuch, Senate Majority Leader Mitch McConnell eliminated the filibuster for the Supreme Court. That paved the way for the confirmation of Justice Brett Kavanaugh and Ms Barrett, giving Mr Trump three nominees on the court.
Democratic Senate Majority Leader Chuck Schumer praised Mr Breyer's career and also said he would receive a fair hearing.
"President Biden's nominee will receive a prompt hearing in the Senate Judiciary Committee, and will be considered and confirmed by the full United States Senate with all deliberate speed," Mr Schumer said in a statement.