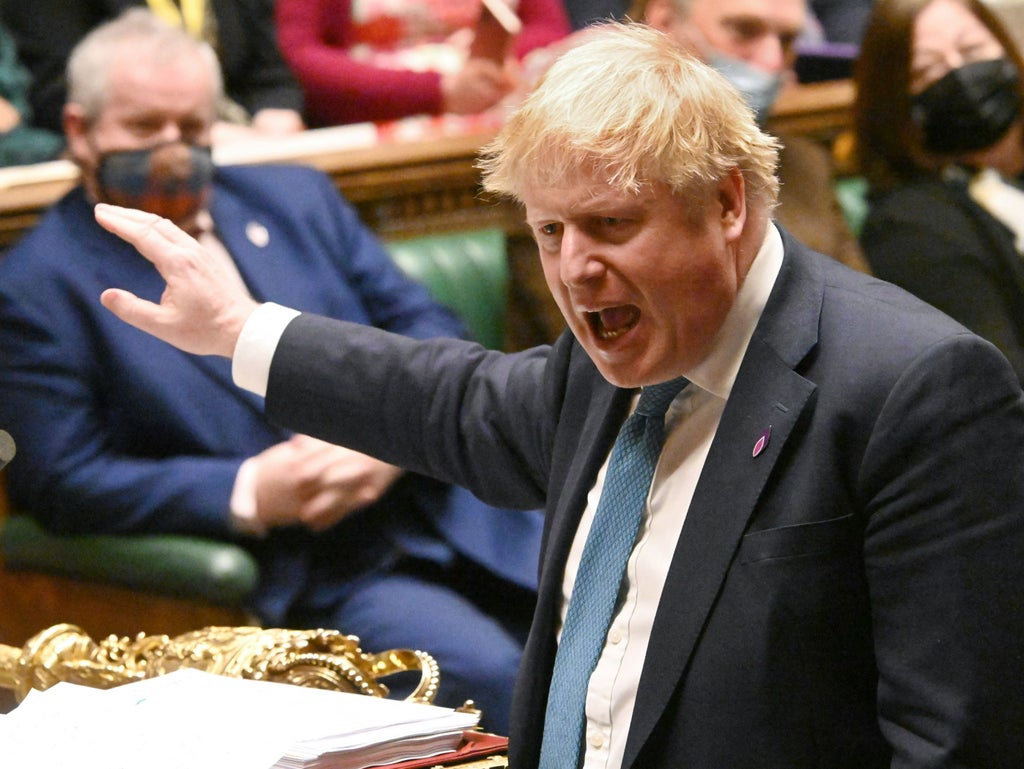 'I'd rather be lead by a lawyer than a liar': MP Russell-Moyle demands Johnson's resignation
MPs and the British public will have to wait at least several more hours to hear from Boris Johnson about the findings of Sue Gray's Partygate report, after it was revealed that legal checks delayed its publication.
Officials in Westminster are now said to be fearful the document may not become public until Monday due to a process of "legal scrubbing" currently taking place. This ensures that the final report does not unfairly identify junior staff or cut across the separate investigation by Metropolitan Police.
Ms Gray, the senior civil servant who is leading the Cabinet Office investigation into alleged lockdown-breaching parties at No 10, was given the green light by police to publish her report in full on Tuesday.
Despite this, Commons leader Jacob Rees-Mogg said on Wednesday he was "sure" Mr Johnson would "survive" the current storm. "He's done so much for the country," the Tory MP said of his boss, citing the furlough scheme and Covid vaccine rollout.
1643269810
Coffey backs PM over Afghan evacuation claim
Therese Coffey also insisted Boris Johnson did not make any "individual decisions" on Afghan evacuations despite a leaked email suggesting he had "authorised" the removal of animals from Kabul.
She told Sky News: "The PM didn't make any individual decisions about evacuations.
"A lot of people will claim that the PM is involved in supporting their particular pet projects but the PM said he wasn't involved in individual decisions, that is what the defence secretary, who was in charge of Operation Pitting overall, has said as well."
Tom Batchelor27 January 2022 07:50
1643268846
Cabinet minister Therese Coffey 'doesn't know' why report is delayed
Cabinet minister Therese Coffey has said she does not know exactly why the Sue Gray report into parties in Downing Street is being delayed, or when it will be released.
The work and pensions secretary, when asked why it was being held up, told Sky News: "I really don't know. I know the government has committed to publishing the full findings of the report but the timing I have absolutely know idea about."
No 10 said it was yet to receive the report.
Ms Coffey added: "Have I ever been to any parties in Downing Street? The last party I recall going to Downing Street was the celebration of when the UK left the European Union following the referendum."
Tom Batchelor27 January 2022 07:34
1643267074
Johnson told MPs he acted on 'bad advice': Report
Prime minister Boris Johnson reportedly told Tory MPs that he received "bad advice" from those around him and warned against deposing him, which could result in a general election.
Mr Johnson held 15-minute meetings with more than a dozen Tory MPs in recent days ahead of a potential no-confidence vote, according to The Times report.
He allegedly argued that now is not the right time to remove him given the seething tension between Ukraine and Russia.
Alisha Rahaman Sarkar27 January 2022 07:04
1643265274
MPs warn National Insurance rise will push inflation higher
MPs have raised concern over the potential push in inflation following the rise in national insurance (NI) contributions.
Inflation hit 5.4 per cent in December, the highest rate in 30 years, and is expected to rise further by April, when the 1.25 per cent NI rise will come into effect.
In its report on chancellor Rishi Sunak's autumn budget, the Commons Treasury Committee said the NI rise will drive inflation up and cause prices to rise even higher.
Alisha Rahaman Sarkar27 January 2022 06:34
1643262678
The Sue Gray report is really all about Johnson
In a bid to belittle the Sue Gray report and the police investigation into breaches of lockdown laws in Downing Street, some of the more loyal Conservative MPs have joked that the whole scandal is about a birthday cake.
Not only is such banter in poor taste, but it is actively damaging their prime minister's slim chance of surviving the revelations in the report.
Read The Independent's editorial here:
Alisha Rahaman Sarkar27 January 2022 05:51
1643260245
ICYMI | Cheshire councillor quits Tories over No 10 scandal
A councillor from Cheshire East said she stepped down from the Conservative party because of the 'partygate' scandal.
Nicky Wylie, who represents Poynton East and Pott Shrigley, said in a statement that she had left the Tories in "light of recent national events".
Ms Wylie will now sit on Cheshire East Council as an independent.
Alisha Rahaman Sarkar27 January 2022 05:10
1643258597
Voices | Ousting Boris Johnson does not automatically mean a general election
For a man who likes to affect a great reverence for the British constitution, the leader of the House of Commons, Jacob Rees-Mogg, has been playing fast and loose with its finer points lately.
"It is my view that we have moved, for better or worse, to essentially a presidential system and that therefore the mandate is personal rather than entirely party, and that any prime minister would be very well advised to seek a fresh mandate," he told BBC.
Rees-Mogg argued that the days when prime ministers could take over from one another without recourse to the electorate were gone. This is arrant nonsense, writes Sean O'Grady.
Alisha Rahaman Sarkar27 January 2022 04:43
1643256507
'Stain on our country': Allin-Khan slams PM
Rosena Allin-Khan, the Labour MP for Tooting, slammed prime minister Boris Johnson and called his premiership "a stain on our country".
"Boris Johnson's premiership will go down as the most sleazy, deceitful and corrupt in our history," Ms Allin-Khan tweeted on Wednesday.
Alisha Rahaman Sarkar27 January 2022 04:08
1643255065
Tory voters back police probe into Johnson: Poll
At least six in 10 Conservative voters back the police investigation into allegations that parties at 10 Downing Street breached rules, according to a new survey.
The poll, commissioned by Lib Dems, was conducted just before Met Commissioner Dame Cressida Dick announced a police probe on Tuesday
.It found that three-quarters of voters agreed the Met should formally investigate prime minister Boris Johnson over breaches of Covid-19 regulations – including 59 per cent of those who identified themselves as Conservative supporters.
Alisha Rahaman Sarkar27 January 2022 03:44
1643252400
Johnson dominates today's papers once again
The i goes with Boris Johnson "waiting on his fate":
Meanwhile, Scotland's The National calls out the PM for "lies upon lies":
The Independent's front page focuses on Johnson facing more accusations of lying, this time over airlifting pets out of Afghanistan instead of people.
It's not all doom and gloom for the PM, though, according to The Daily Express:
And The Daily Mail seems to agree:
Sam Hancock27 January 2022 03:00