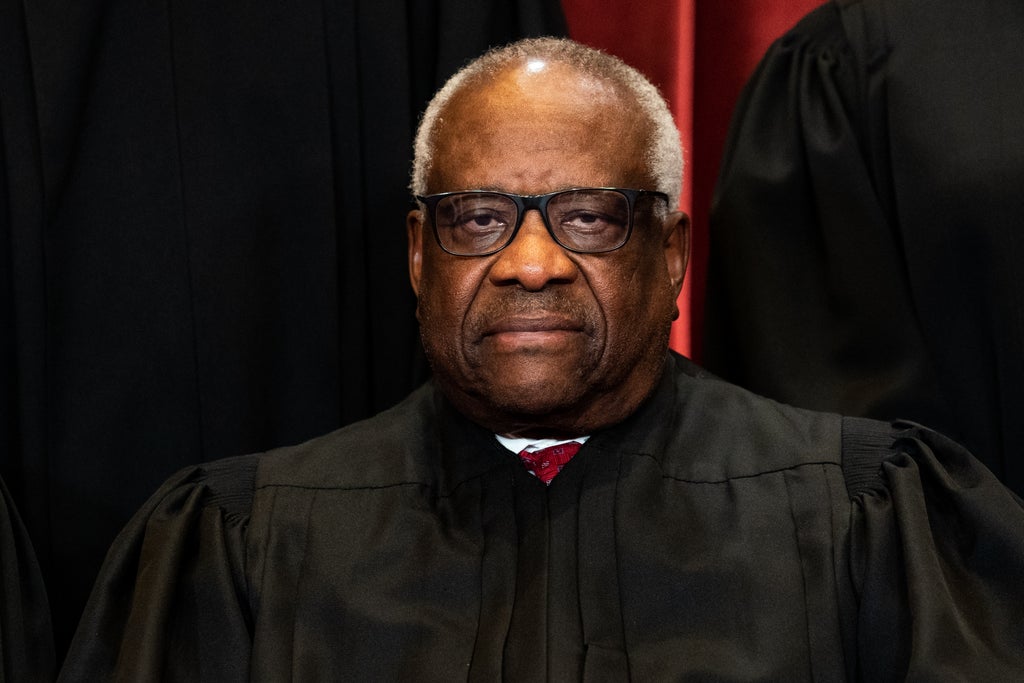 Supreme Court Justice Clarence Thomas has been hospitalised since Friday with "flu-like symptoms" the court has announced.
Justice Thomas underwent tests at Sibley Memorial Hospital in Washington DC and was diagnosed with an infection, said the court's public information office on Sunday evening.
"He underwent tests, was diagnosed with an infection, and is being treated with intravenous antibiotics," the court's press release stated.
"His symptoms are abating, he is resting comfortably, and he expects to be released from the hospital in a day or two. Justice Thomas will participate in the consideration and discussion of any cases for which he is not present on the basis of the briefs, transcripts, and audio of the oral arguments."
The justices are expected to take the bench on Monday morning for arguments.
Justice Thomas, who is the most senior associate justice on the high court, was nominated by George H W Bush to serve on the US Court of Appeals for the District of Columbia Circuit in 1989.
And less than two years later, President Bush nominated him to the country's highest court to replace Thurgood Marshall, the first ever African-American justice.
At 73-years-old he is the second-oldest Supreme Court justice after Justice Stephen Breyer, and the eldest of the conservative justices.
The Court has said that all of the nine justices have been vaccinated and boosted against Covid-19.
On Monday, the Senate Judiciary Committee will begin a week of confirmation hearings for Judge Ketanji Brown Jackson, Joe Biden's nomination to become the court's first Black female justice in its 233-year history.
Justice Thomas has come under additional scrutiny this month after it emerged that his wife, conservative activist Ginny Thomas, was present at the 6 January 2021 rally which preceded the attack on the Capitol that day by a mob of former president Donald Trump's supporters.
Ms Thomas, who was a frequent visitor to the Oval Office during Mr Trump's presidency, told a writer for the right-wingWashington Free Beacon that she "did attend" the Ellipse event but "left early" before the then-president spoke.
She explained how she was "disappointed and frustrated" by the violence that day, which she contrasted with the "peaceful gathering" she attended.