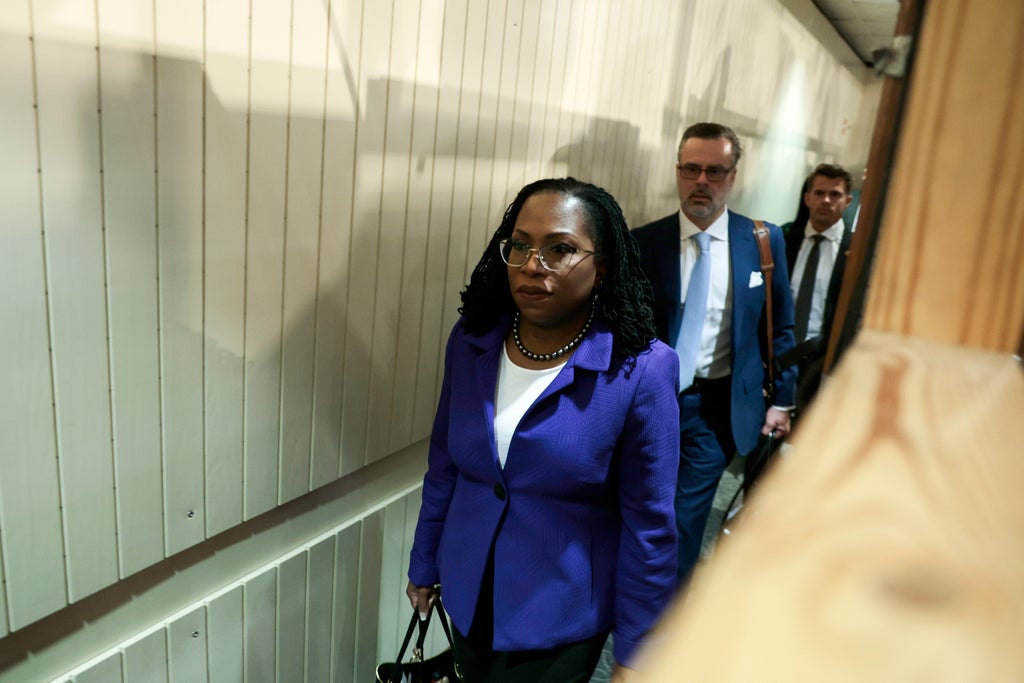 Watch live as Senate Judiciary Committee begin hearing on Biden's Supreme Court nominee
Ketanji Brown Jackson, Joe Biden's first Supreme Court nominee, is today appearing before the Senate Judiciary Committee in the first of her confirmation hearings. The first Black woman to be nominated to the court, she will if confirmed replace retiring Justice Stephen Breyer.
With the Democrats in control of the Senate and the court now heavily tilted in conservatives' favour, Ms Brown Jackson – currently a judge on the United States Court of Appeals for the District of Columbia – is expected to be confirmed barring some unforseen event.
However, some Republicans have lately begun attacking her for her past work as a public defender, focusing in particular on her work defending sexual offenders. Missouri Senator Josh Hawley, who sits on the Judiciary Committee, last week launched a broadside against her on Twitter, claiming without providing substantial context that "Judge Jackson has a pattern of letting child porn offenders off the hook for their appalling crimes, both as a judge and as a policymaker" and that "this is a record that endangers our children."
Mr Hawley's words and similar ones from other GOP senators have been widely criticised, with Democrat Tim Kaine describing them to The Independent as "wild claims".
1647919017
ICYMI: Fact-checking GOP attacks on Judge Jackson's record
The Associated Press released a fact-check over the weekend after GOP Sen Josh Hawley launched several attacks on Judge Ketanji Jackson Brown's judicial record and in particular her treatment of child pornography cases.
According to the news service, Mr Hawley's assertions "don't stand up to scrutiny".
John Bowden22 March 2022 03:16
1647915357
While Jackson hearings continue, another justice remains hospitalised
Judge Ketanji Jackson Brown's confirmation hearings to determine whether or not she will succeed Justice Stephen Breyer on the Supreme Court began on Monday even as another justice on the bench, Clarence Thomas, remained in the hospital due to "flu-like symptoms".
On Monday, it was announced by the Court that Mr Thomas was not diagnosed with Covid-19.
"He underwent tests, was diagnosed with an infection, and is being treated with intravenous antibiotics," a press release stated.
"His symptoms are abating, he is resting comfortably, and he expects to be released from the hospital in a day or two. Justice Thomas will participate in the consideration and discussion of any cases for which he is not present on the basis of the briefs, transcripts, and audio of the oral arguments," it continued.
Read more from The Independent's Graeme Massie:
John Bowden22 March 2022 02:15
1647911757
ICYMI: Ted Cruz calls allegations against Kavanaugh his 'teenage dating habits'
Ted Cruz likened allegations of sexual assault that dogged Brett Kavanaugh throughout his confirmation process to "teenage dating habits" during his remarks at Monday's hearing.
Mr Cruz and other Republicans roundly criticised Democrats at the hearing, the first of several for Judge Ketanji Brown Jackson, for their treatment of Mr Kavanaugh during his own confirmation. Democrats demanded an FBI investigation into allegations that surfaced after her initial hearings ended.
Read more from The Independent's Eric Garcia:
John Bowden22 March 2022 01:15
1647908157
Ted Cruz cites slaveowner in confirmation hearing for Ketanji Brown Jackson
Senator Ted Cruz cited a slaveowning Supreme Court justice who formed an organisation bent on sending free Black Americans to Africa on Monday as an example of a past Supreme Court nomination which had been seen, at the time, as non-controversial.
The senator quipped that "Supreme Court confirmations were not always controversial," adding that "Bushrod Washington when nominated to the Supreme Court in 1798 was confirmed the very next day".
Mr Cruz's assertion was correct, but drew criticism on Twitter as it was pointed out that the justice (a relative of George Washington) owned slaves and fiercely resisted the idea of abolition. He was also the founder of the American Colonization Society, which arranged for the passage of thousands of free Black Americans to Liberia after the country was founded in 1847.
Read more from The Independent's Eric Garcia:
John Bowden22 March 2022 00:15
1647906357
RNC talking points outline GOP plan of attack
The Republican National Committee is seeking to attack Judge Jackson on the grounds that she "has a history of championing" critical race theory, according to talking points published on the party's website.
The line of attack was not mentioned by most Republicans at Monday's hearing, and could indicate a disconnect between party leaders and lawmakers on strategy for opposing the judge's confirmation.
RNC talking points allege that Judge Jackson "has a history of championing" critical race theory in part because she used the term "microaggression" a couple of times pic.twitter.com/avcBgwlhis

— Lawrence Hurley (@lawrencehurley) March 21, 2022
John Bowden21 March 2022 23:45
1647904497
Black women watch Supreme Court hearing with anticipation
As Ketanji Brown Jackson faces the lawmakers of the Senate Judiciary Committee, Black women around the nation are watching to see if they will finally achieve representation on the nation's highest court.
The Independent's Eric Garcia took a look at how this confirmation process means so much more to many Black Americans:
John Bowden21 March 2022 23:14
1647902709
ICYMI: Things (and people) to look out for as Ketanji Brown Jackson's confirmation hearings continue
Day 1 of Judge Jackson's confirmation hearings is over, but the main event is still on the way.
Beginning tomorrow, senators will have the chance to question the judge on the record regarding her judicial philosophy and history on the bench.
The Independent's Eric Garcia on what to look out for in the days ahead:
John Bowden21 March 2022 22:45
1647900909
Lindsey Graham: Historic nature of Jackson's nomination won't be GOP's focus
Sen Lindsey Graham appeared supportive of the idea of seeing the first Black woman confirmed to the US Supreme Court during his remarks on Monday while apparently chafing at the idea that such a topic would be relevant to the Judiciary Committee's proceedings.
Mr Graham tried to draw a distinction between how Democrats treat nominees of colour depending on which political tradition they hail from.
"If you're a Hispanic or African-American conservative, it's about your philosophy. [But] now it's gonna be about the historic nature of the pick," Mr Graham said.
"The bottom line here is when it is about philosophy when it's somebody of colour on our side, it's about we're all racist if we ask hard questions. It's not going to fly with us. We're used to it by now, at least I am," the senator continued.
John Bowden21 March 2022 22:15
1647899109
Psaki: Ketanji Brown Jackson 'deserves' bipartisan votes
White House press secretary Jen Psaki quipped on Monday that President Joe Biden's nominee to the Supreme Court "deserves" votes from Republican senators who previously voted to confirm her to the federal judiciary.
"Our view is that given she has been confirmed three times with bipartisan support, that she has extensive experience … she certainly deserves that," Ms Psaki said on Monday.
Ms Jackson faced opening statements from Republicans and Democrats on the Senate Judiciary Committee before delivering her own at the end of Monday's session.
Reporter: "Any thoughts on whether Judge Jackson will receive bipartisan support in her confirmation?"@PressSec: "Our view is that given she has been confirmed three times with bipartisan support, that she has extensive experience […] she certainly deserves that." pic.twitter.com/OvVBGsjcw5

– The Hill (@thehill) March 21, 2022
John Bowden21 March 2022 21:45
1647897108
Ketanji Brown Jackson's husband grows emotional as she thanks him in statement
Judge Jackson's husband, Dr Patrick Jackson, was visibly tearful as she thanked him during her opening remarks to the Senate Judiciary Committee on Monday.
The remarks came at the end of a exhaustive day of opening statements from lawmakers on the committee.
"I have no doubt that without him by my side…none of this would have been possible," she said of Dr Jackson. "He's been the best husband, father, and friend I could ever imagine."
Read more in The Independent:
John Bowden21 March 2022 21:11