July 16, 2021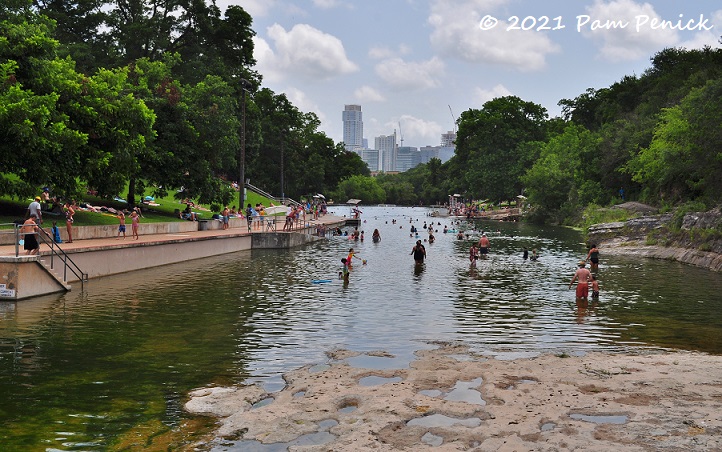 You wouldn't think I'd have a hard time finding someone to go swimming with me in July in Texas. But when I proposed an excursion to Barton Springs Pool recently, most of my family and friends said no way. Why? After all, Barton Springs Pool is considered the crown jewel of Austin, a treasured attraction often called the soul of our city. The catch is, the spring-fed pool is chilly — 68 to 70 degrees (20 degrees C) year-round. For Texans who prefer bathwater-temp pools and lakes, that's Arctic. As for me, I want to be refreshed on a hot day and prefer cool water.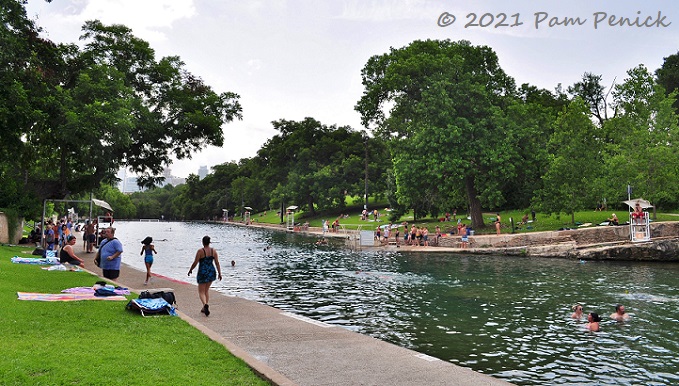 Happily for me, my daughter unexpectedly got the day off work and agreed to go swimming with me last week. Swimming in Barton Springs Pool is like no other place. Because it's spring-fed with a flowing current, the water isn't chlorinated. The pool itself is HUGE at 3 acres, so you can swim without feeling crowded. You get to enjoy a view of downtown Austin over the deep end. And the pool is beautifully naturalistic with rocks, cliffs, and grand old pecan trees in addition to lawns for sunbathing. Like a river, it's alive with fish, ducks, the occasional lake weed, and the endangered Barton Springs salamander.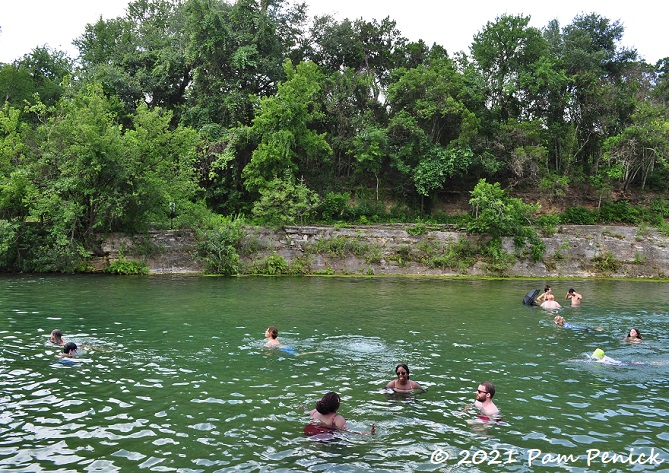 A concrete sidewalk runs around most of the pool, but the far side of the shallower end is edged by vertical rock, with a trail running along the top.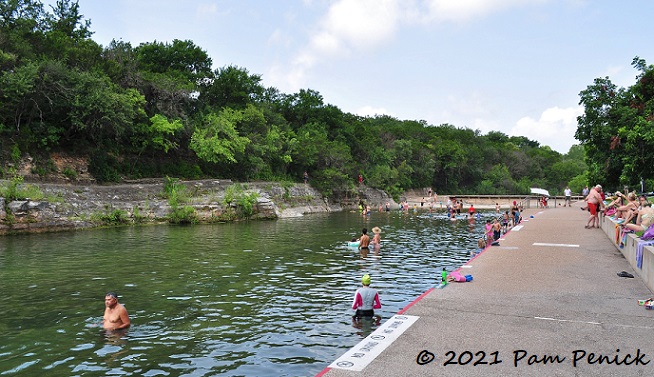 People-watching at the pool is excellent, with a mix of Austinites and tourists, kids playing and old folks making steady laps, sunbathers and floaters and snorkelers. Topless swimming and sunbathing is allowed for both men and women, so don't gawk if you see a few women without bikini tops. This is Austin. There's always one or two, and more power to them.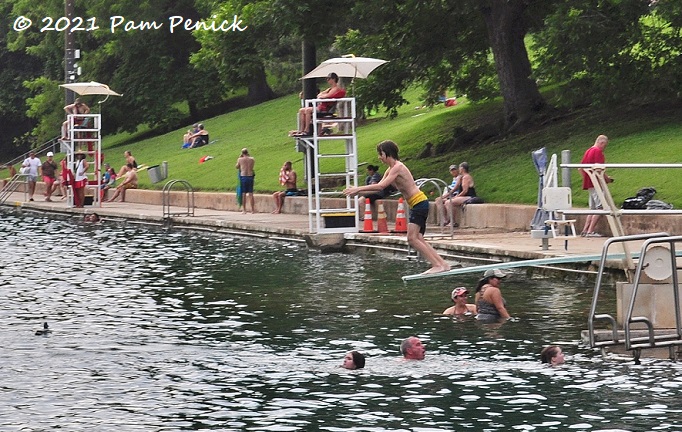 At its deepest point the pool is 18 feet deep. A diving board in the middle sees steady use by kids and the occasional adult.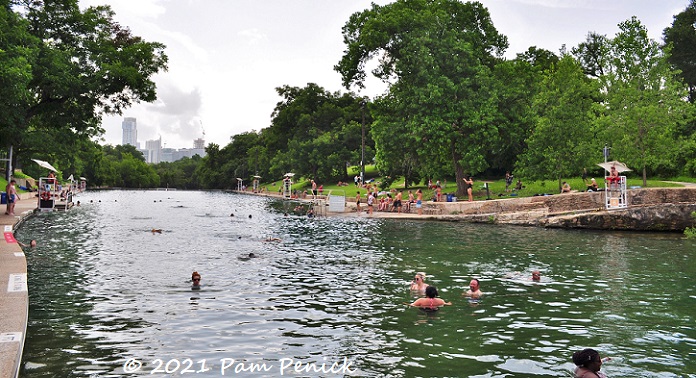 It's a remarkable place. Whether you live here or are just in town for a visit, you should swim in it at least once. Maybe a whole lot more if you love it like I do.
If you don't go often, or have never been, figuring out the ins and outs of visiting the pool can be a little complicated. So let me sum it all up for you. As of this writing (July 2021):
Hours of operation. The pool is open from 8 am to 10 pm every day except Monday and Thursday. It's open every day for early-morning swimming, 5 to 8 a.m., and it's free at that time but without lifeguards, aka swim at your own risk. Admission is also free for late-night swimmers from 9 to 10 p.m., every day except when it's closed on Monday and Thursday.
Reservations/Day Passes. Covid-era advance reservations are no longer required. However, you must buy a day pass (except for free hours; see above) either online or at a kiosk when you arrive; credit cards or exact change only. Present your pass at the gate to get in, and you can have your hand stamped if you want to leave and return that day. Adult admission is $5 for Austin residents and $9 for non-residents. Kids and seniors are charged less; check ages and prices online.
Parking. Parking is limited but free on weekdays. Automated pay-parking machines must be used on weekends, holidays, and during special events. Consider using ride-share to avoid the hassle of parking on weekends.
What not to bring. No coolers, food, smoking, alcohol, or pets allowed, plus various other rules, so check the website before you go. You can picnic outside the pool grounds in Zilker Park.
I welcome your comments; please scroll to the end of this post to leave one. If you're reading this in a subscription email, click here to visit Digging and find the comment box at the end of each post.
_______________________
Digging Deeper: News and Upcoming Events
Join the mailing list for Garden Spark! Hungry to learn about garden design from the experts? I'm hosting a series of talks by inspiring garden designers, landscape architects, and authors a few times a year in Austin. Talks will resume this fall. These are limited-attendance events that sell out quickly, so join the Garden Spark email list to be notified in advance. Simply click this link and ask to be added.
All material © 2021 by Pam Penick for Digging. Unauthorized reproduction prohibited.