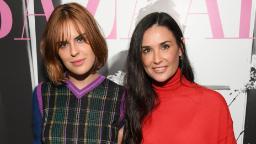 The daughter of Demi Moore and Bruce Willis announced the news on her Instagram on Tuesday evening.
Willis will be marrying filmmaker Dillon Buss. Willis shared a close-up video of the gorgeous sparkler with the caption, "Hands still shakin' — Mom's spaghetti — I'm fiancenched."
Buss posted a photo after the sweet proposal with a caption that also made reference to May 4, which is known as Star Wars Day, an informal holiday to celebrate the "Star Wars" movie franchise.
"I can finally call you my fiancé. Love you forever Buuski Lu, you are my best friend #maythefourthbewithus."