June 16, 2022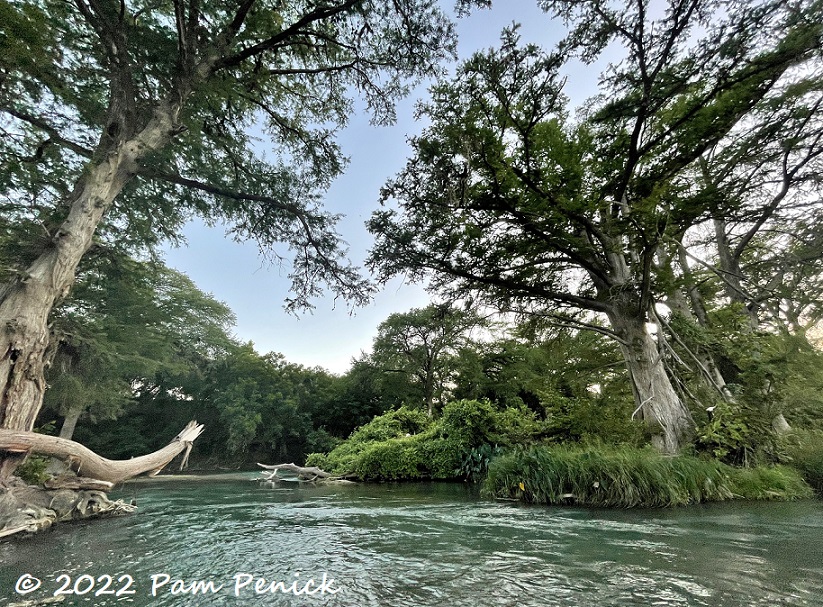 When it's over 100F for days on end, the timing is excellent for a weekend getaway to a Central Texas river house. And when that house sits along the spring-fed San Marcos River, flowing at a refreshing 75 degrees, with Hometree-sized bald cypresses spreading feathery shade from the riverbanks, it's perfection.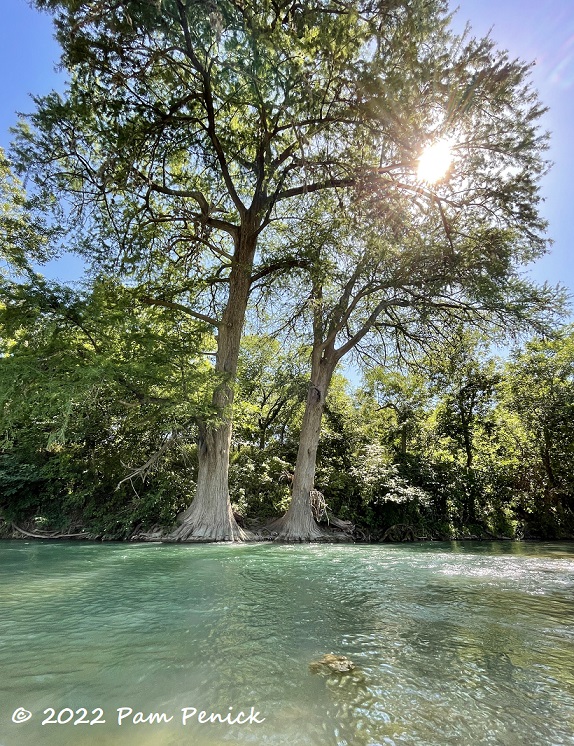 My family came together last weekend from Austin, Houston, North Texas, and Charlotte, North Carolina, to enjoy a few days at a rental house in tiny Martindale, about 7 miles from San Marcos. We spent our days floating and swimming in the green, fast-flowing water of a scenic bend in the river. If you let go of your float, tethered to a log on the bank, the current would swirl you past a pair of bald cypresses, through water suddenly too deep to touch bottom…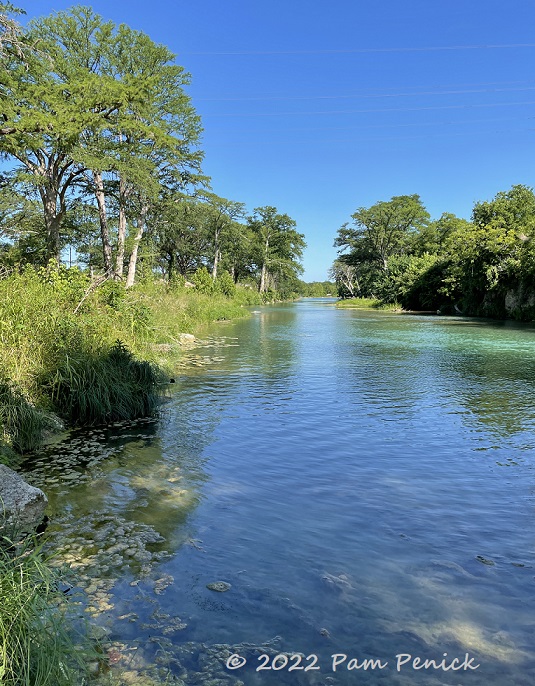 …and spit you out just as quickly in this shallow, calm stretch, where you could kick back to your float. It was great fun.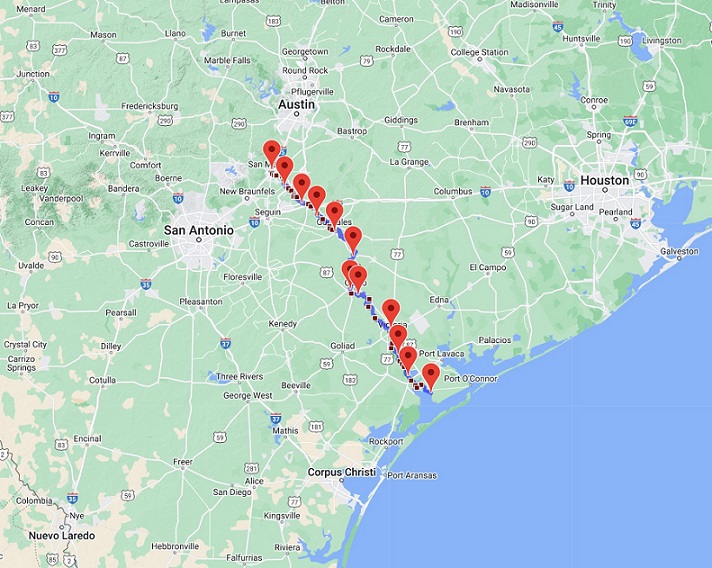 We had that bend nearly to ourselves, aside from an occasional passing kayaker — until Saturday morning on June 11th, when several dozen people appeared via a public-access point to cheer on competitors in a boat race we'd had no idea was happening. It was the Texas Water Safari!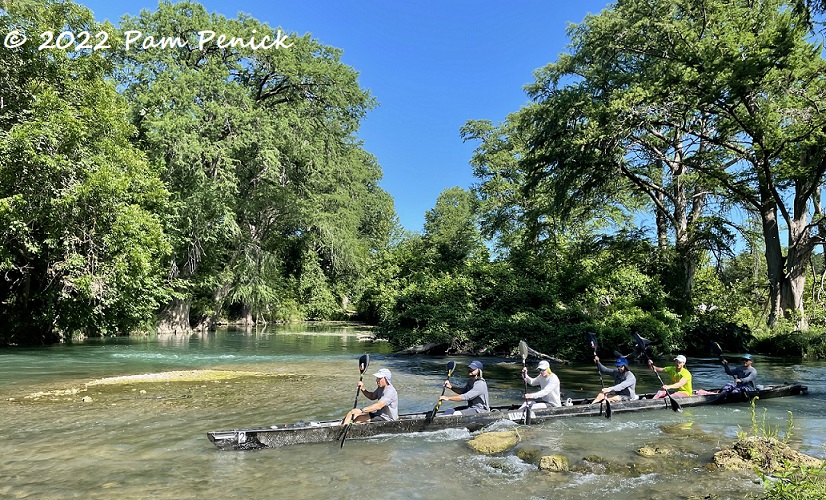 The Texas Water Safari is billed as the world's toughest canoe race, although it's not just for canoeists. Kayakers and stand-up paddleboarders compete too. The rule is the boat must be human-powered.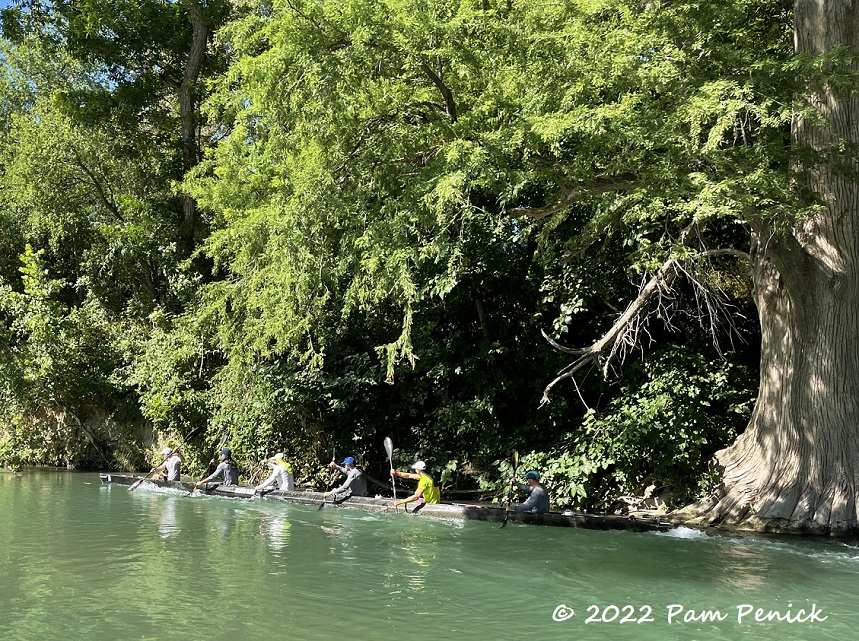 The race begins in San Marcos (halfway between Austin and San Antonio) and ends in the Gulf of Mexico at Seadrift. Those 260 miles of hot, buggy paddling and portaging, under the broiling Texas sun and through the pitch-black night, with alligators and big gars to watch out for as you near the coast, culminate in a 7-mile churn through the bay to reach the finish line.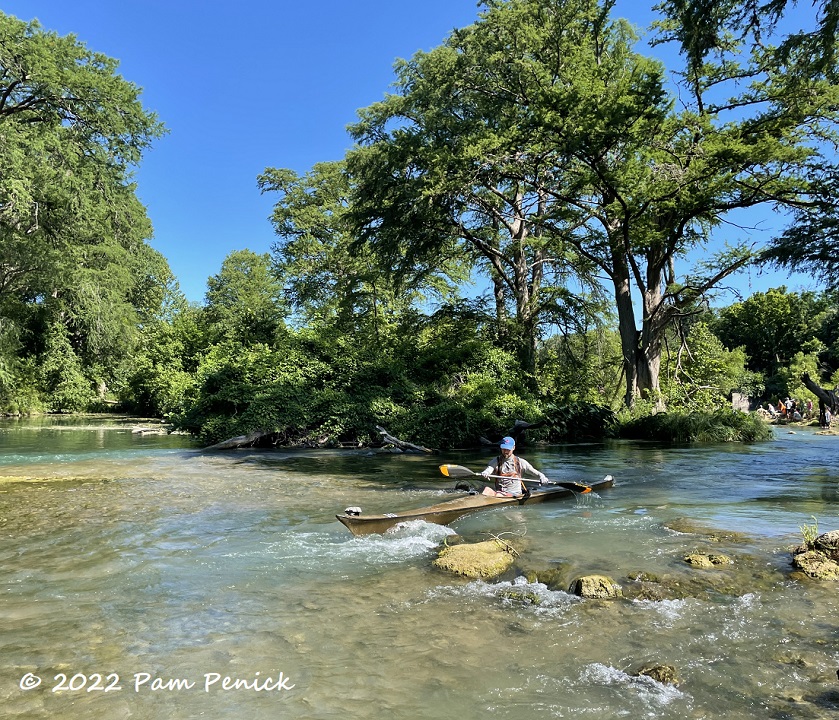 Our little bend of the river was at approximately the 9-mile point from the start of the race, and competitors had already portaged their boats over spillways three times.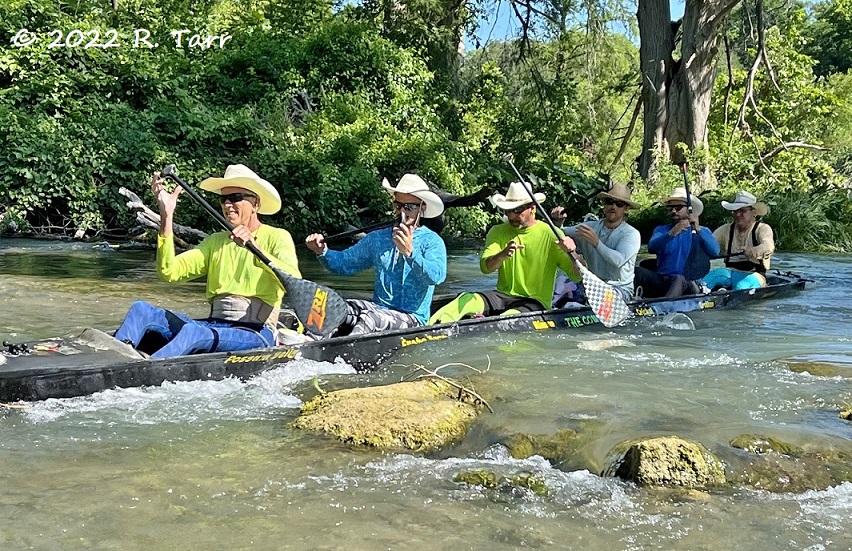 Racers must carry all their equipment with them, although they can receive water, ice, and food along the way from a support crew. They generally do not stop to sleep.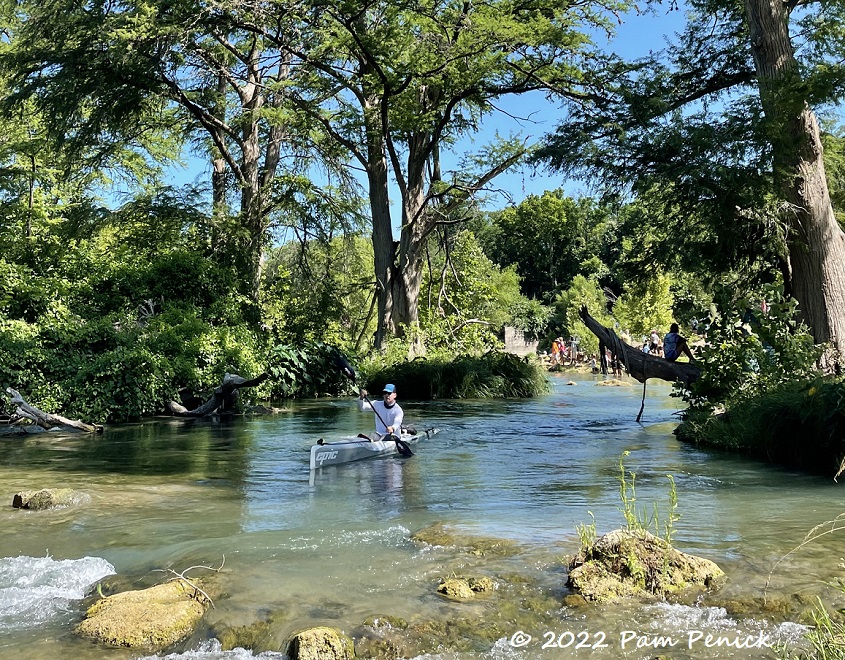 The cutoff for officially finishing the race is 100 hours, but top racers aim for under 40 hours. This year, challenges abounded. Water levels were low, heat was intense, and the bay was choppy. Check out a short video about the race to see some of the challenges they face.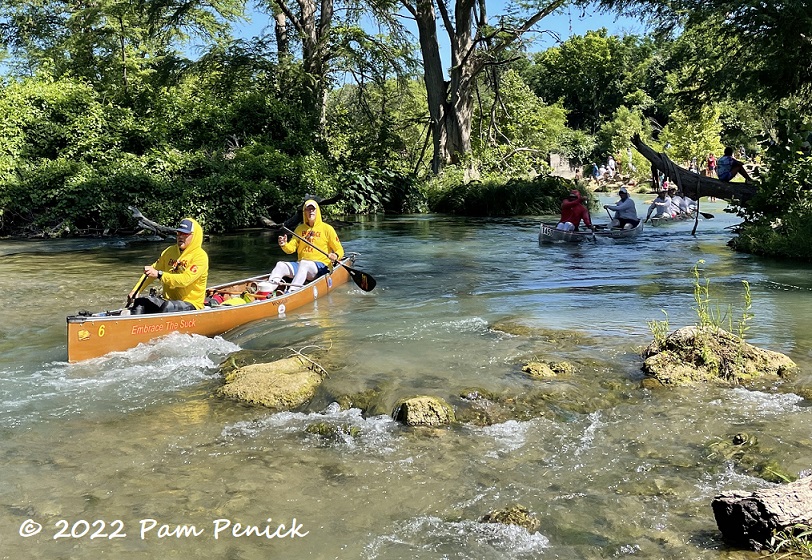 Embrace the Suck in yellow, followed by competitors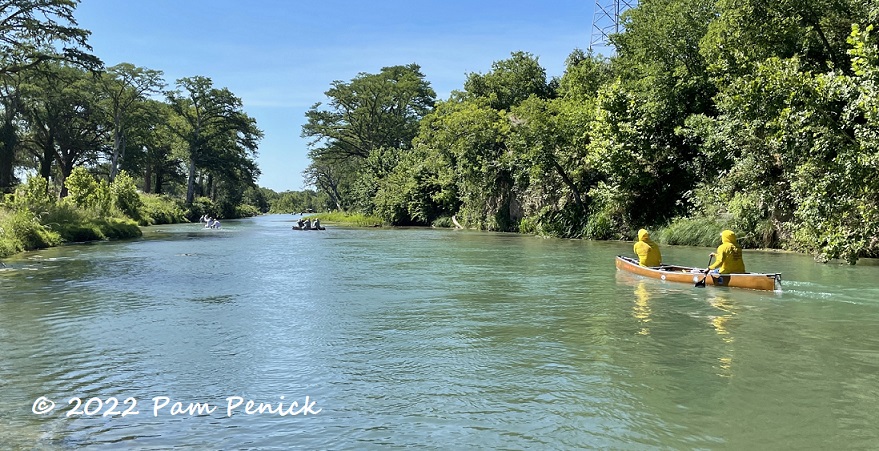 On they go…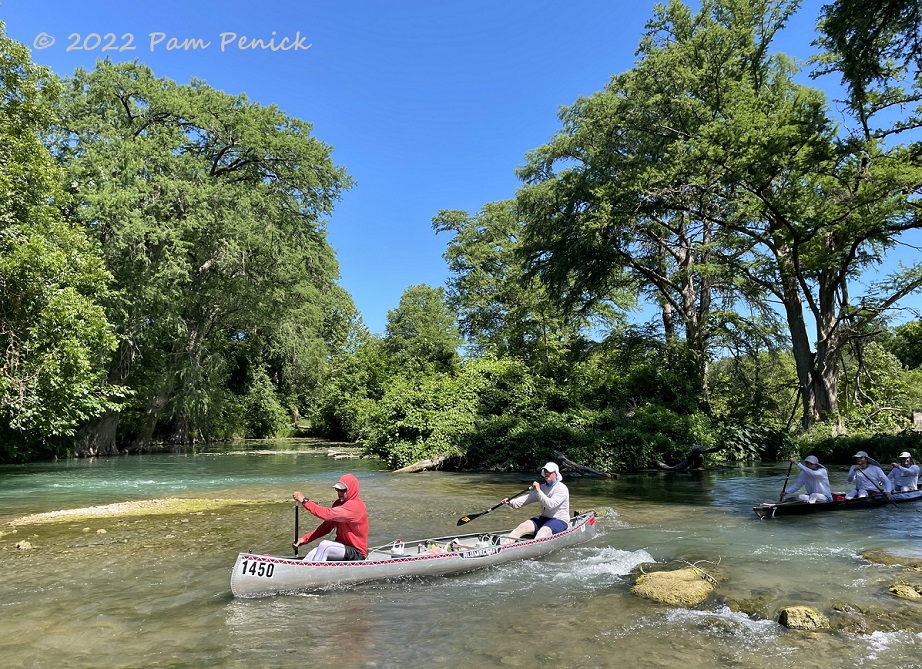 Muddy Brazos Boys coming through, with In Deep Ship close behind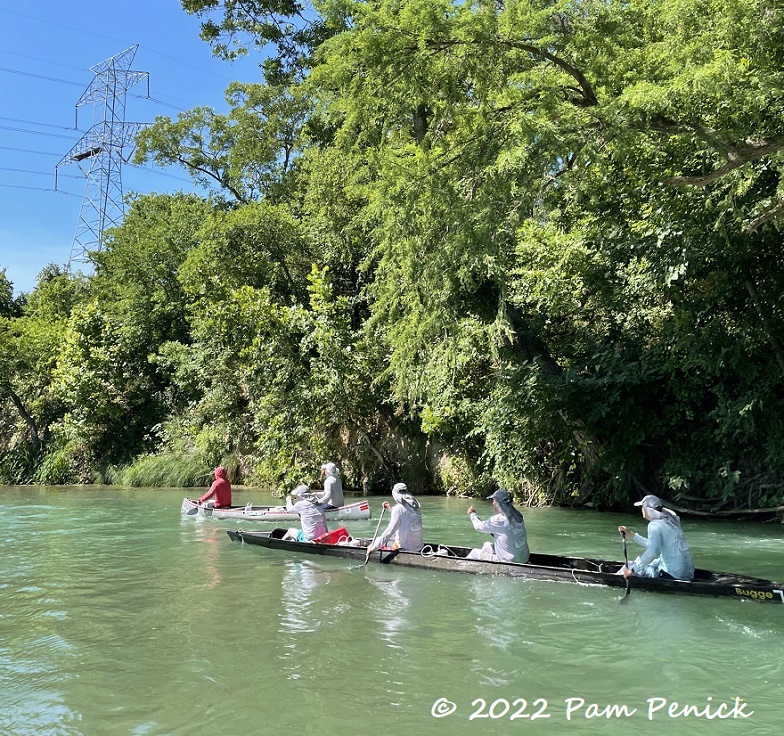 In Deep Ship poised to pull ahead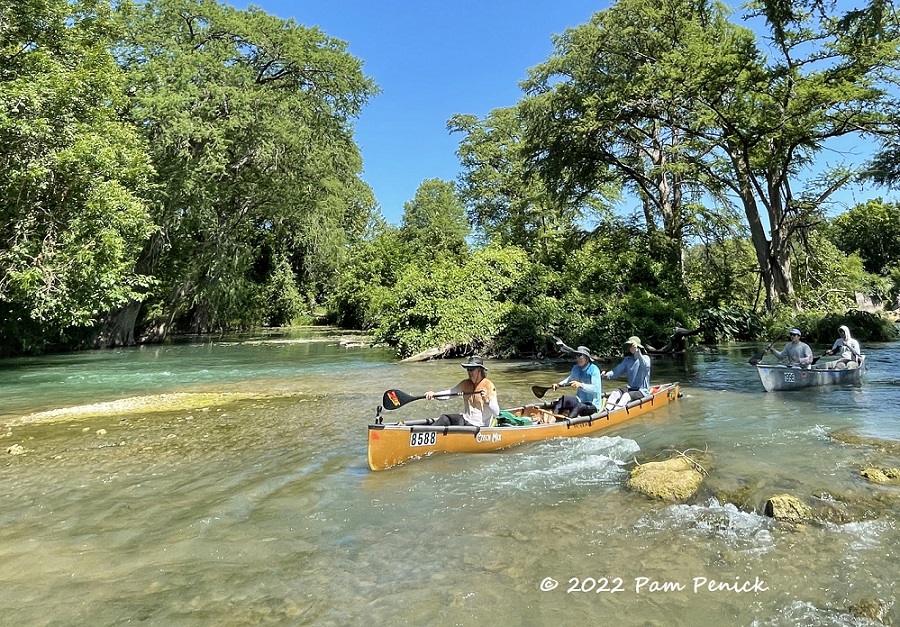 The cleverly named Czech Mix consists of a trio of paddlers named Zurovec.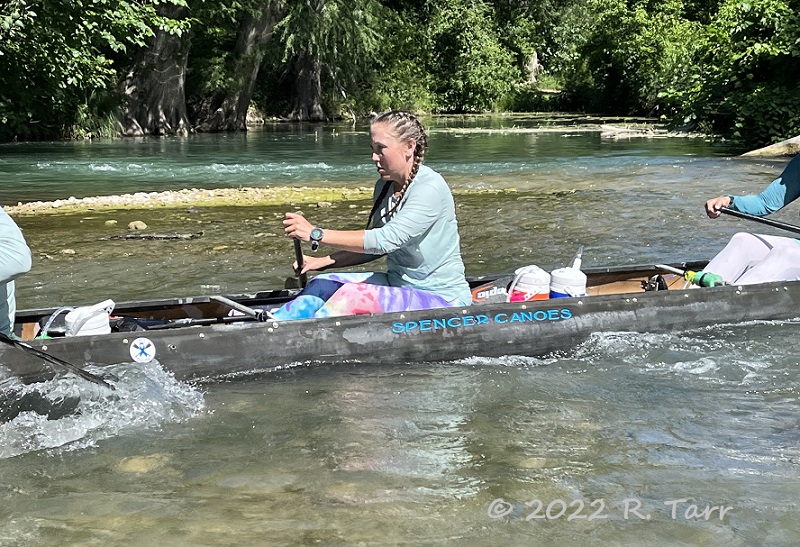 There were many punny team names, but I didn't catch them all. The faces of the competitors — focused, stoic, or smiling — were also interesting to watch.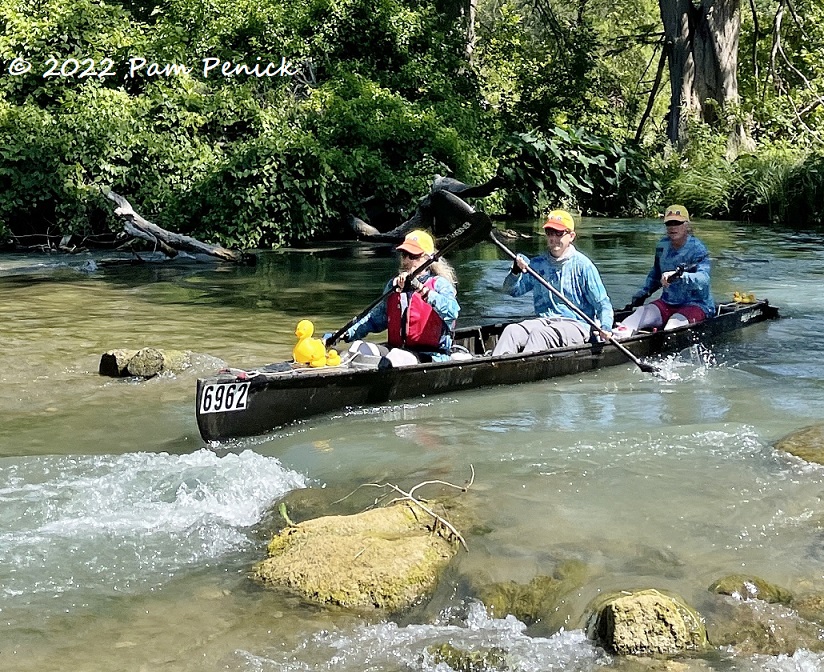 Here's Lucky Ducks wearing duck-billed hats, with rubber duckies mounted on their craft.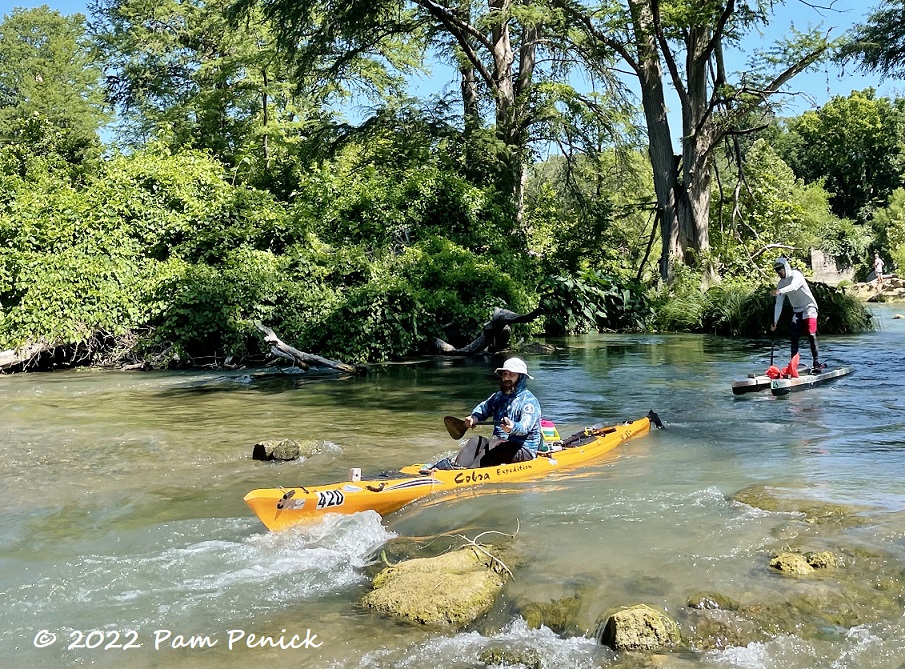 Soloists Stoner Surprise and SUP Safari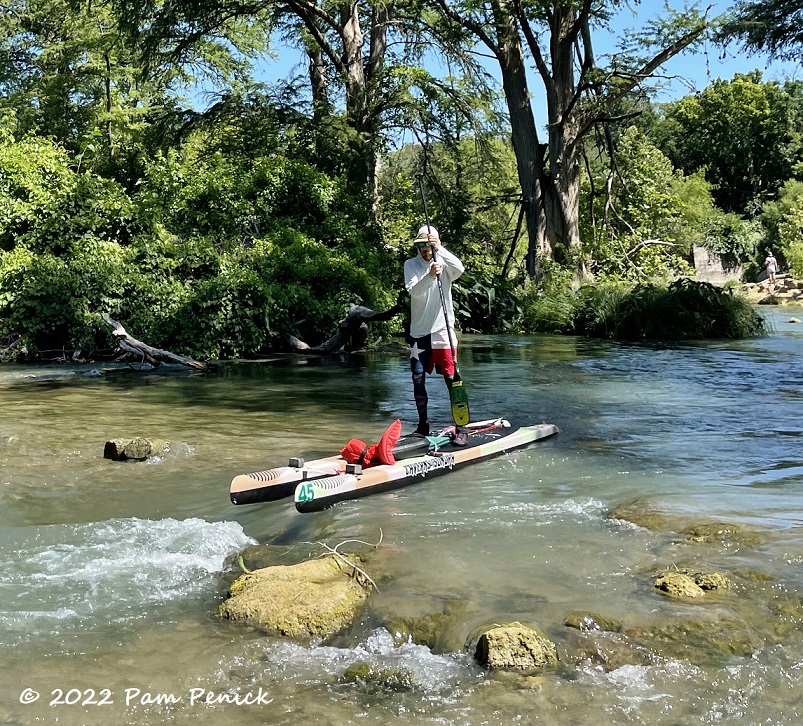 I'm trying to imagine standing on a paddleboard for 260 miles and potentially 4 days.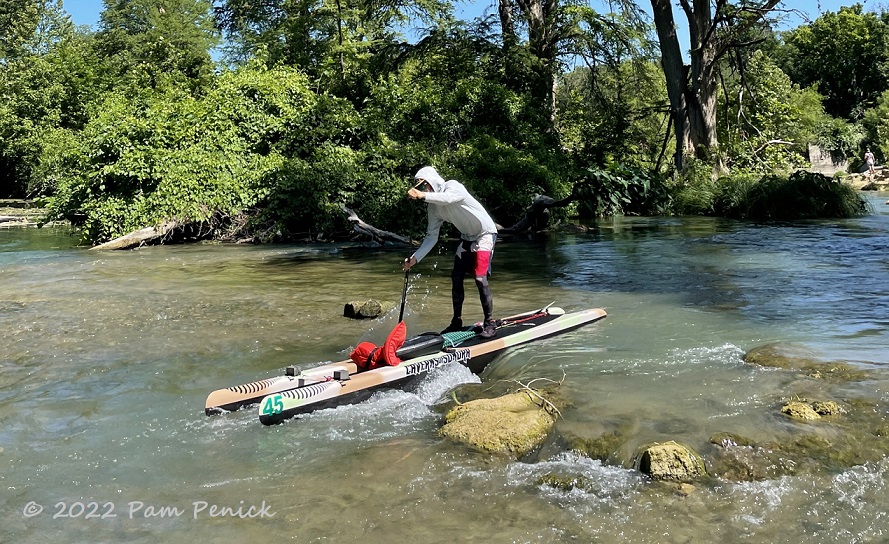 Nope, can't imagine it.
We cheered and clapped for each boat that raced by us for a couple of hours. But as the sun really started to bake, we left them to it and went inside to make lunch. Periodically that weekend, we'd look at each other and say, "They're still paddling."
The first team to reach the finish line was Black Flag, with a time of 40 hours and 56 minutes, arriving at Seadrift around 2 am on Monday morning — long after we'd returned to our homes. These folks are tough!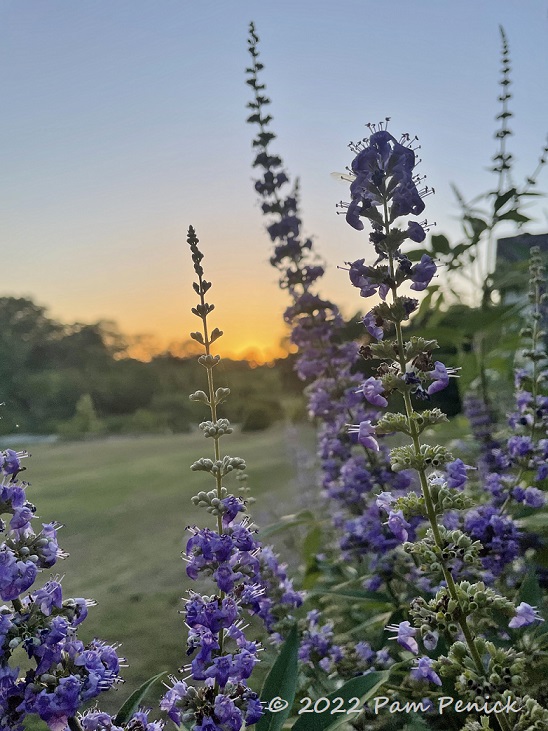 By noon the slowest paddlers had passed through, and the spectators disappeared. We spent the afternoon drifting in the cool water, watching a nesting pair of hawks in the trees, cardinals bathing in the rocky shallows, and hummingbirds zipping above us. Vitex was blooming in a well-tended flower garden by the deck.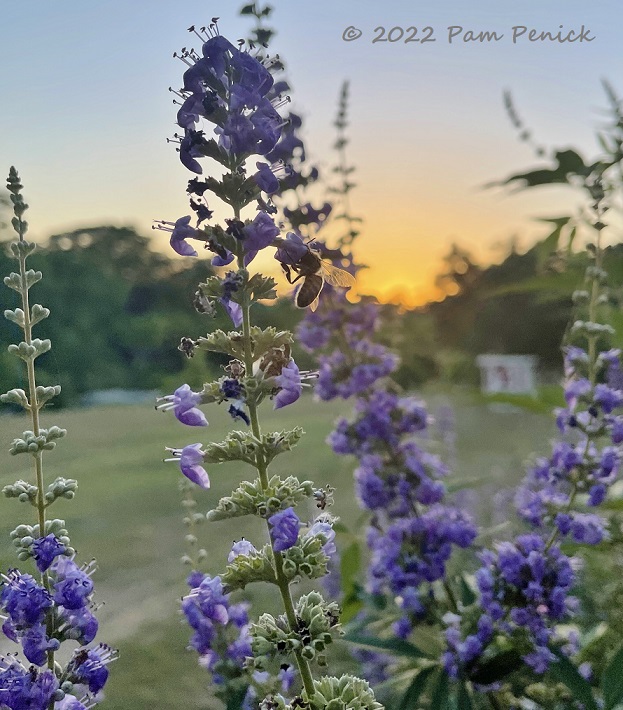 The bees enjoyed it too.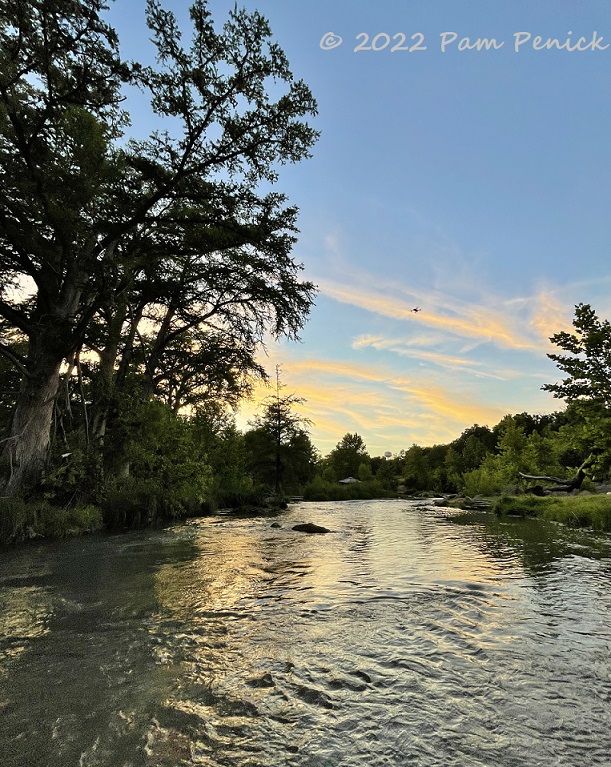 As the sun dropped low, turning streaky clouds tangerine, we gathered at the river one last time. My husband took his drone for a quick flight above the gleaming water.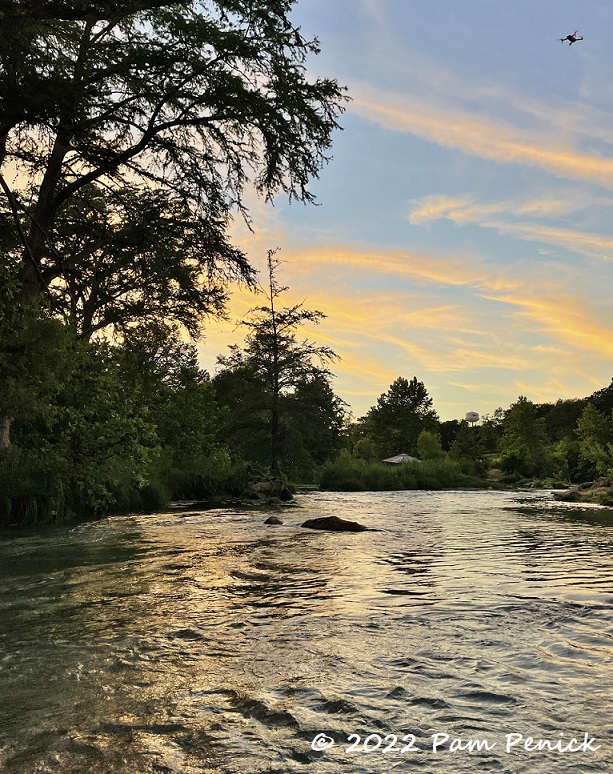 What a beautiful place, made extra special by the water race we lucked into seeing.
I welcome your comments. Please scroll to the end of this post to leave one. If you're reading in an email, click here to visit Digging and find the comment box at the end of each post. And hey, did someone forward this email to you, and you want to subscribe? Click here to get Digging delivered directly to your inbox!
__________________________
Digging Deeper
Join the mailing list for Garden Spark! Hungry to learn about garden design from the experts? I'm hosting a series of talks by inspiring designers, landscape architects, and authors a few times a year in Austin. These are limited-attendance events that sell out quickly, so join the Garden Spark email list to be notified in advance. Simply click this link and ask to be added. The 6th season kicks off in fall 2022.
All material © 2022 by Pam Penick for Digging. Unauthorized reproduction prohibited.