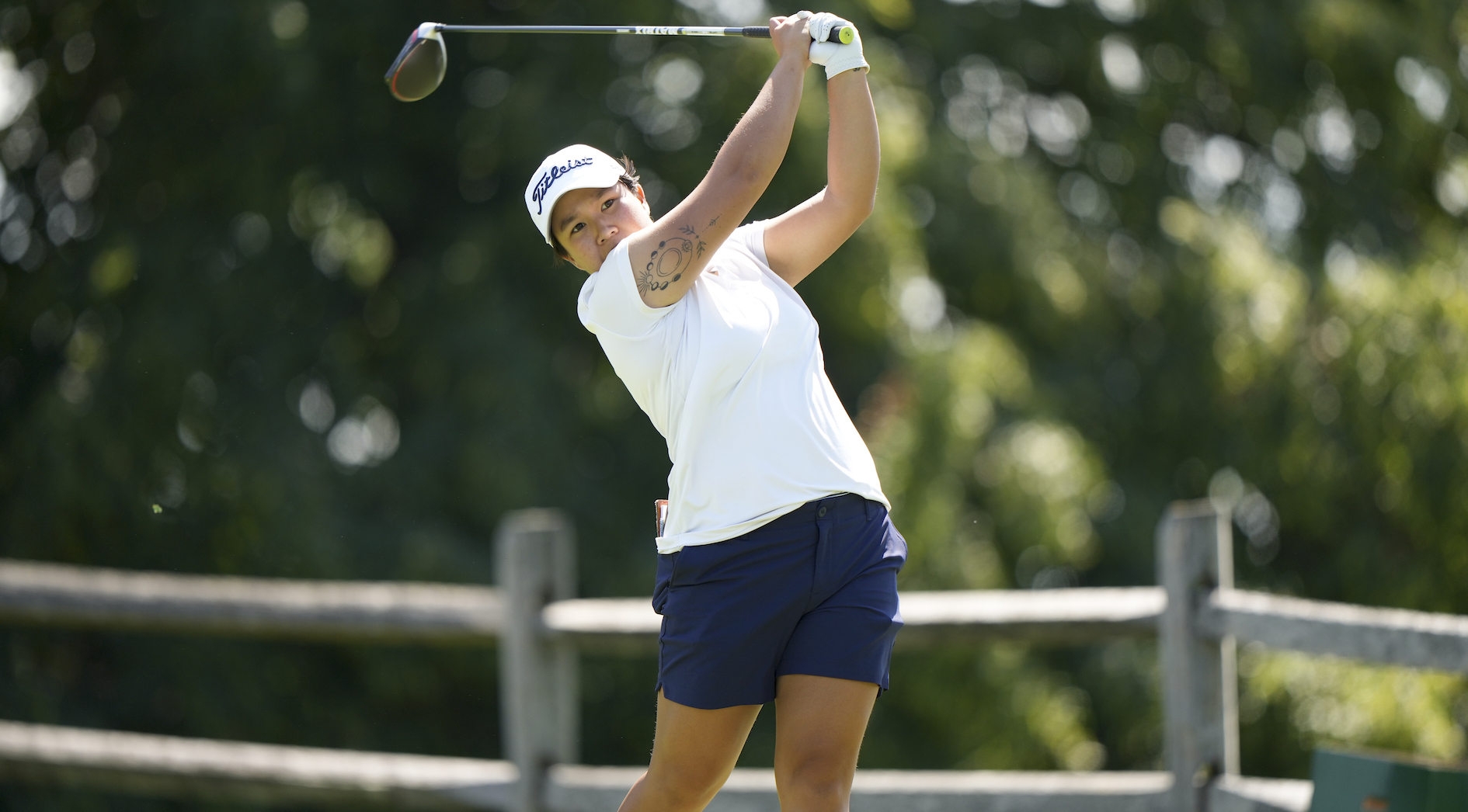 The 23-year-old from Thailand, who just graduated in May from New Mexico State, hadn't even tried to qualify before filing an application earlier this spring for the 121st U.S. Women's Amateur Championship at Westchester Country Club.
Chanachai carried the momentum from shooting 69 in her qualifier to Westchester Country Club, firing a three-under-par 69 on the West Course to grab the first-round lead. Her five-birdie, two-bogey performance left the two-time Western Athletic Conference player of the year one stroke clear of five players.
Since graduating with a degree in hotel, restaurant and tourism management, Chanachai has spent the summer working at New Mexico State's golf course to save money for a pending professional career.
"I don't want to put expectations out there. If I play good, I play good. If I play bad, I play bad. It's golf." -Suthavee Chanchai.
In fact, her only competitive round before Monday was the qualifier at Papago Golf Course in Arizona, on June 30. After this week's U.S. Women's Amateur, she hopes to make a run through LPGA Tour Q-School, which begins August 15.
"No, not at all," said Chanachai if she had high pre-championship expectations. "That's not my goal. The goal is basically focusing on the process. I don't want to put expectations out there. If I play good, I play good. If I play bad, I play bad. It's golf."
There was plenty of good golf on Monday. Chanachai said all five of her birdies were from 15 feet and in. Consecutive birdies on Nos. 4 and 5 – her 13th and 14th holes, as she started on No. 10 – pushed her briefly to four-under par before she gave back one stroke on the 324-yard seventh, a hole with one of the most challenging green complexes on the course.
"I'm just happy to be able to roll some putts in and then I have my friend (Seth Abrahmson) on my bag, too, so it's pretty fun today," said Chanachai, whose older sister, Suteera, also played at New Mexico State from 2007-11. "That's all that mattered."
The field of 156 players was greeted with a chamber-of-commerce day with bright sunshine and comfortable temperatures in the 70s (Fahrenheit) with little humidity. But winds that gusted as high as 14 mph created a challenge, along with the undulating green complexes of the Walter Travis design that was an annual PGA Tour stop for more than 40 years and the host site of the 2015 KPMG Women's PGA Championship.
Aneka Seumanutafa had an additional challenge. She was practicing at her Maryland club on Saturday when she was alerted that a spot in the field had become available due to a last-minute withdrawal. The first alternate from the Dayton, Ohio qualifier and rising Ohio State junior eagerly accepted, and was among the group who posted 70s on Monday.
Seumanutafa, who has qualified for match play in all three of her previous U.S. Women's Amateur starts, left home at 5 am on Sunday and following the four-hour ride, had more than enough time to familiarise herself with the championship layout.
"It really means a lot," said Seumanutafa, whose first U.S. Women's Amateur appearance came six years ago as a 14-year-old. "Getting that call I was just like shocked. I was so excited."
Joining Seumanutafa with 70s were Anna Morgan, the runner-up in last month's Women's North & South Amateur at Pinehurst No. 2; Californians Hailey Borja and Brooke Seay; and rising high school senior Bridget Ma.
Seay, a rising junior at Stanford University, is making her sixth start in the championship, the most of any competitor.
Seven players posted one-under 71s, including 2020 quarterfinalist Riley Smyth and 2020 Women's North & South Amateur champion Rachel Kuehn.
© Golf Australia. All rights reserved.