The How And Why Of Mobile Learning
What you are about to read is a fable. The company, AshCom, is fictional, but the mobile learning challenges faced by Kathryn, AshCom's CLO, and her team are real and commonly shared by learning teams in corporations, non-profits, associations, and education.  It is our hope that you will be able to connect with the characters, their challenges, and the solutions they discover. We also invite you to read the first eBook in the series.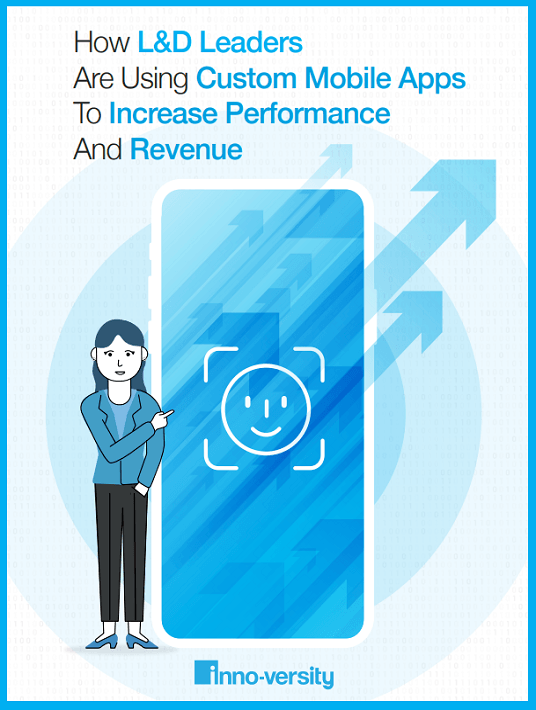 eBook Release
How L&D Leaders Are Using Custom Mobile Apps To Increase Performance And Revenue
Leverage mobile apps to boost employee performance and shore up organizational gaps!
The Business Bond
Kathryn studied the framed photo sitting on her desk. Taken at the summer company picnic, the snapshot pictured the relaxed, smiling faces of her team, and it reflected the warm bond present between them. Kathryn was proud of the learning team she had assembled in the last five years in her role as Chief Learning Officer at AshCom.
Maggie, her Senior Instructional Designer, preceded Kathryn by 15 years and had worked in HR before becoming the first full-time person dedicated to learning. Alishia was a recent college graduate and was working on a master's degree in instructional design with a heavy emphasis on technology. Michael, a retired college professor, had spent more than a decade in the administration focused on curriculum development.  Kathryn had learned to rely on him as her trusted advisor.
When AshCom first set out to make the transition to digital learning, Kathryn brought in Amy as a consultant. Amy worked with other clients and could give Kathryn instant benchmarking with what other companies were doing. In a pinch, Amy could step into the role of instructional designer and had done just that at various points along AshCom's journey.
The New Team Members
When AshCom acquired Globex, Kathryn interviewed the four-person learning team from Globex and made job offers to three of the four. Mainly, she wanted more instructional design expertise, and she got it. Martina, Darryl, and Adeena had been at Globex together for more than five years. Martina was not only a solid instructional designer, but she was also an artist in her own right. Two of her paintings had been on display in the Globex office and now hung in the offices of AshCom.
Darryl had a strong background in graphic design in addition to his degree in instructional design and often spent time with Martina focusing on the look and feel of the learning experiences being created.
As a systems thinker, Adeena's strengths were in project management. She worked closely with Kathryn in keeping the creative process moving forward but also contributed her fair share of instructional design.
Kathryn's team adjusted well to their new members, and Marina, Darryl, and Adeena seemed comfortable in their new roles. It had only been six months but so far, so good.
Staying Positive
Kathryn set a meeting with her team for Wednesday morning. A believer in shorter meetings held more frequently, she told her team they would need 45 minutes for a discussion related to sales learning.
When everyone arrived at 10 a.m., Kathryn promptly started the meeting. "I want to begin by saying I appreciate how much progress we've made as a team in the last six months. Not that we haven't had a bump in the road a time or two…," she paused, and everyone smiled before she continued, "…but we drove right over them and kept moving."
Kathryn continued, "Adeena, Martina, and Darryl, it occurred to me this morning that you've not seen me do what I'm about to do. I'm going to tell you about a conversation I had with Ronda, our VP of Sales, related to mobile learning and then we are going to discuss what mobile learning means to each of us. There is one caveat: At this meeting, we can only mention the positives. I want us to nail down all the advantages of mobile learning experiences."
At this, Kathryn's original team nodded their heads knowingly. They had seen her do this before. The new team members looked perplexed. Kathryn explained, "Don't worry, you will have another meeting to talk about the downsides of mobile learning. I've found that weighing pros and cons in the same meeting usually leads to the cons outweighing the pros or people taking one side or another. Maybe that's because it is easier to think of cons. It helps us focus on one thing at a time and keeps some people from being pro and some people from being con. We will do both together. Anyway, you'll get used to it. I usually do this when we are thinking about a really big idea. And mobile is a really big idea."
The Challenge
Kathryn then walked them through Ronda's challenges in building the learning opportunities for the combined sales force of AshCom. The sales system and software of AshCom were different from what Globex used. Furthermore, Ronda intended to implement her own sales system, which was different than both. She was brought into AshCom eight months prior to put her system in place, but she worried about undoing previous habits and getting her team to embrace her system. There would be serious obstacles to creating a new sales culture, approach, and structure.
The second challenge had to do with Ronda's account executives' geographic diversity. All 286 of them were spread around the United States and Canada. Only a handful were close to Minneapolis, the headquarters of AshCom.
The sales people already spent a lot of time on the road, but it was Ronda's intention to increase that. She was a big believer in developing relationships with their customers and the best way to do that, she felt, was to be face-to-face.
The learning solution would need to be highly accessible and easily searchable.  Without these features, the account executives would slide back into their old patterns, and Ronda's system would not be embraced and practiced.
Anytime. Anywhere, Any Device: The Benefits Of Mobile Learning
With that, Kathryn stood, walked to the whiteboard, and wrote "Anytime.  Anywhere. Any device."  "This," said Kathryn, "is what Ronda needs us to deliver. And that can only be accomplished by mobile. Sales is the lifeblood of our company, and it is clear from the owners of AshCom that it is our task to give them whatever they need."
With that, she sat down and gave those in the room a moment to process.
Adeena was the first to respond. "So, the idea is for us to think through all the benefits and none of the negatives of mobile learning related to the new sales training, or as we are now calling it, learning experience?"
Amy responded before Kathryn could speak. "Yep.  I think you'll find this to be a
worthwhile exercise. I thought it was a little odd when Kathryn first did it, but I've come to appreciate the results."
"OK," said Martina. "How do we begin?  Raise our hands?" Everyone laughed.
"Not quite," said Michael. "This is where the sticky notes come in.
Kathryn handed each person in the room ten sticky notes of various colors. "The assignment is simple. Given what each of you knows about mobile learning, please share ten benefits of mobile as a delivery system for learning experiences. This shouldn't take more than three or four minutes. Pens are on the table if you need them. When you are done, just put them up on the wall. Oh, and one more thing, Ronda from sales already covered 'Anytime. Anywhere. Any device.' so you can't include those."
A Sticky Situation
For two minutes, the room was silent. Alishia was the first to stand and put her notes on the wall. The others soon followed. They spent the next five minutes grouping the sticky notes into general topics. Eight people with ten notes each of various hues made for one colorful wall.
User Friendly
Already used to this – not new technology
Better retention – learning in the moment you need it
Collaboration and social learning
Better performance
Delivered in real time
Connects better with younger learners
The way of the future
Convenience
Spare time opportunity
Perfect for Microlearning
Saves time
The 45 minutes Kathryn scheduled were up. She thanked everyone and told them if anything else occurred to them, they were welcome to add additional thoughts. She also told them they would meet again on Friday¾ same topic, different angle. They would focus on the cons of mobile learning. She encouraged her team to do some reading and thinking in preparation for the meeting, and everyone went back to their desks.
Conclusion
To read the rest of the chapters in this series on Mobile Learning and to see Kathryn and her team solve their challenges, please download the eBook How L&D Leaders Are Using Custom Mobile Apps To Increase Performance And Revenue. It can help you determine if custom mobile learning is the right approach for your organization and uncover tried-and-tested methods.