Get ready for the Best French Toast Casserole Ever! This is an easy way to get delicious french toast for the whole family! The best part? It only takes 15 minutes to get in the oven and can even be prepared the night before!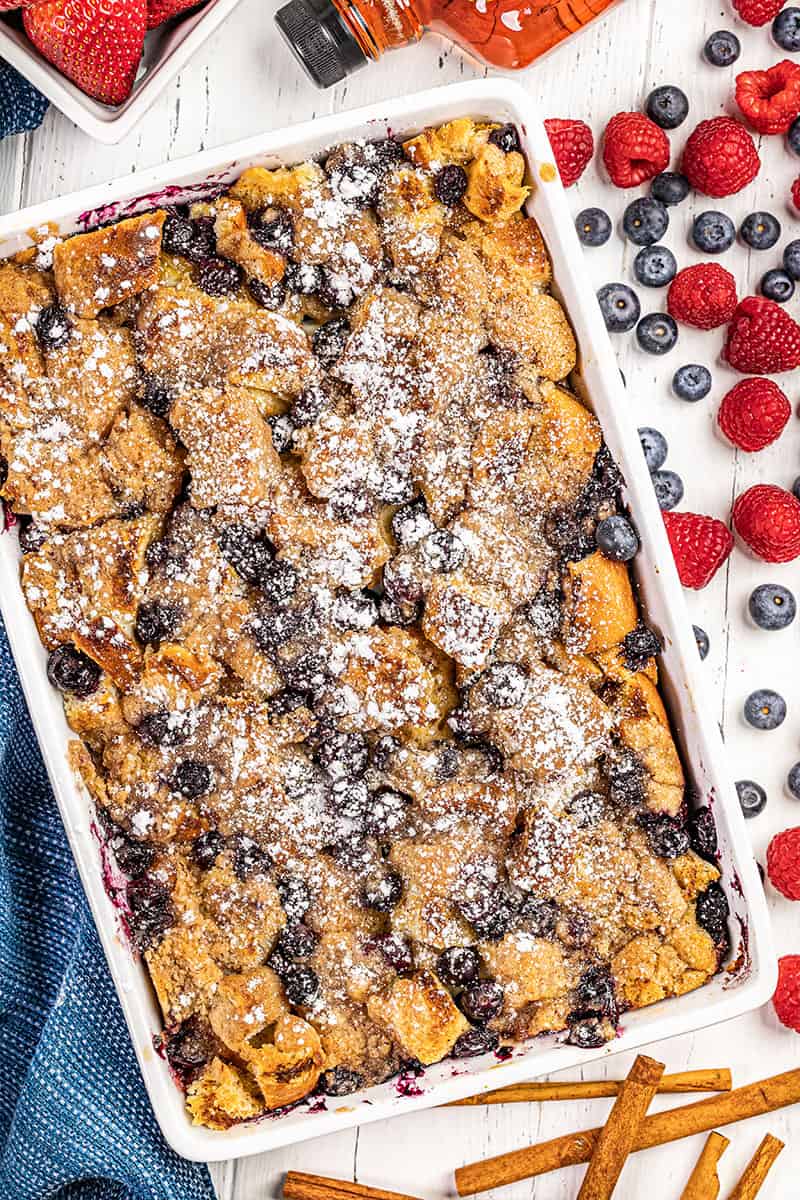 It seems that everyone grew up on French toast. It is certainly considered one of the classic hot breakfast foods from our childhood. However, it wasn't really something we grew up eating ourselves! Breakfasts were traditionally quick and easy to make busy mornings less hectic. As parents, we completely understand the dilemma of choosing a filling hot breakfast or a quick bowl of cereal. Too bad our parents hadn't heard of breakfast casseroles. You still get a hot and filling breakfast, but it's all hands off cooking time in the oven! Prepare your casserole the night before so that when you wake up you can simply put it in the oven and let it do the work for you. 
Flavor Options for French Toast Casserole:
A really fun twist is to use sweet flavored coffee creamers instead of a homemade liquid spice mixture. To do this add 2 ½ cups of your favorite coffee creamer and 8 eggs together for the mixture instead. Give it a try, you won't be disappointed!
Egg Whites Only?
While we prefer to use whole eggs, you can always use egg whites only. Substitute 2 egg whites for every 1 egg called for in the recipe.
Bread Options:
You can use any kind of bread to make this French Toast casserole. French bread and other bakery-style bread work in addition to sliced, sandwich-type bread. If you want something extra special, use challah bread or sourdough bread. Yum!
Berries:
Adding in berries is optional. In our home, we prepare half the dish with blueberries and half plain. You can use frozen berries, but keep them smaller in size. You don't want a full cooked strawberry, but just pieces of it. 
Make Ahead Instructions:
You can make this up to 24 hours ahead of time. Prepare as directed but do not bake. Cover the uncooked casserole with plastic wrap and refrigerate for up to 24 hours. When you are ready to bake, remove the plastic wrap and bake normally. This casserole is perfect for holiday mornings and busy weekends.
PRO TIP: The syrup you use can make all the difference. For a French Toast casserole that will absolutely knock your socks off, use our recipe for Liquid Cinnamon Roll Syrup. It'll blow your mind!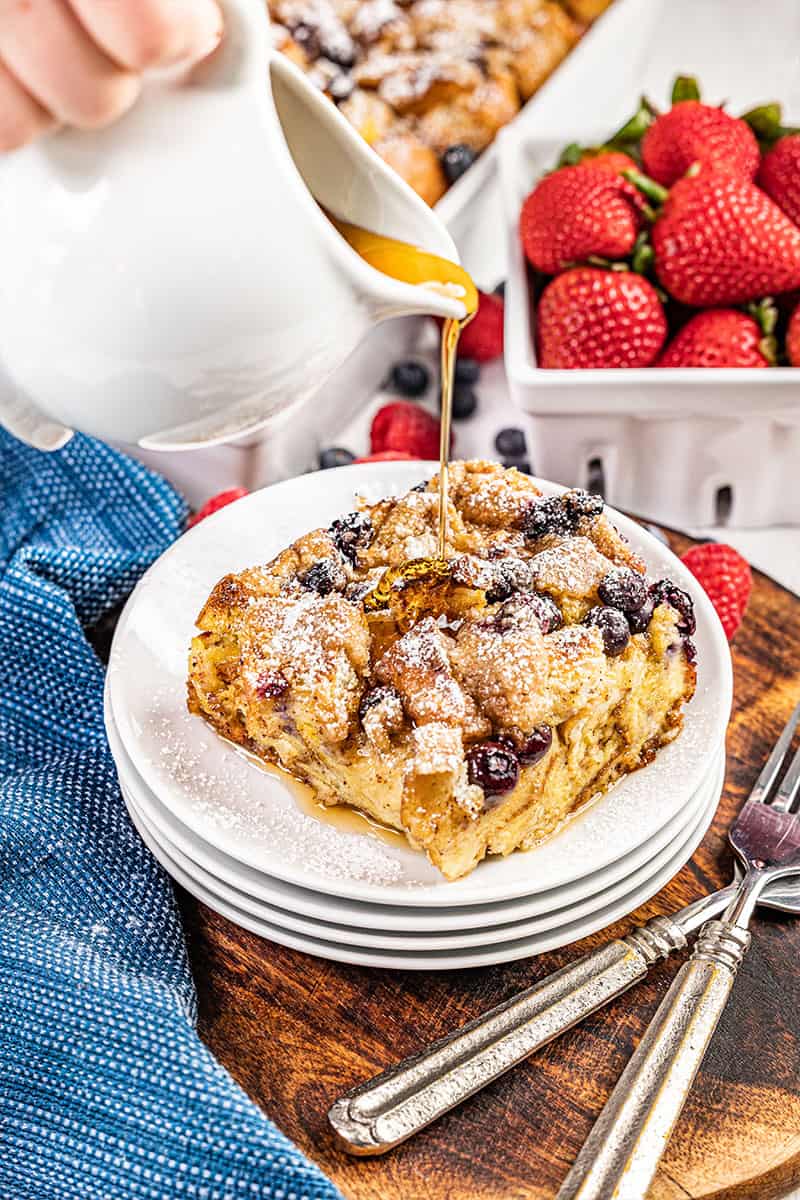 Storage and Reheating Instructions:
French toast casserole is best eaten fresh. Store any leftovers in an airtight container in the refrigerator for up to 4 days. Reheat single servings in the microwave in 30 second increments until warmed through.
If you like this recipe, you may be interested in these other perfect breakfeast recipes:
Watch the video below where Caytlin will walk you through every step of this recipe. Sometimes it helps to have a visual, and we've always got you covered with our cooking show. You can find the complete collection of recipes on YouTube, Facebook Watch, or our Facebook Page, or right here on our website with their corresponding recipes.