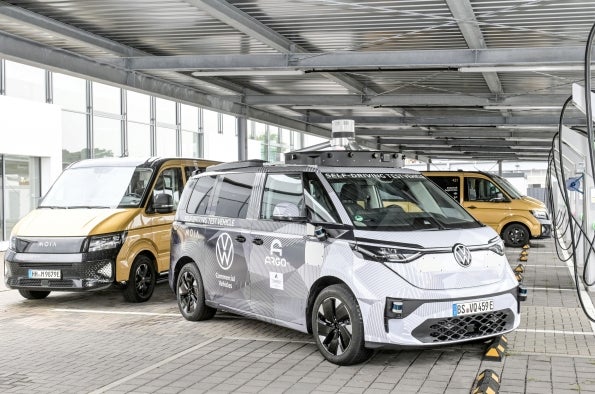 Among Volkswagen's battery-electric ID lineup, perhaps no model has caused quite as much excitement as the ID.Buzz. This part-van-part-MPV is both visually and thematically positioned as the spiritual successor to the popular Type 2 Transporter, which became an icon of mid-20th-century motoring thanks to its flexible interior and 'cute', rounded styling. After years of teasers and previews, VW has finally begun full production of the ID.Buzz at its Hanover commercial vehicle factory, with the first models destined to hit the European market later in 2022. The company expects early production to be modest, with estimates for 2022 hovering maxing out at around 15,000 models, but could be fewer if there are any speedbumps in the production ramp up. Ultimately, VW believes the Hanover line could produce as many as 130,000 ID.Buzz models per year, split between passenger and cargo versions. Looking to our latest sales forecasts for the new model, we foresee VW reaching this level of sales around 2030. Typically, for a new model, we expect sales to rapidly ramp up towards the start of its lifecycle as consumer hype will be the greatest at this point.
Some EVs aim to offer long driving ranges or rapid acceleration, but a growing number are leaning into the luxury angle as a means to draw in potential buyers. Models including the Lucid Air and Mercedes EQS are emphasizing their larger interiors compared to ICE luxury cars, made possible by using a BEV skateboard platform. Equally most range-topping EVs come with powerful yet silent battery-electric powertrains, further enhancing their luxury image. Packing luxury features into EVs allows automakers to sell a smaller number of vehicles at a higher price with a greater profit margin compared with mass-market models. This strategy is well suited to BEV models that typically cost more to build than an equivalent ICE vehicle, and means current cell supply constraints will have less of an impact on production numbers. Into this environment, Cadillac plans to launch the 2023 Celestiq – a new luxury flagship sedan for the historic American brand. Little is known about the Celestiq other than the scant details Cadillac announced in a recent press release, however, there are some significant clues in the reveal that indicate what to expect from Cadillac's latest standard-bearer.
Indonesia's National Development Planning Agency (Bappenas) this month recommended the government phase out the sale of new internal combustion engine (ICE) vehicles by 2040, as part of its broader strategy targeting net zero emissions by 2060. Such a policy, it claims, would benefit not only the environment but also the country's economy by reducing its dependence on imported fossil fuels and by making more of its natural resources. The agency expects that more than half the 96 billion litres of fossil-fuel it estimates will be consumed by the country's transportation sector in 2030 will be imported. In the mid-1990s Indonesia was still a net oil exporting country. Under the Paris Agreement in 2015 the Indonesian government pledged to cut its greenhouse gas emissions by 29% by 2030 on its own, or by 41% with international assistance. Bappenas suggested that by 2055 as much as 90% of vehicles in use would need to be zero-emission vehicles, powered either by batteries or by hydrogen fuel cells, if the country is to achieve its long-term emission targets. The challenges are significant, given that the country lags behind most major global economies in the area of vehicle emissions.
Attention is turning towards the role of OEMs in the cybersecurity chain when it comes to strengthening digital defences for vehicles. Cybersecurity in vehicles must be extensive, defending both the frontend and backend of vehicle systems and all the infrastructure upon which connected cars rely. But cybersecurity is competing for attention with many other major automotive issues, which means many automotive companies are not sufficiently protected. However, best practices will be introduced over the next decade, giving automotive companies the chance to change.
In early 2021, reports began to circulate that US-based electric vehicle (EV) manufacturer Rivian was planning to open a new factory in Europe. The new site is expected to initially produce the delivery vehicle that Rivian is developing for Amazon, although it will eventually manufacture vehicles for private customers. The company is rumoured to have scouted locations in Germany, Hungary and the UK. There are also reports of a possible collaboration with Netherlands-based VDL Nedcar, which currently produces cars for BMW. Investment Monitor analysed 10 of Europe's top automotive FDI destinations to assess which is the best location for Rivian's new facility.
Denso has developed technology for wireless power transfer devices to automatically charge EV batteries when stationary or on the move. EV users are familiar with the challenges related to finding charging stations, particularly in cities or countries where EV uptake is still low. This lack of charging points, combined with range anxiety that comes with it, are some of the key considerations for potential buyers. While it may not pose a problem at this time, it may become a key concern as EVs go into wider use.One of the benefits of self-charging hybrid cars is being able to charge the batteries while driving. While the science behind how these self-charging systems work for hybrid and EVs is very different, the concept is similar. It also reduces the likelihood of range anxiety, empty battery related breakdowns, long charging times and social or work-related stresses that traditional EVs which require stopping-to-charge may bring. Dynamic wireless power transfer has the potential to revolutionise the way EVs integrate into our daily transport routine.
Porsche Cars North America is recalling 12,490 2020-2022 Taycan vehicles. A software error could cause the centre screen (including rearview camera image) and the touch control panel remain to black directly after the ignition is activated. Also, the Real-Top-View (including rearview camera image) could display a flickering image. Other notable recalls published this week included Chrysler and Ford models.
Toyota Motor has announced further cuts to its production schedule for June and July, citing parts shortages caused by the recent Covid outbreak in Shanghai. The automaker said, in addition to cuts announced last month, it would halt production on 11 assembly lines at seven plants in Japan for a further 11 days in June and July. The company now expected its global vehicle output would be cut by an additional 40,000-50,000 units to 750,000 units in June, from an already reduced output schedule of 800,000 vehicles announced in May and 1,000,000 units expected at the beginning of the year. The plants affected include the Motomachi, Takaoka, Tahara, Iwate and Yoshiwara facilities, which produce a broad range of Toyota and Lexus passenger cars and SUVs.
A fuel cell truck generates its own electricity from the hydrogen onboard instead of being charged from an external source. The only biproduct emitted is water vapour.
To decarbonise transport, Volvo Trucks already today offers battery electric trucks and trucks that run on renewable fuels, such as biogas. In the second half of this decade, a third CO2-neutral option will be added to its product line – fuel cell electric trucks powered by hydrogen. The fuel cell electric trucks will have an operational range comparable to many diesel trucks – up to 1,000 km (600 miles) – and a refueling time of less than 15 minutes. The total weight can be around 65 tons or even higher, and the two fuel cells have the capacity to generate 300 kW of electricity onboard. Customer pilots will start in a few years.
The latest data on light vehicle sales in Russia showed a continuation of the sharp decline that has followed war in Ukraine and Western sanctions. Figures released by the AEB in Moscow show that the Russian light vehicle market (cars and LCVs) decreased by 83.5% compared to May 2021 with just 24,268 units sold. May's decline follows an April drop of 78.5% (32,706 units sold) and drop of 62.9% in March (55,129 units sold). Unlike the usual practice, the AEB press release containing the data was notably devoid of any comment on the data or market trend from a member of the AEB Automobile Manufacturers' Committee. Market leader Lada achieved sales of 6,012 units in May (a decline of 84% against last year).
Have a nice weekend.
Graeme Roberts, Deputy Editor, Just Auto