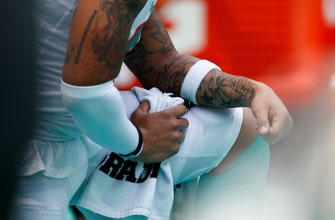 The Latest on NFL Week 1 (all times local):
1:10 p.m.
One game won't make or break a season. But winners of Week 1 games are historically more than twice as likely to reach the playoffs than teams that lose their season openers.
Since 1978 when the league went to a 16-game schedule, 52 percent of teams that won their opener made it to the playoffs while only 24 percent of Week 1 losers reached the playoffs.
The Denver Broncos own the league's best opening day record at 39-19-1 and the NFL's longest active winning streak in openers at seven. They'll try to make it eight straight when they open at Oakland on Monday night.
The longest active winning streak in the NFC belongs to the Packers, who won their fifth straight opener 10-3 at Chicago on Thursday night to kick off the NFL's 100th season.
Bears fans can take solace in knowing that nine teams that lost on opening weekend ended up winning the Super Bowl.
—Arnie Stapleton reporting from Denver.
1 p.m.
A couple of players knelt during the national anthem on opening weekend, continuing their quest to call attention to social and racial injustice.
Dolphins receiver Albert Wilson took a knee in Miami. It was the Dolphins' first game since they traded Wilson's teammate, Kenny Stills, who has also been kneeling before games and has been outspoken on the subject of social injustice.
The game was the first for Wilson since he suffered a hip injury last October that ended his 2018 season.
In Charlotte, Panthers safety Eric Reid continued his tradition of kneeling for the national anthem. Reid initially started kneeling alongside Colin Kaepernick in 2016 when they were teammates with the San Francisco 49ers.
—Steve Wine in Miami and Steve Reed in Charlotte, N.C.
script.async = false; script.src = url;
//Attach the script tag to the page (before the first script) so the magic can happen. let firstScript = document.getElementsByTagName('script')[0]; firstScript.parentNode.insertBefore(script, firstScript);
}; let googlePixelLoader = function(){
window['google_conversion_id'] = 832239217; window['google_conversion_label'] = "TccACP23rXkQ8ezrjAM"; window['google_remarketing_only'] = false;
getScript(window.location.protocol + '//www.googleadservices.com/pagead/conversion.js'); }; let fbPixelLoader = function(){ /* from https://fng-jira.fox.com/browse/FSCOM-12494 - Facebook Pixel Code */ !function(f,b,e,v,n,t,s) {if(f.fbq)return;n=f.fbq=function(){n.callMethod? n.callMethod.apply(n,arguments):n.queue.push(arguments)}; if(!f._fbq)f._fbq=n;n.push=n;n.loaded=!0;n.version='2.0'; n.queue=[];t=b.createElement(e);t.async=!0; t.src=v;s=b.getElementsByTagName(e)[0]; s.parentNode.insertBefore(t,s)}(window, document,'script', 'https://connect.facebook.net/en_US/fbevents.js'); fbq('init', '161811331078914'); fbq('track', 'ViewContent',{content_name:'Mobile_App_Install'}); };
(function(b,r,a,n,c,h,_,s,d,k){if(!b[n]||!b[n]._q){for(;s<_.length;)c(h,_[s++]);d=r.createElement(a);d.async=1;d.src="https://cdn.branch.io/branch-latest.min.js";k=r.getElementsByTagName(a)[0];k.parentNode.insertBefore(d,k);b[n]=h}})(window,document,"script","branch",function(b,r){b[r]=function(){b._q.push([r,arguments])}},{_q:[],_v:1},"addListener applyCode banner closeBanner creditHistory credits data deepview deepviewCta first getCode init link logout redeem referrals removeListener sendSMS setBranchViewData setIdentity track validateCode".split(" "), 0); let branchData = null; branch.init('key_live_acdMtqDFnx4gILoc1Rq9VbckBtmjzNok', function(err, data) { branchData = data; }); branch.addListener('didShowJourney',function(){ let iframe = document.getElementById('branch-banner-iframe'); let btn = (typeof iframe.contentDocument !== 'undefined') ? iframe.contentDocument.getElementById('branch-mobile-action') : iframe.contentWindow.document.getElementById('branch-mobile-action'); btn.addEventListener('click',function(ev) { if(ev.preventDefault) ev.preventDefault(); if(typeof window['adwordPixelEnabled'] === 'undefined') { googlePixelLoader(); fbPixelLoader(); // set to load only once after one click window['adwordPixelEnabled'] = true; } // install only if(branchData && !branchData.has_app) { FsBeacon.DoubleClickFloodlightTracking().fire(); } }); }); } }());
Credit: Source link