FN-2199 never stood out from the rest of his squad until the day FN-218 (aka. Finn) deserted the First Order. FN-2199 took it personally and swore revenge. In other words, FN-2199 is the Stormtrooper who yells "Traitor!" in Star Wars: The Force Awakens and proceeds to wail on Finn with a riot baton, only to be unceremoniously blasted in the back.
While most audiences only know of FN-2199 from his fight scene in The Force Awakenshe was introduced in the novel Before the Awakening. FN-2199 also went on to cameo in film novelizations, such as The Force Awakens: Finn's Story. However, these don't expand on his character all that much. LEGO Star Wars: The Skywalker Saga is the most action he's ever gotten.
FN-2199 demonstrates how a single line of dialogue can elevate an otherwise unexceptional character into the pop culture zeitgeist. Although, most audiences thought his name was "TR-8R" because, well, it phonetically sounds like his only line in the movie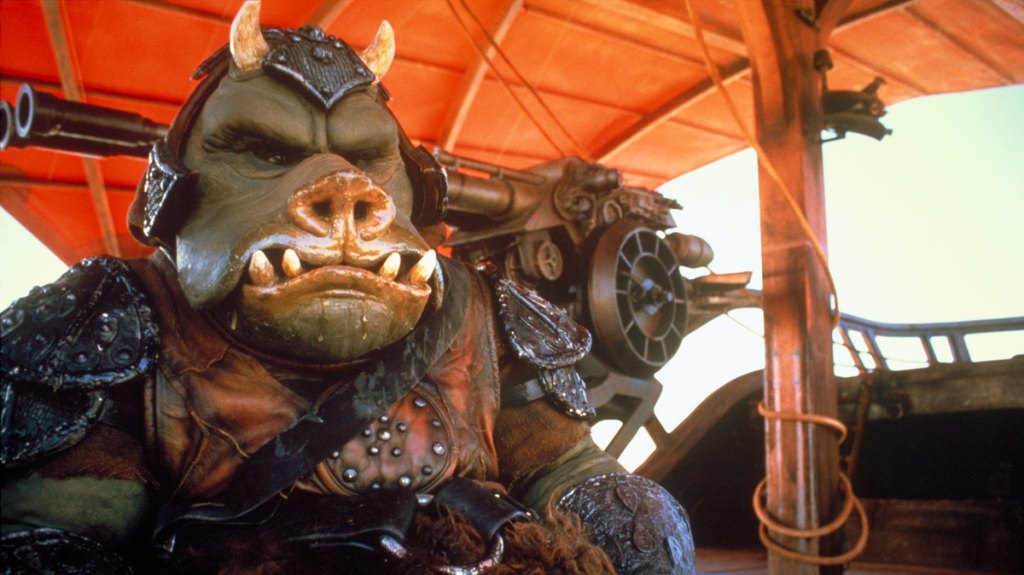 Jubnuk
While the Empire is Star Wars' most famous antagonistic force, some of the franchise's greatest villains are a little more independent. For instance, Jabba the Hutt is a notable crime lord with access to an army of disposable, identical enforcers known as the Gamorreans. These brutish, pig-like aliens littered Jabba's palace, and the only one who stood out was Jubnuk, but not for the reasons you think.
Jubnuk, like all the other Gamorreans in Jabba's palace, was a bodyguard. He wasn't addressed by name in Star Wars: Return of the Jediso why is he even somewhat important? Well, it's because he was later eaten by a Rancor. Seriously, that's it. However, Jubnuk's fate differs depending on who you ask. According to the official Star Wars lore librarian Leland Chee (via Twitter), Jubnuk is dead in the franchise's current canon. Originally, however, Jabba's Palace Pop-up Book (which gave the Gamorrean his name) stated he survived the Rancor's stomach acid. Good thing, too, because in the expanded universe canon, he had a wife and children who bunked with him in Jabba's Palace.
Even if Jubnuk didn't get to outlive his employer in the current franchise's canon, at least he has been immortalized in LEGO Star Wars: The Skywalker Saga.