Having taught for 13 years, I've seen a lot of changes in education. And I'm someone who likes to try new things. Over the years, I've done everything from flipping my classroom to flexible seating (I love both!). But as a middle school social studies teacher, so much of what I do is lecture-based. I felt like I was still missing that student-centered piece, and I didn't really know what that looked like.
So when my colleague told me about a free online class from Modern Classrooms—a non-profit founded by two public school teachers, focused on putting students at the center of their learning—I decided to check it out. I was not disappointed.
Completing the course
In the Modern Classrooms online course, they share a roadmap to implementing self-paced, mastery-based learning. Educators create their own instructional videos and provide individualized support to students as they go through the unit. I decided to give it a go over my spring break. As I made my way through the materials, I kept thinking about specific students and how self-pacing could really help them be more successful.
I thought of one student in particular who has special needs and struggles in a traditional classroom. He just can't seem to keep up with the amount of work I assign. By classifying my activities based on importance, I could give him fewer things to concentrate on during the unit and provide personalized support on his own individual path toward mastery. I knew this was going to be huge for my English language learners as well.
Because the course itself is self-paced, I was able to work through it in a week. (And I walked away with a certificate stating that I completed 5-10 hours of professional development). By the end of the course, I felt ready to implement the method with my students.
Trying self-pacing in my classroom
In Modern Classrooms, you self-pace within a unit of study. I just so happened to be ready to start a new one, so I decided to kick off with 19th Century Japan through World War II. When building out my unit, I divided the work into Must Do, Should Do, and Aspire to Do activities.
For this particular unit, I created short videos to explain new content and used nonfiction articles with questions as the non-negotiable content essential to the end-of-unit assessment. To deepen their skills or knowledge, I provided a Choose Your Own Adventure activity. And finally, as extensions for students who are ready and able to learn skills and content beyond the normal scope of the unit, I assigned research on the Ring of Fire and creating a map of battles. Here's what it looks like in my learning management system: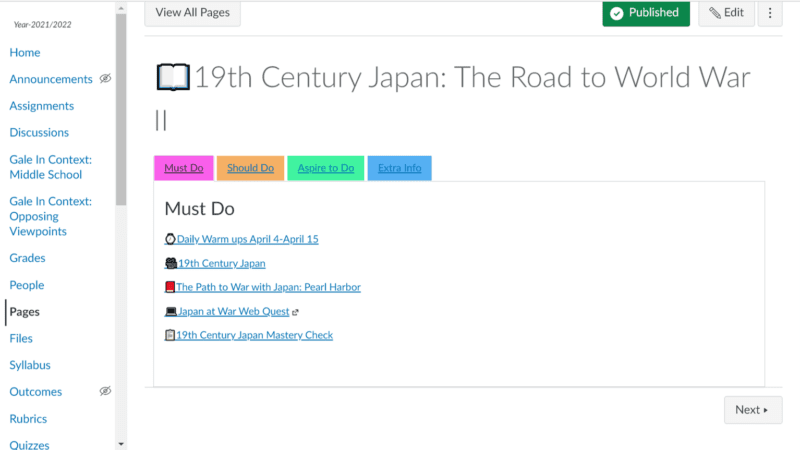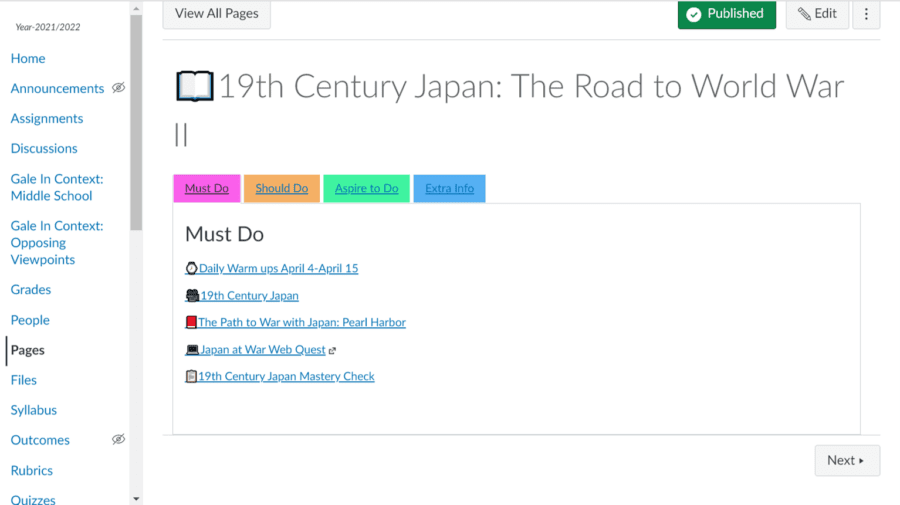 After each lesson, I will give my students mastery checks to ensure they understood the content. If they show mastery, they will move to the next lesson. If not, I will help them revise and give them a chance to try again.
I have the support of a collaborating teacher, and I plan to do mini-conferences with the students as they begin this process of becoming self-regulated learners. It's not going to be an overnight transition, but I'm already excited about this pilot and taking my differentiation to the next level.
Does self-pacing sound right for you? Try the same online course to learn all about the Modern Classrooms method.