Middle and high school students are complex creatures. They're "so over" the cutesy activities of elementary school, but they're still secretly hoping their teachers will want to get to know them in some creative, and most important of all, not "cringey" way during those first important weeks. This getting to know you activity for high school students does the trick:
Make middle and high school students feel welcome
As a high school teacher, creating a classroom environment where students felt welcomed, wanted, and willing to try new and challenging things is my main goal during the first week of school. I want them to treat me, their peers, and themselves with respect and caring. Because of this, I always have three goals in mind when planning any early activities.
Does this give my students an opportunity to use their own unique voice?
Will this give me the chance to really get to know who these kids are and what they care about?
How can I make this a meaningful activity that I refer back to after it's done?
Give students real-world tools to do their work
With these goals in mind, choosing activities and the tools to complete them can seem daunting. Luckily, there are some amazing resources out there to help. In fact, Adobe Spark is perfect for teachers looking for ways to get to know their students. The app is free for educators and allows students and teachers to easily create professional-looking projects they can share with each other in person or remotely. Students can bring their own personalities and creativity to projects. Learning how to design using Adobe gives students a digital tool they can add to their resumes. Adobe Spark is an especially helpful tool for middle and high school teachers because of its ability to work seamlessly with these commonly-used programs: Google Classroom, Blackboard, Canvas, Clever, Classlink, Flipgrid, Wakelet, Book Creator, Microsoft Teams and OneNote.
Let students shine by giving them a way to share their identities
A basic get-to-know-you activity is a good way to meet our initial back-to-school goals, but we can make the project so much more meaningful. If we ask better questions and allow students to choose what they want the project to look like and what questions they want to answer, we give them freedom within boundaries. Here's a perfect way to do this using Adobe Spark: send students to this All About Me poster and ask them to create a poster sharing who they are by customizing the text, shapes, and design.
Customize the template so your students can get here: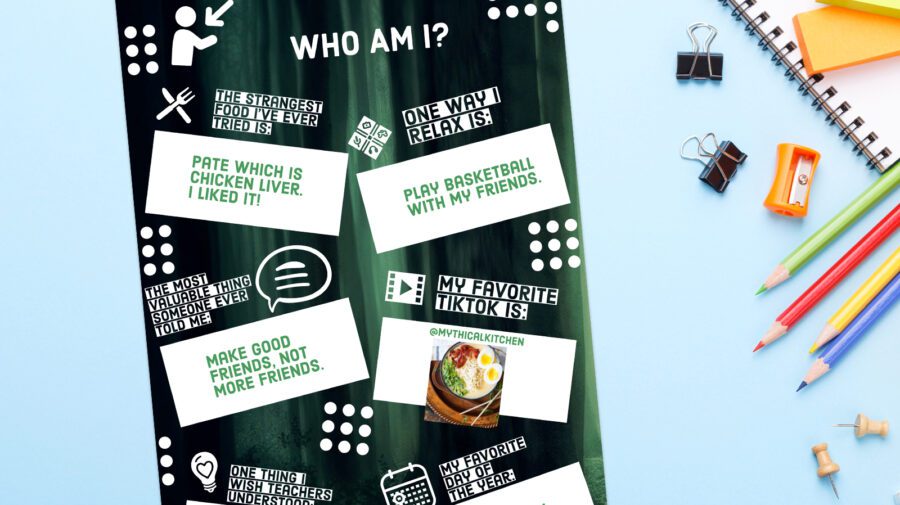 Let teens have choices about what they share
While you might choose to make some of the questions mandatory, others should be left up to them. Maybe they won't tell you something they're proud of, but they will share their favorite TikTok accounts. Here are some questions you might give them to try:
What name do you want to go by in class?
Favorite TikTok or YouTube account and why.
Think about the best teacher you've ever had. What made them great?
What are three things you really care about?
How can a person tell if you're feeling angry/frustrated?
How can a person tell if you're feeling happy/proud?
Who lives at home with you? (Pets count!)
What technology do you like using the most at school?
If you were the teacher, how would your class be different/better?
What is one thing you wish teachers understood?
Share one of your "est" moments … proudest, scariest, funniest, etc.
What is the strangest food you've ever tried? Did you like it?
What is something a teacher should never do if they want to get along with you this year?
What is the most valuable thing someone has ever told you/you've ever read?
How do you feel about working with partners/groups?
As your students work, you'll have time to circulate and chat with them. This informal setting is perfect for getting to know students and encouraging them to feel comfortable with you. Ask about the questions they choose to answer, comment on their design choices, and compliment them on how they're troubleshooting problems. These are the types of interactions that will create trusting, positive relationships with your students.
Reflect on and celebrate their work and diversity
These posters can be printed out and displayed in the room. Make sure you let students know this in advance, if this is your plan. Give students opportunities to gallery walk and view each other's posters on the walls or pulled up on different computer screens. Allowing them to view each others' work will create that feeling of camaraderie we all want in our classrooms. If permanent displays aren't an option, consider a slideshow. Adobe Spark works great with Google Slides and PowerPoint. Allow students to discuss one or two of their answers (again, their choice). By seeing what they want to talk about, you'll start to get an idea of what motivates each student. Refer to these posters often as you check in with students and make sure they feel seen.
Adobe Spark is an incredibly versatile learning tool
Check out these great lessons for even more creative ways to empower your middle and high school students to get creative and express themselves. And since we know that one of the most powerful teaching tools we have is timely, meaningful feedback, take a look at how Adobe can make providing feedback easier and faster!