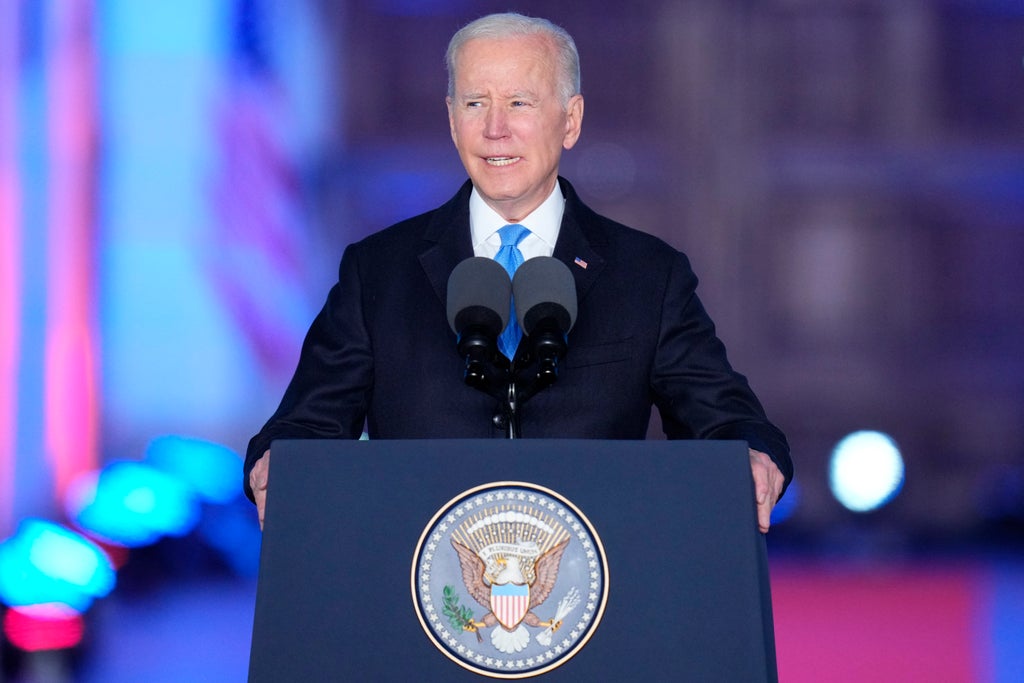 Joe Biden said Vladimir Putin "cannot remain in power" and warned the west to prepare for a "long fight ahead" in a passionate speech in Poland that invoked Europe's past struggles against totalitarianism.
The US president initially appeared to call for an end to the Russian president's regime in what would have amounted to a dramatic shift in US foreign policy, but the White House quickly rowed back on his remarks and insisted he was not explicitly calling for Mr Putin's ousting.
"For God's sake, this man cannot remain in power," Mr Biden said in Warsaw, in a speech against a backdrop formed by the walls of Warsaw's Royal Castle. It came as the western Ukrainian city of Lviv, 400km away, was pounded by Russian missiles, potentially signalling a new front in Moscow's invasion.
A White House spokesperson later said Mr Biden had meant only that "Putin cannot be allowed to exercise power over his neighbours or the region".
The Kremlin dismissed the US president's comment, saying it was "not for Biden to decide".
Mr Biden, only the second Catholic US president, opened his remarks by invoking Polish-born Pope John Paul II, a man widely revered in his homeland as a champion against repressive Soviet communism.
Mr Biden said John Paul's words, "be not afraid", which opened his first public remarks upon assuming the papacy, formed a message that Europeans can look to in order to to "overcome the cruelty and brutality" of the war Mr Putin launched against Ukraine just over one month ago.
Russian invasion of Ukraine: follow live updates
The president's speech marked an end to a four-day swing through Europe which began Thursday with an emergency Nato summit in Brussels.
Earlier in the day, Mr Biden met with Polish president Andrzej Duda for a bilateral meeting following a confab with two top Ukrainian defence officials and US secretary of state Antony Blinken.
Mr Biden then traveled to a Warsaw stadium that has been converted into a reception centre and shelter for many of the Ukrainian migrants who have flocked to the Polish border in hope of avoiding Russian forces.
The president appeared visibly moved by an encounter he had there with one refugee family – a mother and daughter from Mariupol – who told him through a translator that their city was being "erased from the face of the earth" by Mr Putin's troops, who they feared would continue to advance.
The mother, who said her husband and son remain in Ukraine to fight, told Mr Biden that Ukrainian mothers were "ready to strangle" Mr Putin with bare hands if they could only be pointed to his location.
"I've been to a lot of awful places like this, a lot of refugee camps in my life, and what I'm always surprised by is the depth and strength to the human spirit," Mr Biden said.
Asked what his thoughts were about what Mr Putin has done to Ukraine's people, he replied: "He's a butcher."
Hours later, outside Royal Castle, Mr Biden told the massive crowd who'd gathered to hear him that Ukraine and its people are now "on the front lines" of what he described as part of "the perennial struggle for democracy and freedom", adding that their resistance to Russia's invasion is now part of a larger battle for democracy and freedom against autocracy and repression.
"The rule of law, fair and free elections, the freedom to speak, to write and to assemble, the freedom to worship as one chooses, freedom of the press – these freedoms are essential in a free society. But they have always been under siege," he said.
After observing that "every generation" has had to fight against "democracy's moral foes", he explicitly tied Ukraine's fight against Russia to previous uprisings against Soviet-era domination in eastern Europe.
"Today's fight in Kyiv and Mariupol and Kharkiv are the latest battle in a long struggle," he said, comparing them to anti-communist resistance in Hungary in 1956, Poland in 1956 and 1981, and the former Czechoslovakia in 1968.
And though the president noted how those uprisings were crushed under the treads of Soviet tanks, he stressed that resistance to communism continued until 1989, when the Berlin Wall "and all the walls of Soviet domination" came down "and the people prevailed".
But Mr Biden said the war for democracy has continued as the forces of autocracy have "revived" in the three decades since the end of the Cold War, led by Mr Putin, who he said has designs on "strangling democracy" in Ukraine as he has done in Russia, under "false claims of ethnic solidarity".
The president denounced Mr Putin's "lies" told to justify invading Ukraine as an expression of how the Russian leader "has the audacity … to believe might makes right".
Drawing from America's past conflicts, Mr Biden then quoted Abraham Lincoln, exhorting Europeans to "have faith that right makes might".
"Let us resolve to put the strength of democracies into action to thwart the designs of autocracy," he said, adding that Mr Putin – "a criminal" – has falsely claimed Nato's eastward expansion in the decades since the fall of communism has been "an imperial project aimed at destabilising Russia".
"Nothing is further from the truth," he continued, reiterating Nato's description of itself as a "defensive alliance" that has "never sought the demise of Russia".
The president detailed the myriad negotiations and "concrete proposals" offered to Mr Putin in the run-up to his invasion over a period of months, including entreaties from Mr Biden himself.
Mr Biden said each good-faith proposal was met with "lies and ultimatums" because Mr Putin "was bent on violence from the start," and cast Russia's aggression as "nothing less than a direct challenge to the rule-based international order" that has stood since the end of the Second World War, which threatens to return Europe to the "decades of war" that ravaged it before that rules-based order was put in place.
He further warned Mr Putin against any move against Poland or any of the other former Soviet republics that are now part of Nato: "Don't even think about moving on one single inch of Nato territory".
Though Mr Biden hailed the unity that Nato nations have enjoyed since Mr Putin launched his invasion of Ukraine, he urged Europeans to "do the hard work of democracy each and every day," and said he had come to Europe to deliver a "clear and determined" message for Nato, the G7, the European Union and "all freedom-loving nations".
That message, he said, is that they "must commit now" to be in the fight for democracy "for the long haul".
"We must remain unified today and tomorrow, on the day after, and for the years and decades to come. It will not be easy," Mr Biden said. "There will be cost but it's a price we have to pay. Because the darkness that drives autocracy is ultimately no match for the flame of liberty that lights the souls of free people everywhere."
Calling the defence of democracy – and the defence of Ukraine against Russia – "the task of our time," Mr Biden exhorted Europeans to remember "the hammer blow that brought down the Berlin Wall" and "the light that lifted the Iron Curtain" were the work of all of Europe, of people who fought to free themselves from totalitarianism.
"It was an unmistakable, undeniable force of the people that the Soviet Union could not withstand, and we're seeing it once again today in the brave Ukrainian people, showing that their power of money is greater than the will of any one dictator," he said.
"A dictator, man on rebuilding an empire will never erase it people's love for liberty. Brutality will never grind down their will to be free. Ukraine will never be a victory for Russia," he said. "For free people who refuse to live in a world of hopelessness and darkness will have a different future – a brighter future – rooted in democracy, in principles of hope and light, of decency and dignity and freedom and possibilities".
"For God's sake," he concluded, "this man cannot remain in power".