There may be a strong Kiwi influence underpinning England's electric approach to Test cricket these days but, on the eve of this series opener, Tim Southee stressed his New Zealand team would not be veering from their own tried and trusted approach.
After all, New Zealand have not lost a home series in the past five years and, while the mace may be changing hands soon, world champion status is still theirs. It was built on days such as the second witnessed here at Mount Maunganui, as Tom Blundell's career-best 138 dragged them to within 19 runs of England's first innings of 325 for nine declared.
Ollie Robinson's stock overseas continued its rise with four wickets, while Jimmy Anderson and Stuart Broad drew level with Shane Warne and Glenn McGrath's 1,001 Test wickets in tandem. But through Blundell's 181-ball vigil – one built on diligent defence before a spunky late flourish – the roles from the previous evening were reversed: England were the team facing a trial under lights.
Needless to say they once again walked towards the danger, sending repeated flashes of pink across the outfield to reach 79 for two at the close. Zak Crawley and Ben Duckett both fell in the twenties during this latest raid, the former's demise offering Broad his first chance to be the so-called Nighthawk.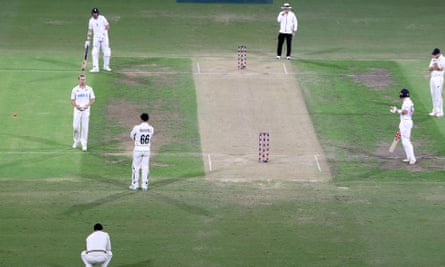 It didn't quite live up to the billing, Broad walking off unbeaten at the close on six from 13 balls. That said, it was not without a moment to remember when Broad sent a top-edge high into the night sky and both Scott Kuggeleijn, the bowler, and Blundell, now with his keeping gloves on, left it for each other.
A bumper crowd that had been able to enjoy the morning with sand between the toes was served an enthralling contest; the kind of day that led Robinson to dub the series a "culture clash" last week as New Zealand's scored at a traditional 3.7 per over in response to England's 5.5 on day one.
The ground was bathed in sunshine until dinner and queues formed for the free sun screen, while a pitch that started green now resembled New Zealand's first coloured one-day shirt. A far cry, therefore, from the threat Robinson and Anderson presented when reducing the hosts to 37 for three the evening before.
Three years ago on this ground England spent 201 overs in the dirt for a punishing innings defeat, bereft of ideas and almost waiting to be put out of their misery. Here they were as enterprising as the swing-averse pink Kookaburra ball would allow, energy levels high and Ben Stokes conducting his players with the authority of Simon Rattle.
There was a milestone on a good few lips too. Combined wickets is a slightly confected one it must be said; after all, Anderson shared 524 with Alastair Cook back in the day, a split of 523 to one. Nevertheless, it still speaks to the skill, fitness and hunger of Broad and Anderson – not to mention a good few other qualities – that 133 Tests as a pair has now seen four figures breached.
Overtaking McGrath and Warne's tally would have to wait, however, and even turning 999 into 1,000 involved a false start. Broad overstepped when he had Neil Wagner caught in the deep on 11 first thing, enduring a couple of meaty pulled sixes before a canny slower ball fooled the nightwatchman.
New Zealand were soon further in the mire too, 83 for four becoming 84 for five in a matter of minutes when Daryl Mitchell went to leave Robinson and was struck in front for a 10-ball duck. It is becoming a feature of Robinson's threat at Test level, this the seventh time since his debut in 2021 he has removed a batter who is shouldering arms.
Robinson's accuracy, his high release point and an ability to nip the ball off the seam are all responsible. Though Mitchell looked mildly embarrassed when Devon Conway talked him out of a review, comfort perhaps comes from knowing that Chesteshwar Pujara, Marnus Labuschagne and Babar Azam have all suffered similar miscalculations against him.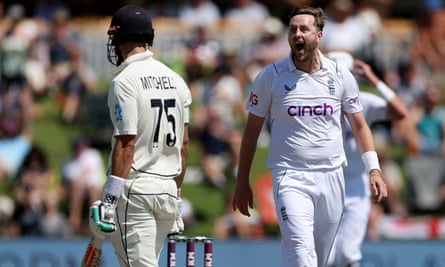 The understudy to BJ Watling for much of New Zealand's rise to the top, Blundell strode out in understated fashion, shirt sleeves buttoned down and to once again happy operate in the slipstream of a more feted partner. Conway, dropped the previous evening on nine by Crawley, was looking in prime nick as the pair reached 138 for no further loss at tea.
It took a none-too-subtle bumper plan delivered by Stokes himself to separate the pair after the resumption, Conway's eyes rolling back in their sockets after clothing to short square leg on 77. And when Michael Bracewell plopped Jack Leach to mid-on, New Zealand were 182 for seven and facing the prospect of a three-figure deficit.
Blundell's assuredness meant this was not the case, however, as, with an hour of resistance from Kuggeleijn at the other end, he brought up his half-century from 96 balls and had England scratching their heads.
Robinson finally broke through, bowling Kuggeleijn after a ball change and then having Southee caught in the deep. But as the lights began to take over, with the debutant Blair Tickner the last man, New Zealand's No 6 kicked on with a flourish, adding 59 for the 10th wicket and bringing up a deserved century in the process.
Anderson eventually snuffed this out with typically immaculate figures of three before 36, before sitting down in the pavilion to do the crossword. As he did so, the other half of the 1,001 wicket partnership, Broad, was giving New Zealand a puzzle to solve out in the middle.