March 04, 2022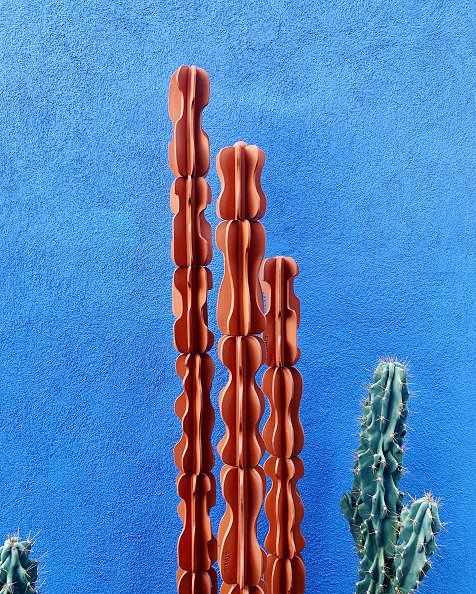 The next best thing to a cool sculptural plant is a cool sculpture that looks like a plant. Such a fusion of manmade art and the natural world has been perfected by Los Angeles-based ceramist and garden designer Dustin Gimbel. His segmented ceramic totems echo the striking vertical shapes of desert plants like euphorbia, monstrosa cacti, and the bloom spikes of native sedge. They are fabulous.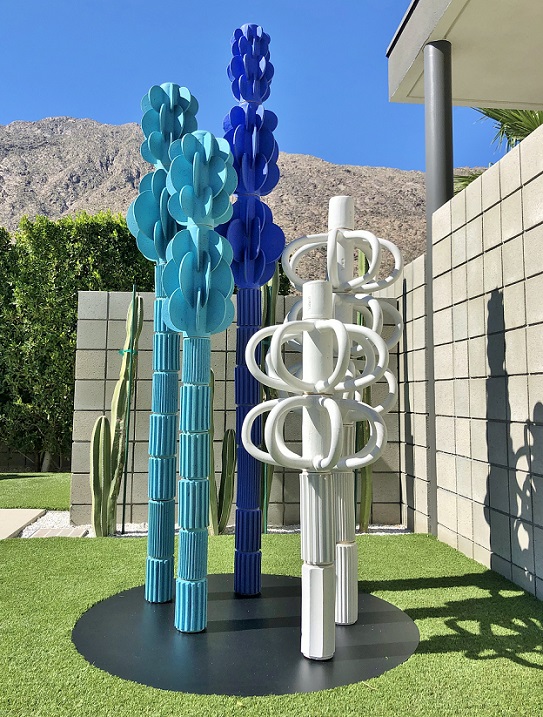 I've been following Dustin's ceramics work since meeting him at his Long Beach, California, home and garden in 2015. Since then he's ramped up from selling creative plant pots, including the adorable Leggy Log Planter (I have one!), to crafting large-scale totems, to having a solo exhibition of his work at Sherman Library and Gardens. He also recently spoke about his work at Modernism Week in Palm Springs.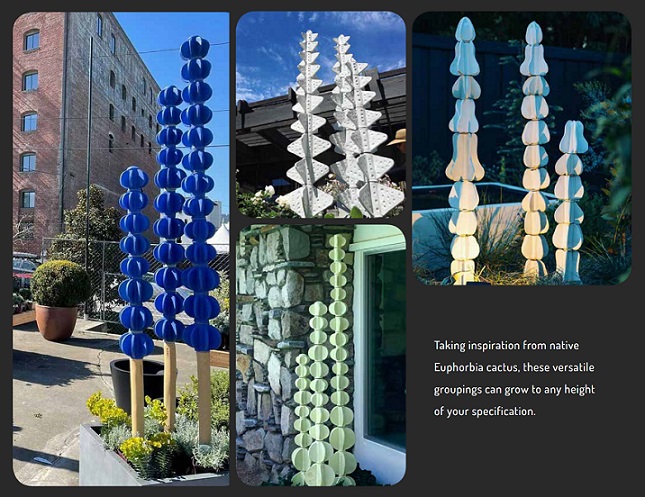 Nowadays, his art makes up nearly half of his business, and he'd like to grow it even more. "Even before I was a garden designer," he says, "I dreamed about manmade sculptural elements in landscapes." He's made that dream into a reality for the many homeowners who snap up his work.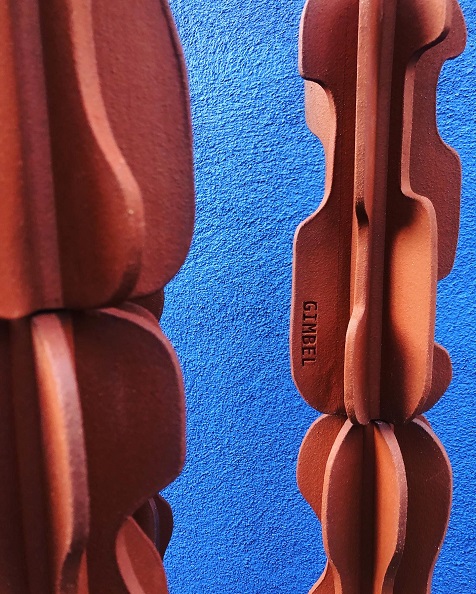 Dustin saturates his stacked pieces with rich color — turquoise, brick-red, atomic orange, Moroccan blue — although minimalist white and black options are available as well.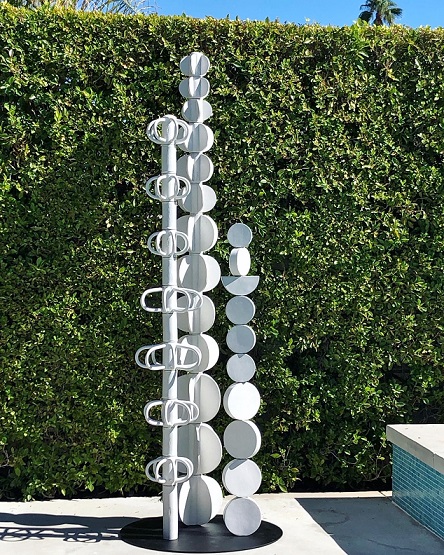 The abstract sculptures make gorgeous focal points, especially in modern gardens. They also work well, he says, in groupings that "sprout up" through living plants. Unsurprisingly, they even look good indoors when placed in a modern pot.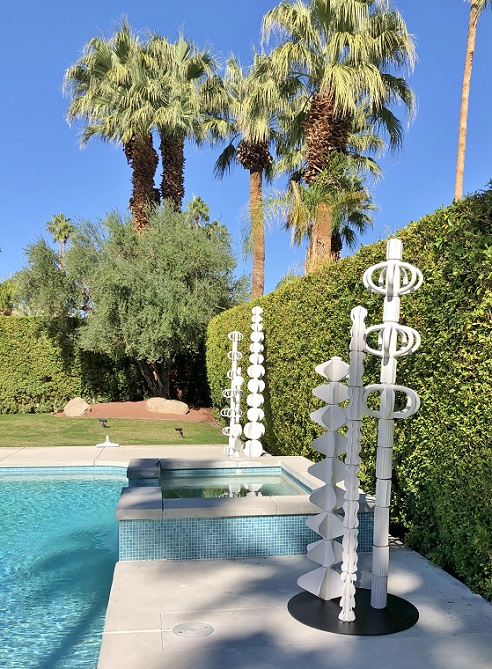 Currently Dustin is experimenting with new colors, and he also wants to make bigger totems — about twice as tall as his current ones. He also loves making custom pieces for people. "I have an endless amount of creativity," he says matter-of-factly. I'm inclined to believe him!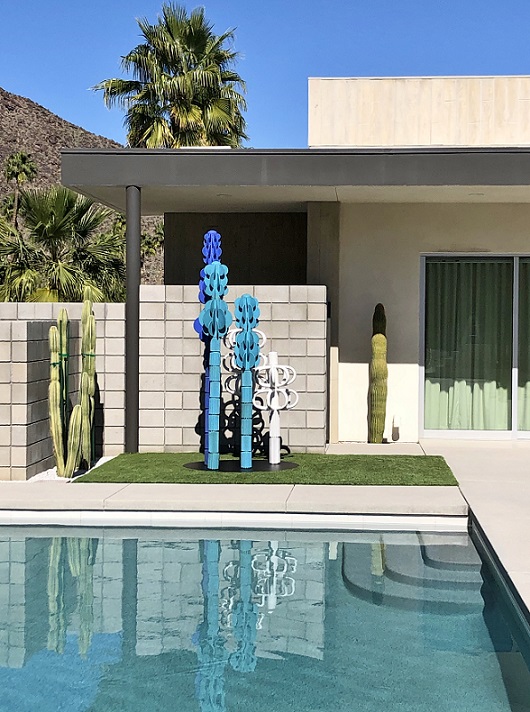 Dustin's ready to expand from his Southern California home base, and as an admirer of his work I recently connected him with the owners of Barton Springs Nursery. Soon, I hear, they will be carrying some of Dustin's work in Austin! So all those contemporary Central Texas homes will soon have access to the ideal sculptures for their gardens and landscaping.
Follow Dustin's Instagram for updates and photos of his latest works.
I welcome your comments. Please scroll to the end of this post to leave one. If you're reading in an email, click here to visit Digging and find the comment box at the end of each post. And hey, did someone forward this email to you, and you want to subscribe? Click here to get Digging delivered directly to your inbox!
_______________________
Digging Deeper
Need design help with your yard? Hire me as your personal garden coach! Maybe you need replacement plant ideas after the big freeze. Or maybe your landscaping has grown tired, and you want fresh curb appeal. Or perhaps you're ready to get rid of some lawn and create a pollinator garden, bird habitat, or hangout space for you and your friends. I'm here to help! Contact me to let me know what's going on, and let's figure it out together. My range is Austin and suburbs within a 25-min. drive of NW Austin, but I'm flexible and can travel farther with a surcharge, so let me know where you are. Weekday morning appts. only.
Attend the John Fairey Garden's annual Budding Out Plant Sale & Festival on Saturday, March 19 in Hempstead. Rare and distinctive plants from the garden's nursery and other vendors will be available, plus art, ceramics, jewelry, food, music, and entertainment for the whole family. Open 10 am to 4 pm. Members get first dibsat the plant sale with 9 am entry (memberships available at the gate). Check the webpage for a continually updated vendor list.
Join the mailing list for Garden Spark! Hungry to learn about garden design from the experts? I'm hosting a series of talks by inspiring garden designers, landscape architects, and authors a few times a year in Austin. Check out the 2021-22 schedule. These are limited-attendance events that sell out quickly, so join the Garden Spark email list to be notified in advance. Simply click this link and ask to be added.
All material © 2022 by Pam Penick for Digging. Unauthorized reproduction prohibited.