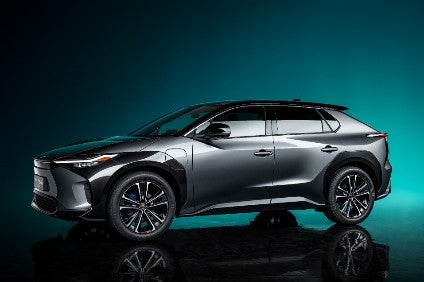 Toyota said it would launch its new bZ4X battery-powered SUV in its home market on 12 May, as it steps up its effort to reduce its carbon footprint.
The bZ4X is Toyota's first vehicle on a dedicated EV platform which it developed with Subaru. It is produced at the Motomachi plant which, the automaker said, now uses CO2-free utility power derived from renewable sources.
Toyota claimed its new BEV SUV offers a power-efficiency performance of 128Wh/km, giving it a cruising range of 559km (347 miles). It is compatible with rapid DC chargers worldwide and its battery can be 80% recharged in 40 minutes.
Toyota said it would take orders for a first batch of 3,000 vehicles in May with a second order intake for around 2,000 expected early in autumn. Hence the automaker plans to produce and sell 5,000 in 2022.
The company said all bZ4X models delivered in Japan will be leased to eliminate customer concerns regarding EVs and to allow it to implement its 3Rs (Rebuild, Reuse, Recycle) battery management system.
Private customers will be able to lease the bZ4X models through the Kinto service while corporate customers will access the EV through the Rent-a-Lease and Toyota Mobility Services networks.
Batteries are guaranteed for 10 years, 200,000km (120,000 miles) at 70% capacity retention.