Shotzi Blackheart and Candice LeRae battled it out in the ring to earn a spot as the number one contender for the NXT Women's Championship title.
The audience witnessed two Superstars willing to do anything and everything to win the match. In fact, LeRae took it to a point where she broke rules and attacked Blackheart in the eye. Luckily, she kept it out of the referee's sight.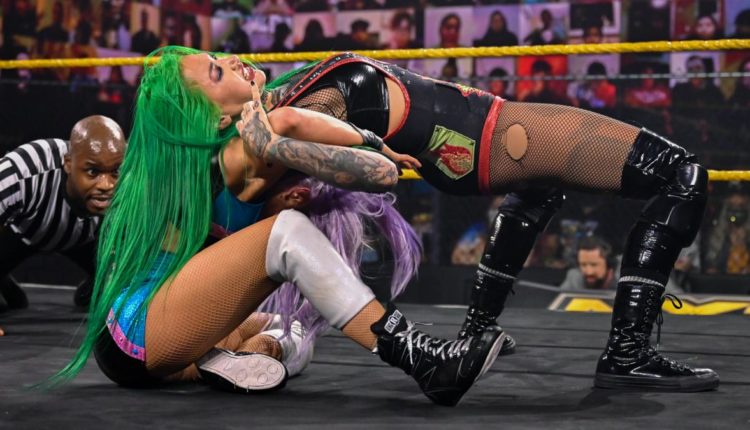 Even though Candice LeRae emerged victorious with some help from Indi Hartwell, Triple H is equally proud of both of them.
What Indi Hartwell did was slip Candice LeRae a little something when both of them were outside the ring. Within a few seconds, it was revealed to be brass knuckles. She used them with force on Blackheart, paving the way to her victory.
The match was nothing short of brilliant. Triple H himself took to social media to compliment both Superstars and the performance they put up. According to him, both of them invested everything in this match.
Two performances worthy of a championship opportunity. @ShotziWWE and @CandiceLeRae just showcased what an opportunity to lead this division means to them. #Proud … and ready to watch #HalloweenHavoc in two weeks. #WWENXT https://t.co/KznUOHARJk

— Triple H (@TripleH) October 15, 2020
Candice LeRae will next take on current NXT Women's champion Lo Shirai at the upcoming Halloween Havoc.
Triple H has a surprise host for Halloween Havoc
Shotzi Blackheart might not be performing inside the ring at the Halloween Special episode, but she will be a crucial part of the event. She is going to host the event itself.
She made a special revelation for the match between Candice LeRae and Lo Shirai. As per the Superstar, the "Spin the Wheel, Make a Deal" ploy will return for the match.
.@CandiceLeRae & @JohnnyGargano 𝒘𝒊𝒍𝒍 receive #WWENXT championship opportunities at #HalloweenHavoc, but the stakes are going to be a little different this time around.

SPIN THE WHEEL, MAKE A DEAL. 🕸️⚡@ShotziWWE pic.twitter.com/xtTgUsz160

— WWE (@WWE) October 15, 2020
This gimmick is gaining momentum because of the suspense attached to it. In this, the stipulations for the match will be revealed to the Superstars, audience, and WWE upon spinning the wheel. This will be on the night of the event.
The Spin The Wheel, Make A Deal stunt will also be featured in the match between Johnny Gargano and Damian Priest.
Read Next: Lana Makes Big Prediction Prior To Championship Match with Asuka