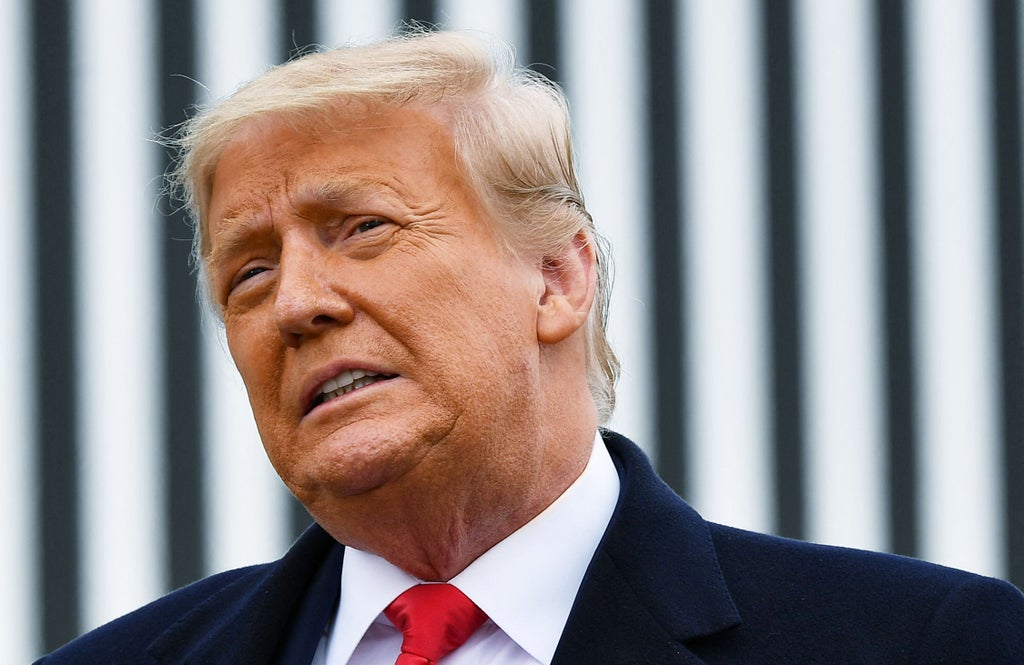 Ad trolls Trump over January 6 committee developments
Donald Trump has hailed Russian President Vladimir Putin as "savvy" and called his move on Ukraine "genius" in a new interview.
Mr Putin's steps towards a possible full-on invasion of Ukraine have seen a number of Republicans seeking to blame the crisis on Joe Biden, arguing that Russia did not invade any countries while Mr Trump was president – despite the fact that he repeatedly sided with Mr Putin over the US's military and intelligence agencies, disdained Nato, and attempted to extort the Ukrainian government into investigating the Biden family.
Mr Trump initially broke his silence on the Russia-Ukraine crisis on Tuesday morning through a tweet posted by his spokesperson in which he claimed that his relationship with Putin would have prevented the crisis.
The former president saw another defeat in his effort to stymie the 6 January Select Committee's investigation into the causes and events of the Capitol riot. The Supreme Court has rejected a request from the former president to review the panel's demand that his records be handed over. He has now several times been defeated in his claims that papers from his time in the White House are covered by "executive privilege" and should not be released to the investigation.
On Tuesday afternoon a judge heard an oral argument relating to the longrunning E Jean Carroll vs Donald Trump case, in which Ms Carroll is suing Mr Trump for defamation.
1645590167
Lawyer for Carrol who says Trump raped her tells court they want his DNA
A federal judge sparred with former president Donald Trump's legal team over his attempt to countersue E Jean Carroll, the journalist who has sued him for defamation.
Ms Carroll has alleged that Mr Trump raped her in a dressing room at Bergdorf Goodman in the mid-1990s. The former president has denied the allegations.
Representing Ms Carroll, Roberta Kaplan said her client is keen to proceed with fact-finding regarding the case: "We'd like to get on with discovery. We do not seek to depose President Trump."
"And we'd like his DNA," she added, repeating a request previously made at an earlier stage of the case.
Clémence Michallon and Oliver O'Connell report.
Alisha Rahaman Sarkar23 February 2022 04:22
1645588843
Republicans slam Trump for praising Putin amid Ukraine crisis
Republican leaders on Tuesday slammed former president Donald Trump after he hailed Russian president Vladimir Putin as "savvy" and called his move on Ukraine "genius".
Rep Liz Cheney on Tuesday said: "Former President Trump's adulation of Putin today – including calling him a "genius" – aids our enemies".
"Trump's interests don't seem to align with the interests of the United States of America," she added.
House Republicans tweeted an image of Mr Biden walking away with a caption: "This is what weakness on the world stage looks like."
Retweeting the post, Rep Adam Kinzinger condemned the "damn awful tweet during the crisis".
"You can criticize policy but this is insane and feeds into Putin's narrative. But hey, retweets amirite," he added.
Alisha Rahaman Sarkar23 February 2022 04:00
1645587015
Florida Republican withdraws 'Don't Say Gay' amendment that would forcibly out students
A Republican legislator in Florida has withdrawn an amendment to his so-called "Don't Say Gay" bill that would require schools to disclose whether a child is LGBT+ to their parents within six weeks of learning whether they are not straight, and appeared to remove protections for students who would have potentially been subject to abuse, abandonment or neglect by their families.
Oliver O'Connell23 February 2022 03:30
1645584315
Everything we know about CPAC 2022
Oliver O'Connell23 February 2022 02:45
1645581675
Lawmaker's Senate GOP platform says Democrats 'trying to rig elections'
Absent any agenda from Senate Republican leaders heading into midterm elections this fall, the chair of the National Republican Senatorial Committee has released his own blueprint to "rescue America" with a mix of familiar GOP priorities and culture war politics-fuelled action items.
Oliver O'Connell23 February 2022 02:01
1645578915
Trump insists Ukraine crisis would not have happened while he was president
Former president Donald Trump broke his silence about the crisis in Ukraine to slam the Biden administration, saying Moscow's decision send troops across its border would not have happened during his administration since he knows Russian President Vladimir Putin well.
Oliver O'Connell23 February 2022 01:15
1645576215
Trump sitting on electoral war chest
The 45th president has endorsed more than 100 candidates but has been less forthcoming with donations, writes Chris Stevenson.
Oliver O'Connell23 February 2022 00:30
1645573515
Supreme Court denies Trump bid to review Jan 6 documents
The Supreme Court has denied a request by former president Donald Trump to review his White House records related to the Capitol insurrection on 6 January of last year.
The court made the announcement on Tuesday in a list of orders on pending cases. Mr Trump had requested a writ of writ of certiorari in a case against Rep Bennie Thompson, who serves as chairman of the House select committee investigating the riot.
"The petition for a writ of certiorari is denied," the court wrote.
Eric Garcia reports from Washington, DC.
Oliver O'Connell22 February 2022 23:45
1645570995
Trump's social media platform dedicated to free speech appears to have already banned an account
Donald Trump's new social media platform was meant to be a bulwark against the tyranny of Big Tech censorship.
But Truth Social already appears to be banning accounts that get under the skin of the social media company's CEO, former Congressman Devin Nunes.
Matt Ortega, described as a "frequent internet trickster", tried to set up a parody account on the platform under the name DevinNunesCow, mimicking a popular Twitter account that is being sued by Mr Nunes for defamation.
Oliver O'Connell22 February 2022 23:03
1645568645
Former Trump press secretary ridiculed for saying Putin has no greater supporters than Democrats
The last press secretary of the Trump White House was mocked after claiming that her former boss would have done a better job of standing up to Vladimir Putin and Russian aggression in Ukraine on Tuesday.
Kayleigh McEnany, now a co-host of the Fox News show Outnumbered, made the eyebrow-raising remarks on Tuesday's broadcast while a discussion of Russia's decision to move troops into Donbas was underway.
Oliver O'Connell22 February 2022 22:24