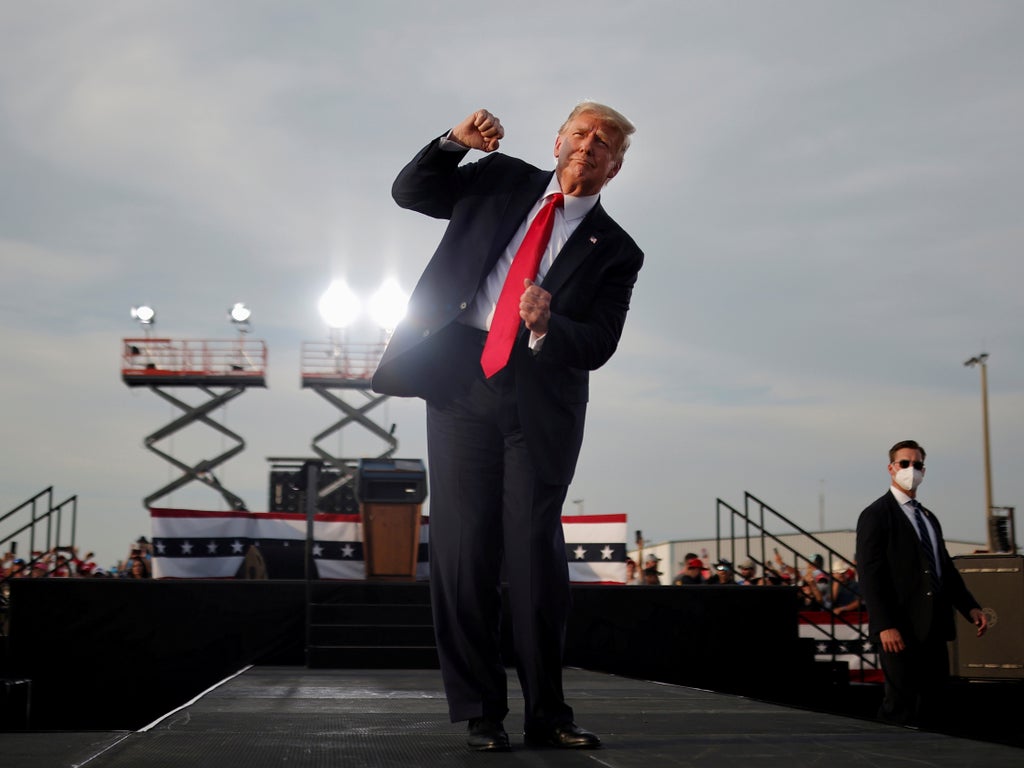 Eric Trump claims Putin could tell Donald Trump was 'a very strong person'
Donald Trump and his children Donald Trump Jr and Ivanka Trump have filed an appeal in their fight against the New York attorney general's attempt to depose them as part of a civil investigation into the Trump Organization. Their lawyers argue that a lower court erred by denying the Trumps' request to quash their subpoenas for testimony.
Meanwhile, adult entertainer Stormy Daniels said she would rather serve time behind bars than pay the legal fees she owes Donald Trump after her defamation lawsuit against the former president failed — "I will go to jail before I pay a penny," she tweeted.
The former president began his week with a bizarre phone interview on Fox Business in the course of which he referred to Vladimir Putin's nuclear threats as "the n-word", dismissed climate change as "a thing called weather", and insisted he would continue running on the supposed theft of the 2020 election despite the host's suggestion it could hurt Republicans at the polls.
His excitable Monday morning comes after an event in Florida over the weekend during which he appeared to promise a return to the White House.
Following his remarks, Republican US Rep Liz Cheney warned that the ex-president could face criminal penalties over attacks on the US Capitol on 6 January, 2021, telling NBC that the House select committee investigating the assault is considering whether to recommend criminal punishment for the "kind of supreme dereliction of duty that you saw with President Trump".
1647960032
Trump lawyers claim judge abused discretion in forcing testimony
Donald Trump's lawyers say a New York judge abused his discretion with a decision last month requiring the former president to answer questions under oath in a civil investigation into his business practices.
In papers filed Monday in a state appeals court, Trump's lawyers said Manhattan Judge Arthur Engoron failed to properly weigh constitutional and ethical concerns that they'd raised about New York Attorney General Letitia James' investigation.
Lawyers for Trump and his two eldest children, Ivanka and Donald Trump Jr., want the appellate division of the state's trial court to overturn Engoron's Feb. 17 ruling and invalidate James' subpoenas seeking their testimony.
Oliver O'Connell22 March 2022 14:40
1647959432
Stormy Daniels says she will go to jail rather than pay Trump legal fees
Stormy Daniels said she would rather serve time behind bars than pay the legal fees she owes Donald Trump after her defamation lawsuit against the former president failed.
The adult entertainer is required to pay Mr Trump almost $300,000 in attorneys' fees after a federal appeals court rejected her bid to overturn a lower court's decision.
In a tweet, she said: "I will go to jail before I pay a penny."
Mr Trump celebrated his win, releasing a statement on Monday in which he denied ever having had an affair with Ms Daniels and claiming that the ruling was a "total and complete victory and vindication for, and of me".
Oliver O'Connell22 March 2022 14:30
1647958832
Chris Christie says Trump Putin comments 'wrong' and 'dangerous'
Former Republican New Jersey Governor Chris Christie has condemned Donald Trump for his comments praising Vladimir Putin at the start of the Ukraine invasion.
"Do we want to send admiring words to someone [Putin] who as we speak this morning is directing the slaughter of women and children in the Ukraine without any conscience?" Mr Christie asked during a New Hampshire speech on Monday.
Oliver O'Connell22 March 2022 14:20
1647957632
Biden causes uproar with use of phrase 'new world order'
Joe Biden caused a stir on Monday during a gathering of business leaders at the White House when he alluded to a coming "new world order" in the wake of the Ukraine crisis, apparently not stopping to consider the awkward legacy of the phrase.
Addressing the Business Roundtable's CEO Quarterly Meeting, which included the bosses of General Motors, Apple and Amazon, Mr Biden concluded his remarks by saying: "Now is a time when things are shifting. We're going to – there's going to be a new world order out there, and we've got to lead it. And we've got to unite the rest of the free world in doing it."
The phrase quickly began trending on Twitter, with commentators wasting no time in gloating over what they saw as the president's presumably accidental invocation of a well-worn conspiracy theory claiming that an elite globalist cabal operating from the shadows is plotting to carve up the world and impose totalitarian rule.
Oliver O'Connell22 March 2022 14:00
1647955824
ICYMI: Trump ignores his own social media platform
The launch of Donald Trump's social media platform Truth Social was supposed to be a major event in social media, finally presenting conservatives with a place to gather where their speech wouldn't be censored (although the site's terms and conditions contain clauses banning various things).
However, the app's troubled launch has been followed by flaccid signups and engagement. And now, it is clear that the president himself has little or no inclination to join in; in fact, he has yet to post on Truth Social at all.
Nathan Place has the story.
Andrew Naughtie22 March 2022 13:30
1647952596
Flailing pro-Trump congressman targets Mitch McConnell
Mo Brooks, the Alabama Congressman who is struggling to retain Donald Trump's endorsement in his Senate run, has picked up a new line of attack in his campaign, promising to "fire" Senate Majority Leader Mitch McConnell if he's elected.
Mr McConnell has become one of Mr Trump's most hated enemies, largely because he has refused to sign up to the lie that the 2020 election was stolen and declined to take the side of those trying to rewrite the history of the 2021 insurrection.
Since Mr Trump called him a "disappointment" in a recent interview, Mr Brooks has also boasted of his participation in the rally that preceded the 6 January riot.
Andrew Naughtie22 March 2022 12:36
1647952120
ICYMI: Giuliani tells bizarre story in which Trump threatened to bomb Moscow
Rudy Giuliani, whose dealings in Ukraine on behalf of Donald Trump played a major part in the ex-president's first impeachment, recently appeared on right-wing pro-Trump network Newsmax to discuss the Russian assault on the country – and offered a truly weird story in which Mr Trump threatened to bomb the "gold bubbles" of Moscow's churches.
The clip speaks for itself, so take a look below.
Andrew Naughtie22 March 2022 12:28
1647950717
Will Trump really end up facing criminal charges?
One of the greatest hopes for those who want to see Donald Trump kept away from the presidency is that at least one of the multiple legal cases in which he's embroiled will result in a criminal indictment and a guilty verdict. However, writing in The AtlanticPaul Rosenzweig, who served as a senior counsel in the investigation that led to Bill Clinton's impeachment, has another, less optimistic perspective:
Read his full argument below.
Andrew Naughtie22 March 2022 12:05
1647948617
Bannon chides Trumpist Senate candidate over Ohio debate incident
Ohio US Senate candidate Josh Mandel, who has run an extremely caustic right-wing campaign in a crowded primary field, has been roundly criticised for a literal face-off with another candidate at a debate last week. The encounter ended with Mr Mandel calling his rival a "p***y" before the two had to be separated – and it seems to have been too much even for some of the most hardcore right-wingers out there.
Mr Mandel found himself being chastised by none other than Steve Bannon, who has a well-earned reputation for far-right incitement.
Read more via Mediaite below.
Andrew Naughtie22 March 2022 11:30
1647946508
ICYMI: Could Sarah Palin be on her way to Congress?
The unexpected death of veteran Alaska Congressman Don Young has opened up the Last Frontier's only congressional seat, and one of the state's few nationally known political names has piped up to say she might throw her hat in the ring.
Former governor Sarah Palin, who pioneered Trump-style populist politics during her 2008 vice presidential campaign and then saw her political celebrity decline in the years that followed, said she would be "humbled and honoured" to fill the seat, and that she would do so in a heartbeat.
Andrew Naughtie22 March 2022 10:55