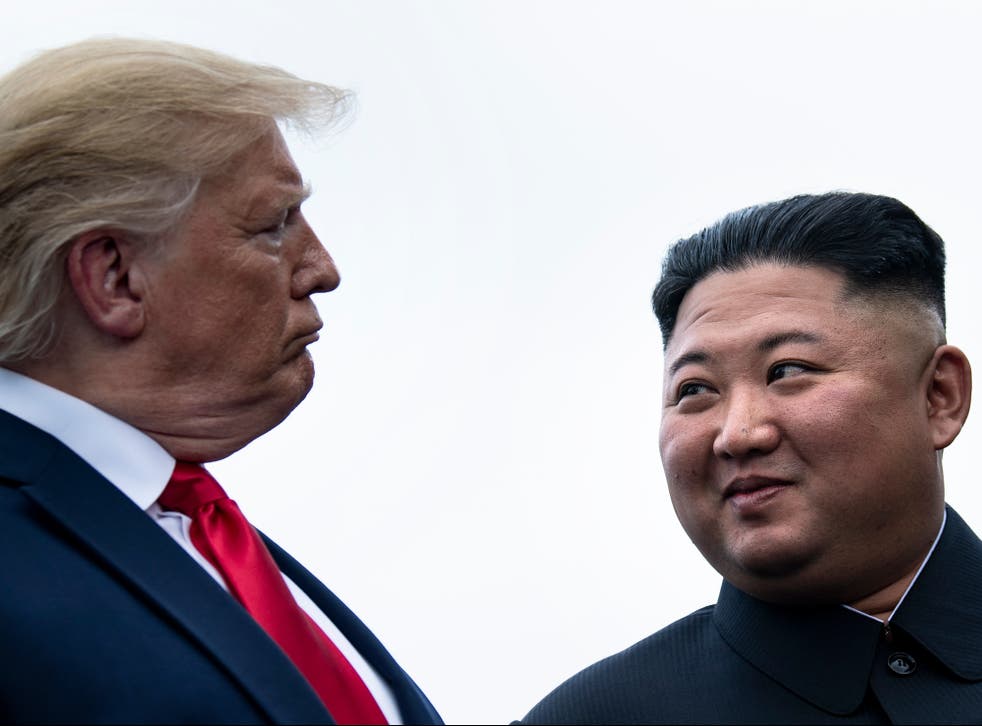 Donald Trump is "terrified" of an upcoming book, his former communications director Alyssa Farah said, as it is expected to make revelations that the former president flushed documents down toilets and that he is still in touch with North Korea's Kim Jong-un.
The book, Confidence Man, is set to be published in October and authored by The New York Times's Maggie Haberman, who is known to have had access to the White House and Mr Trump's inner circle over the years.
A US congressional committee has begun investigations into Mr Trump's handling of administration documents after 15 boxes of records were transferred from his Florida resort to a federal agency.
Carolyn Maloney, chair for the House of Representatives Oversight Committee, said that she was "deeply concerned" as the documents "appear to have been removed from the White House in violation of the Presidential Records Act."
In his statement over the saga, Mr Trump acknowledged that the boxes of records were delivered to the Archives following discussions he called collaborative.
The former president said he was told he "was under no obligation" to hand over any White House materials, without revealing who gave him that directive as it violated the law.
1644564846
Trump denies claims of flushing papers down toilets: 'Fictitious book'
Donald Trump has denied claims that he flushed the White House records down the toilet following allegations in a new book that his staff found documents clogged in toilets.
"Another fake story, that I flushed papers and documents down a White House toilet, is categorically untrue and simply made up by a reporter in order to get publicity for a mostly fictitious book," he said.
He blamed Democrats for using this him and "Unselect Committee [House Select Committee] of political hacks as a camouflage for how horribly our country is doing under the Biden Administration".
Regarding allegations that National Archives retrieved a trove of official White House records from his Mar-a-Lago home in Florida, he said the papers were given on a "very friendly basis".
"The media's characterisation of my relationship with NARA is Fake News. It was exactly the opposite," he said.
"The papers were given easily and without conflict and on a very friendly basis, which is different from the accounts being drawn up by the Fake News Media."
He added: "In fact, it was viewed as routine and 'no big deal'. In actuality, I have been told I was under no obligation to give this material based on various legal rulings that have been made over the years."
He also went on to blame Hillary Clinton and claimed she was a "crook" who "deleted and acid washed 32,000 emails and never gave that to the government".
Shweta Sharma11 February 2022 07:34
1644563341
Most Americans don't approve of Biden's job in office, new poll finds
It is common for presidents' approval ratings to begin to slump during the middle of their terms in office, but a new poll suggests Joe Biden's support across the country is cratering at significant levels.
Nearly six in 10 Americans don't approve of the job he's doing, according to a new CNN poll.
The approval ratings bring Mr Biden towards territory occupied by his historically unpopular predecessor. Donald Trump was at times in his presidency facing a country where two-thirds of people disapproved of his job performance.
Read the full story here:
Shweta Sharma11 February 2022 07:09
1644562288
Trump's calls records missing in data obtained by 6 Jan panel
White House calls logs received by the House panel investigating the 6 January insurrection at the Capitol do not have records of calls made by Donald Trump, two sources familiar with the probe said.
The records also do not have data of the calls made directly to the president on 6 January as he watched the violence unfold on television.
The missing data has apparently presented a new challenge to investigators to create the most comprehensive record yet of the attack in which Mr Trump was allegedly an instigating factor.
The committee is also receiving more evidence from the National Archives and other sources.
Shweta Sharma11 February 2022 06:51
1644561308
Former RNC chair mocks Trump by eating paper live on air
Michael Steele, former Republican National Committee chair, ridiculed Donald Trump by shoving paper in his mouth over the former president's latest scandal involving the flushing of White House documents.
"Well, first, could you pass the salt?" Mr Steele, who appeared on MSNBC said after host Joy Reid questioned him over the controversy before putting a piece of paper in his mouth.
"Yummy, yummy. Pass the salt, please," Mr Steele said as he imitated Mr Trump's voice.
It came as an upcoming book by a New York Times journalist that would reveal Mr Trump reportedly destroyed White House documents by flushing them in the toilet in violation of the Presidential Records Act.
Shweta Sharma11 February 2022 06:35
1644560027
Biden doing 'deep dive' on Supreme Court candidates
Joe Biden said he is doing a "deep dive" on "about four people" as he is set to nominate a successor for retiring Justice Stephen Breyer on the US Supreme Court.
"I've taken about four people and done the deep dive on them, meaning thorough background checks, to see if there's anything in the background that would make them not qualified," Mr Biden told NBC News' Lester Holt in an interview on Thursday.
The president did not mention the names of the candidates but said the White House shortlisted nominees "are incredibly well qualified and documented".
"I'm not looking to make an ideological choice here," he said, adding that he was looking someone very similar to Mr Breyer, "with an open mind, who understands how the Constitution, interprets it in a way that is consistent with the mainstream interpretation of the Constitution".
Shweta Sharma11 February 2022 06:13
1644558888
Kim Jong-un was 'very important' to Trump
North Korean leader Kim Jong-un was "very important" to Donald Trump and the former president had pictures of him in his office, New York Times journalist Maggie Haberman said in an interview with CNN.
The journalist, who has an upcoming book that has some explosive revelation about Mr Trump, said that while what the former president "says and what's actually happening are not always in concert," he "has been telling people that he has maintained some kind of correspondence or discussion with Kim Jong-un".
She remarked that it is not "necessarily unusual" for an ex-president of the country to have contact with other leaders but Mr Trump's relationship with Mr Kim seems strange.
"Those letters, you know, from Kim Jong-un, that The Washington Post in terrific reporting, reported on the fact that he had taken with him to the White House, the original copies, he would wave them around, as I understand, he would wave them around in the White House and he would wave them around at Mar-a-Lago," she said.
"He would have them in his boxes, and he would take them out and show them to people."
Shweta Sharma11 February 2022 05:54
1644557250
Virginia district AG forced to resign over damning Jan 6 posts
Monique Miles, deputy attorney general in Virginia, was forced to resign on Thursday after she faced backlash for her resurfaced Facebook post where she called January 6 rioters "patriots".
"News Flash: Patriots have stormed the Capitol. No surprise. The deep state has awoken the sleeping giant," Ms Miles wrote on the day of the riot, according to The Washington Post.
"Patriots are not taking this lying down. We are awake, ready, and will fight for our rights by any means necessary."
The Virginia attorney general's office denounced the Facebook post by Ms Miles but said they were not aware of the comments she made.
Shweta Sharma11 February 2022 05:27
1644556662
Texas: 40% mail ballots rejected under stricter voting law
About 40 per cent of the mail-in ballots received by elections officials in Harris County — a Democratic stronghold that includes Houston and more than 2.4 million voters — were rejected.
The officials of the county said it was because the ballots had missing information or signatures which are now required under the Texas voting law passed in August.
More than 1,300 ballots flagged were mandatory identification such as voter ID or Social Security numbers, while others were missing signatures, said Leah Shah, a spokesperson for the Harris County Elections Administrator's office.
"As we get closer to the deadline to return mail ballots, we just want to make sure that everyone understands that these new requirements to include identification are important," Ms Shah said.
"Take a close look at the envelope and make sure you are filling them out, and when in doubt fill them both out or give us a call so we can help walk them through. It is confusing and challenging, and we are here to help."
The law requires counties to notify the voters in case of rejections of their ballot to give voters another chance to correct it before Election day.
Shweta Sharma11 February 2022 05:17
1644555592
Trump's political future may be threatened by Mar-a-Lago docs, experts say
National security experts and former federal prosecutors have told The Independent the 15 boxes of records retrieved from former president Donald Trump's Mar-a-Lago residence could pose a more perilous threat to his freedom and his plans for a 2024 presidential campaign than any investigation into his attempt to overturn the 2020 election.
The Independent's Andrew Feinberg writes how Mr Trump's own explanation could prove especially damning for him.
Shweta Sharma11 February 2022 04:59
1644554542
'Toilet water-gate': Jimmy Kimmel takes dig at Trump for flushing documents
Jimmy Kimmel mocked former president Donald Trump on Thursday over recent accusations that his White House staff found clogged toilets as he reportedly tried to flush documents.
"I know that sounds like just a crude joke, but you know how Trump had a habit of tearing up the documents at the White House?" Kimmel said beginning his monologue
He went to introduce guest Arnold Schwarzenegger, again taking a dig by saying, former California governor "the host of Celebrity Apprentice who did not clog up the White House toilet."
"Today Mar-a-Cloggo put out a statement that said, 'Also, another fake story that I flushed papers and documents down a White House toilet is categorically untrue, and simply made up by a reporter in order to get publicity for a mostly fictitious book," he said.
Shweta Sharma11 February 2022 04:42