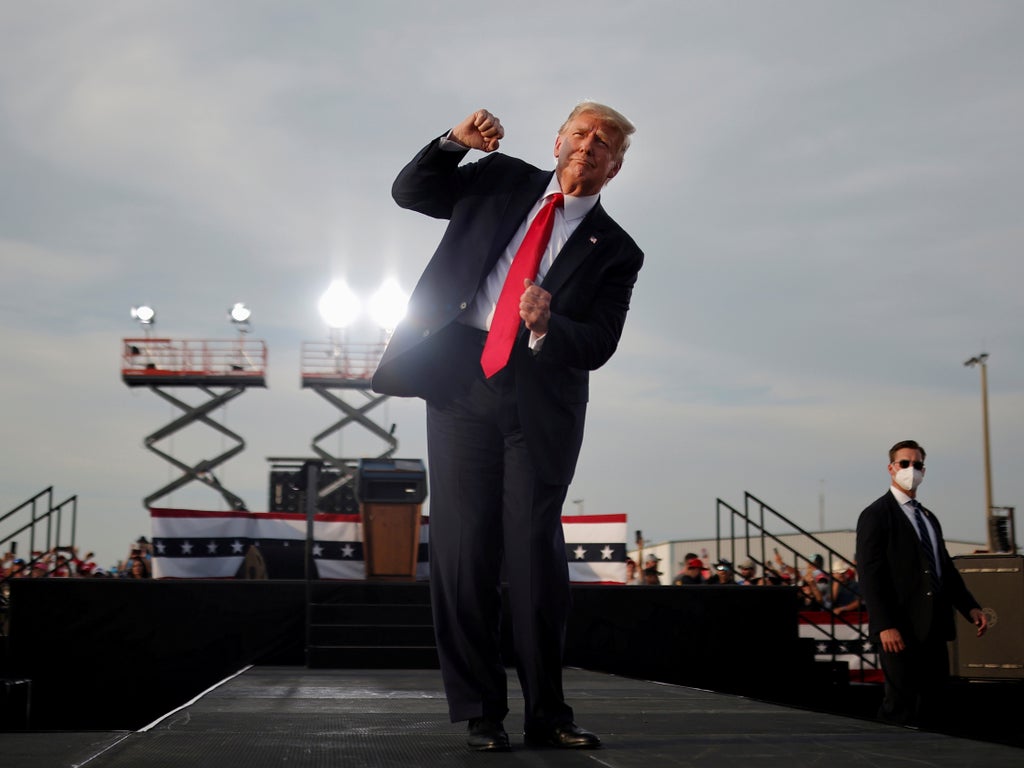 Eric Trump claims Putin could tell Donald Trump was 'a very strong person'
Virginia Thomas, the wife of Supreme Court Justice Clarence Thomas and who goes by the name "Ginni", urged the Trump White House to continue insisting that the Republican won the 2020 election, it has emerged.
A cache of 29 messages sent by Ms Thomas to the Trump White House chief of staff, Mark Meadows, after the 2020 election has been handed over to the 6 January inquiry in Congress. The texts show Ms Thomas, a longtime conservative activist, pressuring Mr Meadows to somehow help overturn the election, with reference to various bizarre conspiracy theories.
The news has been met with outrage, adding renewed scrutiny to the extremism of Ms Thomas's politics and the implications that her closeness to the Trump circle might have for her husband's judicial impartiality.
Ms Thomas's husband, who did not recuse himself from cases involving false claims about the 2020 election or the events surrounding the Capitol riot, has lately been hospitalised with an unspecified "infection".
Meanwhile, Donald Trump has sued Hillary Clinton and other Democrats, claiming that they tried to rig the 2016 election by tying the former president's campaign to Russia.
1648205426
Liz Cheney hits back at Kevin McCarthy for endorsing her rival
Kevin McCarthy, who is under pressure from outside the GOP to sanction members who recently spoke to an openly racist white nationalist conference, has defended his decision to endorse a primary challenger to Liz Cheney, who has committed the unpardonable sin of condemning Donald Trump's lies about the 2020 election and joining the 6 January committee.
Asked why he has endorsed a challenge to Ms Cheney while not doing the same to some of his caucus's extremist members – Marjorie Taylor Greene, for instance, or Paul Gosar – Mr McCarthy told CNN that the Wyoming congresswoman was a "special case". In response, her spokesman gave this statement:
Andrew Naughtie25 March 2022 10:50
1648203358
Jan 6 committee to consider criminal contempt referral for Trump allies Scavino and Navarro
The committee, which is investigating the attack on the US Capitol by Mr Trump's supporters to prevent the certification of Joe Biden's election win, announced that it will meet on Monday 28 March.
The Independent's Graeme Massie has more details
Andrew Naughtie25 March 2022 10:15
1648200649
Whiff of QAnon in Ginni Thomas's texts
Ginni Thomas's texts to Mark Meadows in the aftermath of the 2020 election do not just reveal a heavy fixation on the falsehood that the vote was stolen; they also indicate that Ms Thomas has been exposed (at minimum) to some of the most bizarre conspiracy theories about the US "deep state" that have gathered strength in recent years.
According to Daily Beast reporter Will Sommer, who has long focused on movements based around extreme beliefs, the texts are shot through with QAnon tropes to a degree that should raise serious concerns.
The QAnon conspiracy theory, whose basic tenets include that the US elite is controlled by a cabal of satanic, cannibalistic paedophiles, has lost some of its relevance since Mr Trump lost the presidency and "Q" stopped posting, but it still boasts an alarmingly high number of dedicated believers.
The movement's obsessive fixation on paedophilia and human trafficking has so gripped the Republican base that it has now penetrated the party's elected establishment, as the White House pointed out during the questioning of Supreme Court nominee Ketanji Brown Jackson.
Andrew Naughtie25 March 2022 09:30
1648197958
Former US ambassador to Ukraine says possibility of another Trump term 'concerns our allies'
Marie Yovanovitch, a key witness during Mr Trump's first impeachment trial, was speaking to former Obama adviser David Axelrod on the Axe Files podcast.
Gustaf Kilander from Washington brings you more details
Shweta Sharma25 March 2022 08:45
1648195258
Ginni Thomas pushed White House to pursue Trump's 'Big Lie' on election fraud, texts reveal
Virginia Thomas, a conservative political activist and wife of Supreme Court Justice Clarence Thomas, urged the White House to continue insisting that Donald Trump won the 2020 election, even as state vote totals showed otherwise, text messages reveal.
Read The Independent's report to know what controversial text exchange revealed
Shweta Sharma25 March 2022 08:00
1648191056
Republicans want Ron DeSantis as Trump's 2024 running mate, poll shows
More than a quarter of Republicans who voted in a new survey said they want to see Florida governor Ron DeSantis to join Donald Trump as his vice president when former presidents runs for 2024 elections, a poll found
According to a new Morning Consult and Politico poll, 27 per cent of respondents voted in favour of Mr DeSantis taking the job of Mr Trump's running mate.
Mike Pence came as the second choice, with 15 per cent of votes.
Shweta Sharma25 March 2022 06:50
1648186723
Jeff Fortenberry: Republican congressman found guilty of lying to FBI about illegal foreign donation
US representative Jeff Fortenberry has been found guilty of lying to federal investigators about an illegal 2016 contribution to his election campaign from a foreign national.
The Nebraska Republican was convicted on Thursday of one count of falsifying and concealing material facts and two counts of making false statements.
Fortenberry had not disclosed the identity of the contributor — Nigerian billionaire Gilbert Chagoury — in his campaign filings.
The Independent's Maroosha Muzaffar has details
Shweta Sharma25 March 2022 05:38
1648183500
Trump sues Hillary Clinton over claims she tried to rig 2016 election
"Acting in concert, the Defendants maliciously conspired to weave a false narrative that their Republican opponent, Donald J Trump, was colluding with a hostile foreign sovereignty," Mr Trump claimed in the lawsuit filed in Florida federal court.
Oliver O'Connell25 March 2022 04:45
1648183289
Biden says he will be 'fortunate' to face Trump in 2024
Dismissing the challenge posed by a potential rematch with Donald Trump in 2024 presidential elections, Joe Biden said he would be "very fortunate" to run against the former president.
"I don't criticise anybody for asking that question. But the next election — I'd be very fortunate if I had that same man running against me," Mr Biden told reporters, while attending the Nato and G7 summit in Brussels, referring to Trump.
This comes as a recent poll by the Wall Street Journal revealed that a majority of registered voters said that they do not believe that Mr Biden will run a second term. The poll found less than 1 in 3 respondents expect him to run again.
But Mr Biden said he is focused on upcoming mid-term elections.
"So, we're a long way off in elections, a long way off. My focus of any election is on making sure that we retain the House and the United States Senate so that I have the room to continue to do the things that I've been able to do, in terms of grow the economy and deal in a rational way with American foreign policy and be the leader of the free world," Mr Biden said.
The president will be 81 by Election Day in 2024, and has seen his approval rating drop to a new record low amid speculation that he will not run for a second term.
Shweta Sharma25 March 2022 04:41
1648181758
Jan 6 panel has texts of Supreme Court justice's wife calling to overturn the vote – report
The House committee investigating the January 6 riot at the US Capitol are reportedly in possession of a series of text messages from the wife of conservative Supreme Court Justice Clarence Thomas, who urged former Donald Trump chief of staff Mark Meadows to take steps to overturn the election.
The messages by Virginia Thomas urged Mr Meadows to "make a plan" and "release the Kraken and save us from the left taking America down", reported CNN and CBS.
"Help This Great President stand firm, Mark!!!…The majority knows Biden and the Left is attempting the greatest Heist of our History," the message is reported to say.
These messages were sent in the weeks following the 3 November presidential election and allegedly aimed to preserve Donald Trump's presidency.
"Sounds like Sidney and her team are getting inundated with evidence of fraud. Make a plan. Release the Kraken and save us from the left taking America down," Ms Thomas said in one of 29 messages shared between the two, according to the Post.
She also made reference to Sidney Powell, who represented Mr Trump on his campaign to overturn the election result.
Shweta Sharma25 March 2022 04:15