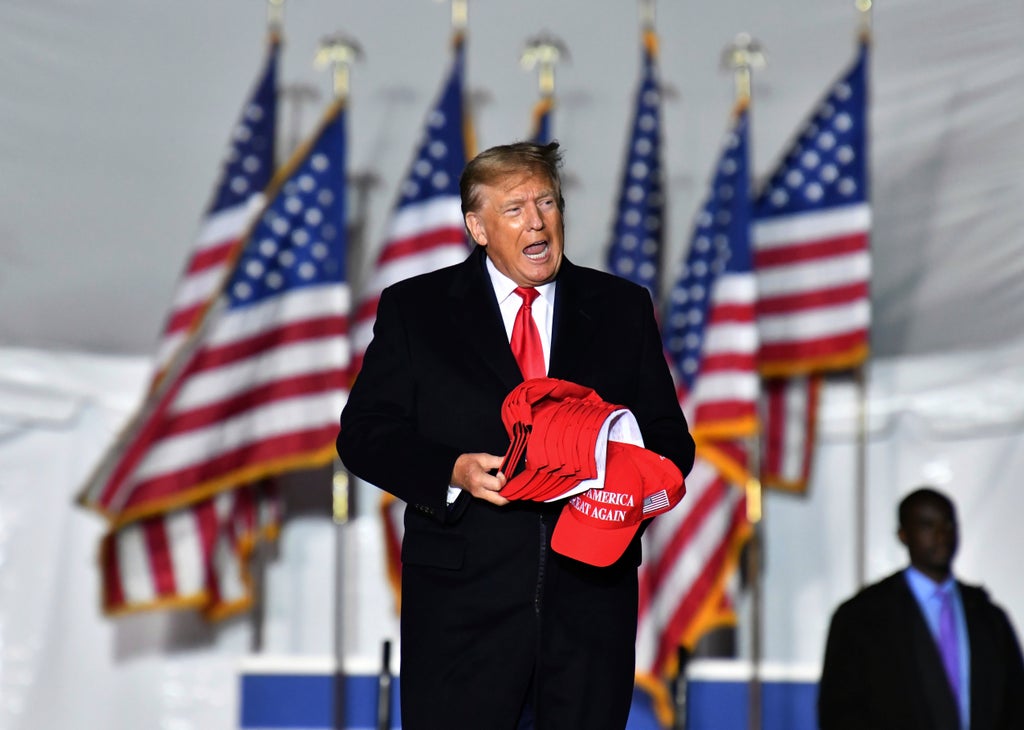 Trump says Ketanji Brown Jackson was 'unbelievably disrespectful' to GOP senators
The 6 January select committee will vote tonight on referring Trump aides Dan Scavino and Peter Navarro to the House of Representatives for contempt of Congress. The vote comes after President Joe Biden turned down their attempts to resist the panel's subpoenas by asserting executive privilege, a claim that has failed numerous subpoenaed witnesses already.
According to a report released by the committee on Sunday evening, Mr Biden "determined that an assertion of executive privilege is not in the national interest, and therefore is not justified".
Meanwhile, Donald Trump used a speech at a rally in Georgia to attack Ketanji ​ Brown Jackson for being "disrespectful" to GOP senators during her confirmation last week.
"Judge Jackson was unbelievably disrespectful to Republican Senators that in many cases were really nicely asking questions," he said. "She had total disdain and even hatred for them," he added.
The former president also hinted that he might run for president again. "I ran twice, I won twice and I did much better the second time. And now, we just might have to do it again."
1648477270
Truckers protesting in DC packing up and going home
The so-called People's Convoy, a collection of truck drivers protesting against a range of loosely connected grievances in the Washington, DC area, have apparently called an end to their actions around the capital after weeks driving their trucks around the beltway and into the downtown area.
The protest was inspired by the truckers who earlier this year descended on Ottawa in protest at the Canadian government's Covid-19 restrictions. However, the People's Convoy never managed to create the same level of disruption as their Canadian comrades; nor did several other attempted American efforts, some of which failed to draw more than a handful of drivers or ran out of steam en route to DC.
Andrew Naughtie28 March 2022 15:21
1648476014
Report: Ted Cruz's role in trying to overthrow 2020 election
The Washington Post has published a shocking (if not entirely surprising) look at Ted Cruz's role in one of the various efforts to overturn the 2020 election result, connecting him not only with Donald Trump himself but with John Eastman, author of a notorious memo that outlined a plan to have Mike Pence disregard the legitimate electoral votes sent from various states Mr Trump narrowly lost:
Andrew Naughtie28 March 2022 15:00
1648473434
Far right congressman paints cocaine-and-orgies picture of DC life
Madison Cawthorn, the extremist North Carolina representative who has previously been accused of indulging in irresponsibly violent rhetoric, has given a very strange interview in which he claims to have been offered illegal drugs by other members of Congress and paints a picture of rampant sexual adventurism in the halls of power.
"I've always paid attention to politics," he said. "All of a sudden you get invited to like, 'well hey, we're gonna have a kind of sexual get-together at one of our homes, you should come!' And you realise they're asking you to come to an orgy."
Andrew Naughtie28 March 2022 14:17
1648471214
Capitol reopening to visitors after Covid and Jan 6
The Covid-19 pandemic effectively closed the US Capitol to everyday Americans looking for a tour of its storied hallways, but the events of 6 January 2021 added a new security dimension to its eventual reopening. Tour guides are reportedly worried that the US Capitol Police remain too understaffed to provide adequate protection should visitors pose a threat, and some have asked for help on what to do if someone on one of their tours announces they were in the building during the riot.
Here's a report from NBC's Today show on the atmosphere in the building as constituents return in numbers.
Andrew Naughtie28 March 2022 13:40
1648468994
Report: Jan 6 committee considers calling Ginni Thomas to testify
CNN reports that Ginni Thomas's text messages to Mark Meadows have sufficiently alarmed the 6 January committee that its members are considering interviewing her in the coming weeks.
And intriguingly, given Ms Thomas's standing on the right, vice chair Liz Cheney is said to be on board with the move despite her reservations about any appearance that the committee is going after a sitting Supreme Court justice.
Andrew Naughtie28 March 2022 13:03
1648467074
Catch up: Jan 6 committee to vote on holding Trump aides in contempt
The select committee investigating the 6 January attack on the US Capitol will tonight be voting on referring contempt charges against Dan Scavino and Peter Navarro to the full House of Representatives.
The two men have resisted complying in full with the committee's efforts to question them and obtain their communications records from the time leading up to the riot. According to the committee, Mr Scavino "may have had advance warning about the potential for violence on January 6th", and Mr Navarro has previously spelled out on TV a mooted plan to get the 2020 election result overturned in Congress.
Mr Navarro has so far insisted his White House communications are covered by executive privilege, a claim that has so far not protected any other witnesses from the committee's scrutiny.
Andrew Naughtie28 March 2022 12:31
1648465214
The Guardian's Edward Helmore has this look at a glaring fact of the nascent Trump '24 campaign: the president's vast fundraising success is not translating into massive spending. Even with more than $108m in the bank, his Save America political action committee is not disbursing much to the candidates Mr Trump is backing…
Andrew Naughtie28 March 2022 12:00
1648463473
GOP candidate ridiculed for Trump golf tweet
In another sign of the lengths some Republicans will go to to capitalise on Donald Trump's popularity with their base, South Carolina statehouse candidate Tim Swain posted a euphoric tweet this weekend boasting of the president's supposedly miraculous golf skills. And in a sign of how easy it is to take such things too far, he was immediately met with ridicule.
Andrew Naughtie28 March 2022 11:31
1648460700
Fact check: Trump's misrepresentations on Biden and Ukraine
One of Donald Trump's main talking points on the Ukrainian conflict is that the Obama administration provided insufficient aid to Ukraine as it faced Russian military and political aggression. The same claims, which often make reference to "blankets", are still being circulated by Mike Pence.
But according to an examination by the Associated Press, both men are not only downplaying their predecessor's contribution to Ukrainian security but also exaggerating what they did while in power themselves:
Read the full fact check below.
Andrew Naughtie28 March 2022 10:45
1648458074
Trump's team rally to defend crowd size in Georgia
Donald Trump's-communications staff were at battle stations this weekend after reports that the crowd at his Georgia rally fell short of his own high expectations (and grandiose claims).
As Sravasti Dasgupta reports:
Andrew Naughtie28 March 2022 10:01