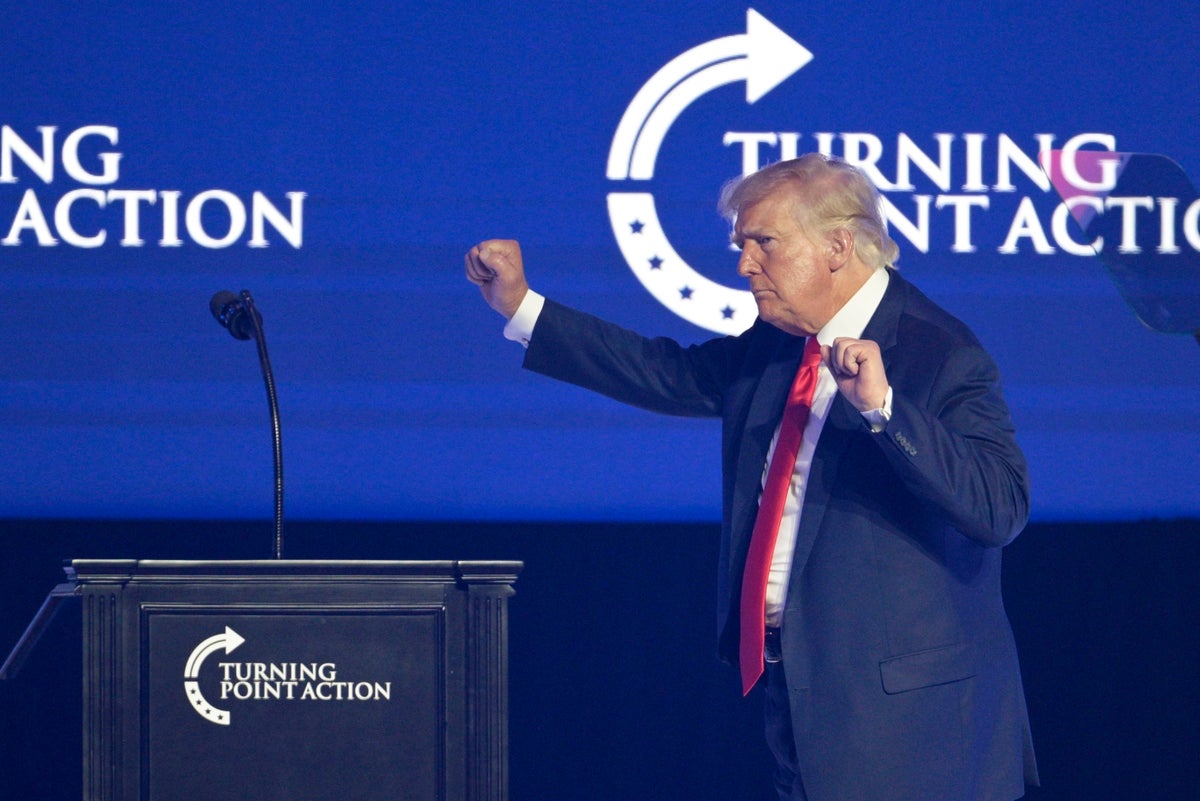 Liz Cheney notes on Fox News that other Murdoch entities have turned on Trump
As she faces a daunting Republican primary challenge, Congresswoman Liz Cheney has been urged to run for president in 2024 by Fox News host Geraldo Rivera – and by her colleague Adam Kinzinger.
Meanwhile, the Jan 6 committee is keeping up the pressure on Ginni Thomas, the conservative activist and wife of Supreme Court justice Clarence Thomas whose role in trying to help Donald Trump overturn the election has come into new focus in recent months.
Ms Cheney said in an interview on Sunday that the "committee is fully prepared to contemplate a subpoena" for Ms Thomas should she continue to refuse to testify about her role in the Trump campaign's bid to "decertify" electors in key battleground states.
Mr Trump gave two speeches this weekend bemoaning his "persecution" by the January 6 committee investigation into the Capitol riot and denouncing the witnesses who have testified about his actions.
At the Turning Point USA Student Action Summit, he claimed to be "the most persecuted person in the history of the country", while rattling through a list of gripes and supposed triumphs from his time in office.
1658750754
ICYMI: The Ginni Thomas subpoena question
The Jan 6 committee isn't planning on taking "no" for an answer from Ginni Thomas, the conservative activist whose role in trying to help Donald Trump overturn the election has come into new focus in recent weeks thanks in no small part due to her marriage to a Supreme Court justice.
The panel is no stranger to issuing subpoenas to compel the testimony of Mr Trump's allies and this week saw his former White House chief strategist convicted on a charge of criminal contempt for defying their order.
Ms Thomas's targeting would be significant, however, given that her husband Clarence Thomas has come under tough criticism as her role in the January 6 plot emerged given his involvement in ruling on a case determining whether White House communications should be turned over to the panel; Mr Thomas was the only dissenting vote.
John Bowden has the story.
Liz Cheney says Jan 6 committee is considering subpoena for Ginni Thomas
Role of Thomas in Jan 6 has thrown her husband's work at Supreme Court into doubt
Andrew Naughtie25 July 2022 13:05
1658748921
Larry Hogan on calling out the National Guard – and 2024
Term-limited Maryland Governor Larry Hogan, one of his party's most senior elected Trump critics, took to the Sunday shows yesterday to denounce Dan Cox, his party's far-right nominee in the race to succeed him. But he also gave a vivid description of what he and other regional officials were doing while Donald Trump watched TV coverage of his supporters storming the US Capitol on 6 January.
Mr Hogan also would not be drawn on his plans for a potential 2024 campaign, but said that Mr Cox's nomination would only strenghten his determination to fight to save the GOP from what it is becoming.
Andrew Naughtie25 July 2022 12:35
1658747121
Adam Schiff on Donald Trump and Ginni Thomas
Adam Schiff, who led the House committee investigation that spawned Donald Trump's first impeachment, represented the 6 January select committee on Face the Nation yesterday – and was unsparing in his assessment of how the Justice Department should treat the information his panel has put into the public domain:
Mr Schiff also had stern words in the matter of Ginni Thomas's role in trying to overturn the election, making clear that matters involving the wife of a Supreme Court justice are "not excluded from examination".
Andrew Naughtie25 July 2022 12:05
1658745342
Murdoch newspaper editorial boards slam 'unworthy' Trump who 'utterly failed' on Jan 6
The editorial boards of both The Wall Street Journal and The New York Poststalwart conservative publications owned by Rupert Murdoch, have published blistering critiques of former President Donald Trump following Thursday's eighth January 6 committee hearing.
They variously described the former president as having "utterly failed" by not defending the Capitol from the mob, and said he had proved "himself unworthy to be this country's chief executive again", withdrawing any support for another White House run.
Published by Dow Jones & Company, a division of Murdoch-owned News Corp, the Journal's editorial slammed Mr Trump's actions on 6 January 2021 in a piece titled: "The President who stood still on Jan 6."
Read Oliver O'Connell's report.
Murdoch newspaper editorials slam 'unworthy' Trump who 'utterly failed' on Jan 6
Liz Cheney cites blistering critiques as she calls Trump 'unfit' for office
Andrew Naughtie25 July 2022 11:35
1658743527
Cheney '24? Kinzinger gets on board
Liz Cheney has more than once declined to rule out a running for president in 2024, saying she is instead focused on her re-election race in Wyoming. With the congresswoman widely expected to lose her primary to Trump-backed challenger Harriet Hageman, some backers are urging her to run for the White House, potentially putting her in direct competition with the former president whom she has played a key role in investigating.
Among those suggesting she should join the fray are Fox News host Geraldo Rivera – and fellow select committee Adam Kinzinger.
Andrew Naughtie25 July 2022 11:05
1658741700
Kinzinger tells GOP voters 'you are being abused'
Congressman Adam Kinzinger pleaded with voters in his party on Sunday to stop letting leaders of the GOP use them for money while pushing false claims about the 2020 election.
The retiring Illinois Republican, one of two members of his party on the January 6 committee in the House, was interviewed Sunday on ABC's This Week following the end of the first round of public hearings held by the panel's members. A second round is set to begin in September.
"Ladies and gentlemen and particularly my Republican friends, your leaders, by and large, have been lying to you. They know stuff very different than what they've been telling you. They know the election wasn't stolen, but they're going to send out fundraising requests, they're gonna take your money from you, and they're going to use you to stay in power," he said.
John Bowden has more on what the congressman said.
Kinzinger says GOP voters 'being abused' by leaders who know election wasn't stolen
Retiring congressman begs party to stop letting Trump's allies use them for money
Andrew Naughtie25 July 2022 10:35
1658739900
Cheney and Kinzinger say Secret Service not cooperating with Jan 6 probe
The January 6 committee is turning up the heat on the Secret Service after a spokesman for the agency claimed that agents were willing to testify under oath and refute parts of the testimony of Cassidy Hutchinson, an aide to ex-White House chief of staff Mark Meadows.
On Sunday two members of the select House committee investigating January 6 told news shows that the agency had yet to cooperate with their requests for testimony, suggesting that agents may be reversing their previous offers to appear. Several have also reportedly obtained private counsel.
John Bowden has the latest.
Cheney and Kinzinger say Secret Service is not cooperating with Jan 6 committee
Agency's credibility is in question amid criminal investigation
Andrew Naughtie25 July 2022 10:05
1658738100
Trump endorsement booed at Arizona rally
Former President Donald Trump appeared surprised at his latest rally when the mention of one of his congressional endorsements caused the crowd to boo loudly.
Here's what happened and why:
Trump booed as he announces endorsement at Arizona rally: 'But you like me, right?'
'But you like me, right?' says Trump awkwardly as crowd voices displeasure at former president's congressional primary pick
Andrew Naughtie25 July 2022 09:35
1658736300
Trump rails against Jan 6 committee 'persecution' at Arizona rally
"Where does it stop? Where does it end?" Donald Trump said of the House investigation. "Never forget: Everything this corrupt establishment is doing to me is all about preserving their power and control over the American people, for whatever reason. They want to damage me in any form so I can no longer represent you."
Trump rails against Jan 6 committee 'persecution' in Arizona rally speech
'If I announced that I was not going to run any longer for political office, the persecution of Donald Trump would immediately stop,' former president claims
Oliver O'Connell25 July 2022 09:05
1658735100
Hawley says he's 'not gonna run' from critics
In his first public remarks following a wave of criticism over surveillance footage that showed him fleeing the US Capitol on 6 January 2021 after raising his first in solidarity with the mob that would later break into the building, Josh Hawley says he "is not backing down".
Josh Hawley 'not gonna run' from critics after video shows him fleeing Jan 6 mob
'I'm not gonna apologize, I'm not gonna cower, I'm not gonna run from you'
Oliver O'Connell25 July 2022 08:45