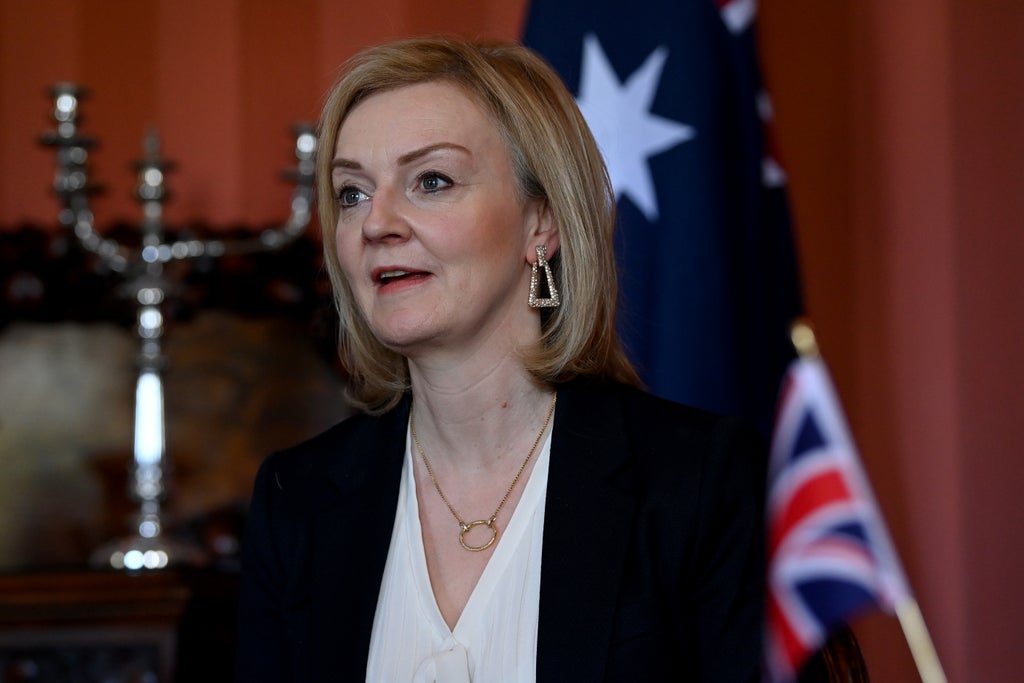 Foreign secretary Liz Truss is facing a backlash from Australian wine producers during her trip Down Under, amid complaints that any benefits from a post-Brexit trade deal will be more than wiped out by proposed changes to UK taxes on alcohol.
Industry lobby group Australian Grape and Wine estimates that the tax hikes will cost an additional £70m, adding 40p to the price of every £5 bottle of the country's drink bought by British consumers. This compares to a forecast £26m gain from the trade deal.
The review of excise duties on alcohol has been hailed by Boris Johnson as a key benefit of Brexit, but is branded "unworkable" by the UK drinks trade because it will generate vast amounts of extra red tape as well as forcing up the price of some of Britain's most popular brands.
Under plans set out by chancellor Rishi Sunak and due to take effect in February 2023, a single tax rate for most wines will be replace by a sliding scale with 13 bands of duty levied according to strength – with 14 more bands for fortified wines.
Because of the country's sunshine, Australian wines tend to clock in at the higher end of the strength scale, with alcohol by volume (ABV) levels of 13 per cent or more. Under Mr Sunak's plans, any wine over 11.5 per cent ABV will incur more tax.
Ms Truss was challenged on the scheme during her current visit to Australia to promote trade and defence links with the UK.
Australian Grape and Wine chief executive Tony Battaglene said: "It is unfortunate that the result of the free trade agreement will be directly impacted by this [tax]. We are hoping they will look at it and come to a better solution. At the moment, it is very concerning.


UK news in pictures
Show all 50
"This will discriminate against red wine imports. We estimate it will add 40p to the price of a bottle, and that's a lot when you're talking about a wine that is £5."
A spokesperson from Treasury Wine Estates – producers of top-selling brands such as Wolf Blass, Penfolds and Lindeman's – said: "The proposed new alcohol duty system in the UK will significantly impact the Australian wine industry and increase costs for UK consumers.
"We understand it will wipe out the £26m benefit for Australian wine growers agreed upon in the recent UK/Australia free trade agreement, replacing it with £70m of costs, and diminish future growth prospects in the largest export market for Australian wine growers and UK consumers.
"The new duty could add up to 40 pence to a bottle of Australian wine for UK customers."
Pressure group Wine Drinkers UK, which is campaigning for Mr Sunak to ditch his plans, said that the "sunshine tax" will also impact on wines from New Zealand, South Africa, California and Argentina, where warm weather naturally translates into high alcohol content in wines.
Wine is the UK's favourite alcoholic drink, with almost one-third (32 per cent) naming it as their favourite tipple. But Wine Drinkers UK calculate that tax rises on wine have far outstripped those on other alcoholic drinks and increased twice as fast as that on beer.
In a new year message marking the first anniversary of his trade deal with Brussels, Mr Johnson listed "simplifying complex EU alcohol duty rates" as one of a handful of benefits he believes Brexit has delivered for the UK.
But the chief executive of the Wine and Spirits Trade Association, Miles Beale, said the proposed changes were in fact so complicated as to be "unimplementable".
The change will add up to 68p in tax per bottle on wines drunk by millions of Britons, while saving cash for those choosing the less popular, low-strength brands containing less than 11.5 per cent alcohol.
But the industry believes that knock-on effects could mean an increase of as much as 30-35p for every 0.5 percentage point in ABV above 11.5, leading to price rises of £1 or more on higher-strength bottles.
The overall hit to consumers of is estimated at about £250m a year, while levies on beer and cider will fall and those on spirits will remain unchanged.
Opponents of the new levies are urging wine-lovers to raise their concerns in a Treasury consultation that ends on 30 January.
A government spokesperson said: "We're overhauling our outdated rules with a common-sense approach that will mean drinks will be taxed in accordance to their strength – putting the taxation of stronger beers, wines and spirits on an equal footing, making lighter and sparkling wines more affordable for UK drinkers."
"Australian wines will be treated the same to wines from anywhere else."