Key events:
Royal Mail holds AGM and threatens split
As the Royal Mail annual meeting got under way in York, a Communication Workers Union spokesperson said:
It is pathetic that Royal Mail, a company which announced profits of £758m mere weeks ago, is now pleading poverty and threatening fragmentation unless they get their way.

Our members are committed to growing Royal Mail as a high quality public service – they deserve a decent pay rise.
Royal Mail reported today that it is losing £1m a day and has threatened to split if it cannot achieve "significant operational change", as it faces what could be the biggest strike of the summer.
About 115,000 postal workers who are members of the CWU were balloted in recent weeks and voted 96.7% in favour of strikes, on a turnout of 77%. They are demanding a bigger pay rise than the 2% they have been awarded by Royal Mail. The company is offering a further pay rise of 3.5% but only if the union agrees to a series changes.
The union's general secretary Dave Ward said yesterday that it would give the company "another opportunity to come back to the negotiating table" but if a deal could not be reached, the CWU would notify Royal Mail of industrial action. If they go ahead, the strikes are expected to take place in August.
Ward added that the vote for strike action was "also a vote of no confidence in Royal Mail's CEO and board, who should seriously consider their futures" at the company's annual meeting.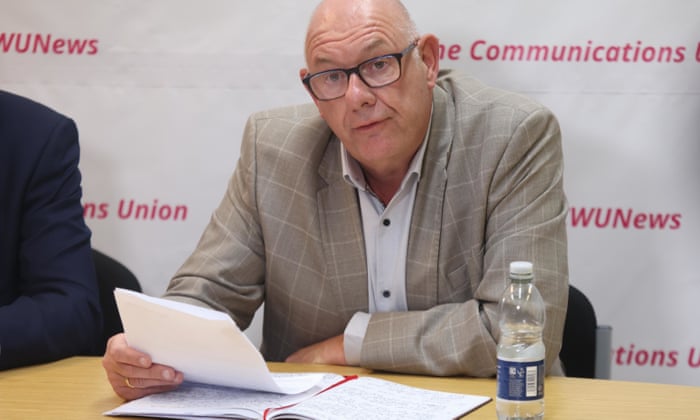 British gas prices rise as demand rises amid lower wind speeds
British gas prices are rising, with traders reporting high gas demand due to expectations of lower output from wind farms.
The British day-ahead contract rose 29%, or 56p, to 250 pence per therm while the within-day contract advanced 31%, or 58p, to 245p per therm.
Analysts at Refinitiv said:
Wind speeds are dropping below seasonal norms over the second half of this week in north west Europe.
Britain's gas system is undersupplied by 17m cubic metres, National Grid data showed.
In the Dutch market, prices rose slightly as the market awaited the restart of Russian gas flows to Europe via the Nord Stream 1 pipeline tomorrow, following maintenance work.
The Dutch August contract reached €162.50 per megawatt hour, up 0.25%, while the day-ahead contract rose 4.2% to €158 per megawatt hour.
Victoria Scholar, head of investment at interactive investor, has looked at the consumer price inflation figures and what they mean for interest rates.
Transport made the largest upward contribution to the change in the CPI annual inflation rate, with a rise in motor fuels offsetting a decline in second-hand car prices. Food and non-alcoholic beverages along with restaurants and hotels also pushed inflation higher.

It was only last July that inflation was comfortably sitting at the Bank of England's 2% target. The sharp ascent over the last 12 months has seen inflation come close to double digits with the expectation that price levels will push higher still before coming back down. It looks like the central bank could carry out a 50-basis point hike at its next meeting in August, which would be the largest increase since 1995, following the ECB this week – which could also increase interest rates by half a percentage point on Thursday.

With price levels in the UK spiralling out of control and wages struggling to keep apace, the biggest risk right now is that the Bank of England fails to act aggressively enough, and inflation becomes entrenched.
UK house prices rise by 12.8% in May
Other data from the Office for National Statistics released this morning shows house prices across the UK rose at an annual rate of 12.8% in May, up from 11.9% in April.
The average UK house price was £283,000 in May, which is £32,000 higher than this time last year.
Average house prices increased over the year in England to £302,000 (13.1%), in Wales to £212,000 (14.4%), in Scotland to £188,000 (11.2%) and in Northern Ireland to £165,000 (10.4%).
London continues to be the region with the lowest annual growth at 8.2%.
Pound stabilises versus dollar, euro
On the markets, the pound has stabilised against the dollar and the euro after hitting a two-week low against the euro, following a rise in UK inflation to a fresh 40-year high of 9.4%.
The data prompted expectations that the Bank of England will opt for a bigger half-point rate hike at the next meeting in August to combat high inflation.
Sterling edged up 0.1% versus the dollar to $1.2009 and was flat against the euro at €1.1728.
Let's have a look at today's other news.
Britons could cut their annual energy bills while slashing their carbon emissions and boosting the price of their home, research has shown.
A study by WWF and ScottishPower has found that installing green technologies could reduce energy bills by up to £1,878 a year and cut home carbon emissions by more than 95% over the lifetime of their installation.
Amazon's core UK division was handed a tax credit of just over £1m last year by HM Revenue and Customs despite the online retailer's profits soaring by almost 60% to £204m.
The tax benefit was part of €1bn (£850m) in tax credits provided to Amazon by governments across Europe, up from €56m a year before, according to accounts filed for the US company's Luxembourg-based division.
Amazon's losses across Europe skyrocketed by 90% to €2.1bn before the tax benefit, despite sales rising by nearly 16% to €51bn.
In over 30 years since the fall of the Berlin Wall, eastern Germans have been told several reasons why they lag behind the west: an uncompetitive industry, a lack of jobs, a shortage of young workers.
But Germany's new government believes the formerly socialist "workers' and peasants' state" is missing something else: trade unions.
"We have too few collective bargaining agreements in the east, too little democracy in businesses," Carsten Schneider, Chancellor Olaf Scholz's appointee as federal commissioner for the east, told the Guardian in an interview. "For decades, workers in the east have been told to start queueing at the back, and it drives me crazy when I see how some of them have internalised that."
The number of clean air zones across Europe has risen 40% since 2019, forcing older and more polluting vehicles off the road, according to new research based on EU data.
Low-emission zones (LEZs) have now been introduced in 320 European city regions, and that figure is expected to rise by more than half again, to 507, by 2025.
Manolo Blahnik, the shoe brand made famous by its celebrity fans and regular appearances in TV drama Sex and the City, says it has won a legal battle in China to use its own name, paving the way for the brand's expansion across the country.
The British company, named after its Spanish founder, said in a statement on Tuesday that the judgment was handed down by the supreme people's court of China last month, marking the culmination of a long-running legal battle.
There are serious questions about the long-term viability of independent film-making in Britain, the British Film Institute (BFI) has said.
Making Oscar-winning films such as The King's Speech and Slumdog Millionaire has become all the more difficult, with "significant challenges" putting the sector on a downward trend, research shows.
A Samsung ad featuring a woman running alone at 2am has avoided a ban by the UK advertising watchdog, despite complaints that it was irresponsible after a spate of late-night attacks on women.
The TV and cinema ad for Samsung products including a smartwatch featured a woman getting up at 2am and going for a run through a large city while wearing wireless earbuds. A voiceover encouraged the idea of running at unusual hours, stating: "Sleep at night. Run faster. Push harder. Follow the herd. Not for me. I run on a different schedule. Mine."
Netflix reported better-than-expected earnings on Tuesday night, seeing a smaller exodus of viewers than originally forecast even as the platform struggles to maintain its meteoric pandemic growth.
Though Netflix reported its second straight quarterly drop in subscriber growth, and lost 1 million viewers in the second quarter of 2022, that number was lower than the 2 million it had projected in its previous report. Shares were up 10% in after-hours trading.
Netflix's total revenue for the first quarter of 2022 was $7.97bn, missing analysts' expectations of $8.04bn. In a letter to investors, Netflix said generating more revenue growth is a current focus.
Twitter has won the first legal skirmish in its attempt to force Elon Musk to complete a $44bn (£36.7bn) takeover of the social media company, after a judge ruled that a trial will take place in October.
Royal Mail reports loss as it faces strikes
Royal Mail has reported an adjusted operating loss of £92m, falling revenue and lower levels of parcel deliveries between April and June, as it faces what could be the biggest strike of the summer, reports my colleague Joanna Partridge.
Thousands of postal workers who are members of the Communication Workers Union (CWU) have voted in recent days in favour of industrial action over demands for higher pay.
Deliveries of items bought by online shoppers and Covid test kits have tumbled over the past three months compared with a year earlier, the company said, contributing to a 11.5% fall in revenue, combined with the long-term decline in deliveries of letters.
Royal Mail said it had worked to reduce its variable labour costs, by cutting back on overtime and the use of temporary workers, but said it had not been able to cut costs quickly enough to match the lower volumes of parcels and letters.
The company is holding its annual meeting at 11am in York today.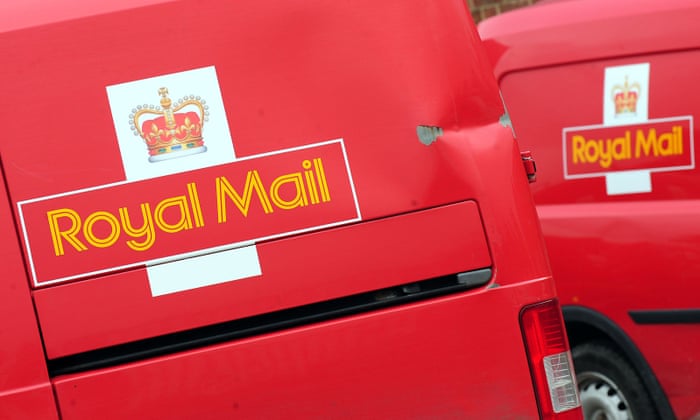 Back to UK inflation. Here's some reaction from analysts. Paul Dales, chief UK economist at Capital Economics, said:
There are some encouraging signs that the upward pressure on underlying inflation from global factors has started to ease. But as it is being replaced by stronger upward pressure from domestic factors and as CPI inflation will probably still rise from 9.4% in June to 12.0% in October, we still think the Bank of England will raise interest rates from 1.25% to 3.00% even when the economy is in recession.
Economists at Daiwa said:
So, we expect core inflation to rise back firmly above 6.0% year-on-year over the next few months. And with household energy bills to be hiked again in October, headline inflation is currently set to peak above 10.5%Y/Y, and remain above 10%Y/Y at least until January before falling back over subsequent months.

With yesterday's data highlighting that the labour market remains tight, no surprise therefore that BoE Governor Bailey yesterday evening confirmed that a 50bps hike in Bank Rate will be discussed by the MPC in August, and that a programme of active Gilt sales is likely to be underway from the autumn.
EU to set out plans for gas cuts
Meanwhile, the European Union will set out emergency plans on Wednesday to reduce gas demand within months, warning countries that without deep cuts now they could struggle for fuel during winter if Russia cuts off deliveries, Reuters reports.
Europe is racing to fill its gas storage ahead of winter and build a supply buffer in case Moscow further restricts supplies in retaliation for European support for Ukraine in its war with Russia. Russia's Gazprom has already halted deliveries to some EU states.
The European Commission will urge countries to prepare for possible further cuts by slashing gas use. A draft of the EU plan, seen by Reuters, would propose a voluntary target for countries to cut their gas demand over the next eight months, which could be made legally binding in a supply emergency.
EU officials said the target would be for a 10-15% cut in gas use.
The proposal, which could change before it is published, would need approval from EU countries who are largely responsible for their own energy policies.
There has been resistance from some countries who feel their contingency plans do not need a boost from Brussels.
"We are against imposing mandatory reduction targets," Polish climate minister Anna Moskwa said last week. Poland has filled its gas storage to 98% of capacity after Russia halted gas deliveries to the country in April.
But EU officials say it is crucial to act now, rather than wait to react if Russia does cut supply.
The draft document said a full Russian gas cut, combined with a cold winter, could cut average EU GDP by 0.9-1.5% if countries had failed to prepare.
It suggested measures to curb gas use, including government tenders for industry to receive compensation for using less gas. Governments should also decide the order in which they would force industries to close in a supply emergency, it said.
Gas deliveries are due to restart through Russia's Nord Stream 1 pipeline to Germany on Thursday, after annual maintenance.
There have been fears among governments that flows will not restart, which would heighten a gas crisis that has sent consumer bills soaring. Sources told Reuters that flows would likely resume, but at below full capacity.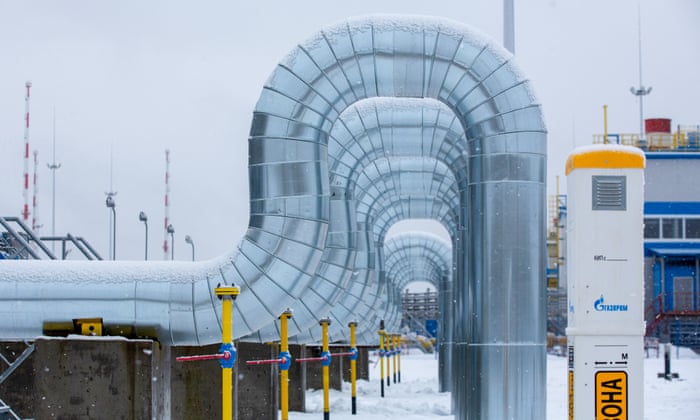 European shares lifted by relief over expected resumption of gas flows from Russia to Europe
European shares have followed in the footsteps of Asian markets and opened higher, lifted by relief over the expected resumption of gas flows from Russia to Europe tomorrow. European markets are trading near six-week highs.
The FTSE 100 index in London is 46 points ahead, or 0.6%, at 7,341, a three-week high, as investors are betting on a bigger (half-point) interest rate hike at the Bank of England's August meeting after higher-than-expected inflation figures.
France's CAC opened nearly 0.4% higher, and Germany's Dax, Italy's FTSE MiB and Spain's Ibex rose about 0.3%.
Bloomberg reported yesterday that Gazprom was poised to restart gas exports through its Nord Stream pipeline to Europe on Thursday at reduced capacity.
Shipments will resume when maintenance ends on Thursday, but remain below normal after the Russian gas giant declared force majeure on some European clients, the news agency quoted unnamed people as saying. Flows via Russia's biggest link to Europe were capped at 40% of capacity before the work.
President Vladimir Putin suggested flows will restart, but warned that delays in receiving a turbine vital to supply the pipeline could lead volumes to be cut to only 20% of capacity as soon as the end of this month, when another unit is due for maintenance, Bloomberg said. The turbine was sent to Canada for repairs and held up there by sanctions.
"Only two are operating" now, he said of the turbines in televised comments to reports after a summit in Iran late Tuesday. But if the unit coming back from Canada doesn't arrive in time to replace the one due to be sent for repairs, he warned, "just one will function, so 30 million cubic meters will be pumped per day."
The chancellor of the exchequer, Nadhim Zahawi said:

Countries around the world are battling higher prices and I know how difficult that is for people right here in the UK, so we are working alongside the Bank of England to bear down on inflation.

We've introduced £37bn worth of help for households, including at least £1,200 for 8 million of the most vulnerable families and lifting over 2 million more of the lowest paid out of paying personal tax.
However, Labour's shadow chancellor, Rachel Reeves said:
The cost of living crisis is leaving families more worried every day, but all we get from the Tories is chaos, distraction and unfunded fantasy economics. Rising inflation may be pushing family finances to the brink, but the low wage spiral facing so many in Britain isn't new.

It's the result of a decade of Tory mismanagement of our economy meaning living standards and real wages have failed to grow.

We need more than sticking plasters to get us back on course – we need a stronger, and more secure economy.
UK inflation rises for ninth month to 9.4% – recap
Here is our full story on UK inflation. To recap, it hit a fresh 40-year peak of 9.4% last month, higher than the 9.3% expected by economists. Inflation has now risen by nine months in a row, as the cost of living crisis worsens.
Other countries have also seen big price rises, partly caused by Russia's invasion of Ukraine, but the UK has the highest inflation rate in the G-7 group of industrialised nations.
Transport costs were the main culprit, in particular higher prices for petrol and diesel, which reached new records in June. Food prices rose at the highest rate since 2009, as milk, cheese and eggs as well as vegetables, meat and other food products such as ready meals became more expensive.
The Bank of England is forecasting that inflation will peak at 11% in the autumn, and its governor said yesterday that a bigger, half-point interest rate hike was on the table in August.