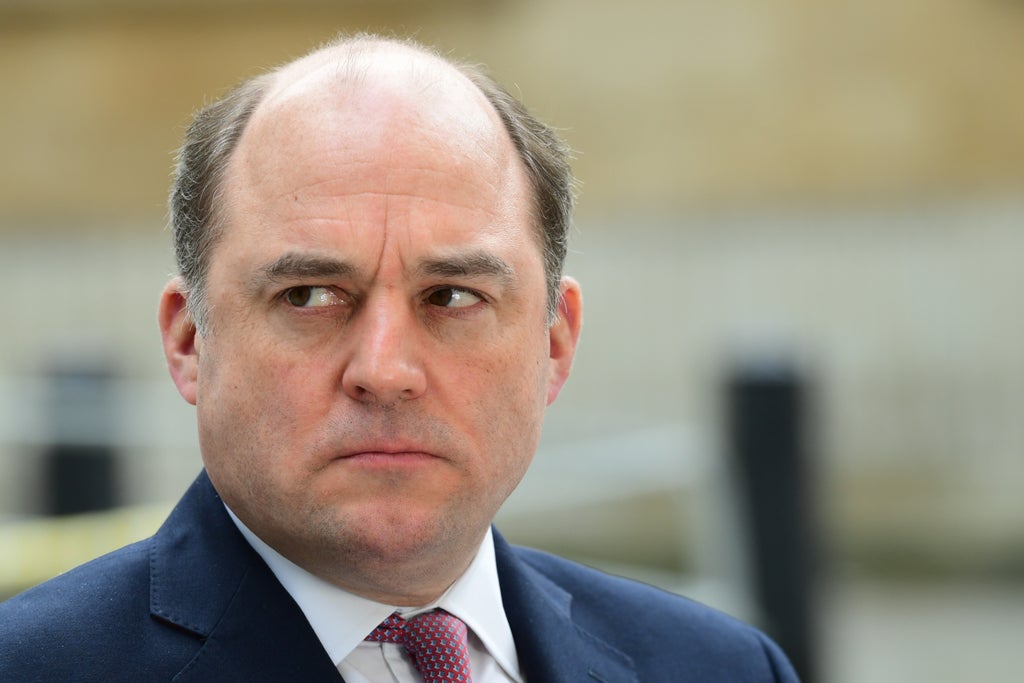 Ukraine has rejected claims by Britain's defence secretary Ben Wallace that diplomatic efforts with Russia have "a whiff of Munich" about them.
Ambassador Vadym Prystaiko said it was wrong to "offend our partners" by drawing parallels with the policy of appeasement which saw Britain and France give the green light for Adolf Hitler to annex the Sudetenland in talks in the Bavarian city in 1938.
Kiev has repeatedly urged allies including Britain to tone down warlike rhetoric, and Moscow accused the west of "hysteria".
Boris Johnson plans further talks with world leaders in the coming days as the Ukraine crisis enters a "critical juncture", Downing Street said, while German Chancellor Olaf Scholz will visit Kiev on Monday and Moscow on Tuesday.
Ukraine on Sunday demanded Russia attend an Organisation for Security and Cooperation in Europe (OSCE) meeting within 48 hours to discuss the military build-up near its borders and inside annexed Crimea.
"If Russia is serious when it talks about the indivisibility of security in the OSCE space, it must fulfil its commitment to military transparency in order to de-escalate tensions and enhance security for all," said Ukrainian foreign minister Dmytro Kuleba.
Poland said it was braced for a massive influx of refugees fleeing Ukraine in the coming days as flights to the country were redirected and cancelled. Mariusz Kaminski, the interior minister, said Warsaw was preparing for scenarios including the need for accommodation.
In Washington, President Joe Biden's national security adviser Jake Sullivan repeated his warning that an invasion could begin "any day now" and pledged the US would "defend every inch of Nato territory".
Mr Wallace cut short a family holiday in order to fly back to the UK amid fears of an imminent Russian invasion of Ukraine.
In an apparent effort to avoid repeating the mistakes of Dominic Raab, who was widely criticised as foreign secretary for remaining on a beach as Afghanistan fell to the Taliban, Mr Wallace announced he was returning to London after just one day because he was "concerned about the worsening situation in Ukraine".
He said in an interview with The Sunday Times that Moscow could "launch an offensive at any time", with an estimated 130,000 Russian troops and heavy firepower amassed along Ukraine's border.
"It may be that he just switches off his tanks and we all go home, but there is a whiff of Munich in the air from some in the west," Mr Wallace added.


UK news in pictures
Show all 50
Mr Prystaiko warned that the panic being caused by the west sounding the alarm could be playing into President Putin's hands.
He said: "It's not the best time for us to offend our partners in the world, reminding them of this act which actually not bought peace but the opposite, it bought war.
"There's panic everywhere, not just in people's minds, but in financial markets as well," he added, warning it is "hurting the Ukrainian economy on sort of the same level as people leaving the embassy".
The Royal United Services Institute's Russia expert, Mark Galeotti, said that the comments were "unfortunate, not least because it obviously casts the Russians as Nazi Germany".
For a country "which lost so much in the Second World War, which still calls it the Great Patriotic War" it was a "very neuralgic point", he said.
Mr Wallace's cabinet colleague Brandon Lewis sought to clarify the comment, suggesting the defence secretary was referring not to appeasement, but to the way in which hopes that peace could be secured by diplomatic means were dashed by a dictator set on war.
"It is very clear that what he was drawing on was the comparison between the diplomatic attempts in the run up to World War Two and the diplomatic attempts we are all putting in now," Mr Lewis told Sky News's Trevor Phillips on Sunday.
"We want a diplomatic outcome, we want a peaceful outcome to this, but we do have to be cognisant of the fact that… there are 130,000 troops sitting right there on the border.
"With that kind of accumulation, there is always the possibility and the ability for Russia to move very, very swiftly and very quickly, should it decide to do so, which obviously we hope they won't."
Mr Lewis said that an imminent incursion by Russia was "entirely possible", and said the situation was currently in a "balancing act" between "what we hope will be a diplomatic outcome and the realistic possibility that something much more tragic could occur".
The chair of the Commons foreign affairs committee, Tory MP Tom Tugendhat, said Mr Putin was aware that he cannot hold Ukraine, as the 130,000 troops available to him is "a lot for a border raid but nowhere near enough for an occupation".
Mr Tugendhat said the "mafia-like" Kremlin chief was more interested in creating chaos and exposing divisions in the west, in order to win kudos both with the Russian population at home and with China, where he has sought a closer partnership.
The MP – who recently indicated he wants to run for the Conservative leadership – called on the government to "get serious" in dealing with dirty money from Moscow, by closing UK markets to Russian firms, expelling families linked to the Putin regime and clamping down on corruption.
"There is no need for war," said Mr Tugendhat. "Even Putin doesn't really want it. What he wants is for us to serve his interests and through our division show his strength.
"We don't have to play this game anymore. We must stop pretending treaties matter to these crooks and act.
"It will cost and we'll have to be serious. But our democracy is being undermined and our alliances could unravel. We know the truth: you can have freedom or corruption, not both. Putin's conspiracy made it clear – the time has come to choose."
Meanwhile, Kiev has insisted its airspace will remain open, after Dutch carrier KLM announced it is suspending flights to the Ukrainian capital.